CBS Sunday yesterday morning did a segment on the new Boeing 787, interviewing the aerospace company's executives who explained they were hoping to bring back the glamour of travel with their new Dreamliner. They should have had a chat with Dennis Basso first! This is a man who understands glamorous travel in a big way. His luxurious fall collection was inspired by visions of a "Mystery on the Orient Express." Considering the inconvenience of travel today, I think everyone was happy to imagine such a scenario.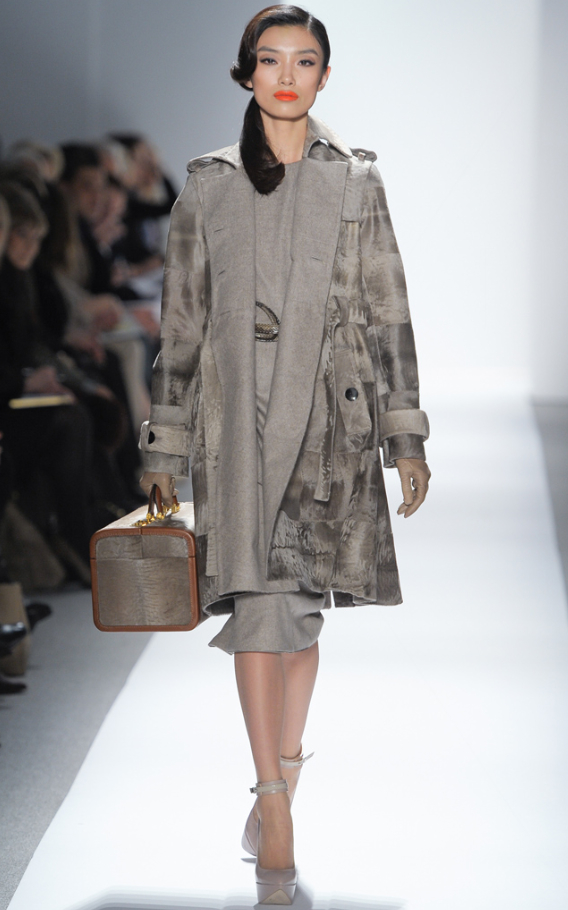 With so many rich visual possibilities, the set was a bit disappointing, although the sounds of an old fashioned train whistle and wheels turning on the tracks made the message clear. Maybe Basso chose the theme so would have the opportunity to design the line of luggage the models carried, such as the Russian broadtail train case above. His audience was filled with those who could perhaps imagine owning such things. Amy Fine Collins was looking glamorous, below.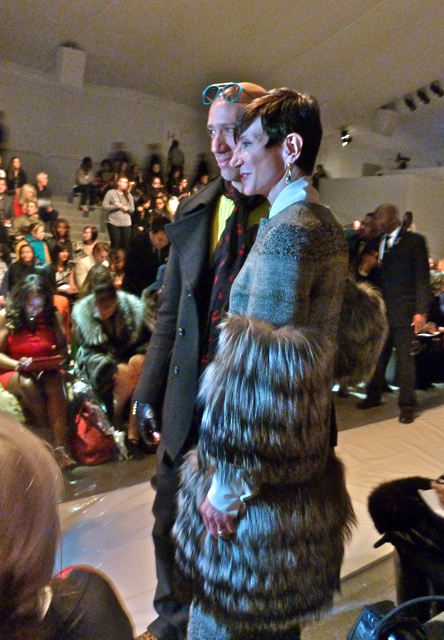 And across the runway, sat the front row of Joan Rivers, Susan Lucci, Ivanka Trump and Kristin Cavallari.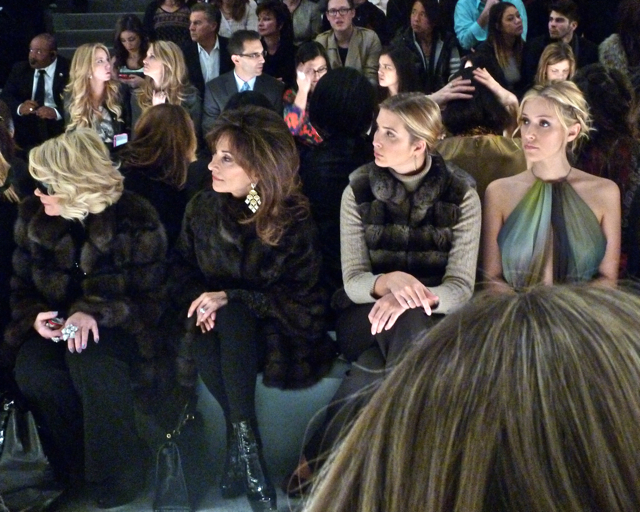 And a little further down, Mary Alice Stephenson, Star Jones (pre-ordering perhaps?) and Carol Alt.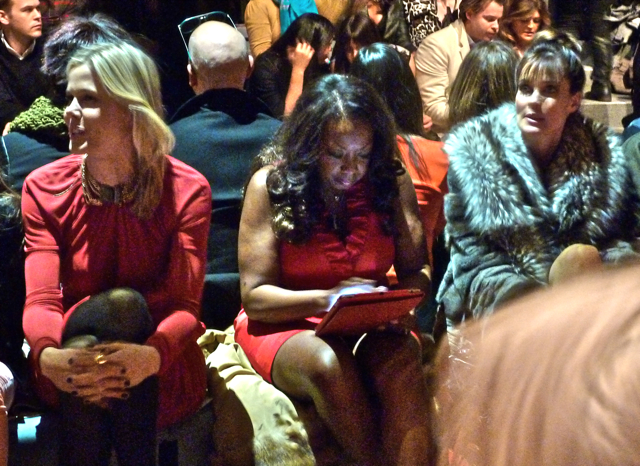 The color palette was one of rich neutrals. I adored the elegant tonality of this opal Russian sable and broadtail coat with silk georgette dress.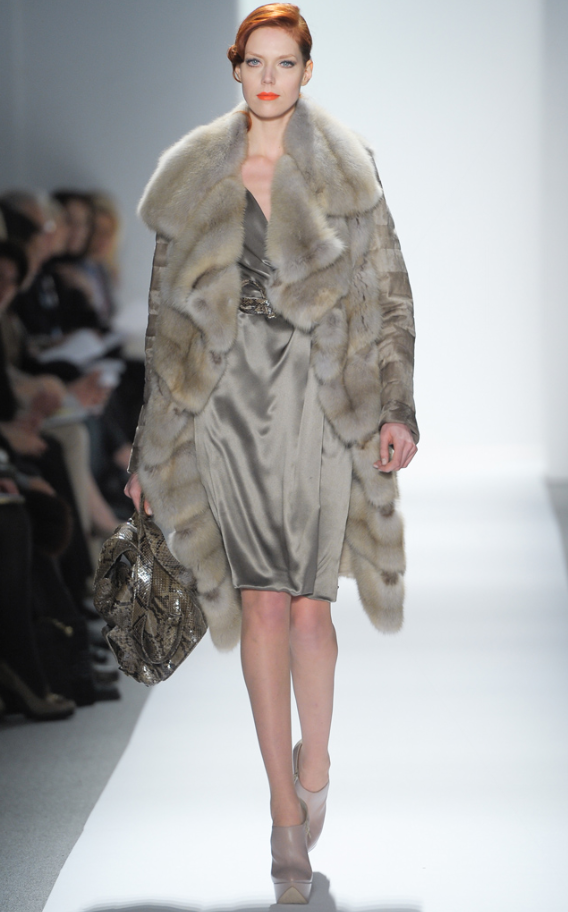 This collection included many more offerings in the ready to wear department. This was one of my favorites – an incredibly elegant ensemble of alabaster two-toned double face cashmere coat and hand embroidered silk chiffon skirt. The over the top bag is Finn raccoon and topaz sable.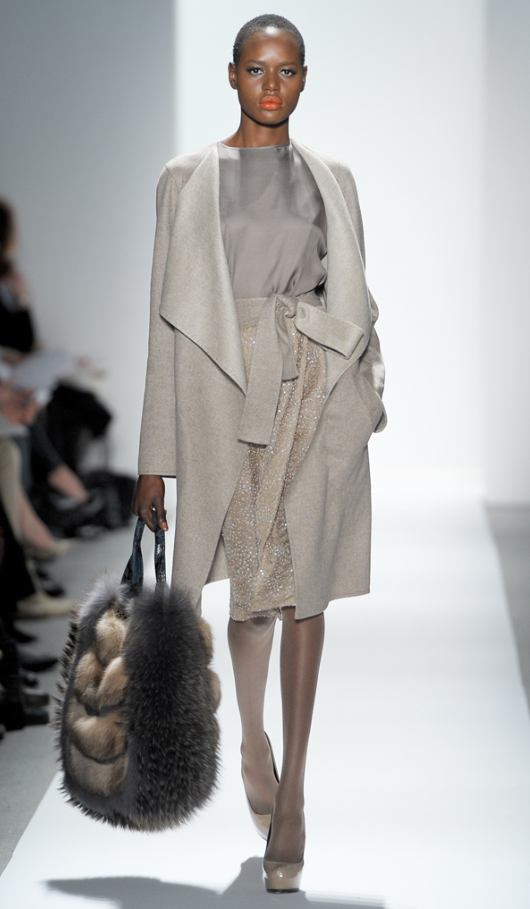 More chic classic colors with this natural topaz and Barguzin Russian sable coat over a topaz leather skirt and rose quartz hand embroidered top.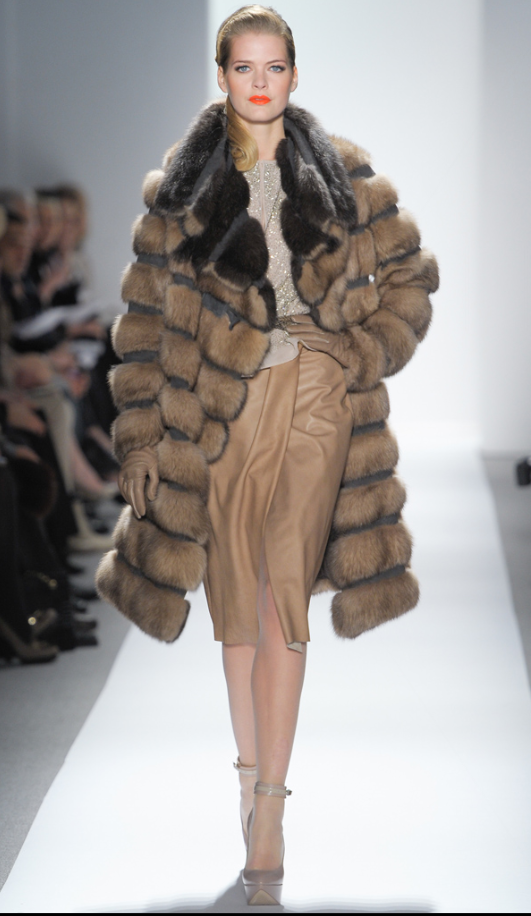 The accent color of the season? Why orange of course – Basso calls it cayenne in his description of this sable and lynx duffle coat over a cashmere skirt and silk georgette blouse.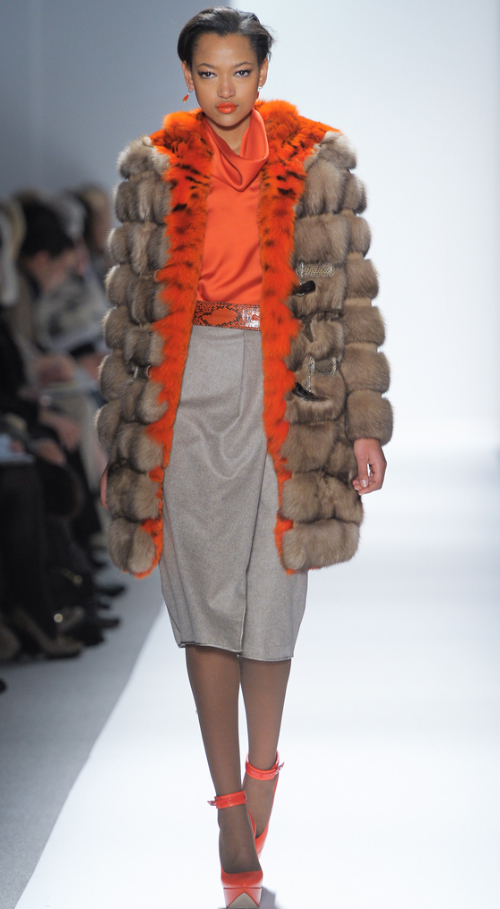 The season's trend of blue and black continues in this collection with the beautiful fur and fashion statements below – aquamarine Russian sable over a cashmere dress on the left with a sapphire chinchilla and lippi vest over sapphire embroidered mini dress on the right.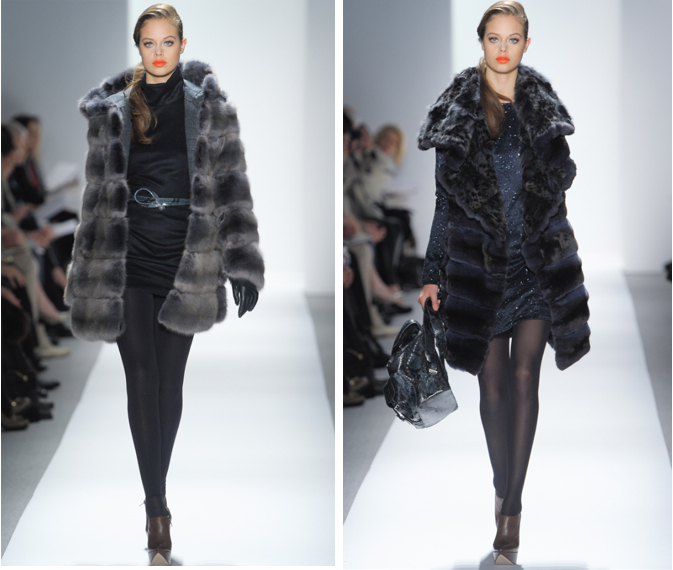 Opulent grays were evident in both furs and apparel – smoky quartz chinchilla and alabaster Russian broadtail with sapphire Russian sable trim (quite the combo) on left and natural hematite Russian broadtail on the trench.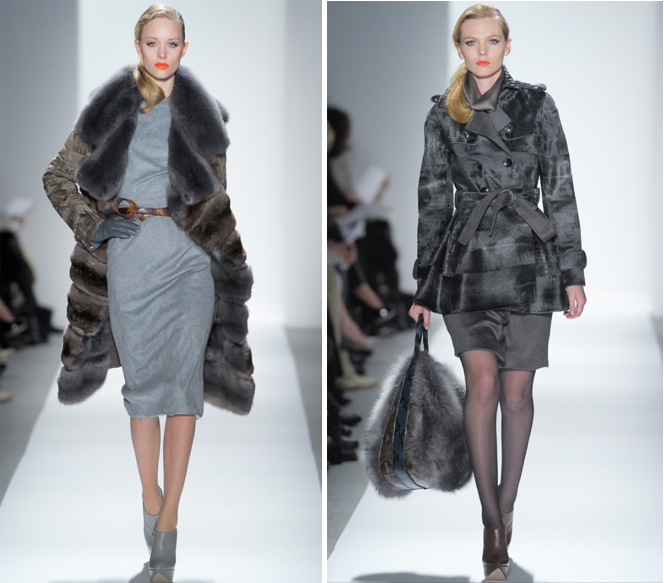 The wow factor in white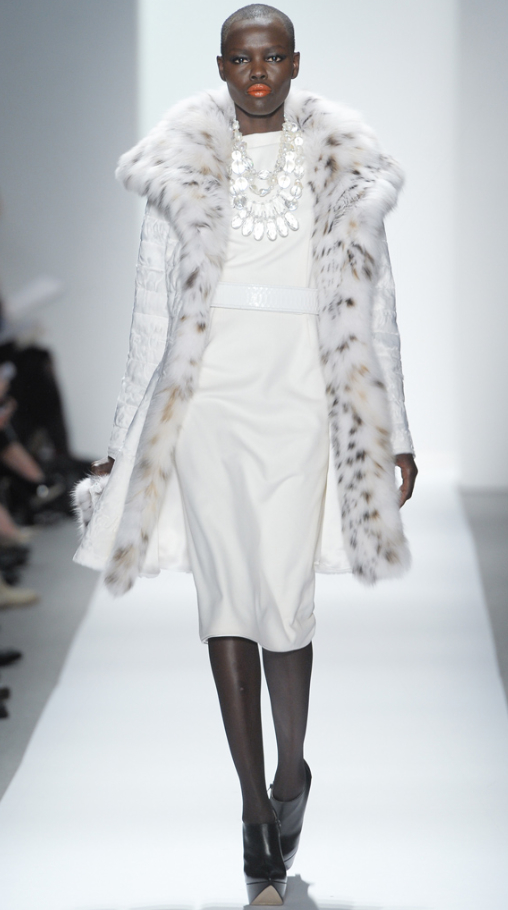 Basso presented some stunning gowns, both with and without fur. I would wear this sapphire embroidered number with cashmere coat in a nanosecond if I had a worthy event (and someone footing the bill)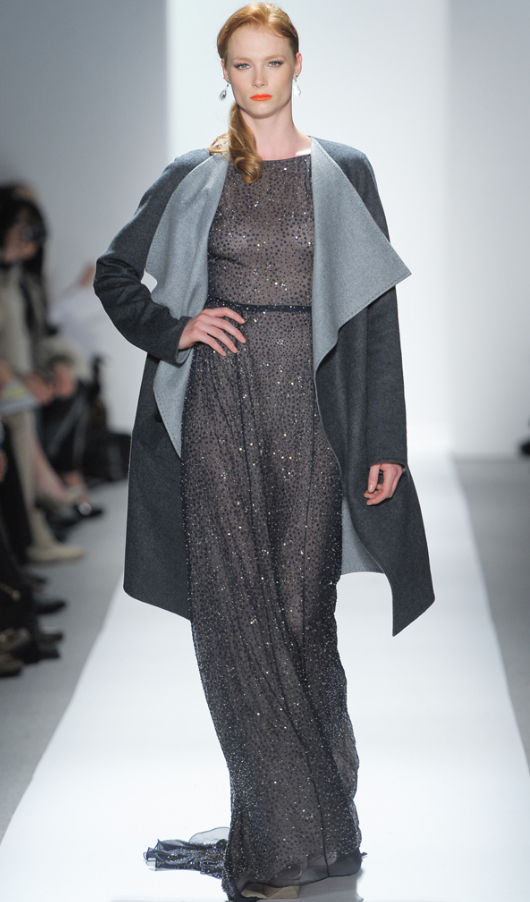 I rather liked the proportion of the short sable vest, almost like a bolero, with the embroidered tulle gown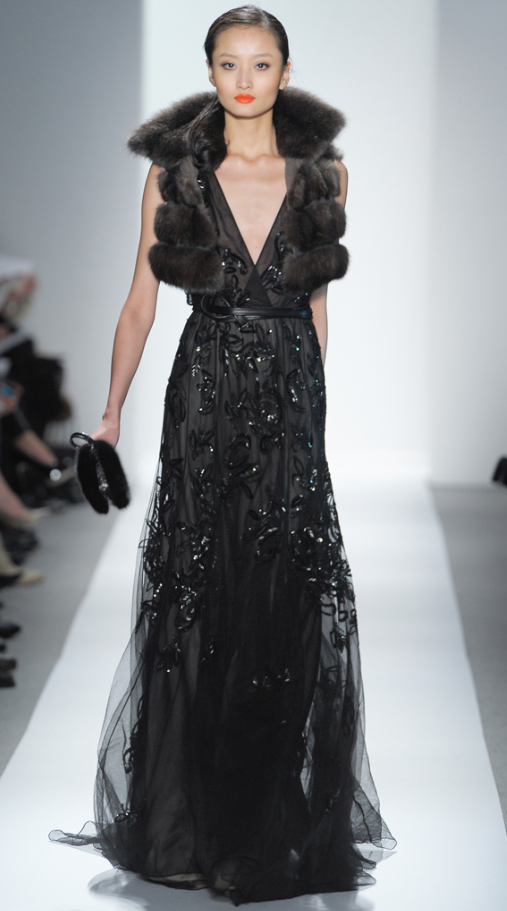 The procession was unfortunately interrupted near the end when the model in this dazzling "cayenne" embroidered silk georgette gown fell not once but I believe three times as she navigated the runway in this voluminous dress. My heart went out to her each time she stumbled, hoping it doesn't ruin her runway career.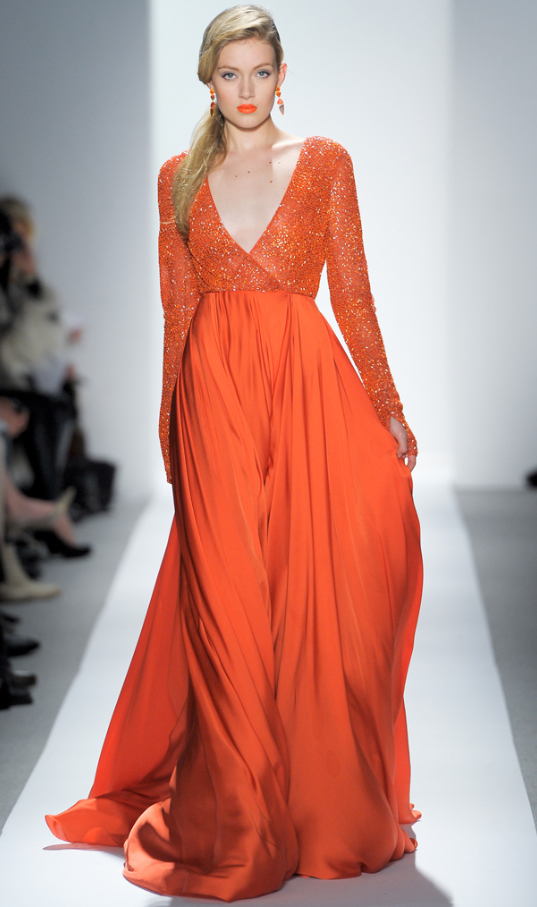 Luckily there was one outfit left, to end the collection on a high note – this marvelous sapphire and silver embroidered gown with sapphire Finn raccoon vest.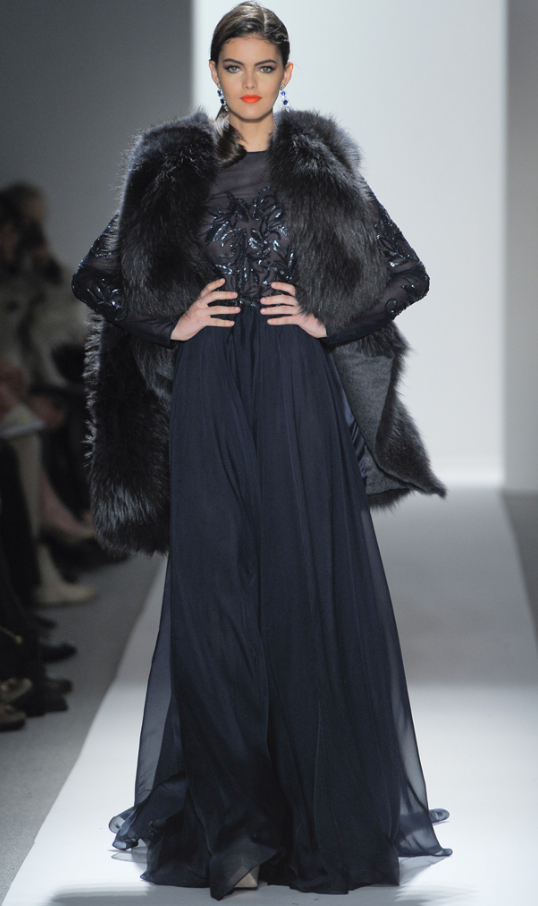 An incredibly beautiful cohesive collection for the right crowd!! My only wish was that a little more attention had been paid to the production of the show. So much more could have been done with the set design to evoke the designer's vision of the bygone era of grand train travel. And I found it a shame to have a stapled xeroxed program for such an extravagant collection. But the designs comes first and there is no question that this was a magnificent showing of fabulous furs and luxurious sophisticated ready-to-wear.
All runway photos: Filippo Fior / GoRunway.com