With a very pretty set, that my photo does not even remotely do justice to, Pamella Roland set out to capture the natural beauty and luxury lifestyle of Aspen.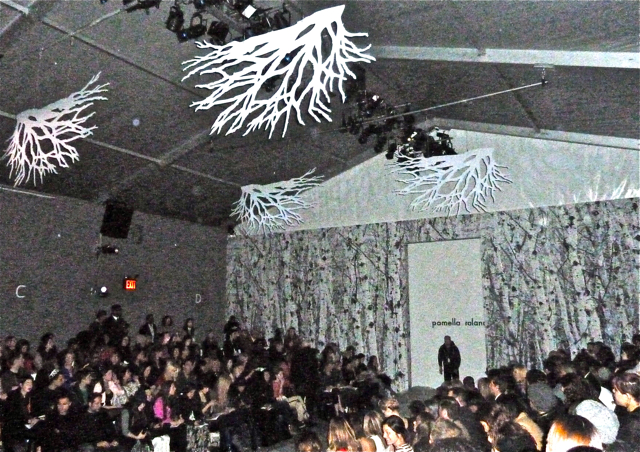 A part of Rolland's life since childhood, the casually chic lifestyle of Aspen was captured effortlessly with her stylish looks for daytime comfort and understated elegant designs for special occasion wear. Carmen Kass opened the show with skinny jeans, white cotton blouse and coyote overcoat – perfect!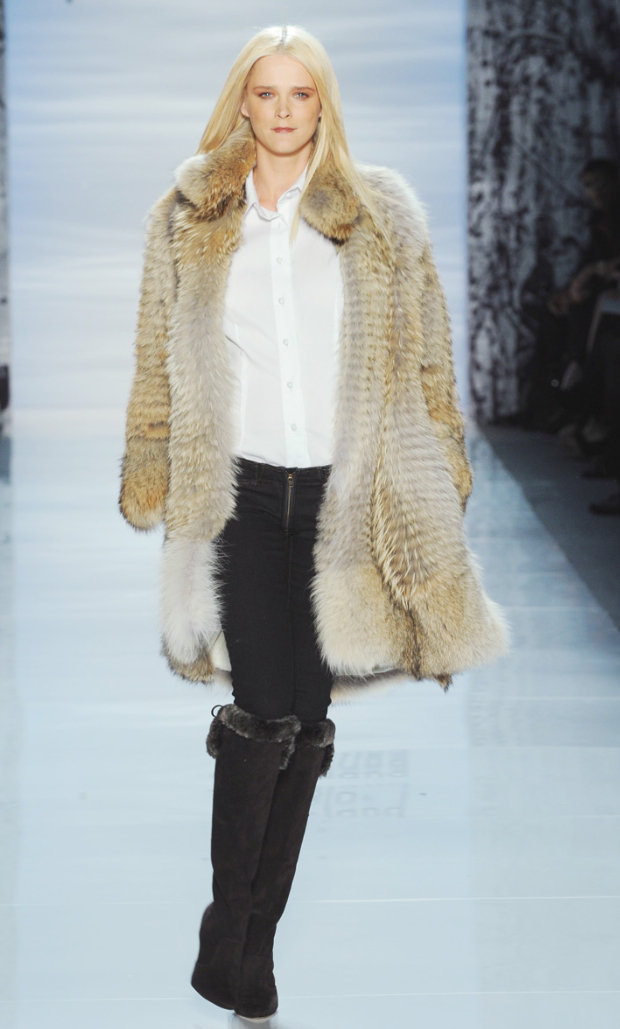 Those of you who are not fans of fur will be thrilled to know that Roland included faux as well such as here on this beautiful ivory wool knit cape.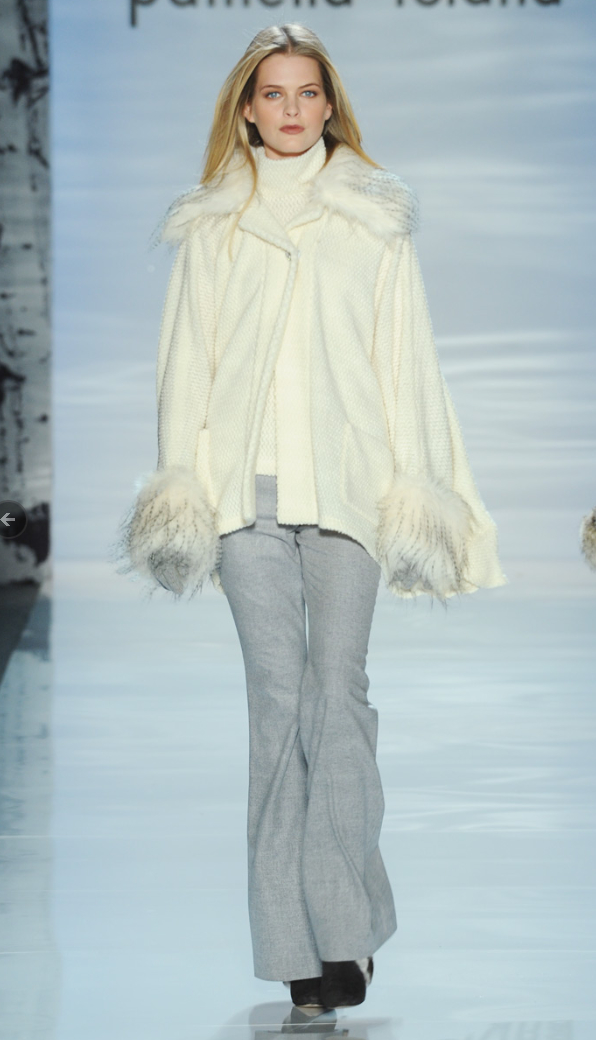 While mostly neutrals reigned, some color such as this fabulous fire red, a hot hue on the runways this season, was included. Black and white with bold splashes of color has become a theme for fall. I just love the sheared beaver quilted vest!!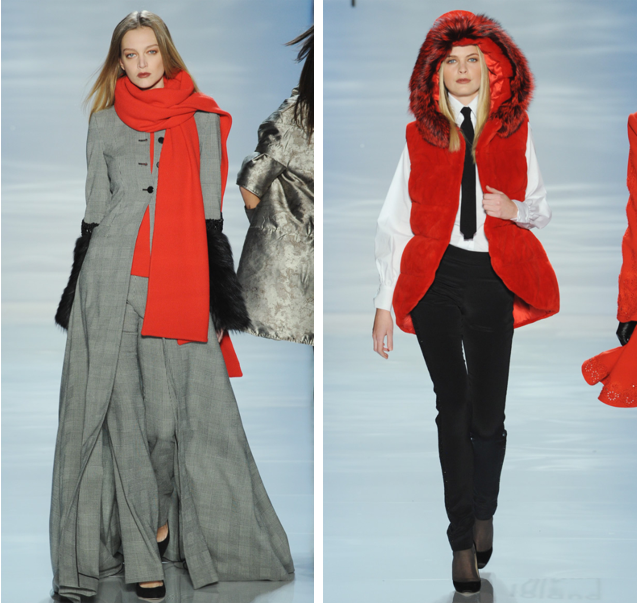 This pretty sequin coat with feather embroidery looks like a fashion metaphor for a snowy Aspen scene.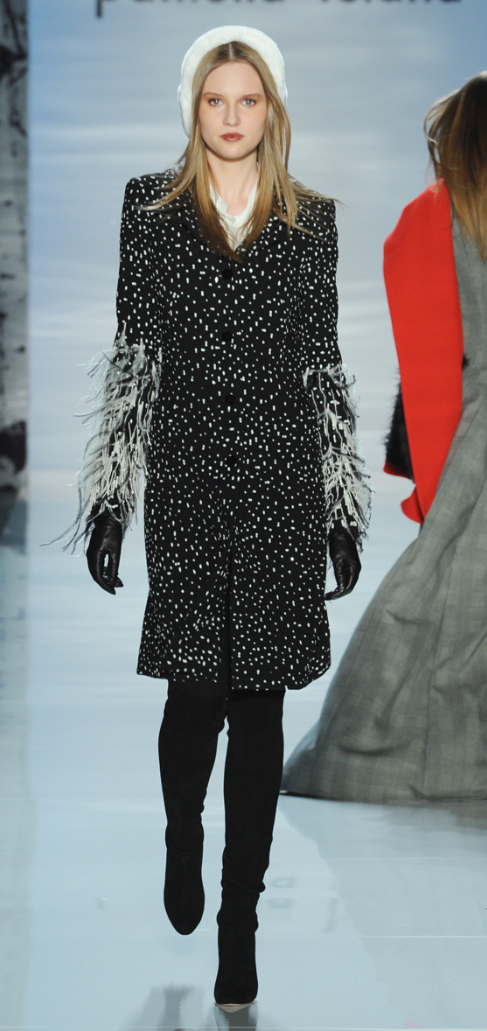 And as we moved into evening, the landscape was cleverly evoked in this woodgrain print on this very pretty party dress with beaded neckline.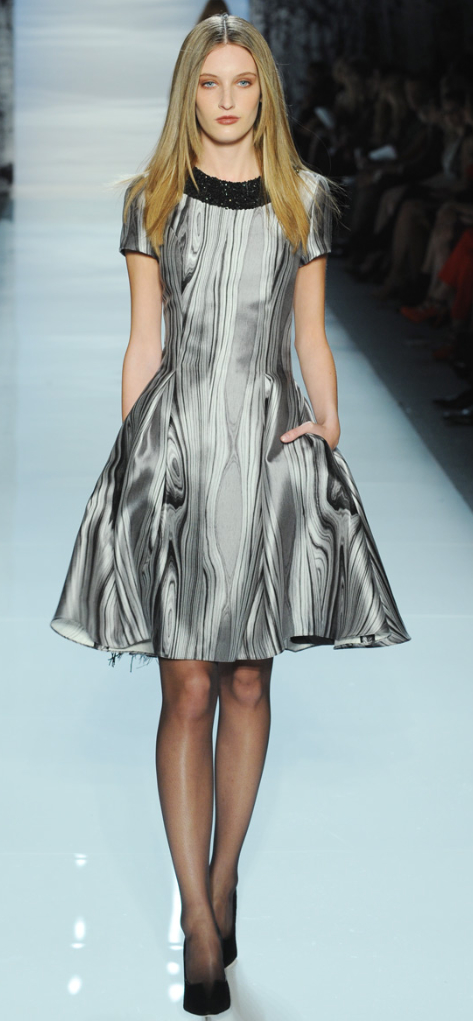 More elegantly feminine cocktail attire – understated in jacquard with beautiful embellished details, and lovely use of chiffon on the bodices as we have been seeing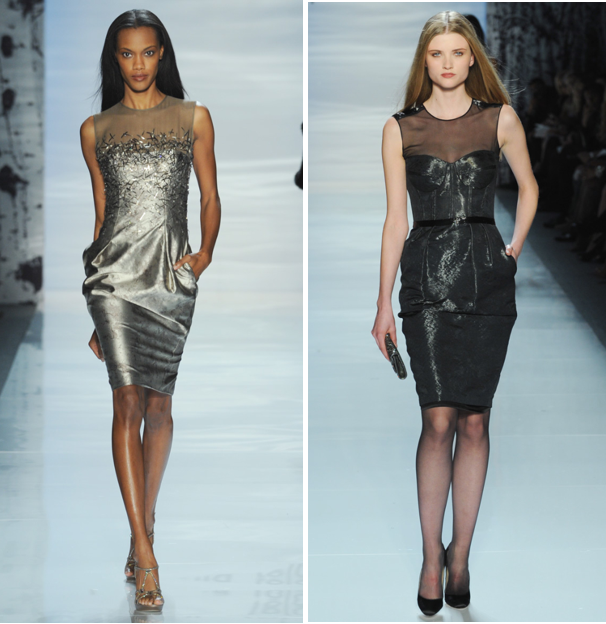 Beautiful gowns abounded, all for the woman who appreciates "subtle elegance and fine craftsmanship." Roland is no stranger to the red carpet and any of these beauties are Oscar worthy in my book.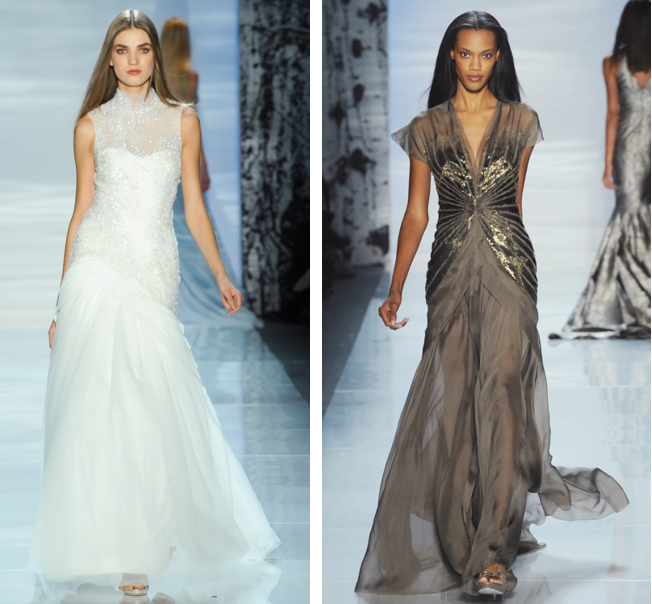 And don't forget your gloves!! As you've been seeing, they look great with everything!!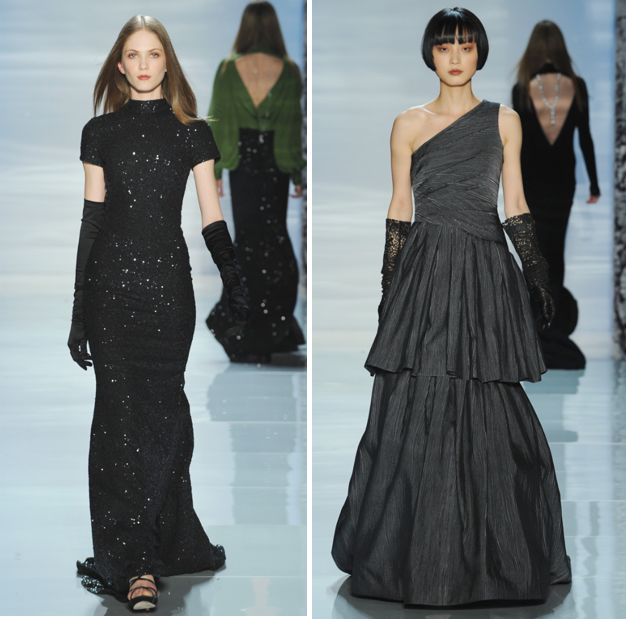 Coming up, my two favorite looks for evening from the collection. I adore this fabulous combo of green double georgette blouse with fully beaded skirt, although I might have to close the slit just a tad. Too bad I couldn't find a shot of the back – the blouse has a beautifully draped cowl. And can you see the fabulous waistband? It's the details…always!!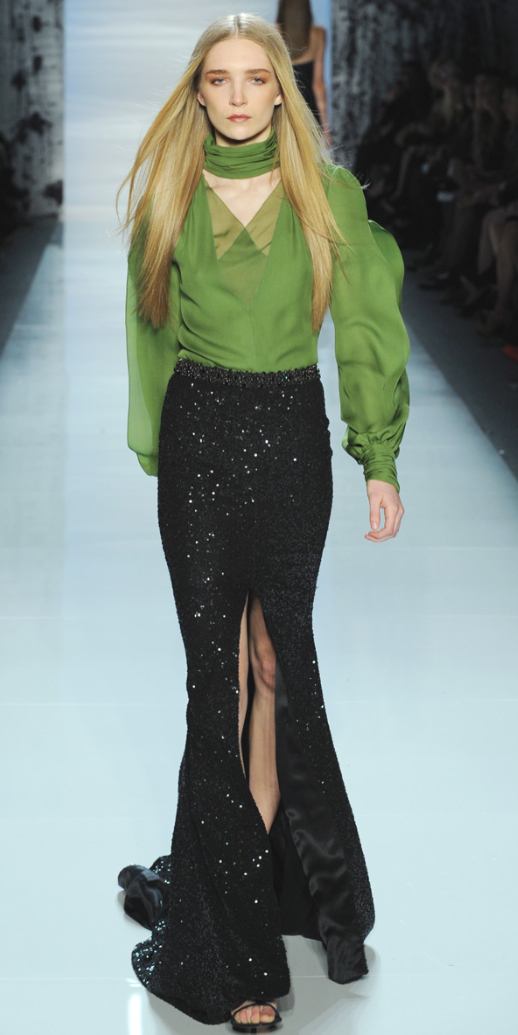 And if I had to choose for a black tie? It would be this spectacular black satin chiffon gown with asymmetrical beaded bodice – simple, elegant and yet distinctive – gorgeous!!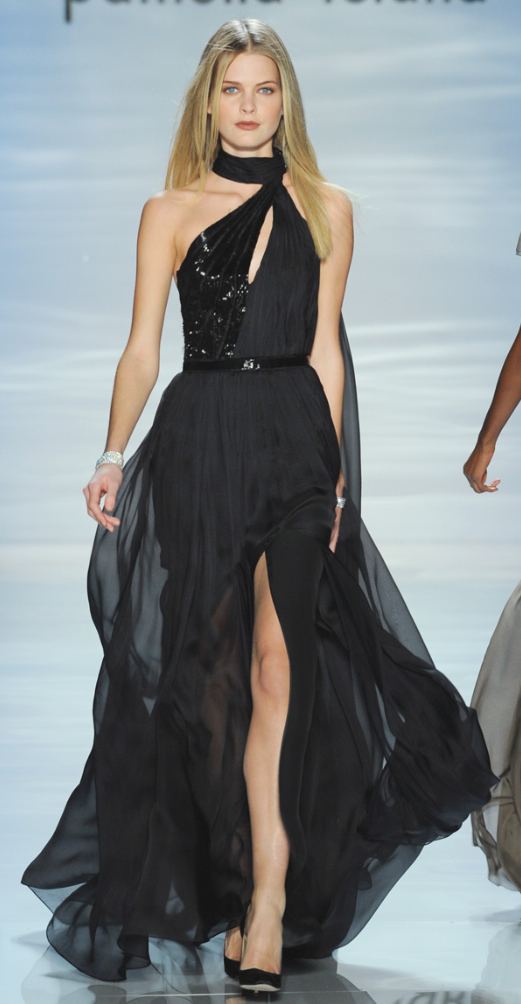 Rolland came out to take a gracious bow and walk down the runway.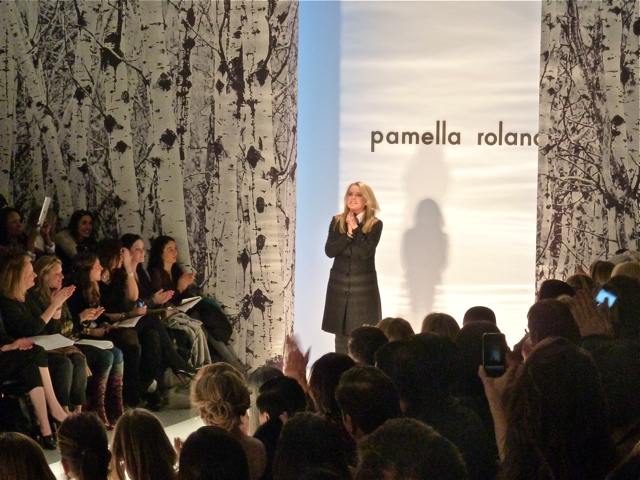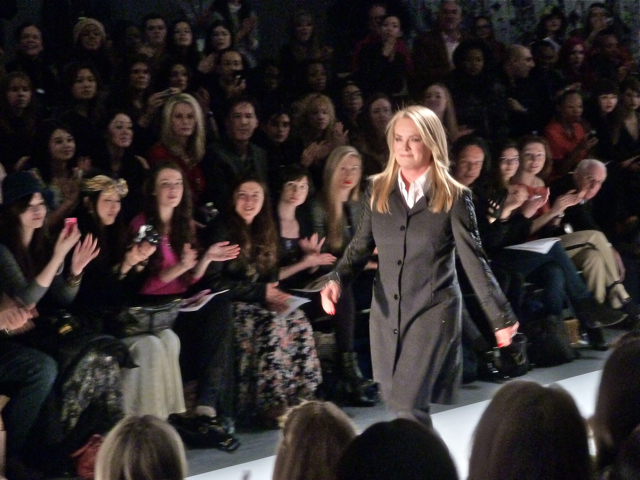 and then surprised everyone for another round with her children – a charming ending to a beautiful show!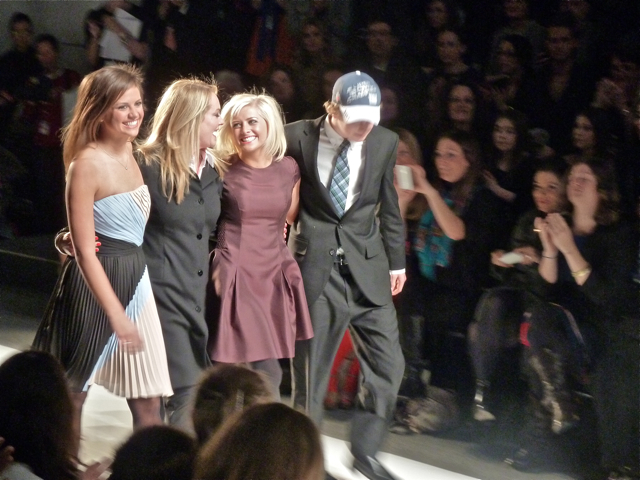 1st & last 3 photos by Q., runway fashion photos courtesy of Pamella Roland via NY Magazine