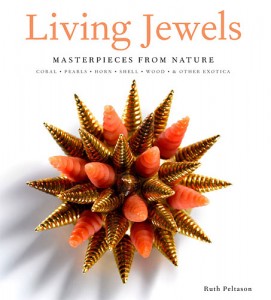 Friday I visited the Arts and Antiques Show at the Armory and had the great pleasure of attending a lecture given by author Ruth Peltason on Beauty and Art in the Living Jewel.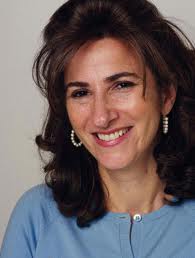 The founder of Bespoke Books, a boutique editorial and design firm in New York and previously senior editor, director of design and style books with Harry N. Abrams, Peltason is also the author of several books including Elizabeth Taylor: My Love Affair with Jewelry, Kate Spade's Occasions, Style, and Manners, and most recently Living Jewels: Masterpieces from Nature. Her entertaining and informative talk, based on her latest book, focussed on how jewelry created from living materials was also a represented culture through the ages.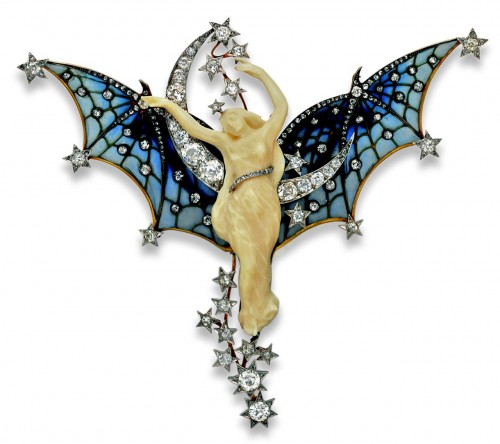 Courtesy Christies
Engaging and riddled with spectacular images from her book, such as Edmond Becker's amazing French Art Nouveau ivory and plique-à-jour "Belle de Nuit" brooch above, Peltason's talk made a convincing case that fine jewelry, like any other significant art form, is a reflection of its times and culture. Citing examples that spanned over two hundred years, Peltason showed works made of a variety of materials from coral and amber to hair and feathers, all sharing a common bond of origins in nature.
courtesy of Christie's Images/Corbis
Every piece had a story to tell, of how the artist made use of the material to express his or her creative vision. And as with much great art, there is a timelessness to the designs. Take for example this amazing coral Egyptian revival necklace, c. 1870. Not only does this piece represent the romantic fascination with all things Egyptian from the era, but as some of you may recognize, it was also worn in a completely contemporary fashion by Miranda Priestly, Meryl Streep's character in The Devil Wears Prada.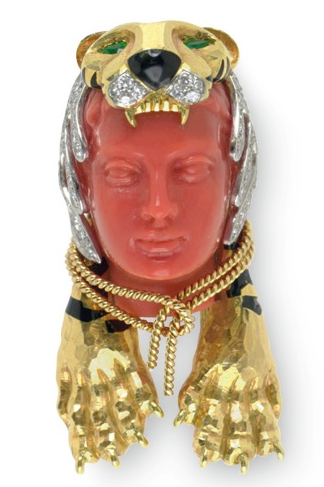 Courtesy Christies
Later in the 20s and 30s coral became popular with all the major jewelry houses and particularly associated with Cartier. This brooch also shows their fascination with the panther, which was soon to became an iconic symbol for them.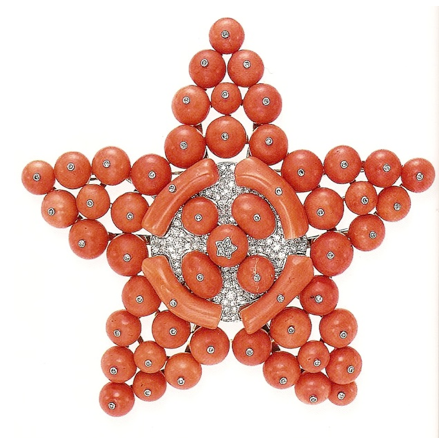 Courtesy Collection Camilla Dietz Bergeron, Ltd and Symbolic & Chase (photo Christies Images/Corbis)
As the depression was ending, people were looking to reenter the world of fashion in a somehow more modest way. Diane Vreeland, ever with her pulse on the populace, suggested in her "Why Don't You" column, taking old coral beads and having them made into a brooch, just as she did above.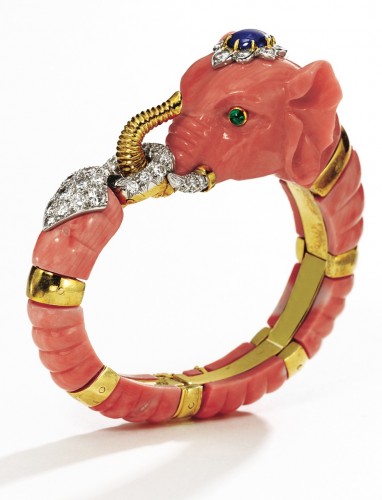 Courtesy of Sotheby's
And later, in the '60s, David Webb gave coral a whole new younger vibe. With his bold expressive pieces, he ushered in the new age of women not afraid to wear their new liberated lifestyle on their sleeve (so to speak). His iconic pieces are now coveted and collected by women of style everywhere. In fact Peltason has been hired by the house to write Webb's definitive monograph. Look for it to hit the bookshelves fall 2012! It will most certainly be THE must-have title on every jewelry lover's holiday list.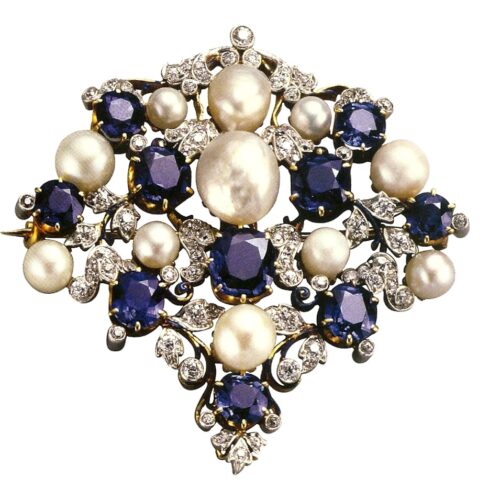 Courtesy Tiffany & Co. Archives
Another of the natural sources presented, and used with an incredible variety of techniques and designs over the years, was, not surprisingly, pearls. Peltason described this beautiful Tiffany brooch above by G. Paulding Farnham, 1899, as "made in America." – with sapphires from Montana and freshwater pearls from Wisconsin and Tennessee, crafted at the quintessential America company by one of the firms earliest designers.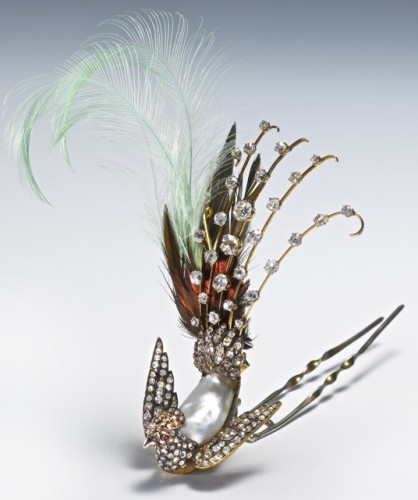 Courtesy Fred Leighton
Around the time this exquisite Superb Lyrebird brooch of pearls, diamonds and real feathers was being made in the late 19th century, the Goulds were preparing their mammoth Birds of Australia book which featured the exact same bird.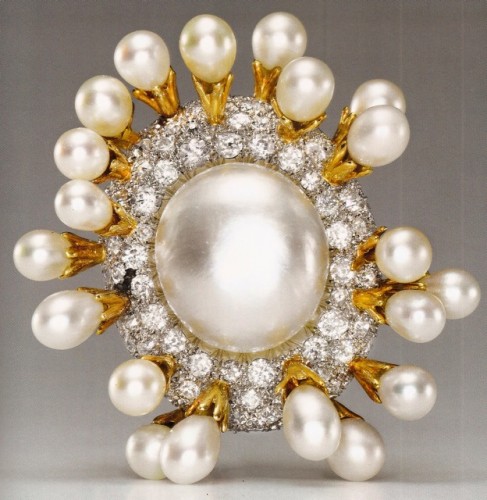 Courtesy Camilla Dietz Bergeron, Ltd., private collection
This magnificent brooch by Schlumberger from 1955-60 exudes nature in its lively form. The asymmetrical rim of pearls, set like little flowering buds, seem almost to be blooming as you watch.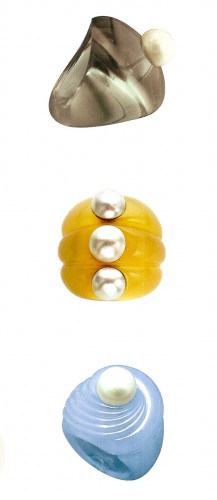 Courtesy Primavera Gallery, New York
And yet Suzanne Belperron's rings are more architectonic in their emulation of a shell-like natural form. How amazing that these are from the 1930s and 40s – they look totally contemporary.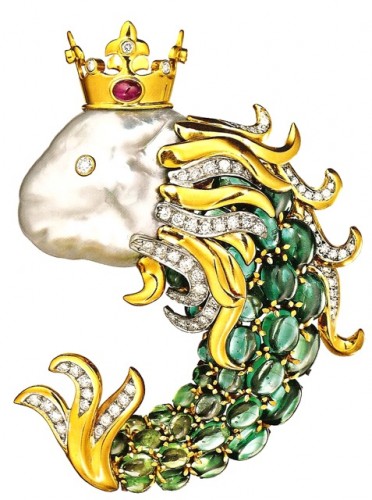 Courtesy Verdura
This spectacular Verdura piece drew oohs and aahs from the audience as Peltason told its tantalizing tale. When young Nico Landrigan, at 10 years old, drew a "killer whale" complete with diamond teeth on a napkin, he knew someday he would craft it into a piece of jewelry. Years later, Landrigan, who now works alongside his father (owner of the venerable firm), had his chance when he found a large baroque pearl that somehow reminded him of his boyhood sketch. Using one of Verdura's original drawings, Landrigan, over the course of three years, fashioned that pearl into the princely fish it is today, naming it "Le Dauphin. " When asked which was the leader, the design or the pearl, father Ward Landrigan replied "With Mother Nature, you don't impose the design. Nico adapted the brooch to the pearl."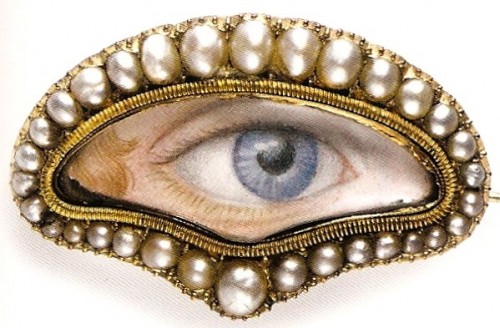 Courtesy Collection Gabrielle De Ferrari (photo @Samuel Bristow)
There were many other interesting tidbits as well. Did you know that jewelry was also sometimes a clandestine communication between lovers? In the early 1900's a courting couple could offer a secret token of love by having one of their eyes painted on ivory. This "lover's eye" was then made into a piece of jewelry, in this case a brooch, to be cherished by their partner.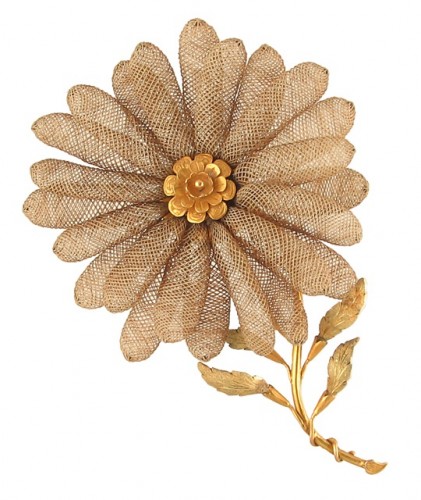 Keepsake jewelry could also be woven from hair, although hair jewelry became an industry in and of itself, beyond just personal gifts. This brooch from 1820-30 is an incredible example of the workmanship in this medium.
Courtesy Kentshire Gallery

Courtesy Kentshire Gallery
Another unusual material used in jewelry was lava. As Americans and Europeans made the Grand Tour in Italy during the 18th and 19th centuries, Pompeii and Vesuvius were popular attractions. Wanting to bring home a piece of history, jewelry and classical art were popular purchases. This mid-19th century bracelet, made from Italian lava, also exhibits the era's fascination with classical imagery. The cameos in the bracelet depict the Roman gods and their relationship to the days of the week. From the left, Diana, the moon, for Monday; Mars for Tuesday; Mercury for Wednesday; Jupiter for Thursday; Venus for Friday; Saturn for Saturday; and Apollo for Sunday. I am embarrassed to admit that my very rusty French finally made sense as I suddenly realized the correlation (Lundi, Mardi, Mercredi, Jeudi, Vendredi, Samedi, Dimanche – meaning day of God). Don't you just love when that happens?!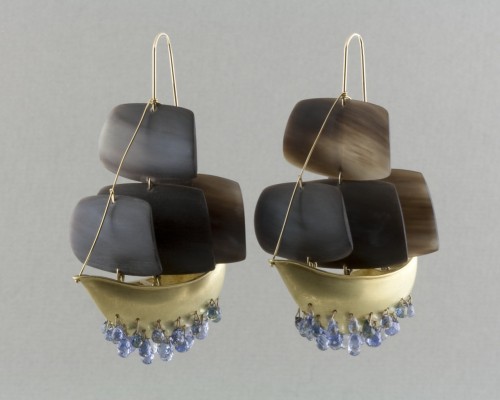 Courtesy Artist's Collection
Patelson also covered contemporary designers' uses of natural resources. I just adored these fantastic clipper ship ear pendants by Gabriells Kiss from 2004. Because buffalo horn has a natural curve, it was the perfect choice for the wind-filled sails. The hull is 18k gold and I think the hanging briolette sapphires are such a brilliant touch. Kiss approaches her jewelry making like sculpture and these earrings are the perfect segue between the two art forms.
There was so much information to take away from this talk but I think the most important is how synergistic the art of jewelry is. These pieces represent not only the inspired visions of the individual artists that create them but also the specific eras in which they were designed, connected by the medium in which they are worked. Each of these aspects can be considered alone or together to define the pieces. Peltason was a dynamic lively speaker who brought this fascinating subject to life. If you'd like to read and see more, I highly recommend her beautiful book – it's chock full of over 350 beautiful images and fascinating information.