Last Wednesday evening, crowds turned out for the Lenox Hill Neighborhood House Gala 2015. Honoring long time board member Juan A. Sabater, the event grossed more than $1,070,000 for the organization's social, educational, legal, health, housing, mental health, nutritional and fitness programs which, each year, serve over 20,000 of those in need who live, work or attend school on the Upper East Side. It's another busy week but I wanted to start to share a few of the beautiful tables created by the many interior designers involved.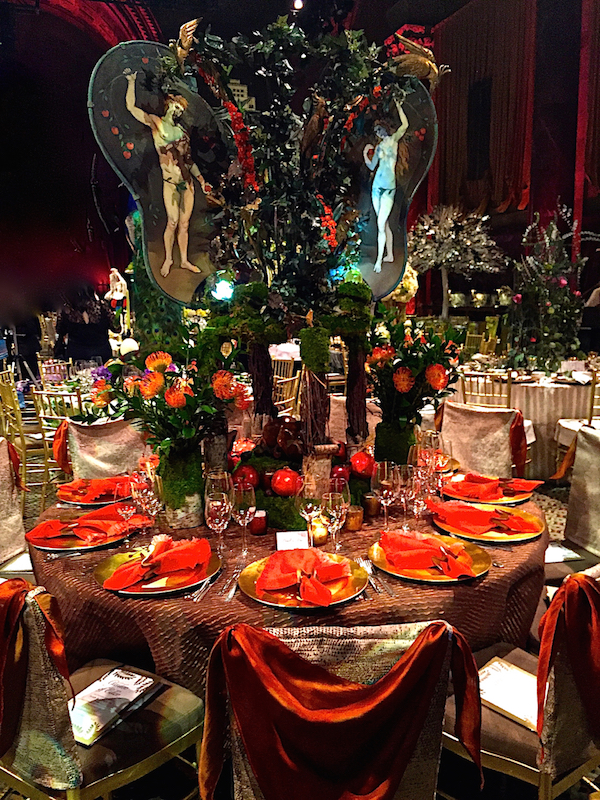 As we saw in last week's sneak peek, this year's theme was the Garden of Eden. I was delighted to be a dinner guest at David Duncan's beautiful Paradise Lost table.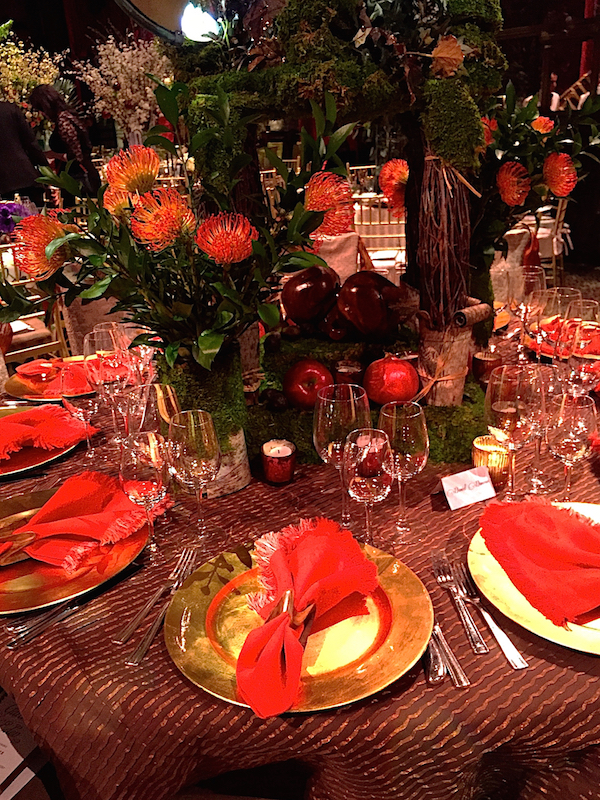 With a vibrant orange theme, the table featured a centerpiece by a classically trained painter who David commissioned to re-create Durer's iconic 16th century engraving "Adam and Eve."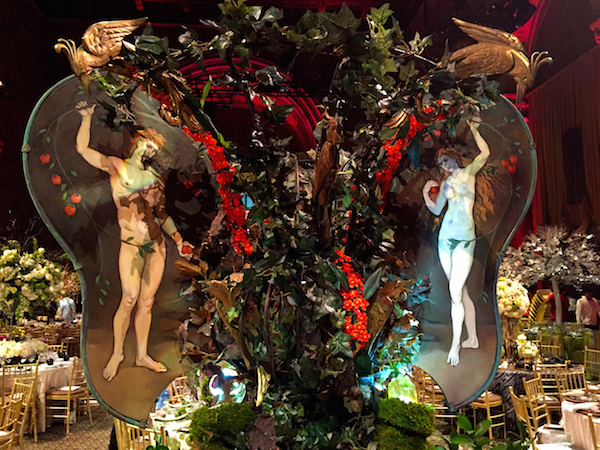 Ashley Whittaker's Spring Garden table evoked exactly that with exuberant blossoming branches gracing the middle of the centerpiece.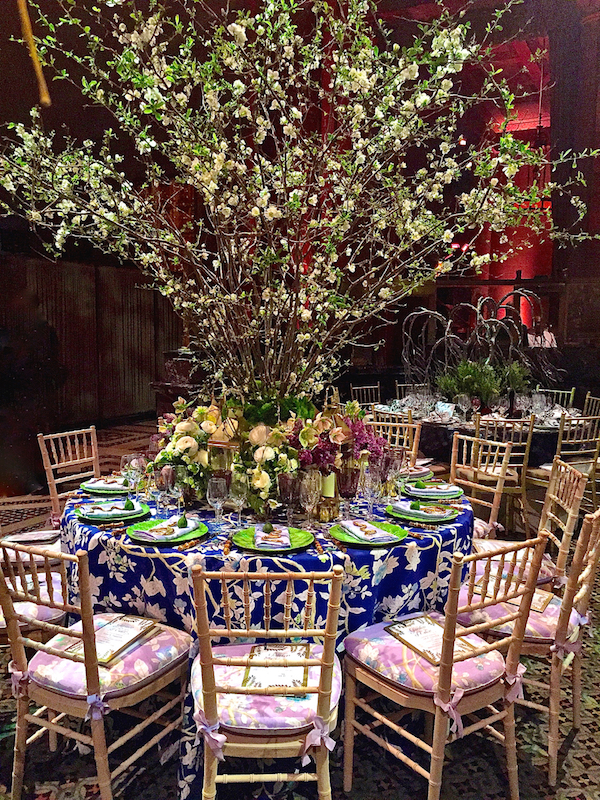 Quadrille's chinoiserie Happy Garden as the tablecloth topped with lettuceware plates and golden serpents were a colorful fresh interpretation of the Garden of Eden.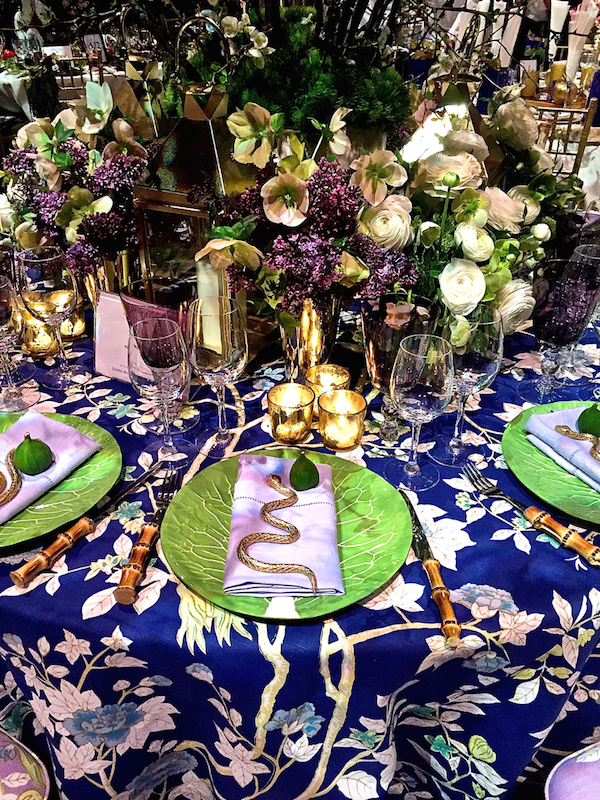 Peter Dunham's Fig Leaf fabric as tablecloth set the theme at Creel & Gow's lush "Eden Evening Fig Fest" table.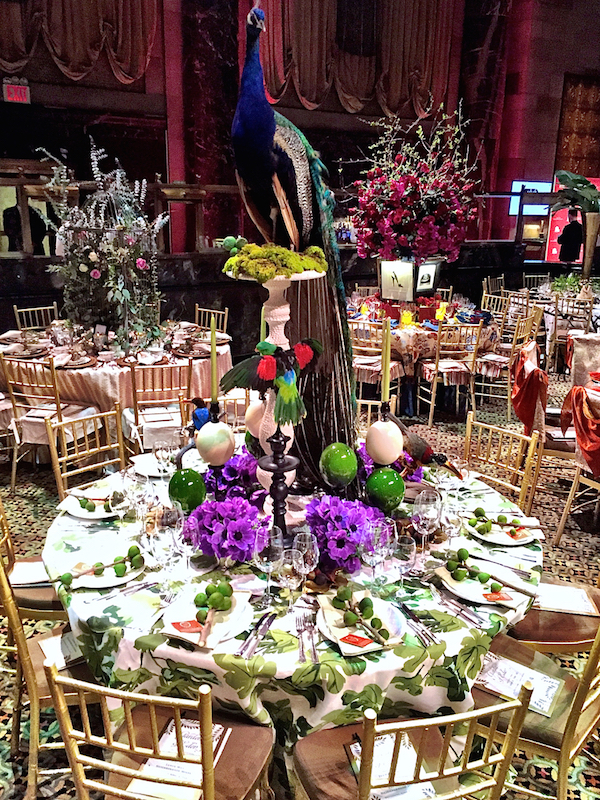 Topped with a proud peacock, the table featured a lush selection of eclectic and exquisite offerings from the shop including vintage brass fig trays, ostrich egg candlesticks and other objets.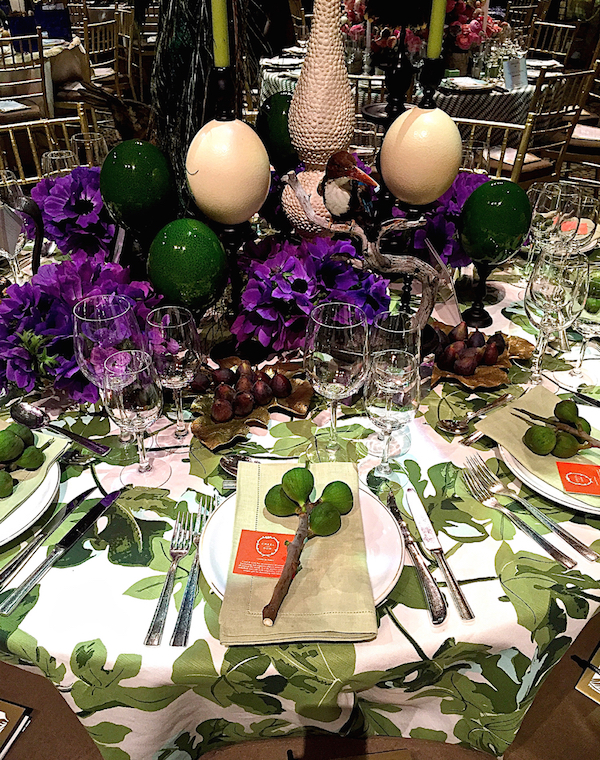 A sophisticated pink and green palette was the setting for Kapito Muller's "Adams's Eve" table.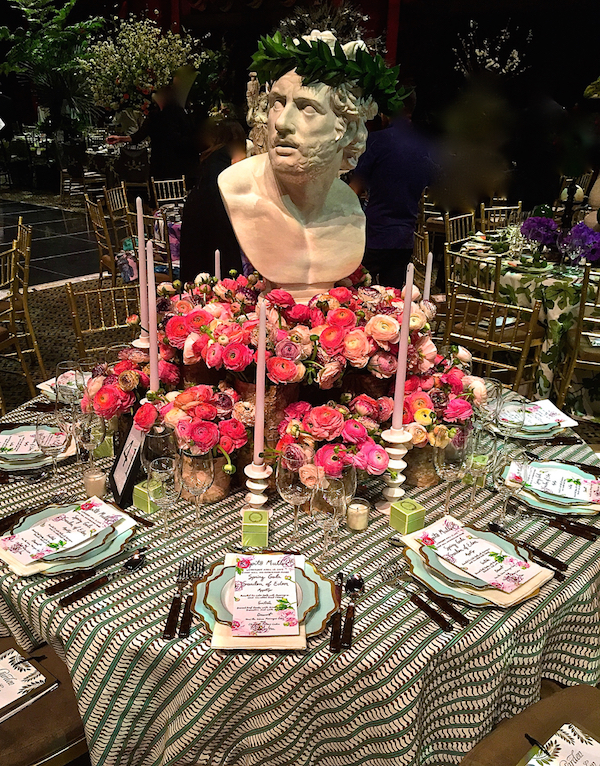 Allegra Hicks' graphic Kali linen was a perfect counterpoint to the luxuriant ranunculi bouquet. A charming menu by Hayley Sarno (who created our new animated video opening), candlesticks by plaster artisan Stephen Antonsson, Palette china by Anna Weatherly and Ladurée treats completed the beautiful spring table.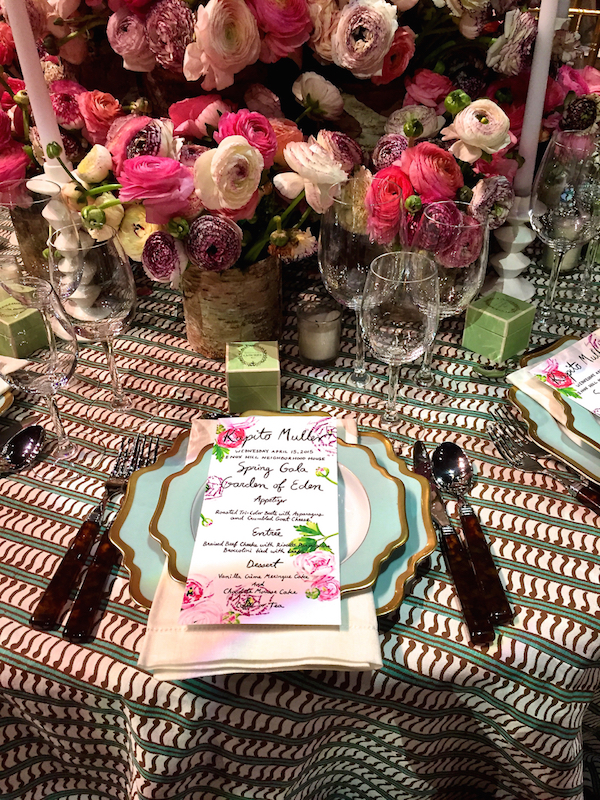 Harry Heissmann's "Ssss" table was clearly all about Eden's most slithering citizen. A fabulous centerpiece by Emily Thompson evoked the lush garden of temptation.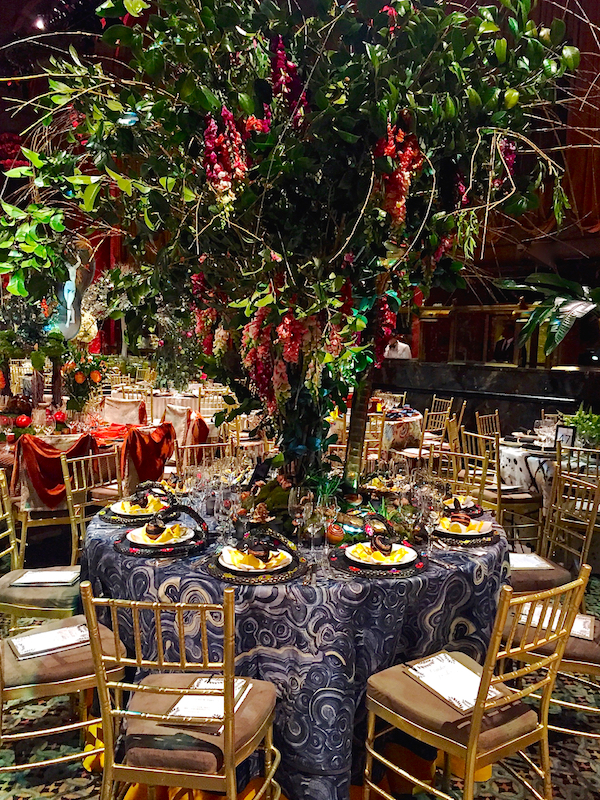 On Tony Duquette's malachite patterned Gemstone fabric from Jim Thompson in lapis lazuli blue, Harry commissioned incredible chargers from artist Mark Gagnon with major hissable appeal.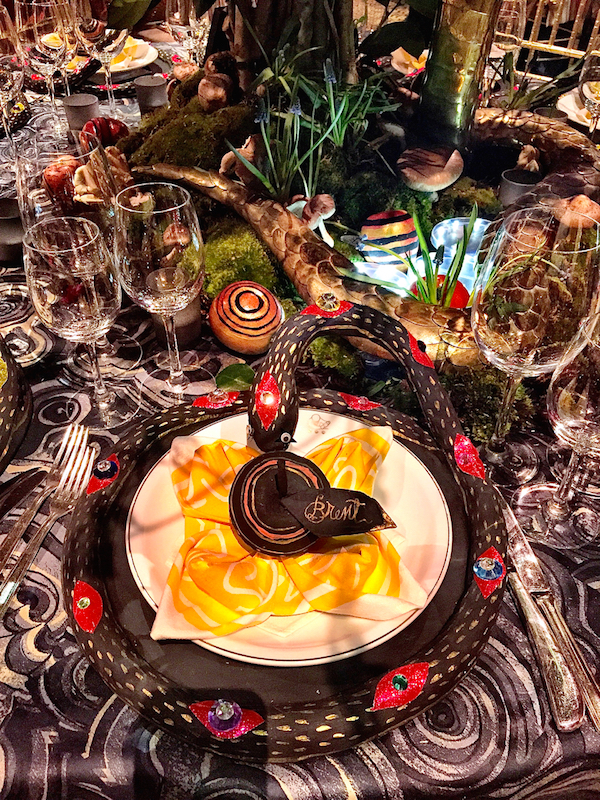 Patrick Mele's "Eden to the Rhythm" was a dramatic table with a tropical beat.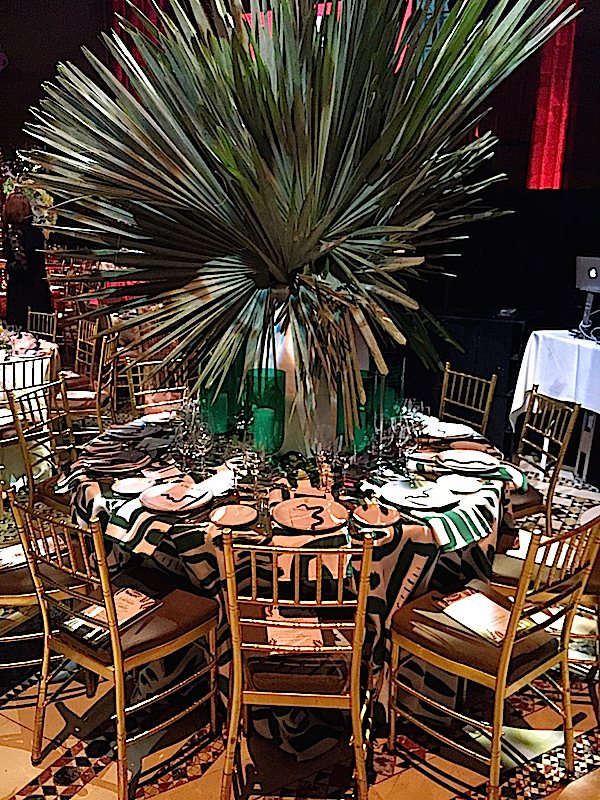 Using his own "Grace" fabric he designed for Peter Fasano, custom colored in a vibrant green, Patrick accessorized with pieces from Antique & Artisan, menu cards by Hayley Sarno and the bold centerpiece by Brian Reilly.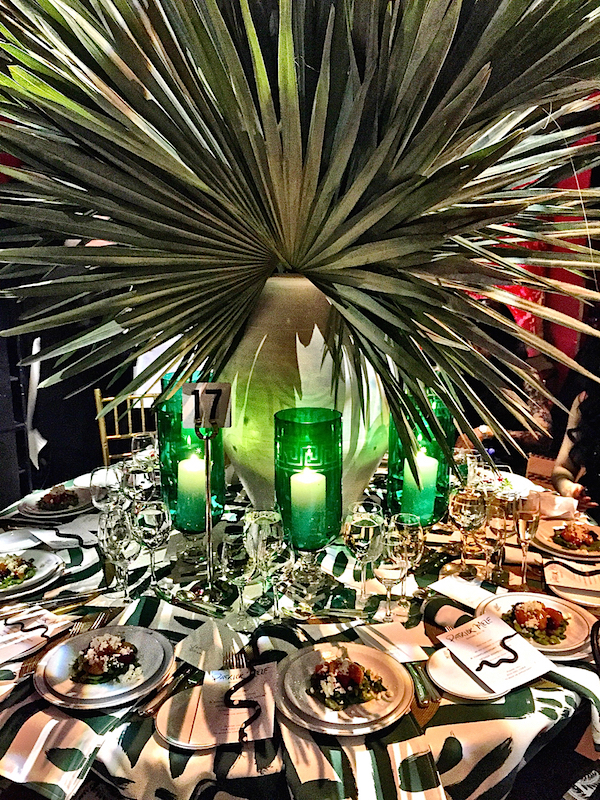 To see the process of making of Patrick's fabulous fabric, join us for a behind the scenes tour at the textile studio of Peter Fasano.
Stop back next time for more tables from the Lenox Hill Neighborhood Gala 2015.