Long before René Lalique began to focus on his legendary crystal creations, he was a master of fine jewelry. Influenced by the majesty of nature in all its forms, he blended symbolism and naturalism into totally unique designs. Two years ago, Lalique reentered this realm, launching its first fine jewelry collection in over a century. Based on the four elements of the natural world, this year's collection pays tribute to the final chapter of the Odyssey, Earth.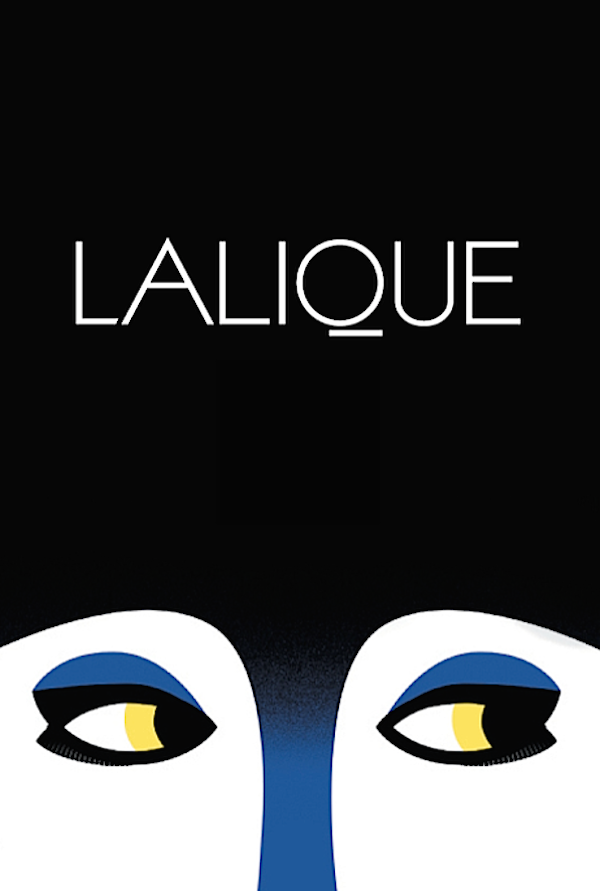 Gaïa, the symbol of Mother Earth and all its creatures and natural wonders, is the goddess of the collection, featured in the all the fabulous new graphics, melding the brand's art deco heritage with a fresh updated look.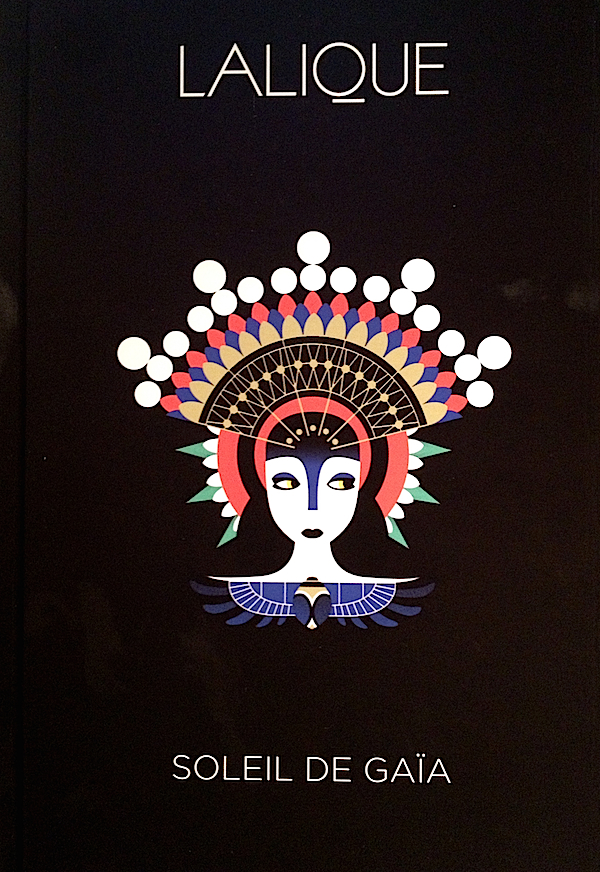 The Soleil de Gaïa collection features several lines, each focussed on a particular element. The beetle, or scarab, is a symbol of resurrection and transformation and a metamorphic representation of Gaïa. Lalique incorporated the sacred symbol into a sketch for a pectoral brooch, below, sometime between 1890 and 1910.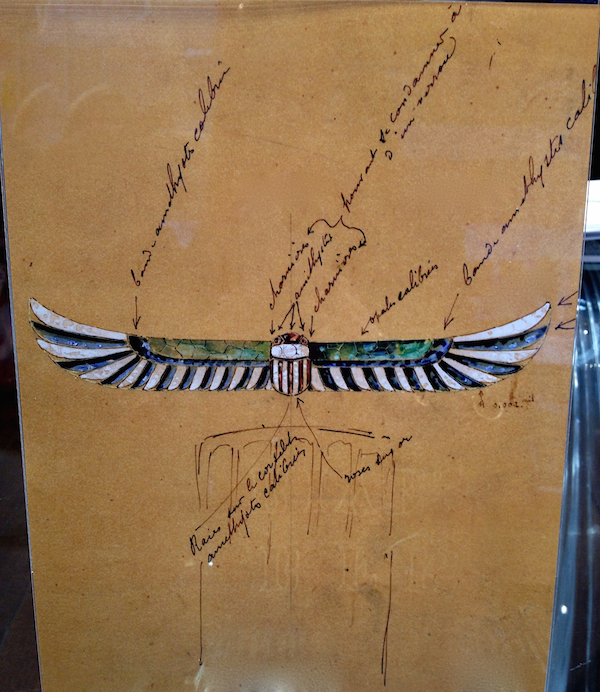 It is interpreted into a spectacular modern version in a necklace of hematite beads and two rows of 82 sapphires.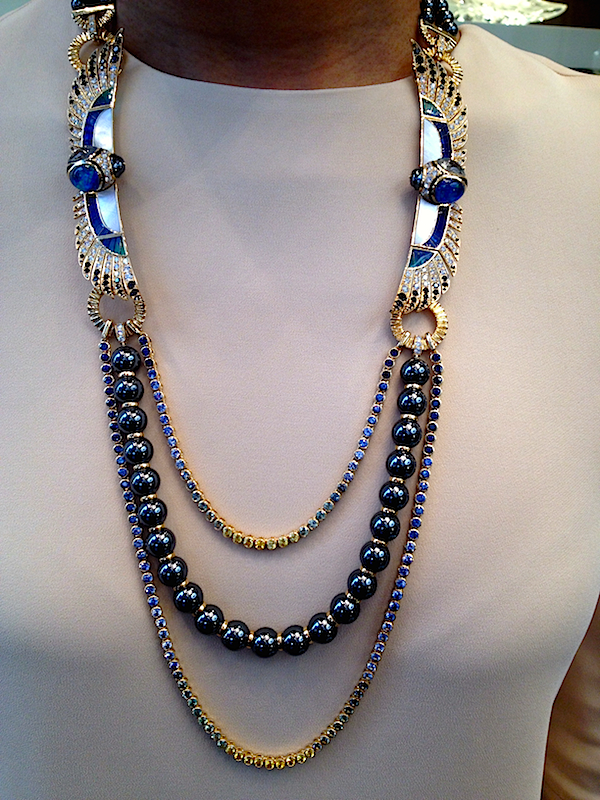 The two jeweled scarab creations are hinged so they can sit comfortably on the shoulder for a dramatic effect that would be especially effective with a low backed dress. And like many luxurious early 20th century creations, the necklace is convertible to be worn five different ways including a headband with one scarab on a satin and leather string.
The ring includes diamonds, black spinels, two cabochon hematites on the sides, engraved white mother of pearl. lacquer and a three carat cabochon opal. And might I add that for a large ring, it is unusually comfortable.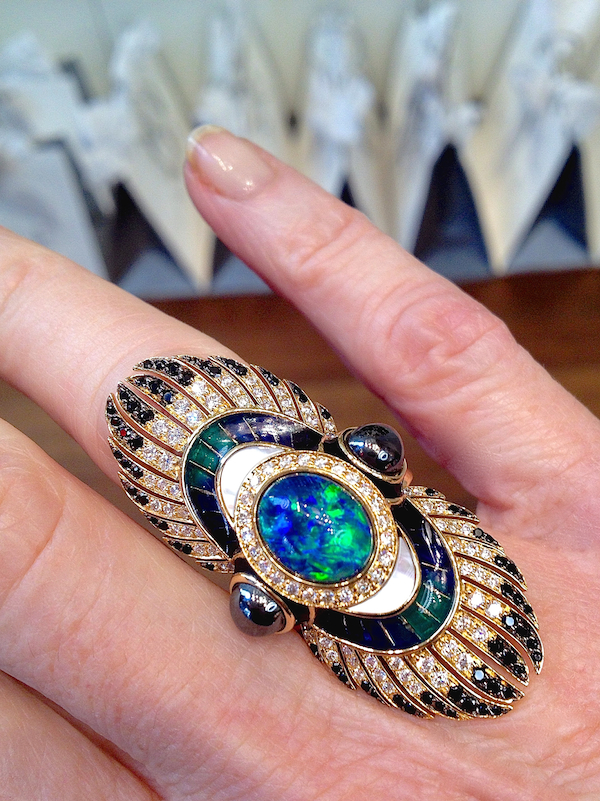 The earrings feel much dressier perhaps worthy of a red carpet appearance.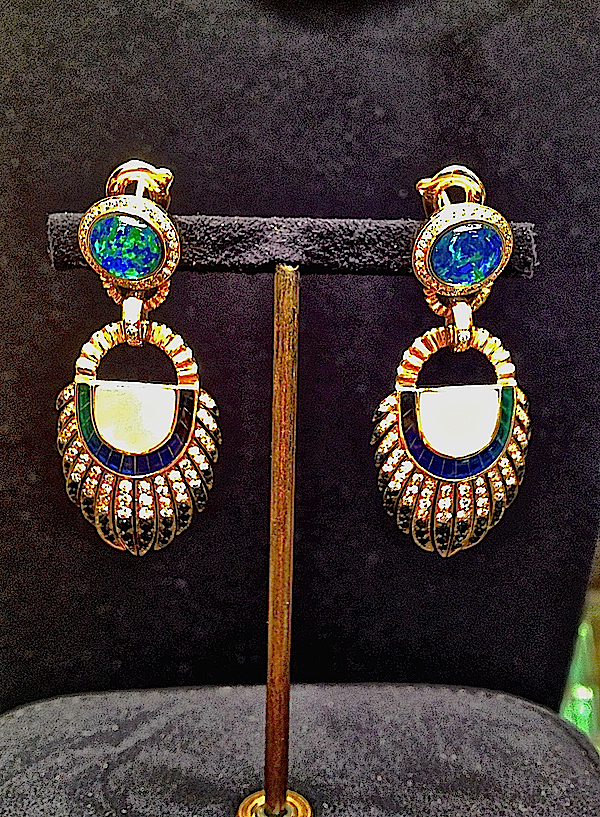 Naturally, within the Soleil de Gaïa collection, there is a line celebrating the sun. Acknowledging Nature and Woman, two major recurrent themes in Lalique's original pieces of both jewelry and crystal, these pieces are particularly feminine with a distinctive Art Deco style, clearly seen in the pendant
photo courtesy of Lalique
and  earrings.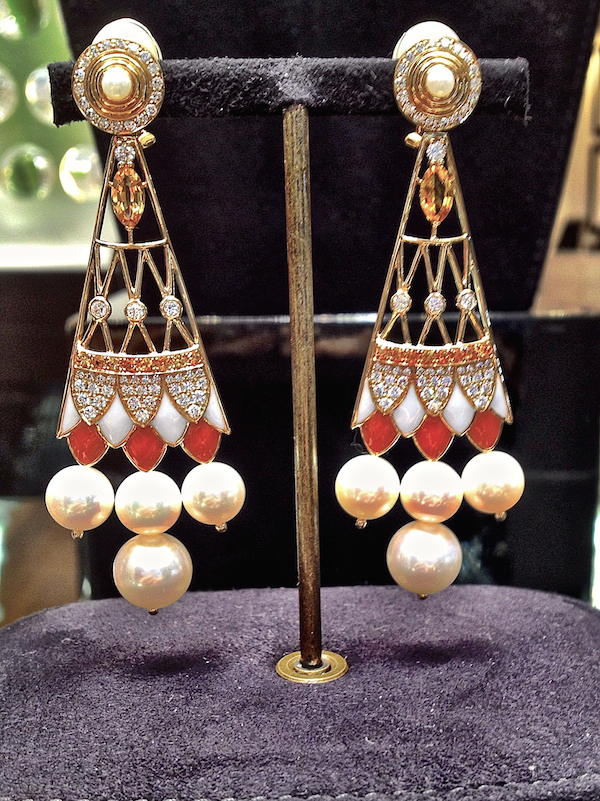 The ring, with its intricate geometric design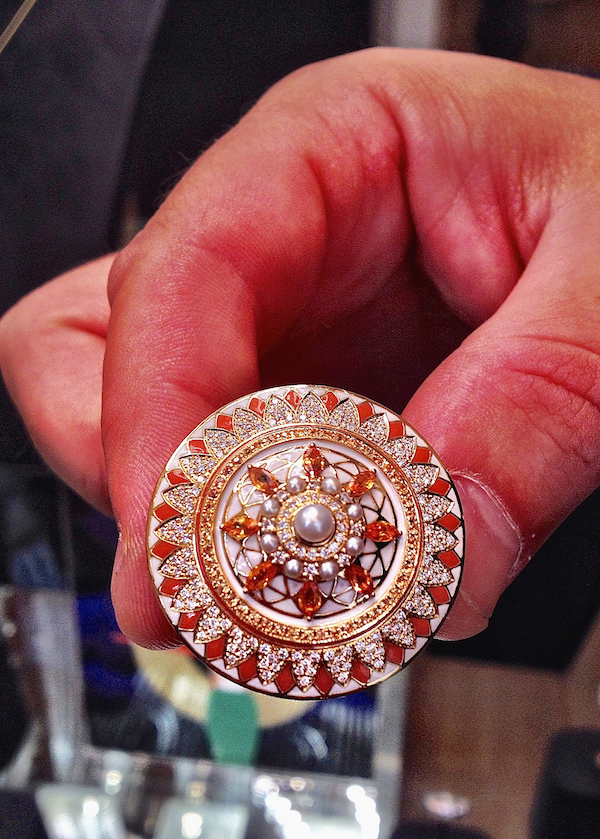 shows the quality of workmanship both front and back.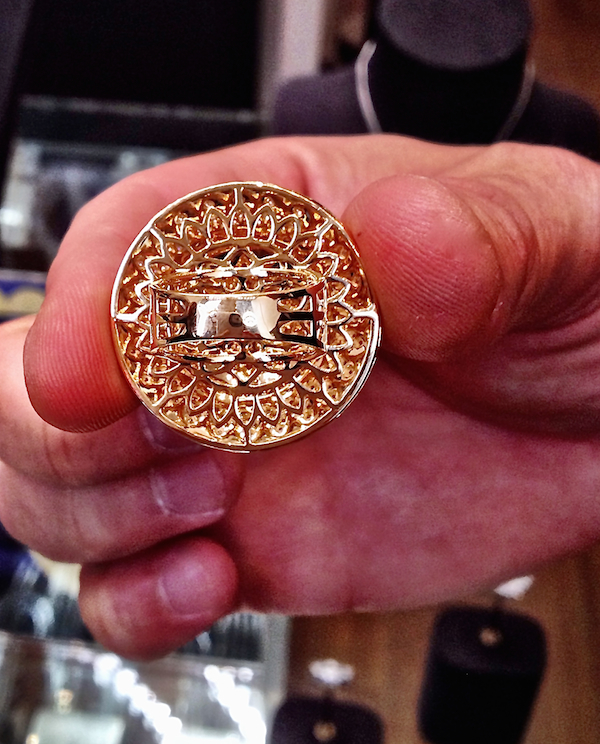 Revisiting the Flora and Fauna collection from previous introductions, new additions include the Psyché's Wings line. Feminine and playful in exuberant colors, the ring below is presented with diamonds, orange sapphires, garnets, pink tourmalines and vitrines.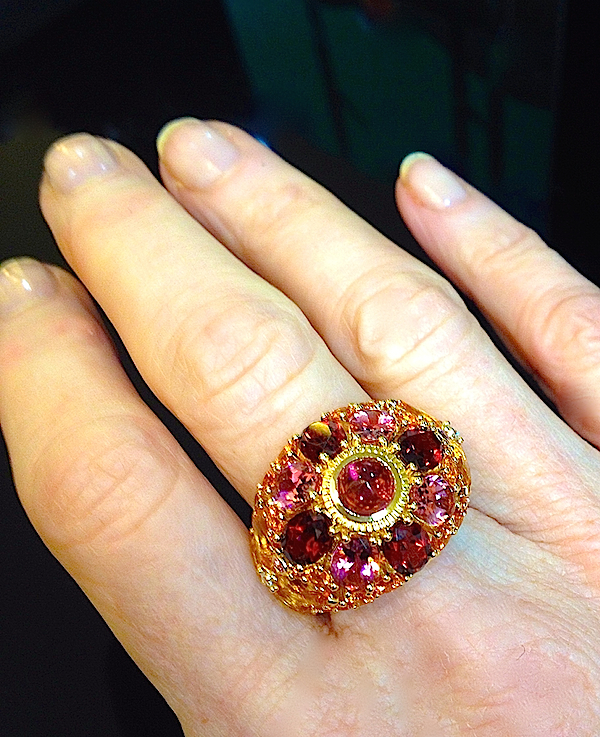 The Peacock pieces are naturally expressed in beautiful greens and blues. The amazing statement ring features a harmonious mix of diamonds, blue and yellow sapphires, tsavorites, cabochon cut turquoises and opal and enamel.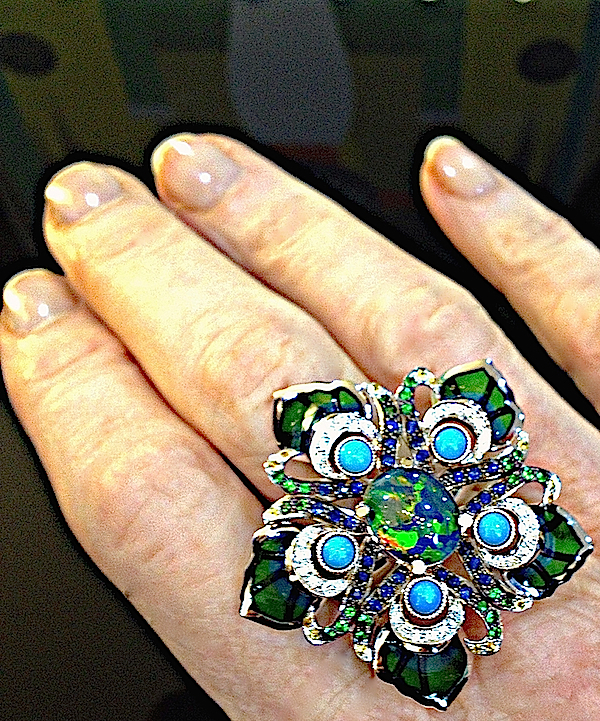 Vesta, part of the original collection, now includes this very pretty and wearable ring, also available as a necklace, of diamonds and mother of pearl at an appealing entry level price point for the Lalique fine jewelry collection.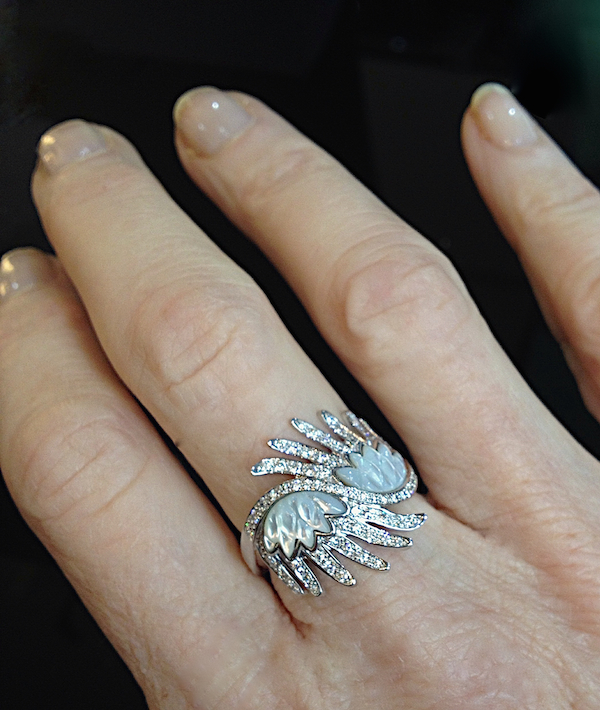 And for something a bit more contemporary, Lalique introduced its new capsule Icône collection. Including five pieces, sculpted in a choice of clear or black enameled crystal, clear reference to Art Deco, it is young, fresh and affordable. I especially liked the ring with its cabochon shape and grooved graphic lines.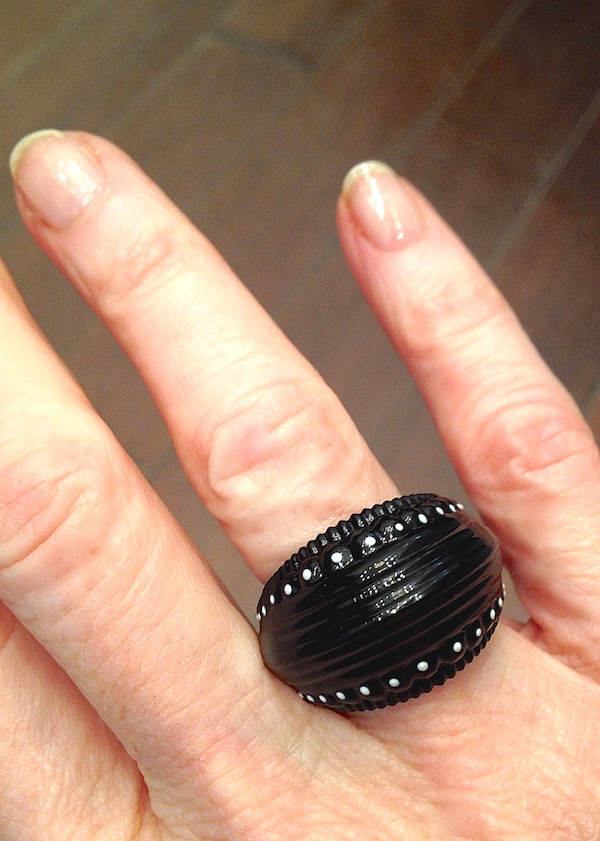 The collections include many more pieces, some of which I wasn't even able to see due to the Air France strike. Next time you are passing the boutique on Madison Avenue, you might want to stop in and make acquaint yourself with the virtues and beauty of Gaïa as she continues Lalique's poetic Odyssey.