While Moroccan themes have been at play for a while in both fashion and interiors, inspiration from a recent trip to Marrakech led head J.Crew women's designer Frank Mora to spearhead one of the most appealing collections for the brand in seasons. With their signature pattern interplay, playful sense of color and winning accessories, the collection has something for everyone.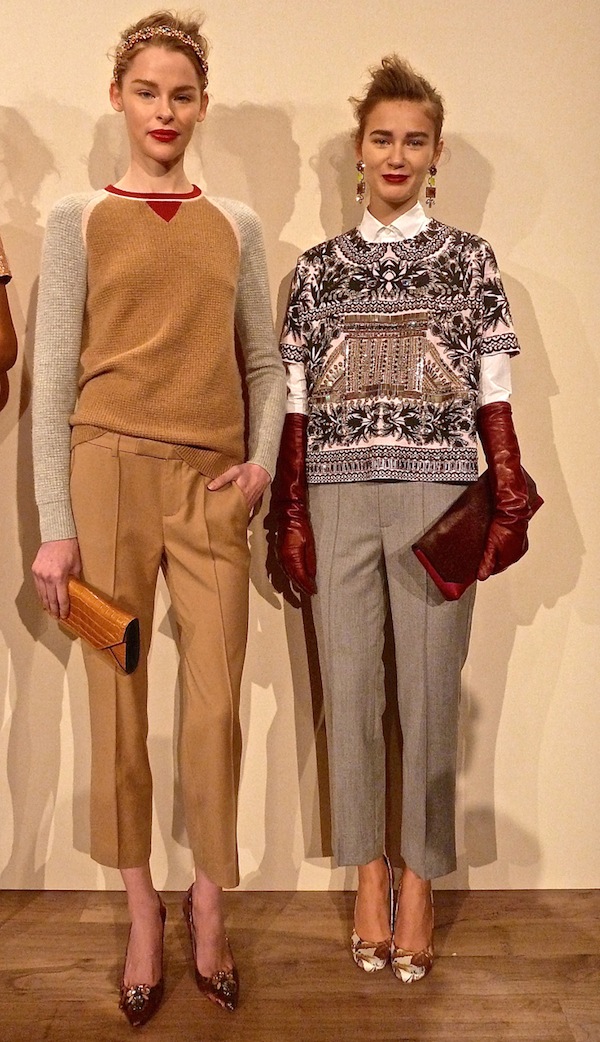 The look may be neutral here but is anything but boring.  Starting with the school boy wool flannel pant, it's the special pieces and accessories that make the difference. The Moroccan influence can be seen in the hand embroidery and beading of this fabulous merino wool sweater, that would look equally smashing over a black turtleneck or alone.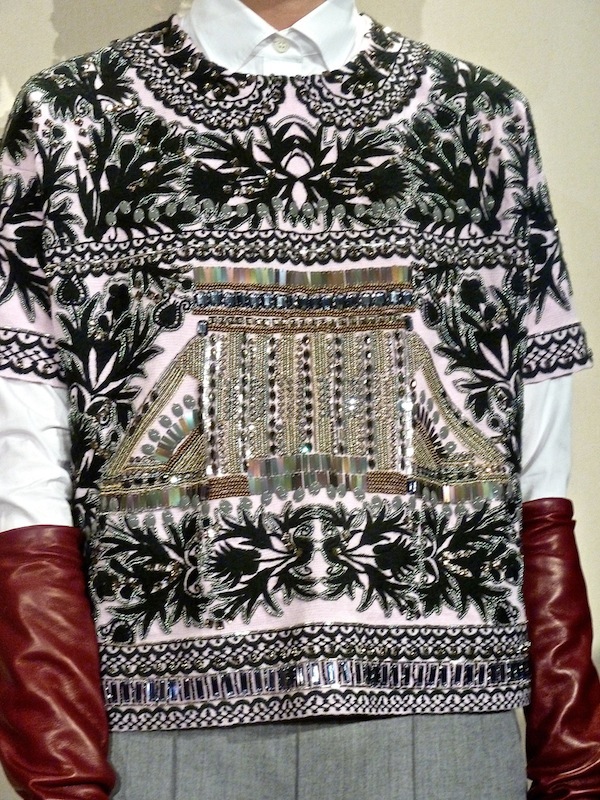 And as we all know shoes can make or break an outfit. The understated camels above were elevated a notch with these fun printed jeweled pumps.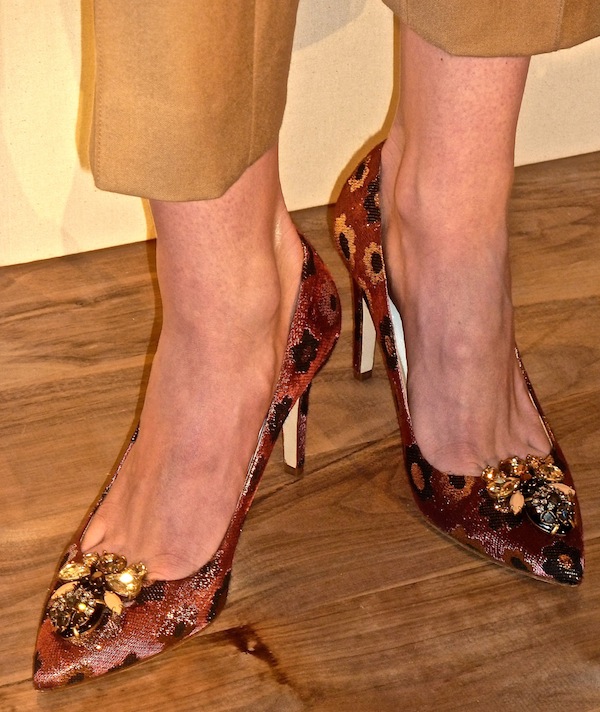 While some of these looks as shown might be a tad too youthful for me, there are certainly pieces to pick out and themes to appropriate. I am way beyond a shorts suit as such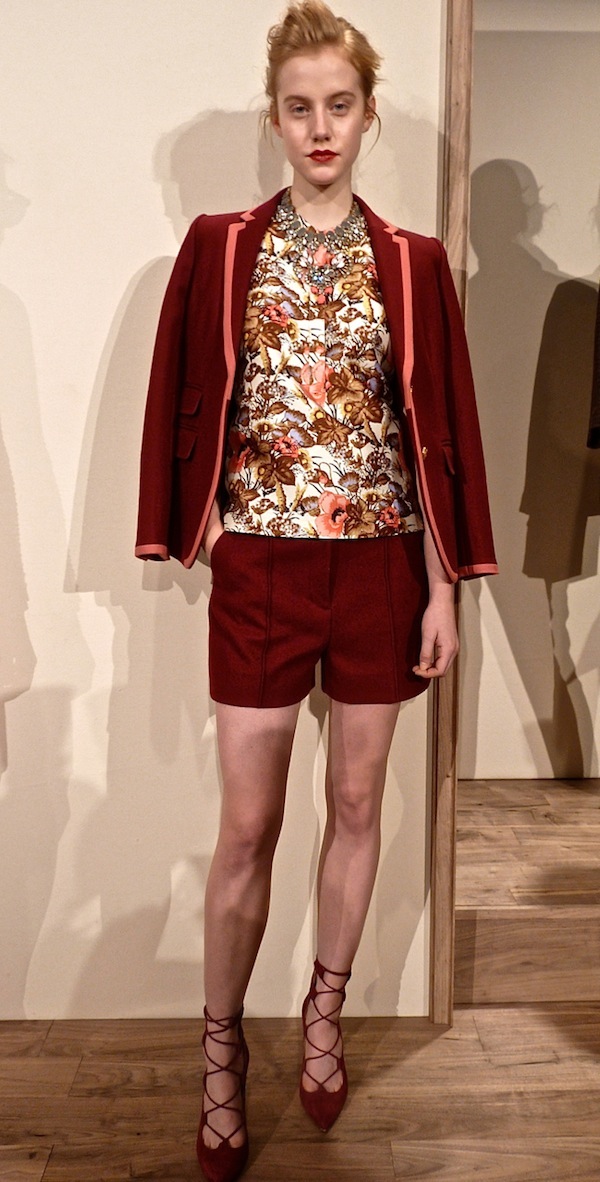 but loved the combination of the blazer with printed silk wool top and crystal necklace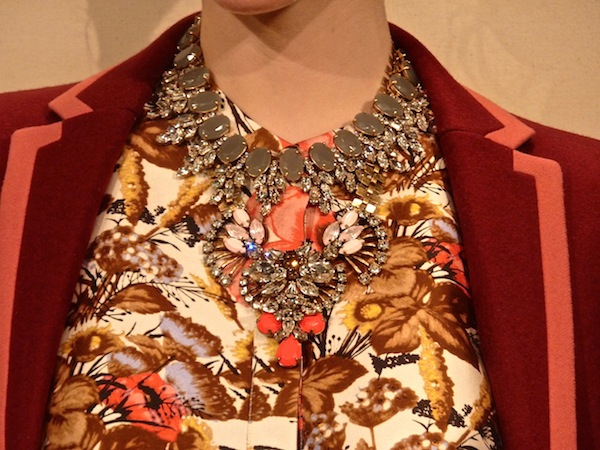 A similar concept in a ramped up color way had its moment with a Harris Tweet tipped blazer and purple stained glass Ratti print silk top.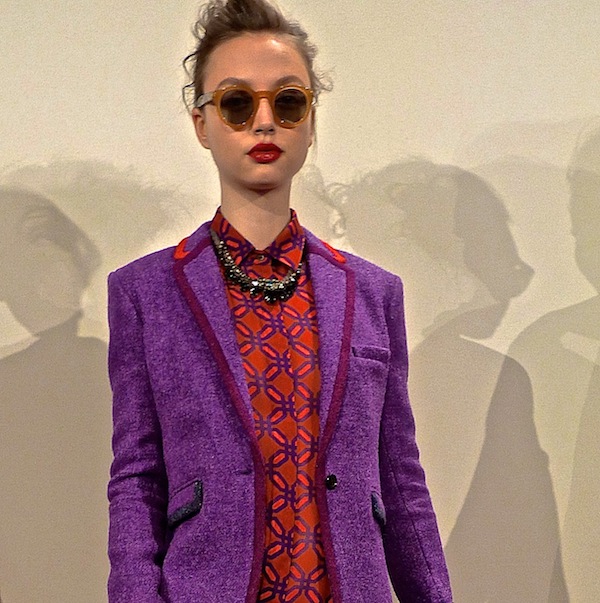 And the same goes here. You may, like me, not be quite adventurous enough to sport this entire look, but there are lessons to be learned. Try mixing a silk print with a wool houndstooth – it's haberdashery 101.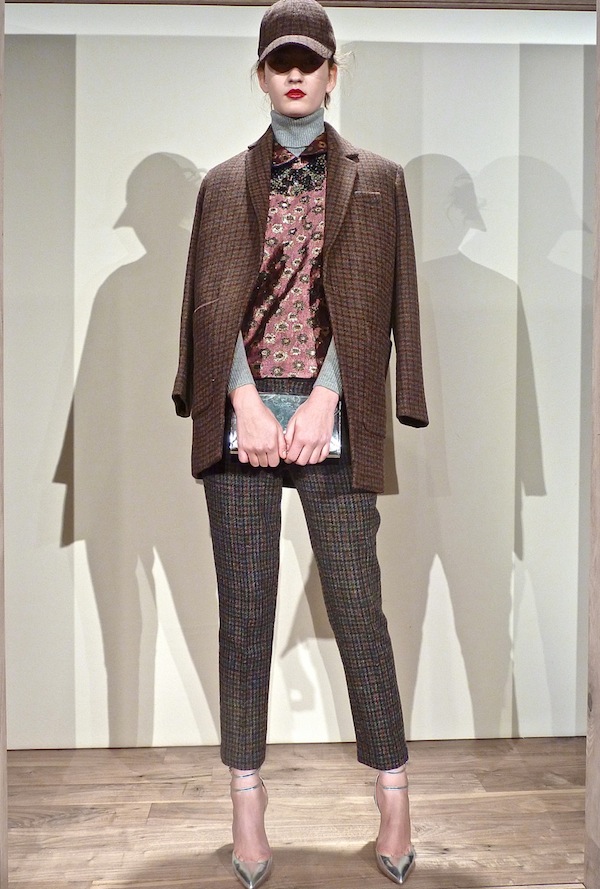 And whether you add the additional layer of a cashmere turtleneck is up to you, but do consider a little sparkle – a little goes a long way in my book but it is everywhere for fall and a statement necklace is a must have accessory.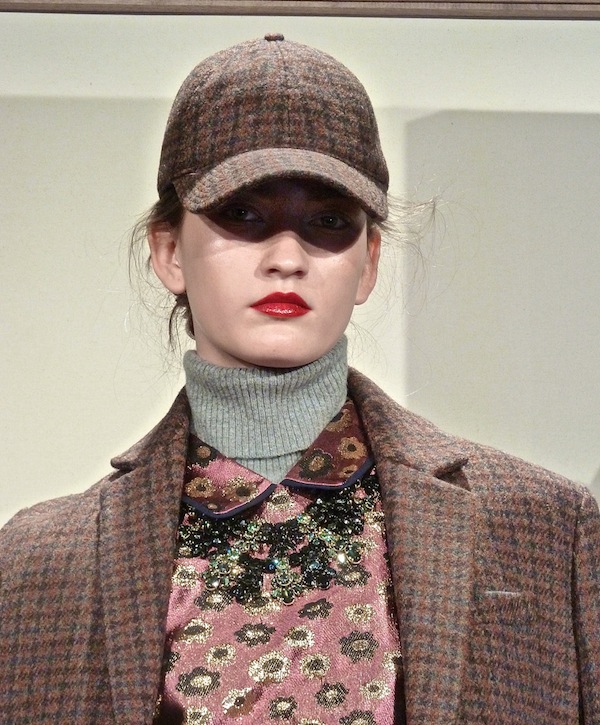 Two different suit looks here. The updated orange tweed on the left was a favorite – the unconstructed jacket gives it a sophisticated European flair.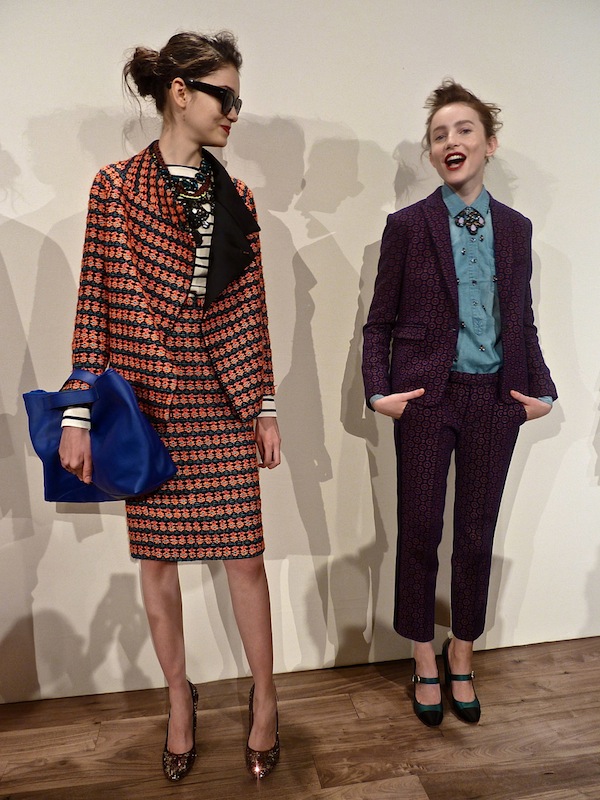 And it's also a reminder of a great way to incorporate that sailor tee I'm sure we all have in our closets for a casually sophisticated mix. They paired two necklaces together here for an extra dose of bling.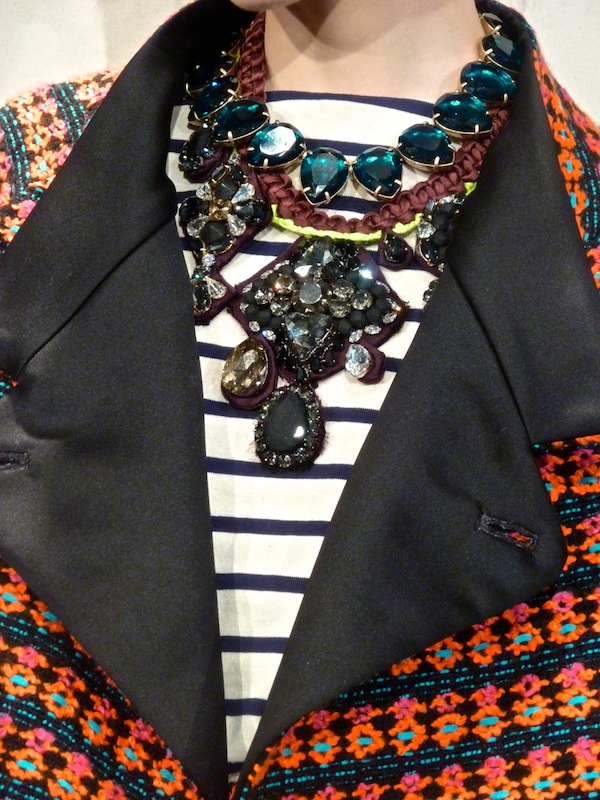 And bling extended down below as well with these charming gold sequin Etta pumps – a great accessory for everything from your favorite LBD to a pair of those versatile Minnies I love (now on sale I noticed).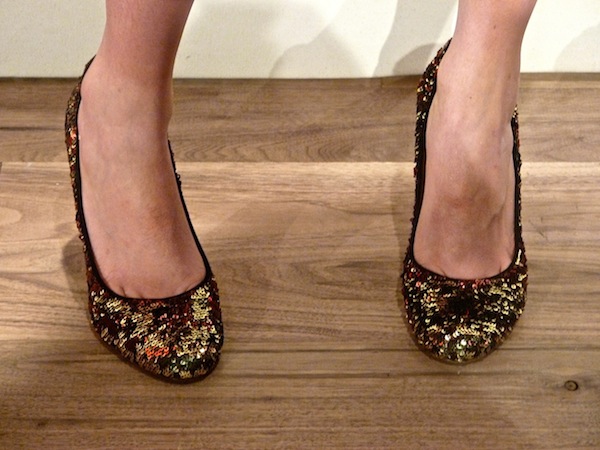 This look was one of my favorites. Combining many trends of the season, the result is still quintessentially J.Crew. Just like with interiors, it's all in the mix –  a purple donegal tweed coat with lilac metallic floral jacquard pant and heather pink Italian cashmere handknit sweater. And each of these is a fabulous basic on its own to enhance other pieces in your closet.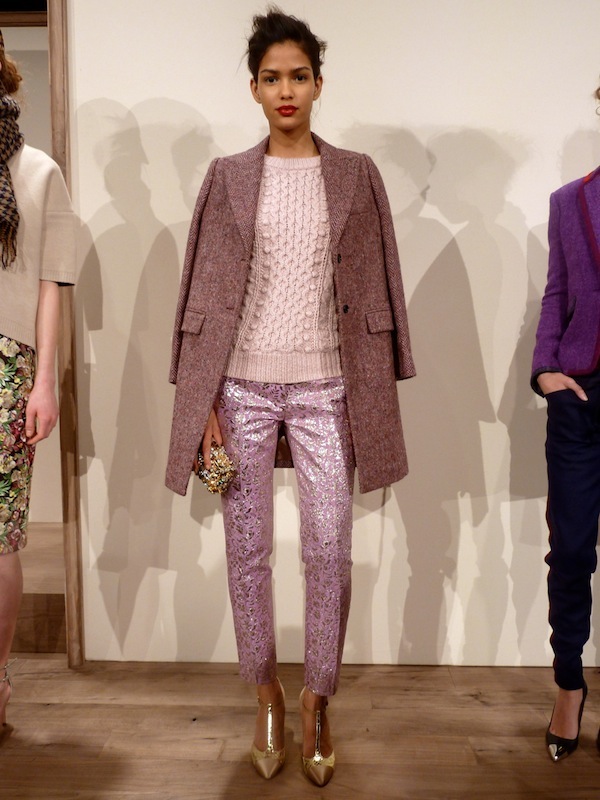 Here you can see the texures at play, capped off with a fetching golden crystal jeweled minaudiere – might as well start your holiday list now!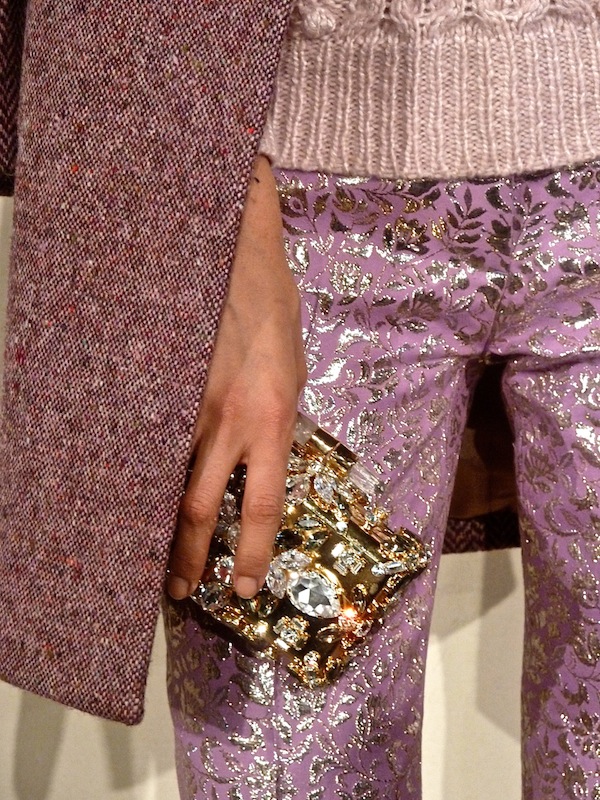 This floral skirt in this mix threw me off a bit. However, individually I love each and ever piece.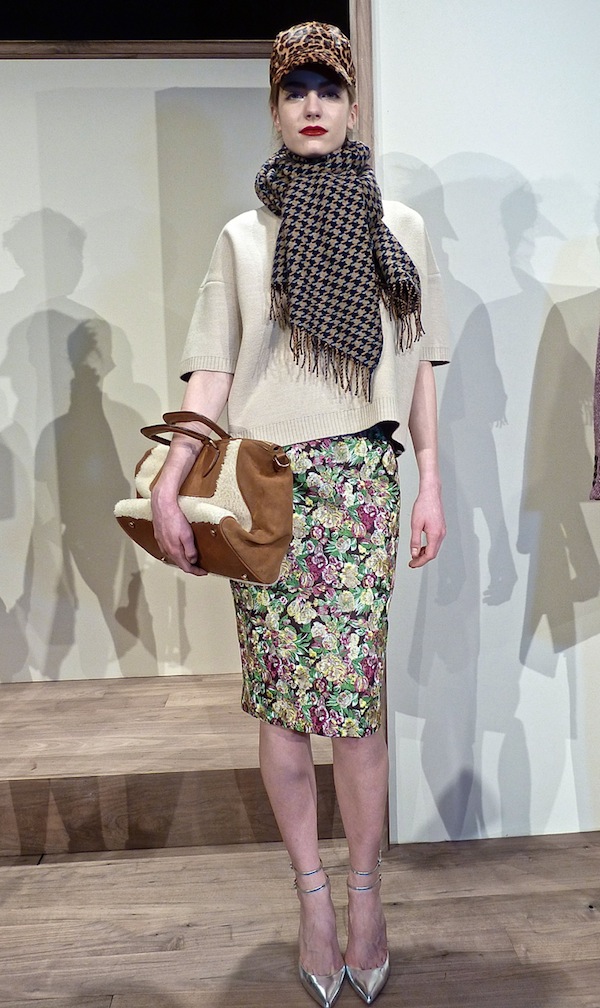 How fun is this saddle shearling satchel for fall?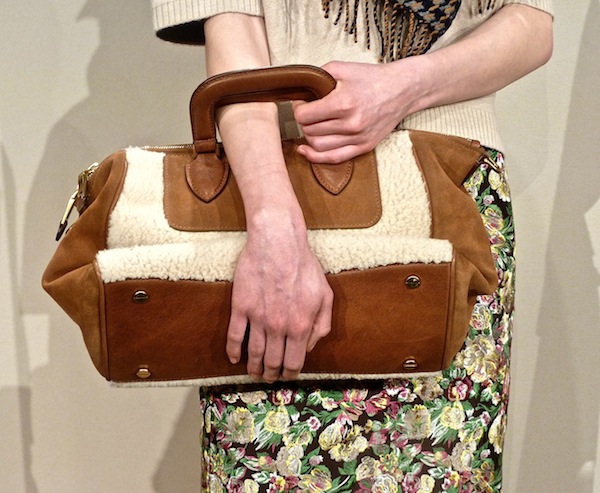 And I may just have to put both the oversized grey and camel houndstooth scarf (a requisite print for fall) and adorable leopard haircalf baseball cap on my list!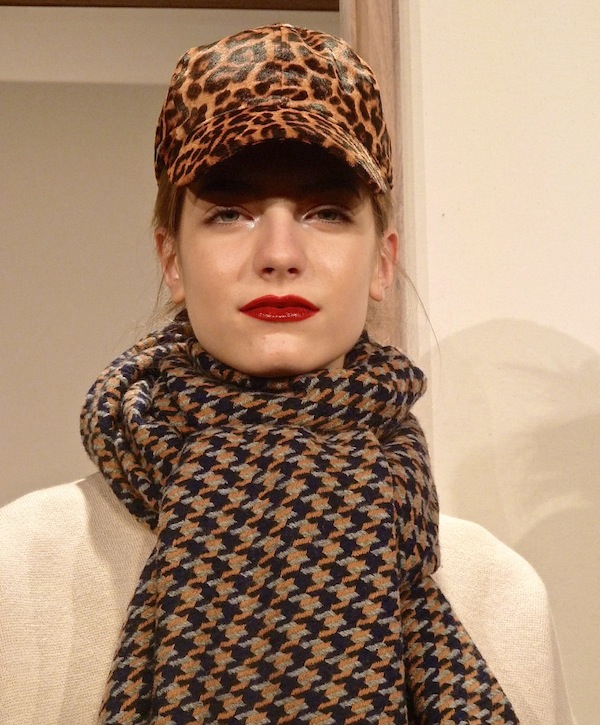 And by the way, if you, like me, have been mesmerized by the fresh and flawless look of the models' makeup, you can find all the tips and info here.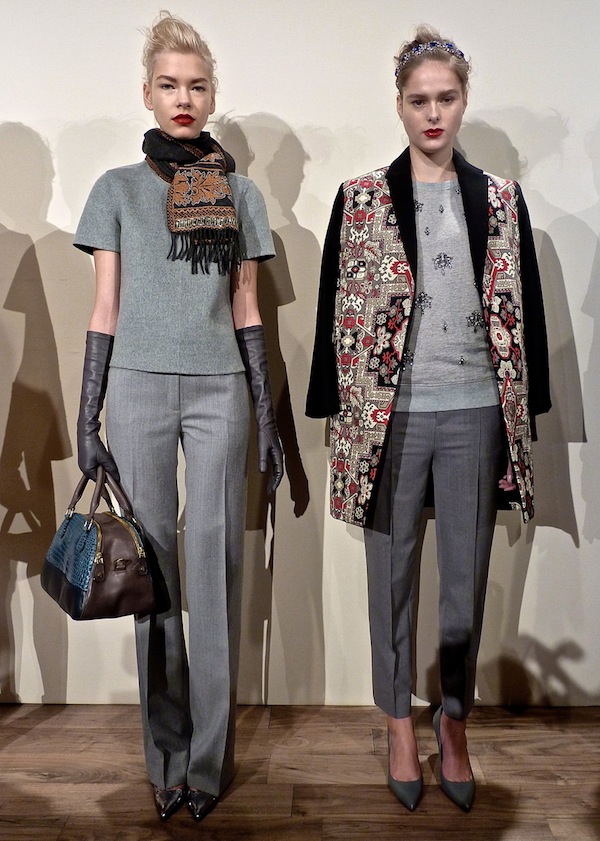 This collection felt particularly upscale and these two looks are perfect examples. With tailored (left) and embellished (right) neutrals, it offers great pieces to mix, match and accessorize. Opera length gloves were again all over the runways and look particularly chic with a short sleeve top. And the hand embroidered and beaded scarf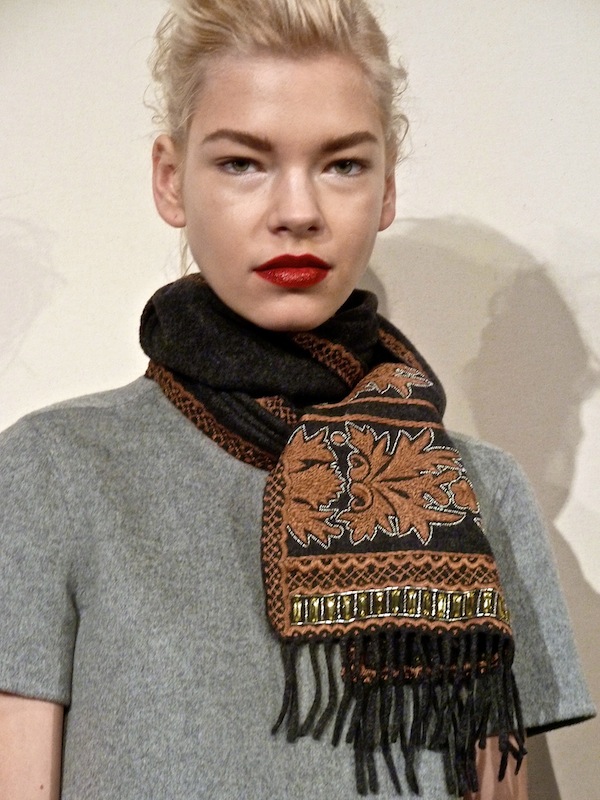 and gray and navy medium Biennial Stachel are purchases that could be workhorse staples in your wardrobe.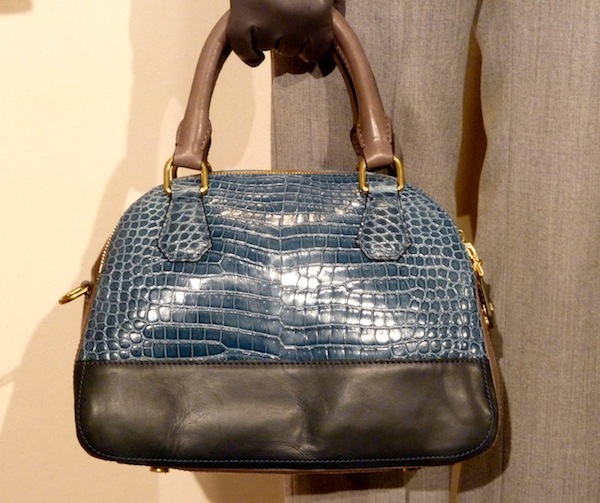 And there's that Morroccan influence again. The red silk print appears with wool sleeves on the coat from above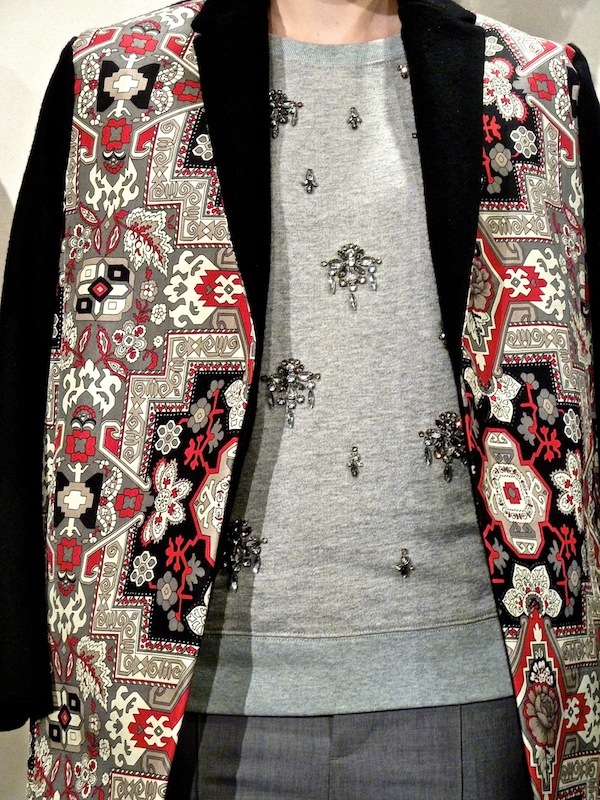 and as a dress below right, under a camel Italian wool herringbone coat with hand beaded lapels.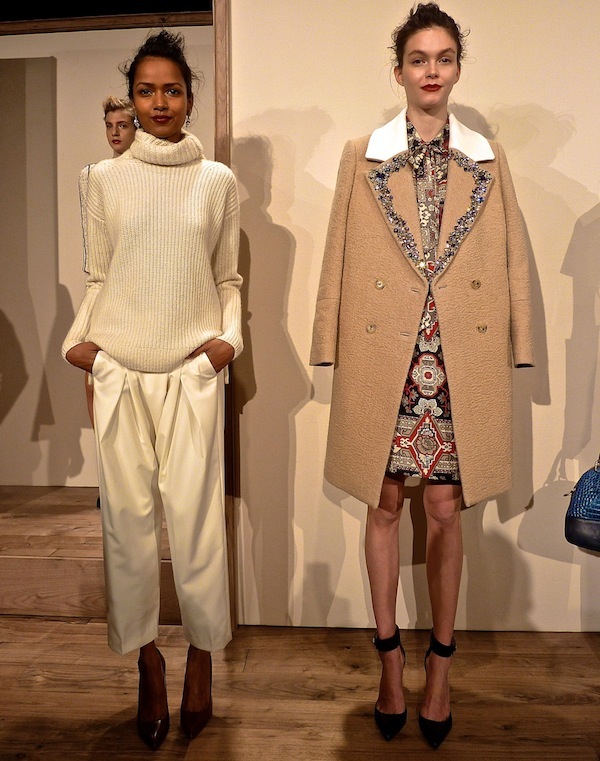 The beautiful ivory ensemble of Barberis wool draped pant and Italian cashmere turtleneck is an indication that the brand is willing to include more luxurious classics in the collection. For a while the line was skewing very young and it's nice to see them being a little more inclusive again. Even the bling was a little more understated.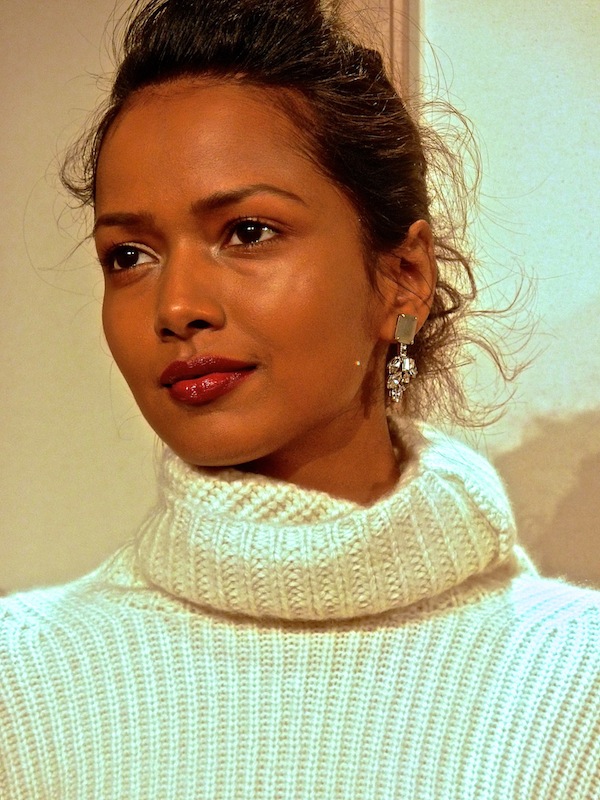 Of course black and white is the overriding theme for fall and the last looks capitalize on that trend.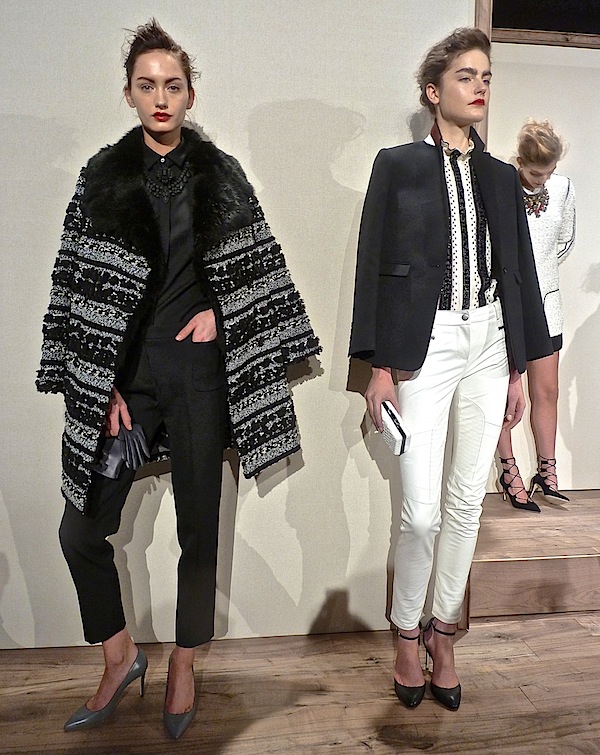 A beautifully tailored Italian wool mohair blazer was given an edge paired with white leather moto pants.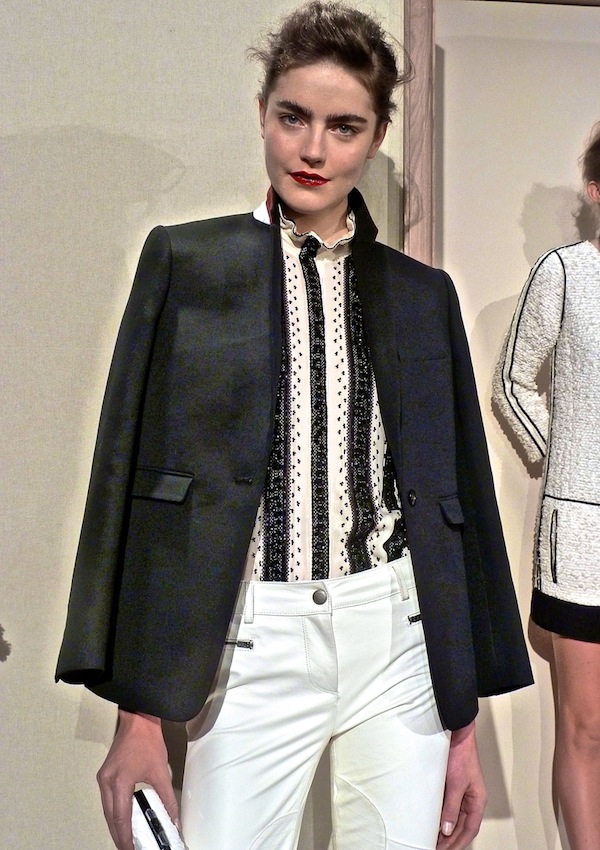 and another stylish minaudière, this version in white python with black trim. And check out the great stitching details on the leather pants.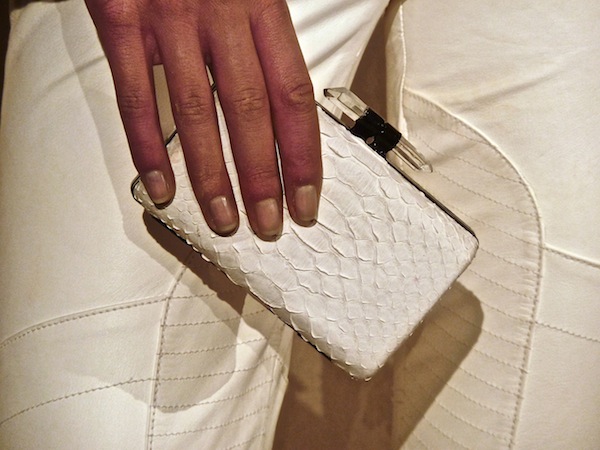 The chic black and ivory tweed wool coat is embellished with a shearling collar and lapel. And I love the the black on black sophistication of the matte powder coated jewelry on the blouse, with the added elegant detail of covered placket.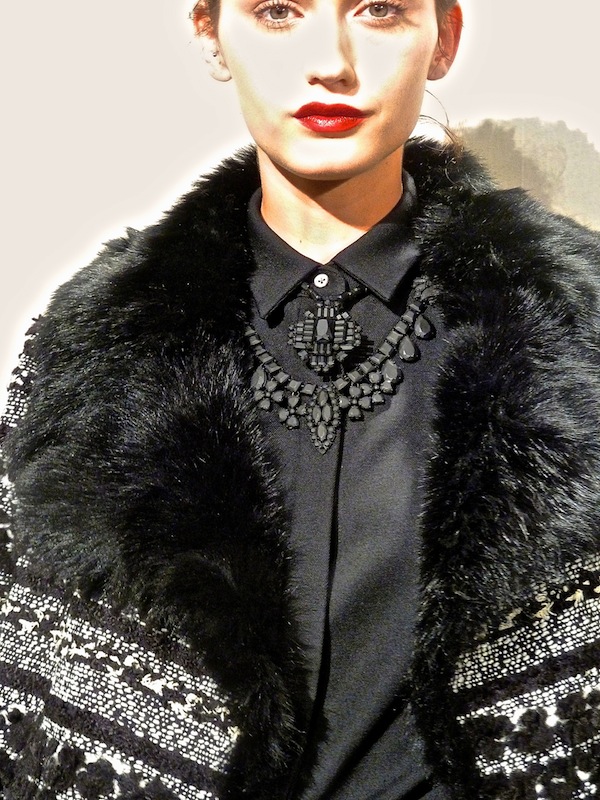 J.Crew has a long history of collaborations and this season teamed up with Montreal based travel and bag line WANT Les Essentiels de la Vie to produce their first woman's product – a cross between clutch and tote, shown in orange and blue.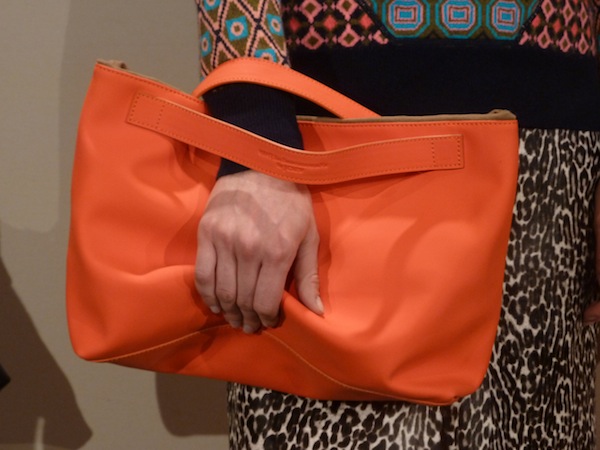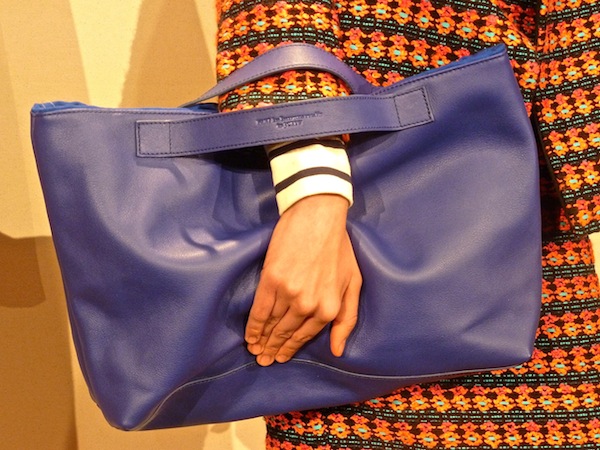 I could have done an entire post just on the fun accessories shown at the presentation. But I need to wrap up fashion week so let me just share a peek at few favorites. These burgundy suede lace ups are fabulous for those endowed with lanky limbs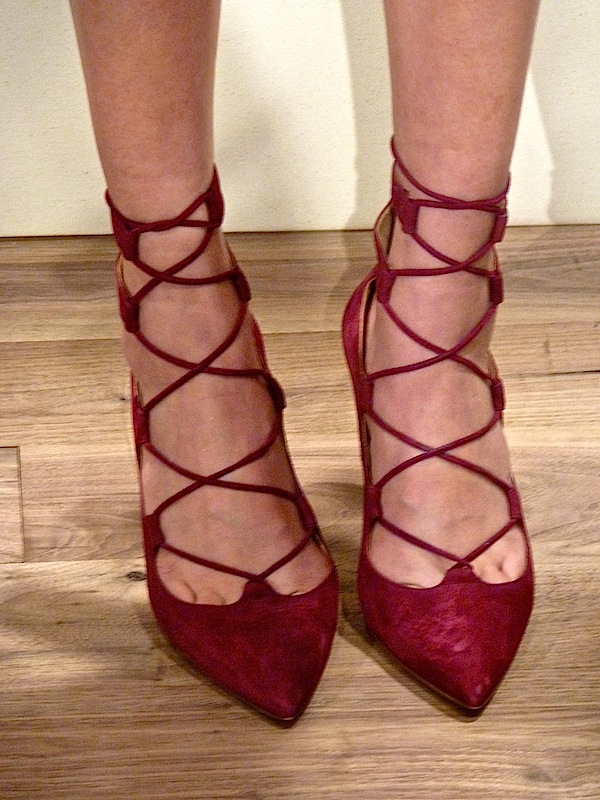 Not fully willing to commit to black and white for fall? Then just add this diamond pattern cashmere scarf to go with the flow.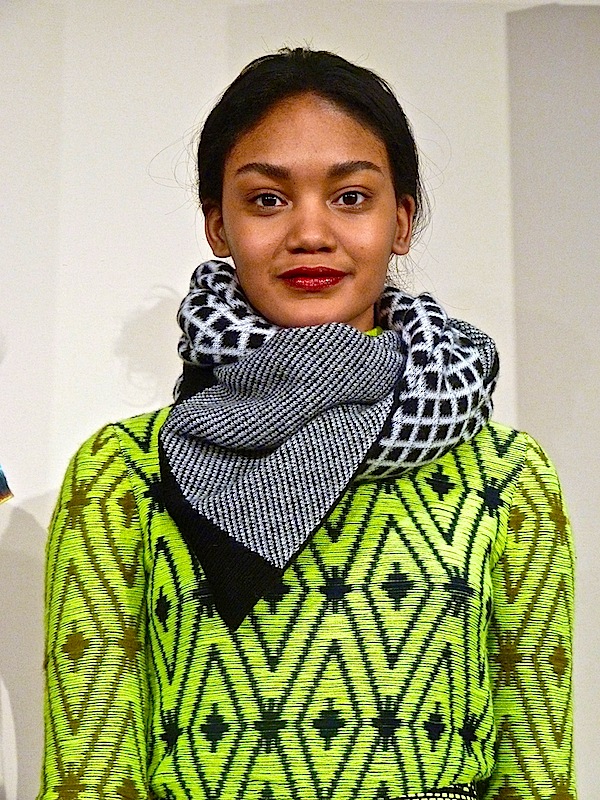 And I'm hoping an iPad might fit in here because I'm liking the look of these oversize zip pouches – here embroidered with crystal.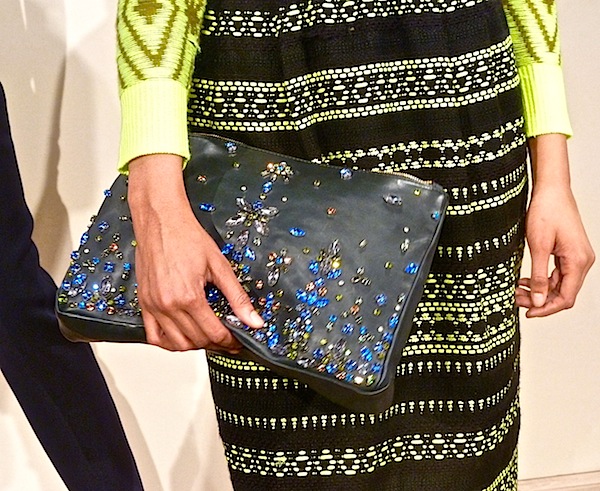 and this version in pink python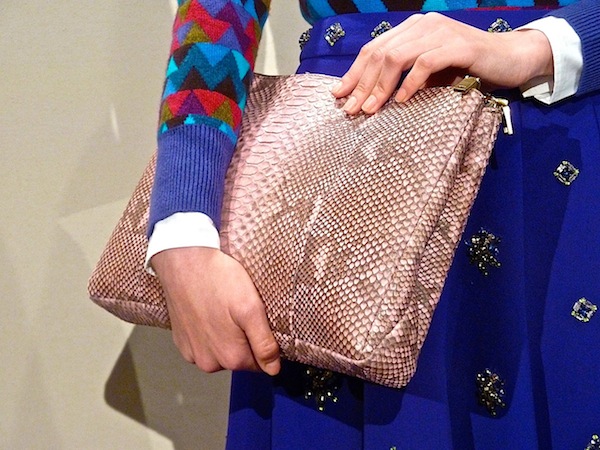 Thanks for hanging in there today. It was hard to narrow it down any further. A lot to look forward to at J.Crew for fall!!