Unabashed luxury always marks the collections of J. Mendel. But this fall it's a luxury with conspicuous contrasts – outerwear of sophisticated biker chic with layered lush opulence and evening looks of sleek simplified silhouettes with complicated craftsmanship. Here the extravagance of Indian broadtail is perfectly paired with trapunto leather panels in this uber chic hooded parka.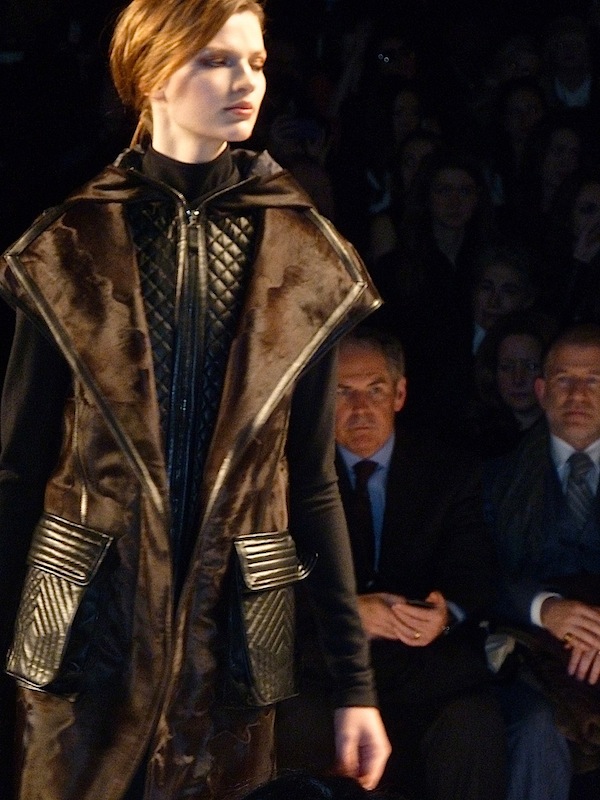 From my seat I couldn't capture the full effect so here is another shot showing the marvelous contrast with the silk chiffon skirt and the cavallino boots by Manolo Blahnik for the collection.
photo by Filippo Flor / InDigital | GoRunway via style.com
Elegant winter white sheaths showed immaculate drape and sinuous seaming. This  turtleneck dress was also shown with the same tall boots – a marvelous contrast. This is my kind of ladies who lunch look!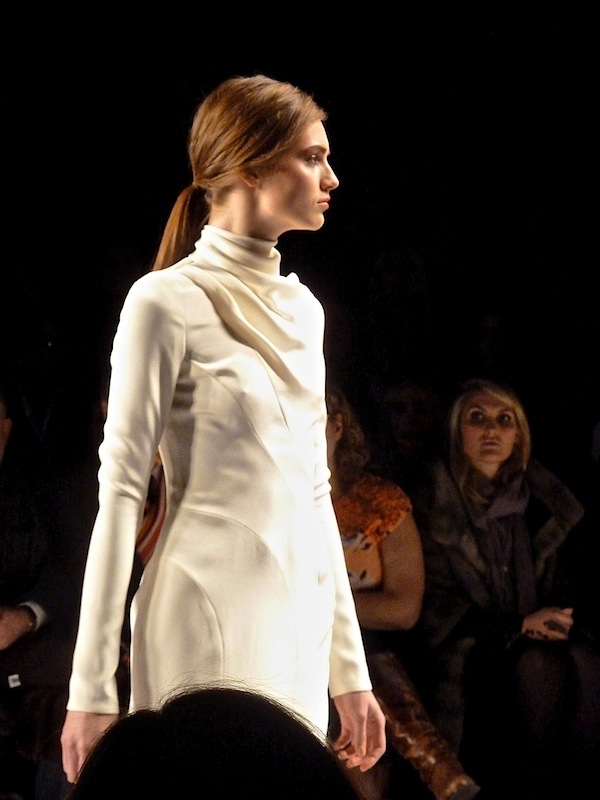 I'm not sure how I feel about the "M" signature belt, no matter how understated. I understand the concept but it somehow doesn't feel authentic to the brand. I do, however, love the subtle equestrian-like lines of the double-faced cashmere coat with the delicate pleats of the chiffon blouse and charmeuse neckline peeking through.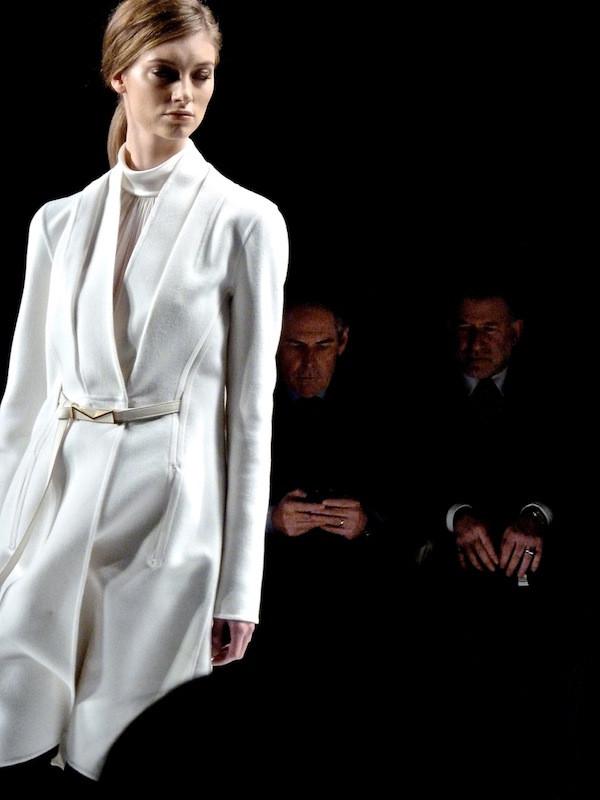 The new sleeker silhouettes for evening wear show off the exquisite embroidery and beading to great effect.The mink trim seems a bit superfluous but I'm sure you could custom order without.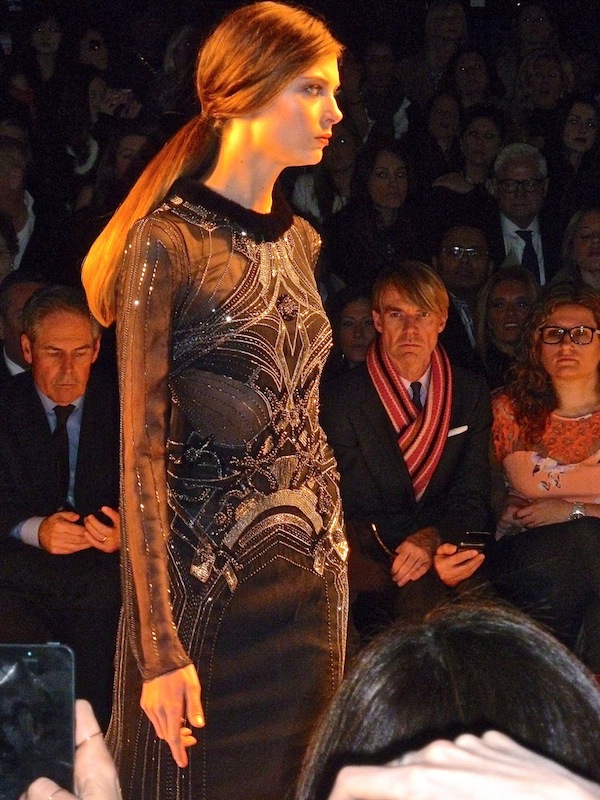 This amazing motorcycle jacket looked so Parisian to me. The girls on the streets there seem to be able to carry off such decadent glamour with a decided insouciance!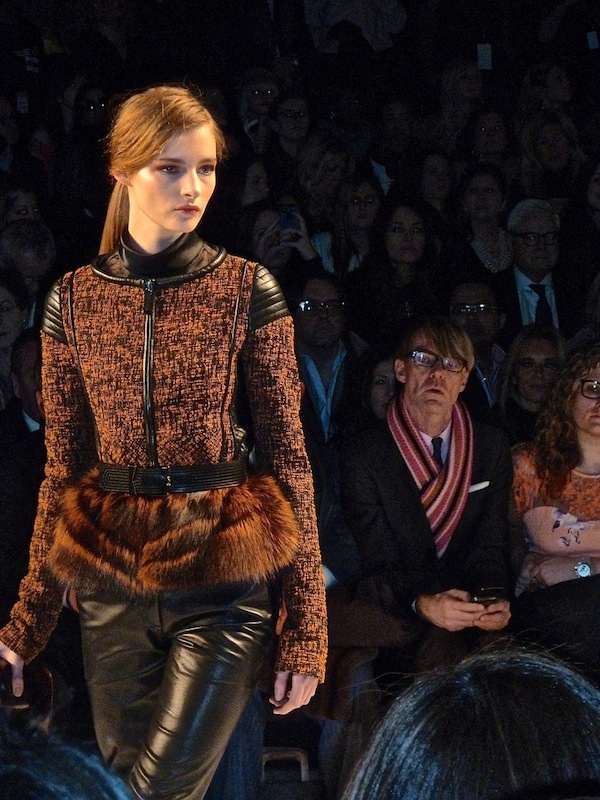 A degradé chevron vest showcased the house's expertise with fur craftsmanship. The gradual color grades and fur length marks the heritage of the famous furrier.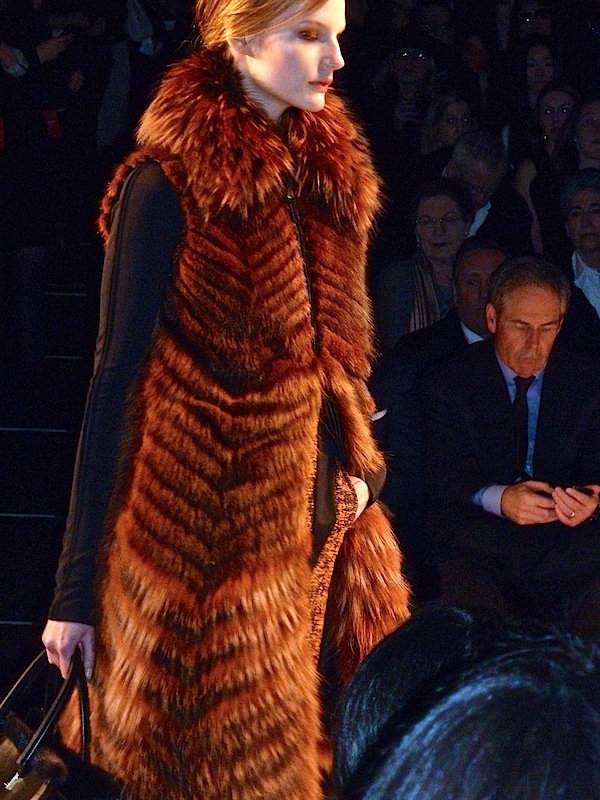 Vests are huge for fall and an essential tool for chic layering. This swakara (like Persian lamb – the fur of Karakul sheep raised in Namibia) and silver fox piece would look equally elegant over a black dress as it does finishing this winter white pants ensemble (the blouse is the same as shown with the white cashmere coat above).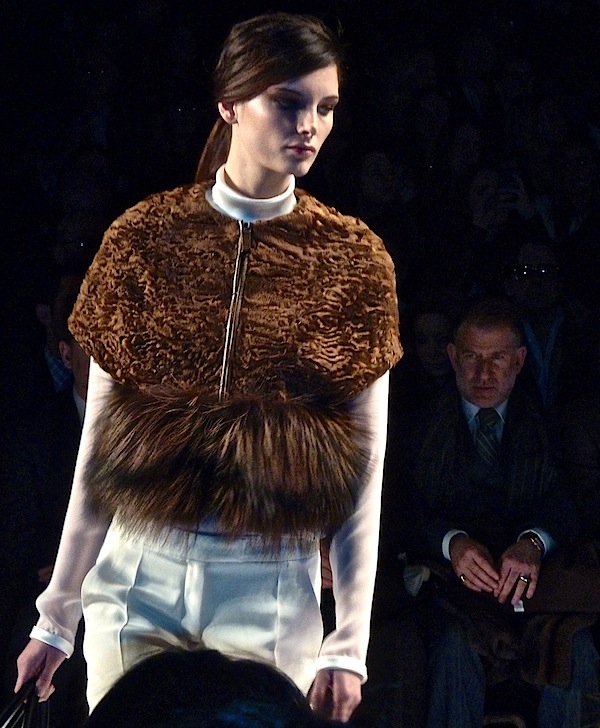 With the prevalence of black and white for fall this black intarsia and  silver fox knitted vest would be the perfect accessory, elevating even a basic white blouse and black pants to a sophisticated ensemble.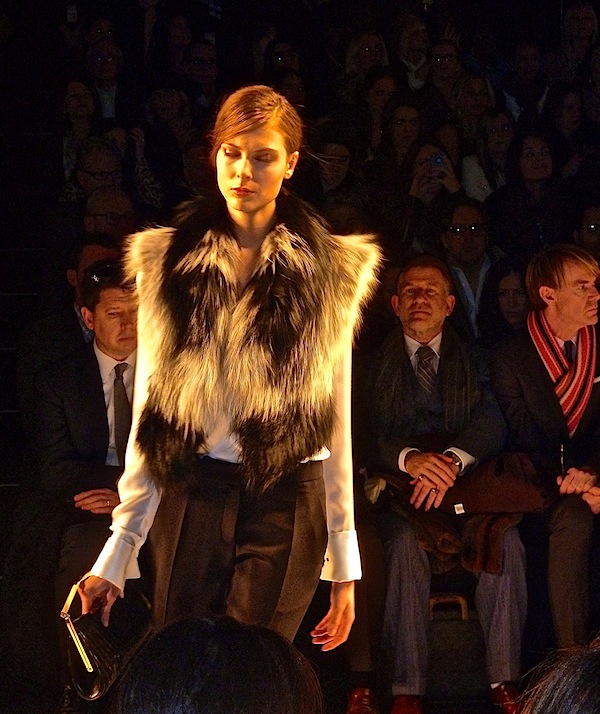 And if I were going to be vacationing out west or in the Alps this season I would want this pearl mink intarsia turtleneck. The chunky diagonal zips add just the right amount of rough luxe to the sumptuous chalet chic.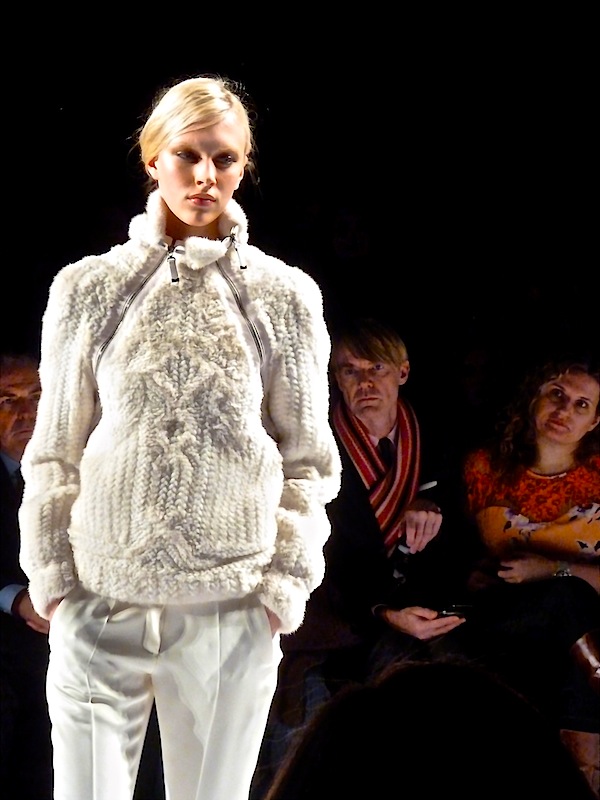 The collection featured a beautiful grouping of sophisticated warm neutrals. This gorgeous mink vest with cashmere featured a great leather back. I adore the look of chiffon with fur and actually wore (a somewhat less luxurious) combination of the same to the show.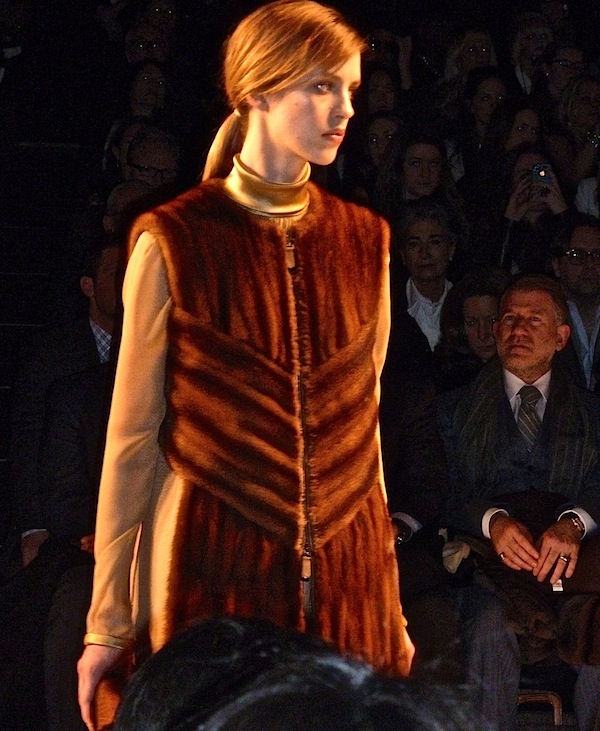 Rich textural layers in beige is all about a mix of materials within a tonal palette. Here a broadtail and double-faced cashmere parka with trapunto suede panels is shown over matching silk crepe blouse and pant. The badger scarf adds volume and pattern.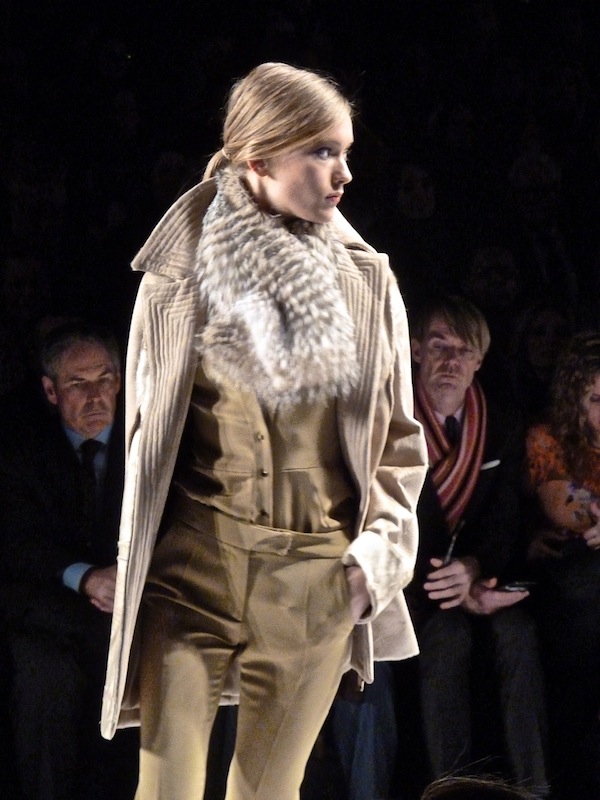 The evening wear branched out with more color, including a selection of ravishing blues. This turtleneck gown owes its sexy allure to the dazzling drape of the navy charmeuse.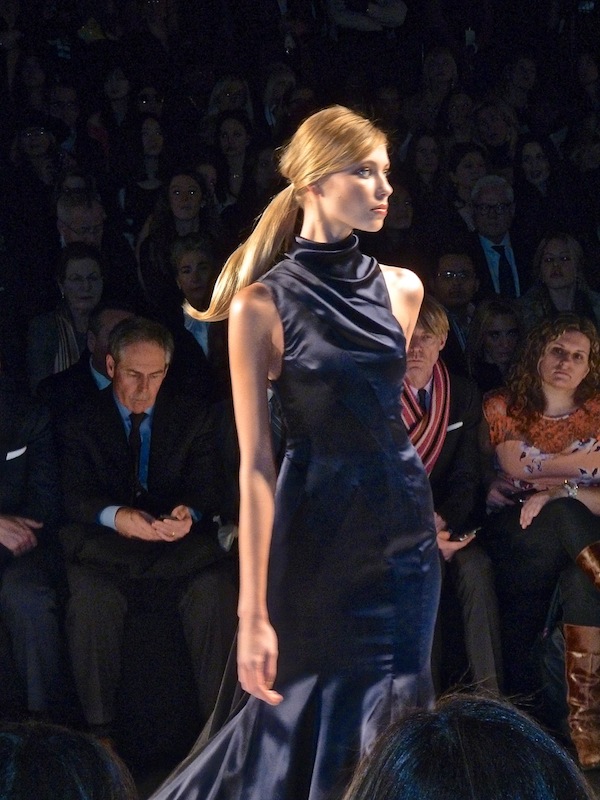 I've always loved the sophisticated marriage of blue and black. Here royal blue floral organza cloqué is trimmed in black for a youthful and feminine cocktail look.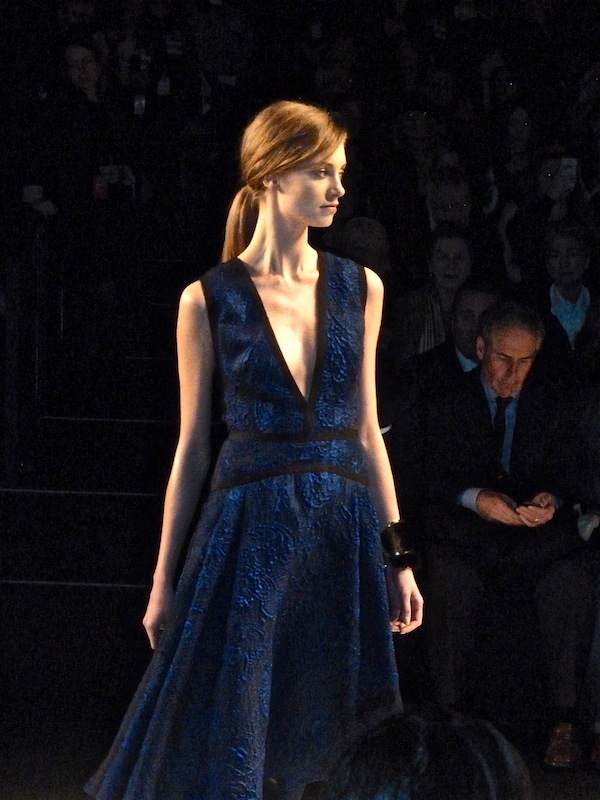 And a spectacular synthesis of materials and techniques resulted in this gorgeous gown that was shown with a coordinating navy Manolo for J. Mendel boot. The wrapped turtleneck halter is of embroidered chiffon with an open back over a wool organza A-line skirt. And in case you are wondering, those are large fur and python cuffs.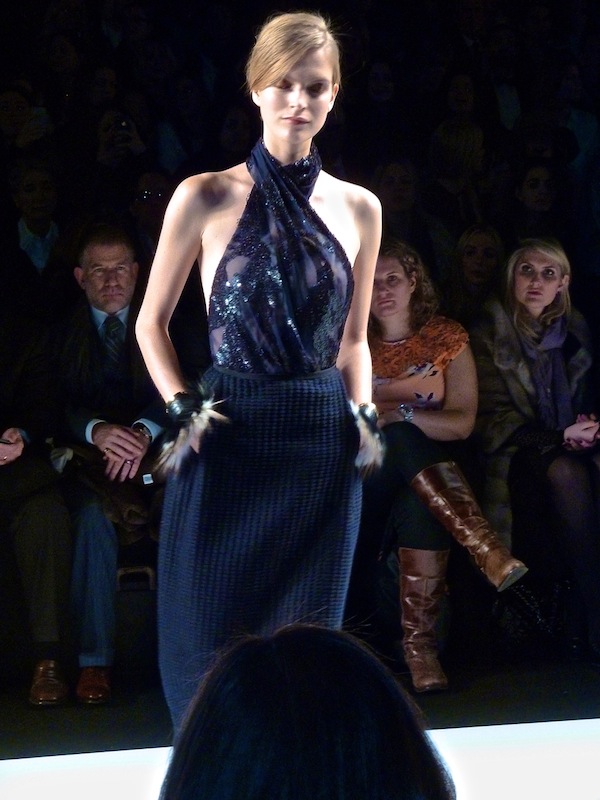 And almost every collection had a requisite red gown. J. Mendel's version was a double-faced satin one shoulder cocktail dress with a flowing full skirt, perfect for elegant holiday soirées!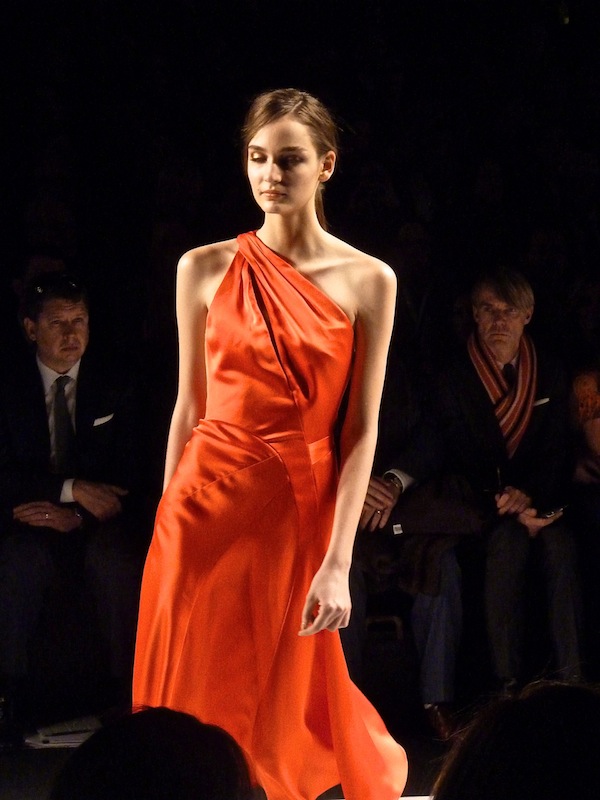 I think my favorite gown, however, was possibly this black and white silk crepe number with abstract lace side panels.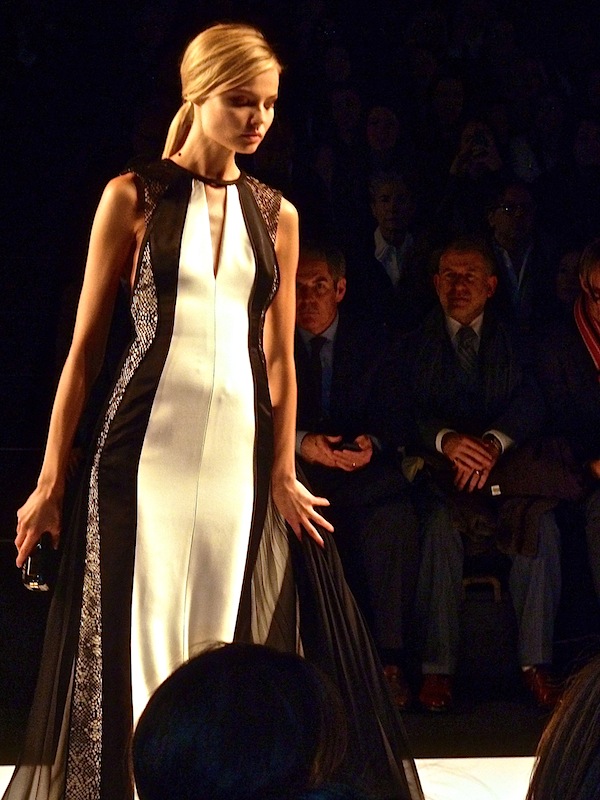 with a pleated silk chiffon back – so chic!!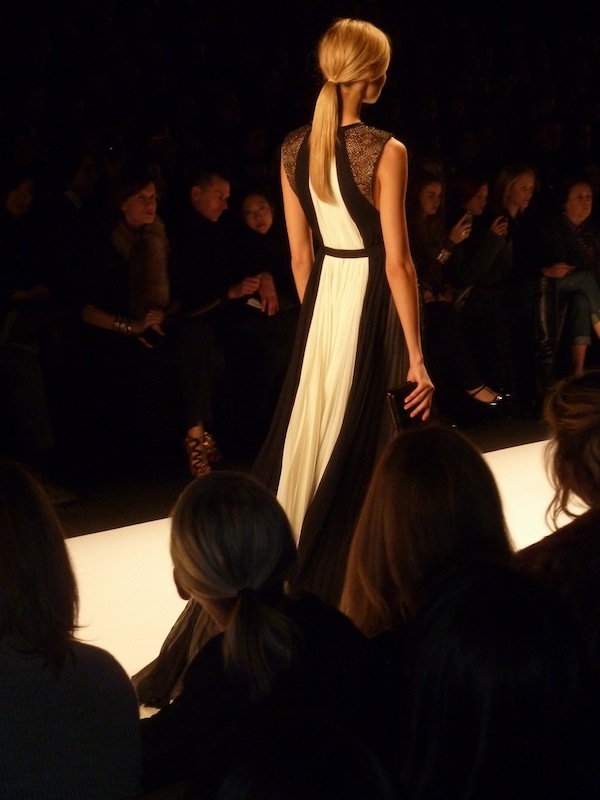 This season J. Mendel proved their prowess with fur, creating a collection that is youthful with a modern edge yet still luxurious and refined. And the gowns, with their sinuous sensuousness, are appropriate for both the young red carpet starlets as well as the urban social set. Kudos to Gilles Mendel for a total win win!
as always, all photos by Quintessence unless otherwise noted