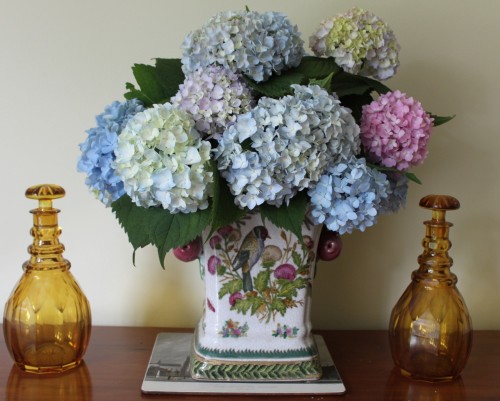 I love hydrangea – is there anyone who doesn't? They are the perfect summer bloom. As the end of summer is approaching, I am so sorry I won't have my masses of blue outside my window to look at for much longer. I am lucky to have quite a few hydrangea bushes that supply my house with multiple bouquets all summer long. Shirley, my right hand "man", who keeps me and our home running smoothly in every way, is also a gifted florist, who created these lovely arrangements.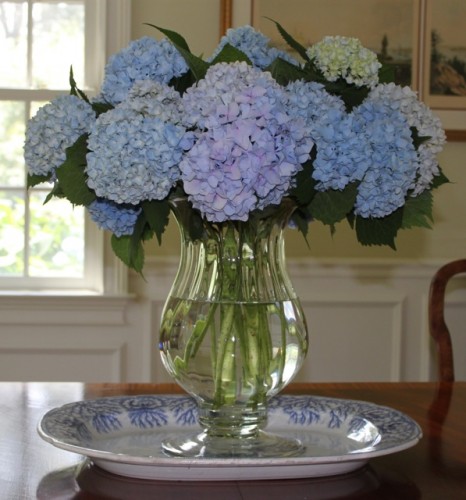 Mine seem to last for at least a week to 10 days if the containers are kept very full of water and even longer if the ends are trimmed when you change the water, which you should do every few days. There are many other methods touted to keep hydrangeas looking fresh or even restoring wilted ones. The hot water method seems to be the most popular for reviving a bouquet and is very easy. It just involves recutting the stems, standing them in a cup of just boiled water for 30 seconds and then immediately putting them back into the arrangement container filled with fresh room temperature water. Within a couple of hours they should look good as new. 
Sometimes we let them dry and use them that way all winter, although the even better solution is to have them preserved. They then become the superior version of silk flowers, real but maintenance-free. My sister-in-law has several stunning arrangements of preserved hydrangea executed by Barbra Scott in NYC , who has done work for Bunny Williams and Jamie Drake as well as quite a few corporate clients including Conde Nast.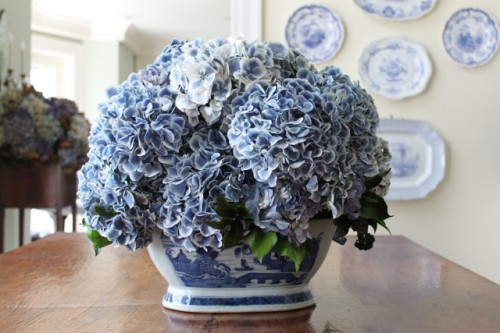 This is a new arrangement in a beautiful antique Canton tureen. The following two photos are of arrangements in antique creamware done about 18 months ago. You can see how nicely they hold up.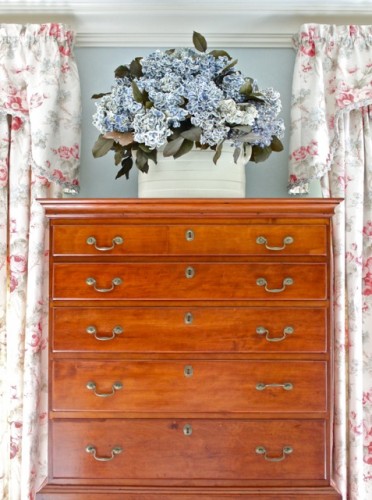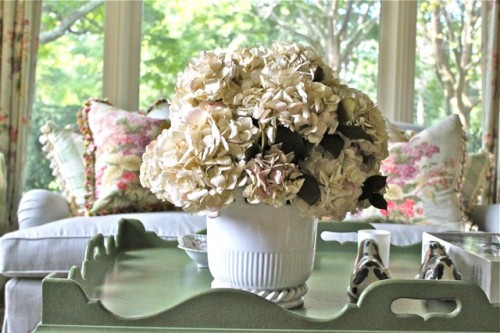 What a lovely way to extend the summer all year long!