As our lifestyles have evolved over the last few decades, there's no doubt that the kitchen has become the hub of the house. Whether the focus is fine food, family management, entertaining or all three, this multi functional room has expanded, opening up and encompassing other living spaces. So it was with great anticipation that this week marked the debut of the 5th House Beautiful Kitchen of the Year in Rockefeller Center. Creator of this year's edition, renowned kitchen designer Mick De Giulio was on hand to effortlessly guide us through a press preview and tour Monday morning.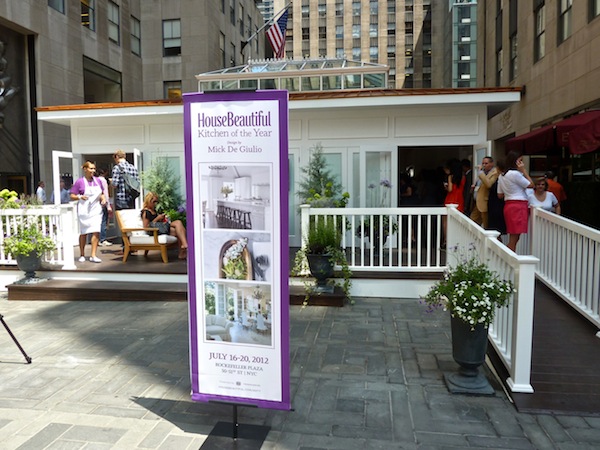 In a freestanding 1,000 foot structure, this year's kitchen is modeled on how Giulio himself would like to live, including an open core area with island,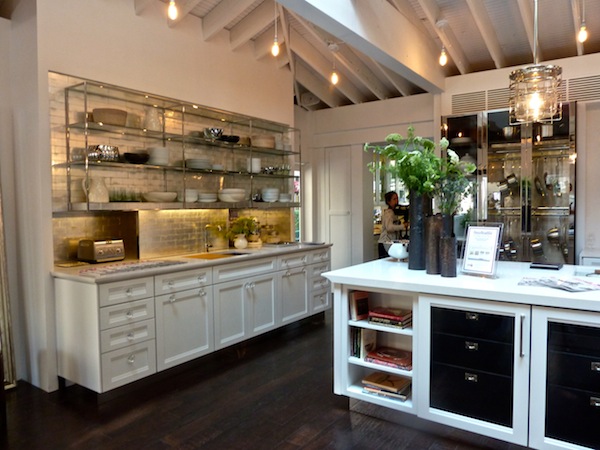 a snappy butler's pantry, an outdoor cooking and lounging area, including a Belgard pizza oven, a feature the De Giulio says he now often includes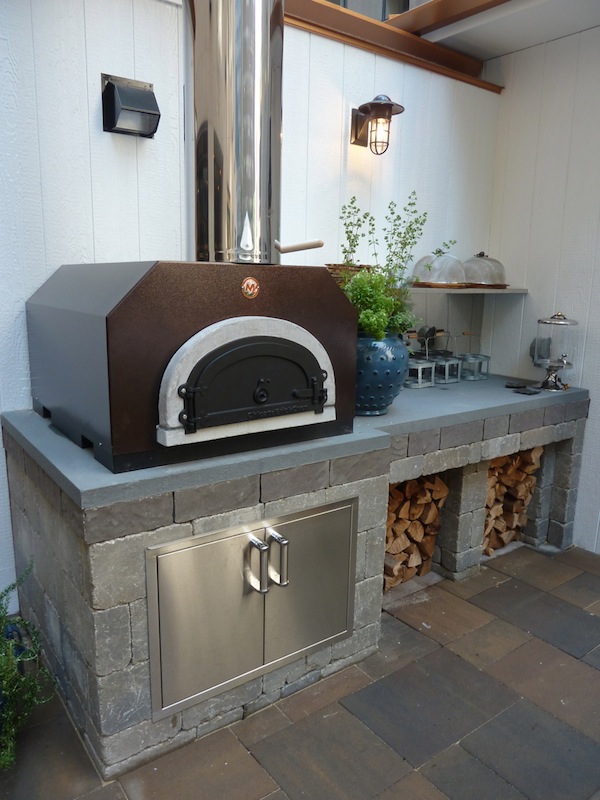 as well as more interior entertaining space to make it truly feel like home.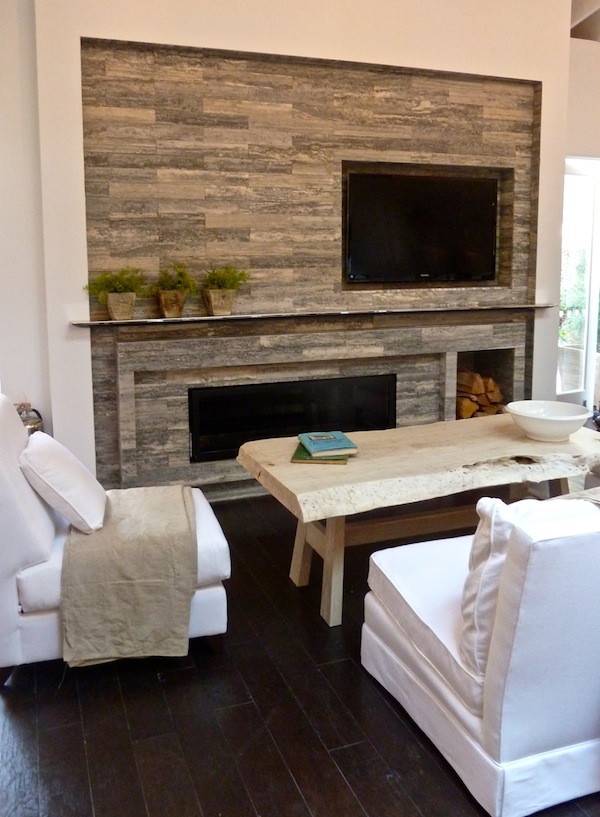 As we have been discussing, the demarcations between indoors and out have been blurring and this space was no exception. De Giulio cited his inspiration as Scottish fishermen, keeping the design simple and clean including an earthy livability that exudes a sense of comfort and warmth within the otherwise crisp and clean space. House Beautiful editor-in-chief Newell Turner made himself at home in the dining area, where a wonderful mix of textures, capped by Circa Lighting's aged iron Ralph Lauren Roark chandelier, help bridge the gap through to the terrace beyond the french doors.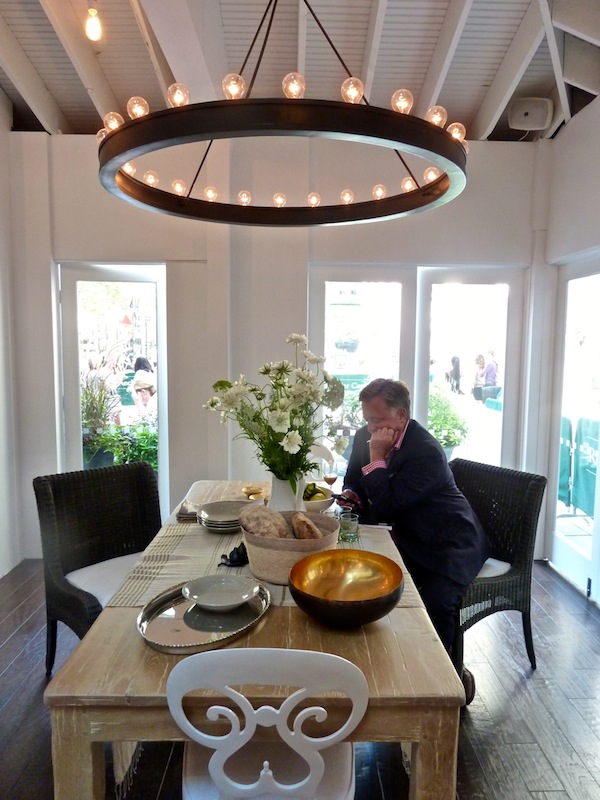 The all-weather Frontgate Monterey chairs, for example, made an appearance both at the rustic chic Kravet custom kitchen table and on the terrace.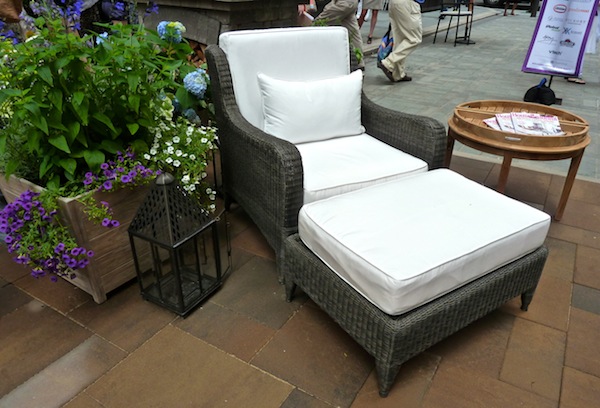 The tour started with the House Beautiful team, Sean Sullivan, group marketing director and associate publisher of the Hearst Design Group , EIC Newell Turner and SVP, Publishing Director and chief revenue office Kate Kelly Smith walking us through the sophisticated technological innovations in the magazine (the House Beautiful Connect app and print to pin option) and announcement of their first digital property, the upcoming Ultimate Kitchens (sponsored by Kohler), a step by step guide to everything you will want to do in your kitchen. Kelly also shared the official proclamation by Mayor Bloomberg that this is Kitchen of the Year week!!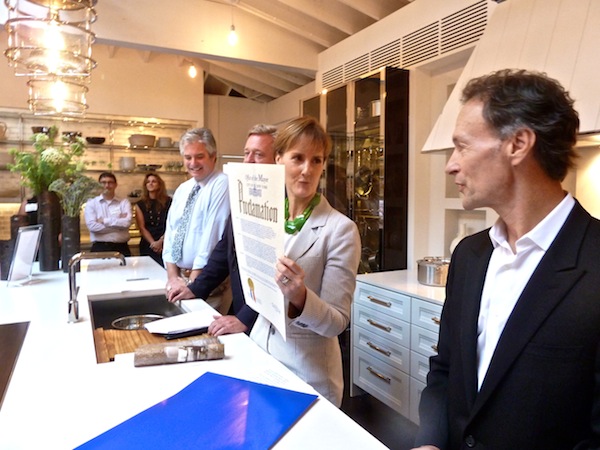 There are also many more culinary events tied into this edition of Kitchen of the Year, proving it to be not just a beautiful kitchen but a fully functioning workhorse as well. Here, Gabrielle Hamilton, chef/owner of the popular East Village restaurant Prune was preparing for the first of several cooking demonstrations. Newell Turner shared that in addition to the October House Beautiful edition featuring the kitchen, the November issue will include many of the inspiring recipes in an American Holiday table segment.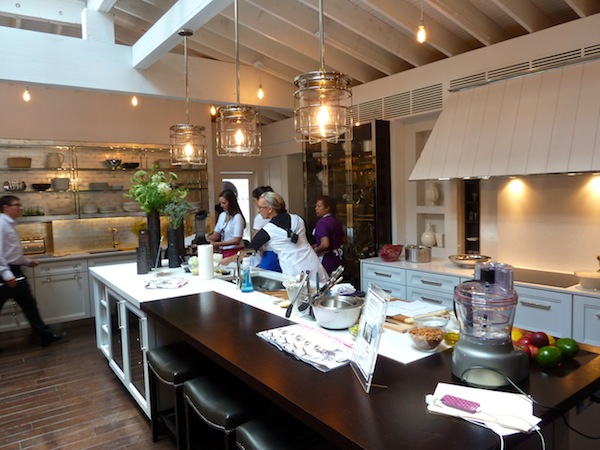 Stop back next time when we take a look at all the incredible details that have earned Mick De Giulio his place as king in the kitchen.