Before we all start to wind down for summer, there are still quite a few local design events on the horizon, a couple of which I will be participating in. Next Wednesday marks the 2016 Spring Market at the D&D Building in NYC. With three keynote panels, open houses and showroom programs, it's a day not to missed for both industry folks and design aficionados  in the New York area. I am delighted to be moderating a panel at Pierre Frey (at 11 am in Suite 1611) on one of my favorite topics – the art of bespoke. I'll be speaking with designers Caleb Anderson of Drake/Anderson, Rena Sarant of Peter Pennoyer Architects and Douglas Hutton of Hutton Collections about the allure, advantages and process of creating one-of-a-kind products for the home.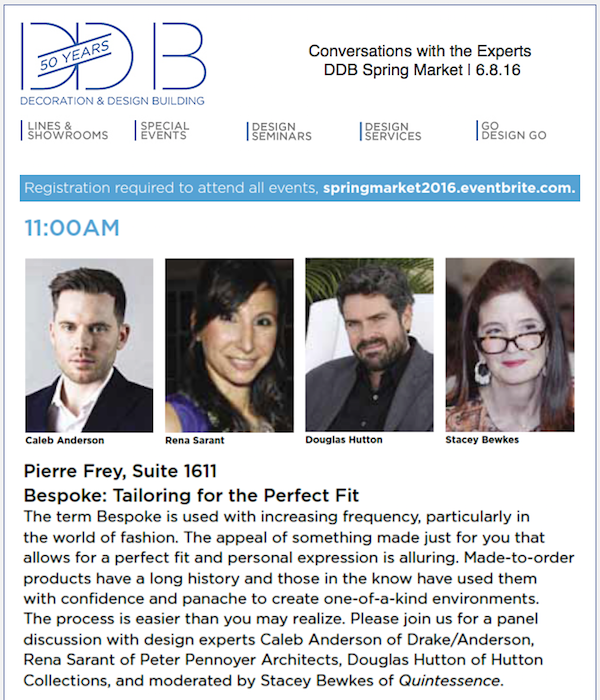 Then on June 18th, I'll return to the Day of Design at the beautiful Mayflower Grace in Washington, CT. For the third annual iteration of this popular event, notable personalities in the world of design come together for an inspirational day of discussions including a lovely al fresco lunch and end of day cocktail party and book signing.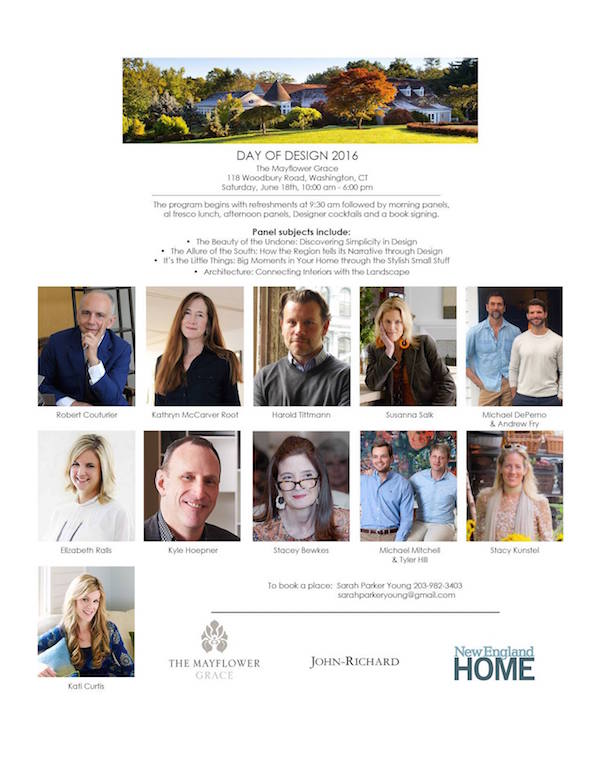 I'm looking forward to moderating two panels – in the morning, The Allure of the South: How the Region tells its Narrative through Design with Elizabeth Ralls, Editor in Chief of Atlanta Homes and Lifestyles, design duo Michael Mitchell and Tyler Hill of Mitchell Hill from Charleston and Kathryn McCarver Root, (originally from Memphis), owner of Washington, CT fine art photography gallery KMR Arts. In the afternoon, I'll be speaking with architect and designer Robert Couturier and architect Harold Tittmann on Architecture: Connecting Interiors with the Landscape. For any interested in attending, please contact
Allison Fodor 860-868-9466
allison.fodor@gracehotels.com
Thanks to sponsor John-Richard and media partner New England Home. Hope to see you!!