Drexel Heritage wants you to tell your story at home your way. And to help, they focus on offering customization options at every level. As my sponsor at High Point, Drexel hosted me and several other bloggers for a morning at their showroom. We were delighted to have the very knowledgeable Denise Alala, Vice President of Upholstery lead part of our tour. She explained how this season Drexel introduced many new fabrics to their stable of over 800 selections. From graphic blues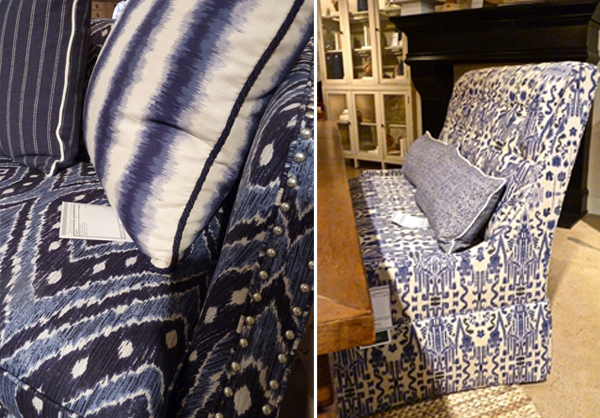 to animal patterns, bold prints, textured smalls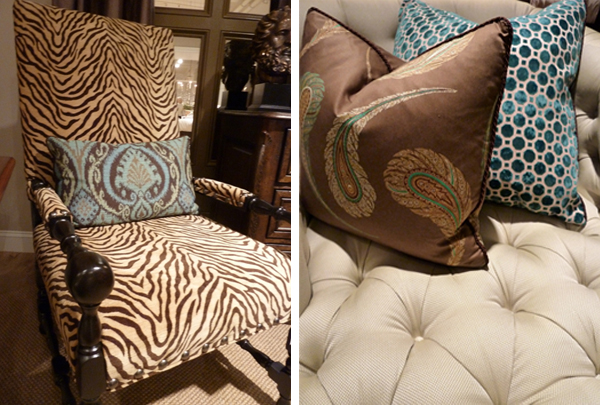 and colorful leathers,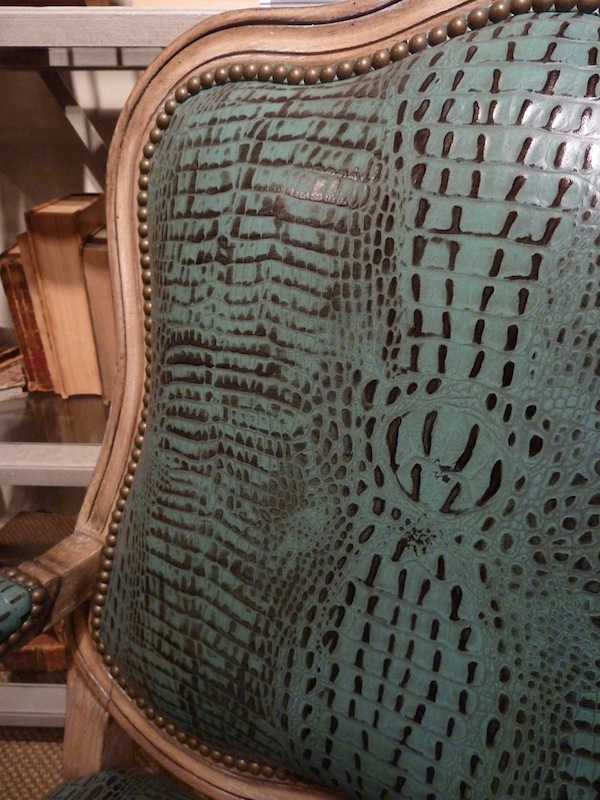 there is a wide variety to choose from. They also added more smaller scaled, apartment friendly frames to their Options program, where customers can mix and match arm style, seat and back options, skirt and trim styles as well as wood finishes. And the woods, all executed here in the states, are now available in more finishes and paint colors. I liked the new vintage alpine, for example, on this casual occasional chair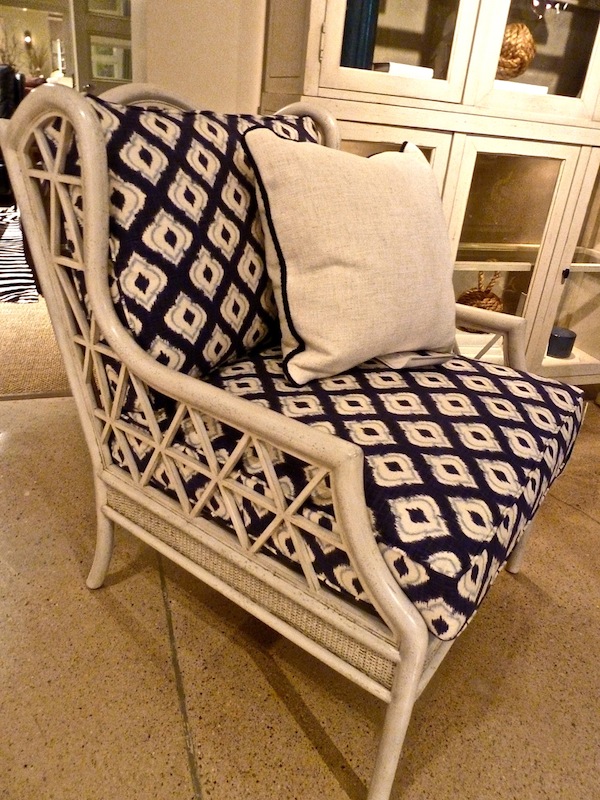 And see how different the same Indulgence Display cabinet looks in two custom colors. And because all the work is done right here in the States, even custom items take merely weeks to complete.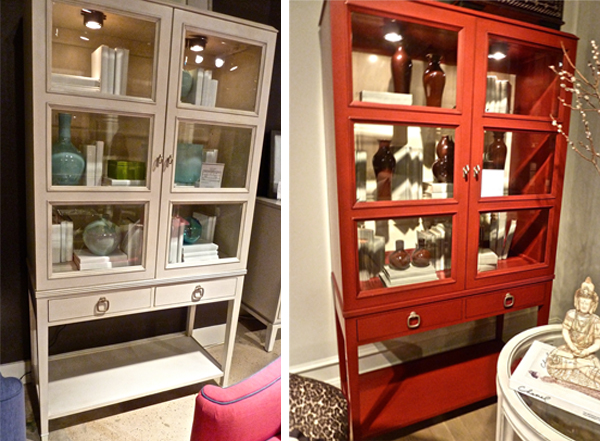 Denise's talents also extend to styling, which lent a lived-in look throughout the enormous space
The Viage collection, "inspired by the idea of what you might find in a European artist's studio," was the new introduction at market. It features "layered moldings, intricate joinery, hand-accented veneer patterns, metal star details and simple turnings on posts, mixing elements from European antiques with modern components, like glass and metal," such as one of my favorite pieces from the line, the Postcards Desk.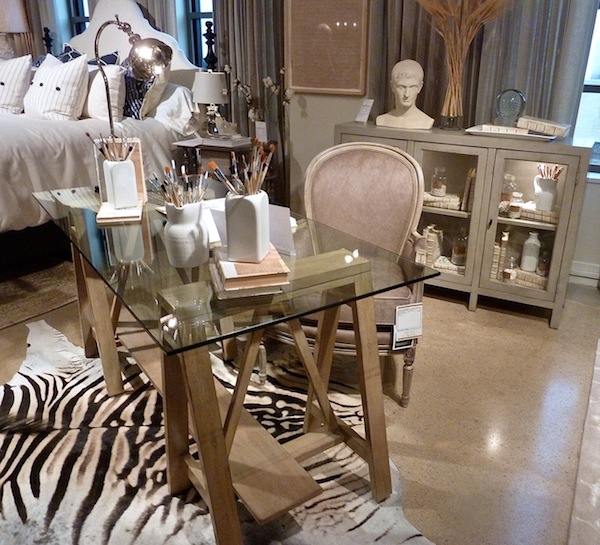 The Expedition Console and Mirror of Discovery are both updated classic and versatile pieces from the collection that could migrate from room to room.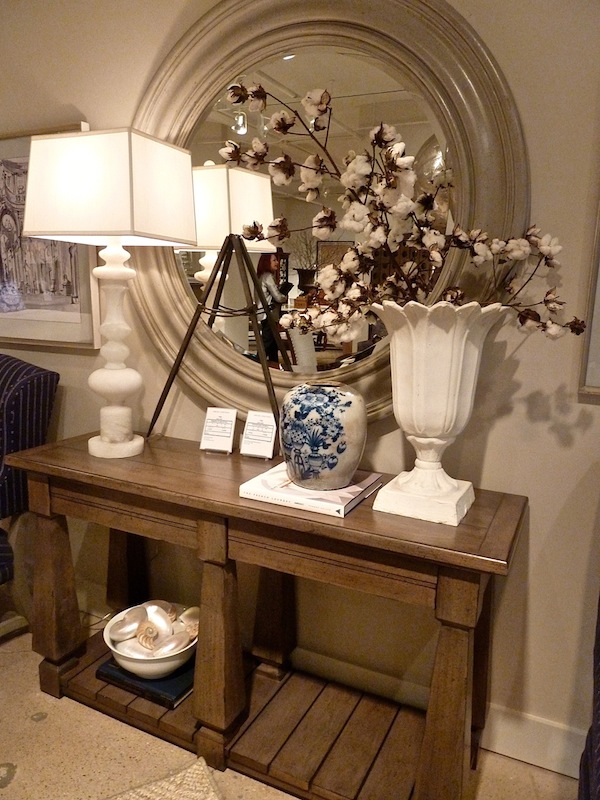 Drexel's case goods feature thoughtful details as can be seen in their Vintage Originals collection. I always appreciate handsome hardware and the drawer pulls on the Haberdashery Chest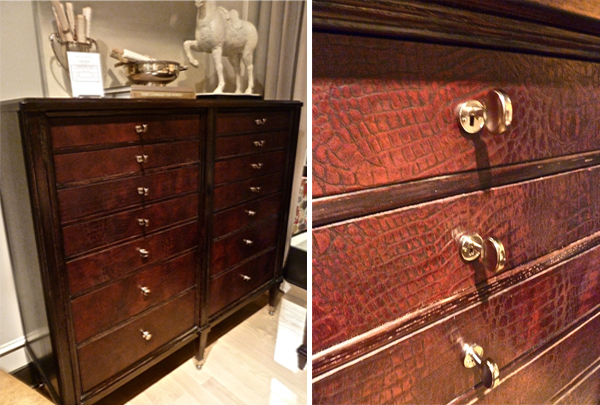 and the Sazerac bar/secretary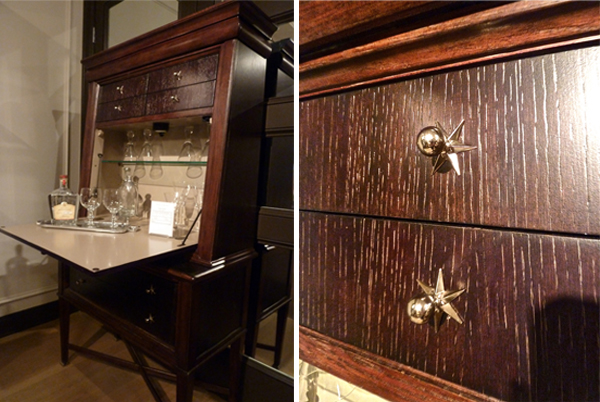 are details that definitely make a difference. In wandering through the showroom, I thought I would share a few other picks that I think show the versatile and flexible nature of what Drexel Heritage offers. The Voussoir Pedestal Dining Table is a modern classic that could work not only as a dining table but also as an entry table in a larger home. The clean lines and metal du jour would mix with any number of complementary styles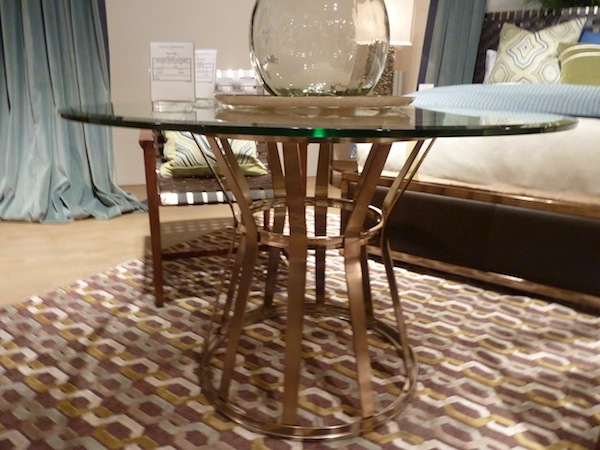 From the Celladora collection, this case hall chest and Larkspur mirror are pieces perfectly suited for locations from the mountains to beach. And the new case goods options finishes extend to this collection so they could be reimagined in any number of collectible colors.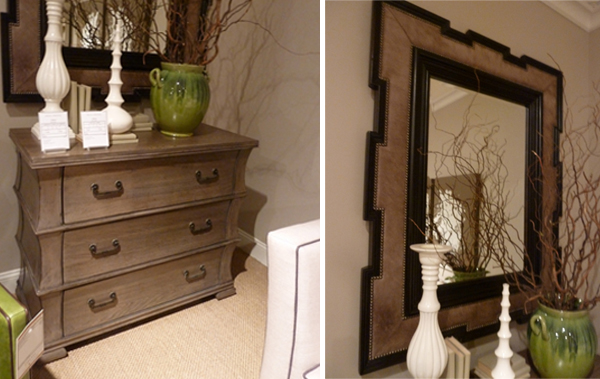 And lastly, several designer friends mentioned the upholstered console as a favorite and it is easy to see why. In a totally chic shape, this infinitely useful and stylish piece is available in a plethora of prints or solids to accent any decor.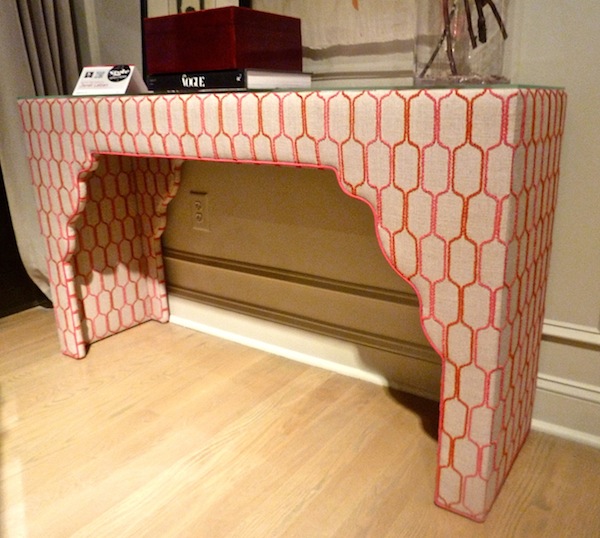 With pretty piping and a fitted glass top, this console could work in literally any room of the house or apartment.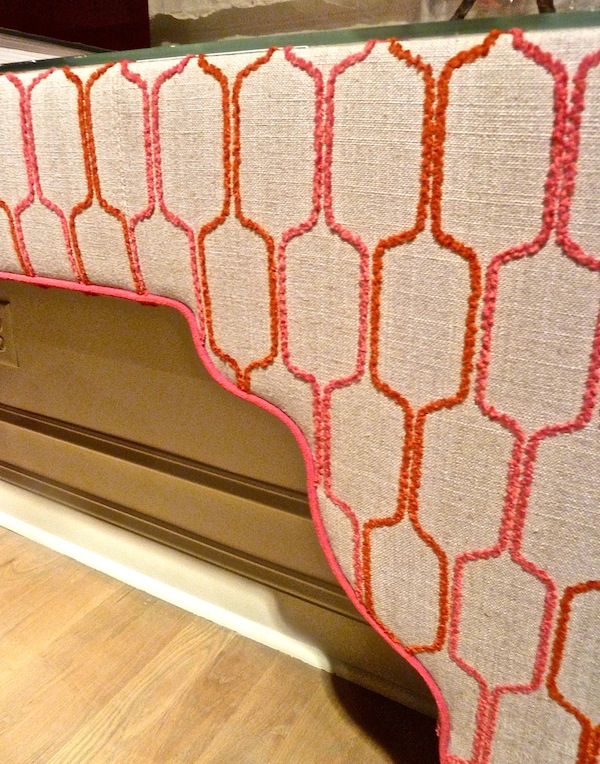 A huge thanks to Lisa Hanley, Vice President, Corporate Communications and Public Relations of parent company Furniture Brands for the generous sponsorship and welcoming hospitality. Drexel does deliver on so many levels!