One of the unanimous hits of High Point this season was the new Bernhardt showroom. Under the stylistic direction of new VP, Residential Creative Director Ron Fiore (coming off a very successful 11-1/2 year run as Creative Director at Hickory Chair), the showroom won the Best of Market Award in the Showroom Design Competition.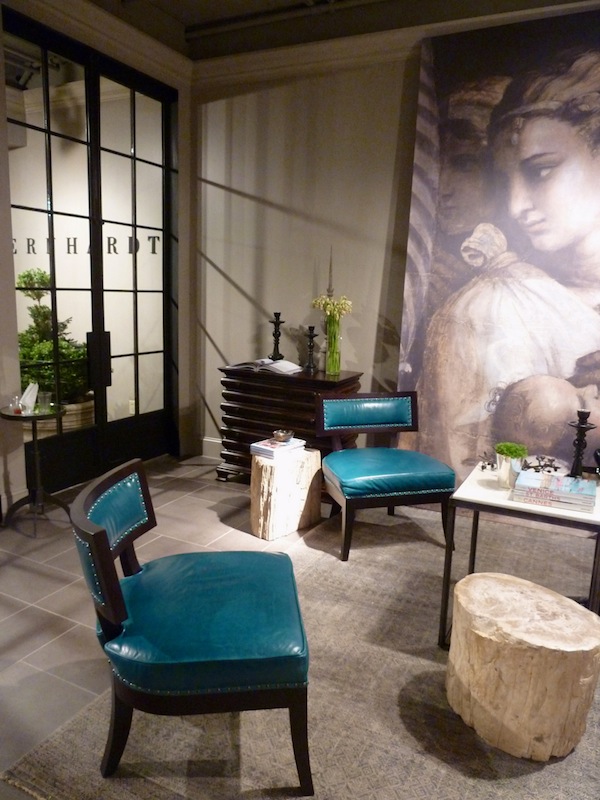 A sophisticated and elegant space set the tone for Fiore's inaugural show.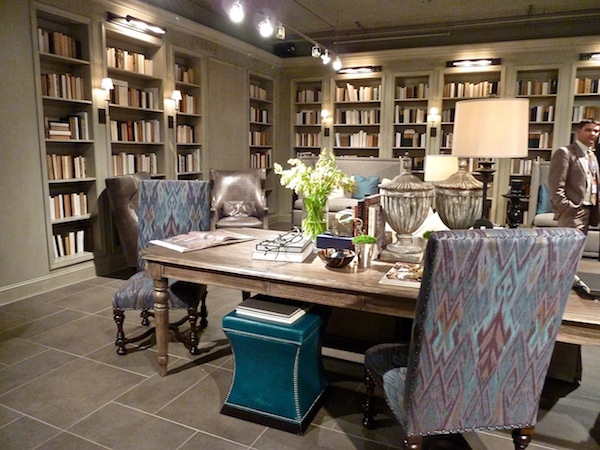 Designed as a library, the book filled entry featured several cozy seating areas that proved popular places to rest tired market feet.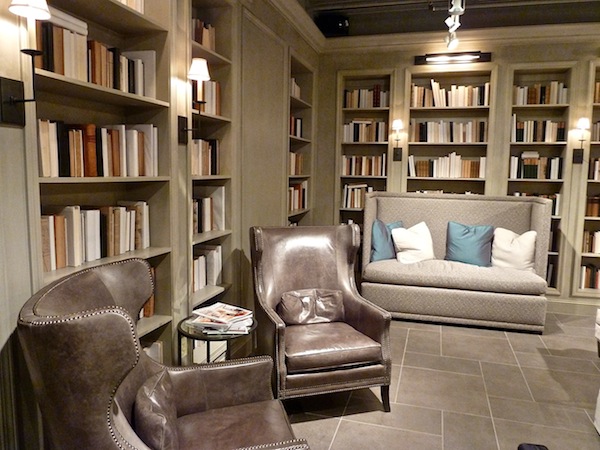 Several of my favorite pieces were featured in what Bernhardt dubbed "A Modern Baroque Moment." Expressing the glamour of materials and finishes, gold patinated brass and ivory lacquer made a luxurious statement.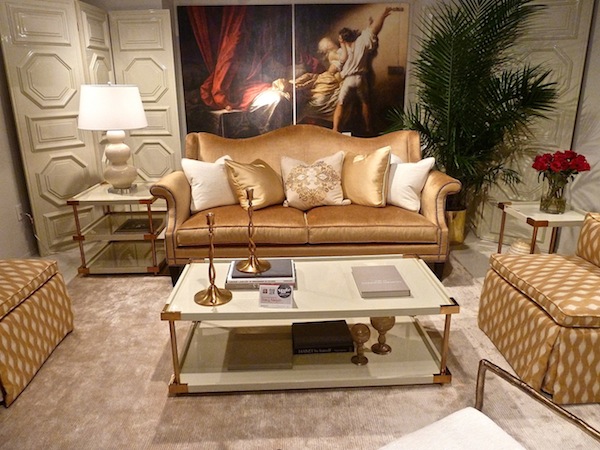 A closer look at this vignette reveals the opulent elegance of high shine.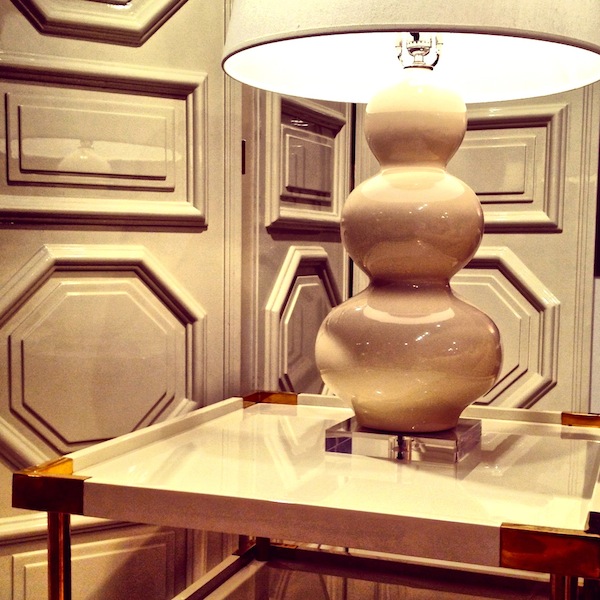 Here is an unadulterated view of the gorgeous Dynasty screen. The combination of the graphic architectonic lines with high gloss glamour seals the deal on this piece.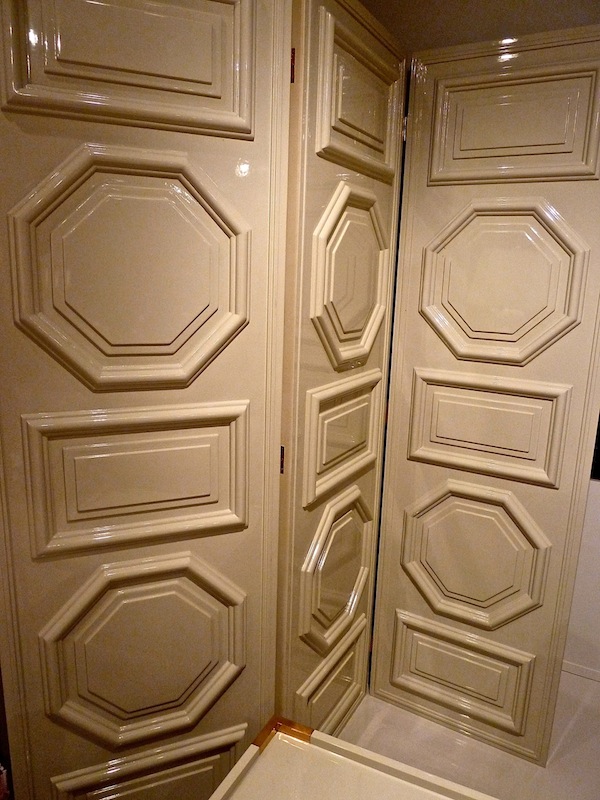 And while the Brielle cocktail table was available only in ivory for its debut, I predict that it will be offered in more chic shades at future markets.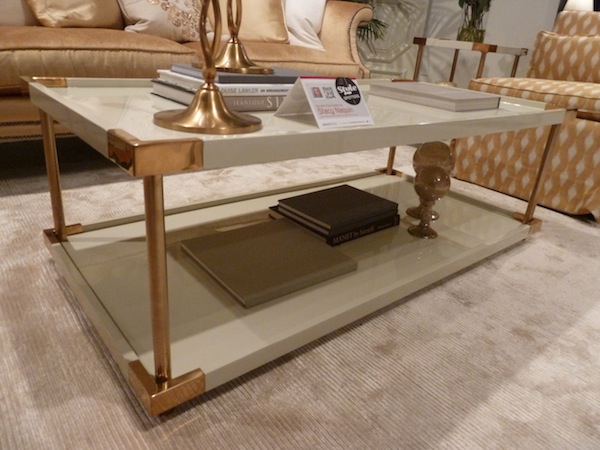 Bernhardt is still privately owned by the founding family and Fiore worked with newly appointed CEO and President, Alex Bernhardt Jr. on the art driven concept of the spaces. In speaking with Bernhardt at the showroom, he explained how much inspiration he derives from trips to Paris and chose many of his favorite works from the Louvre to reinterpret for the vignettes. Providing dramatic backgrounds, they serve to also ground the space for a marvelous mix of old and new.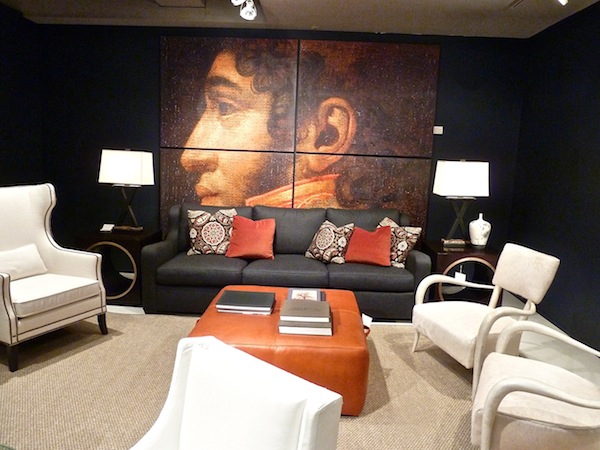 This ode to modern Gallic style, features the sculptural hair-on-hide covered Elka chair, below, in bone as well as the Hermès inspired orange leather Denby ottoman.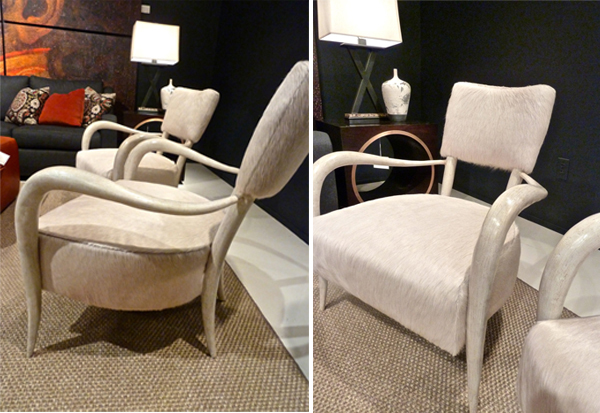 Delacroix's Parable of the Good Samaritan set the scene for the dark glamour in this vignette. The painting's sinuous movement balanced the linearity of the furniture.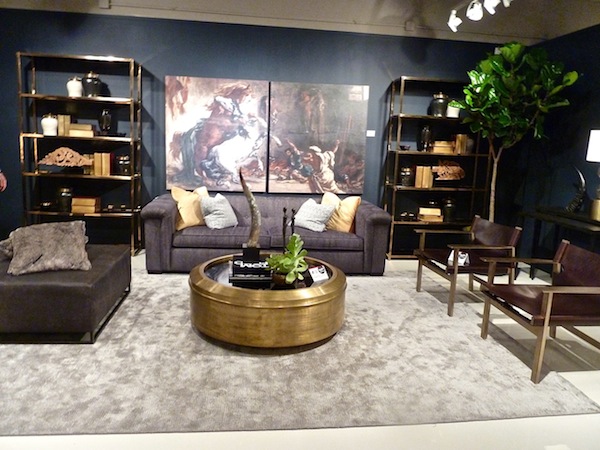 As we've seen, brass is back and nowhere is this more evident than in this room. The statement making Carnaby Round Metal Cocktail Table, inset with a black glass top, is the perfect sleek counterpoint to the square rugged chic of the leather and steel Aspen chair.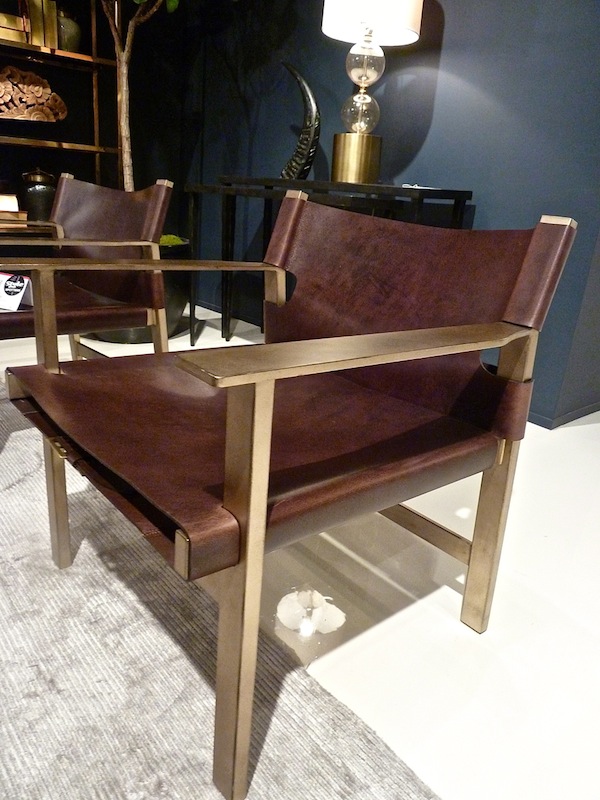 I am always on the hunt for great bookcase/display pieces and the elegant Benton etagere is one to remember.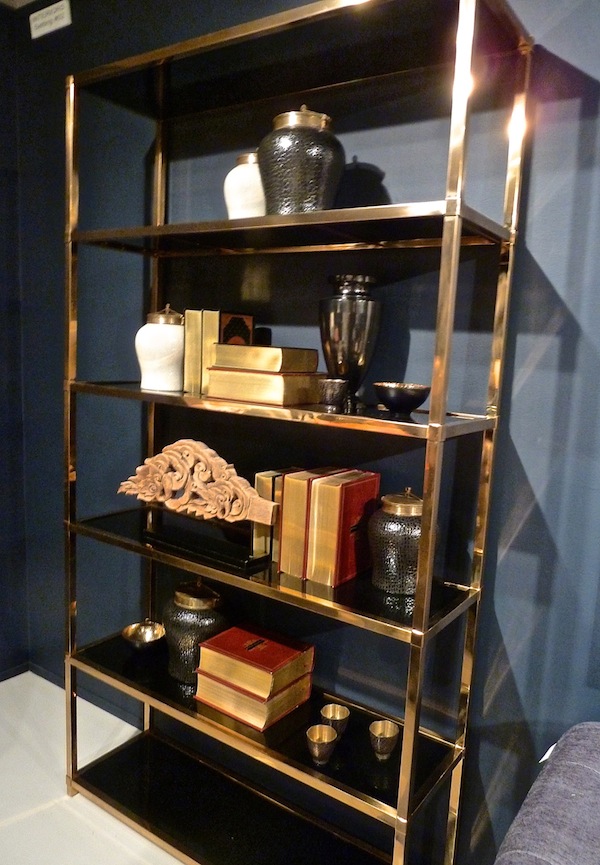 I wish I had a place for the glamorous Celia Chest. Its alluring French 40s appeal is right up my alley.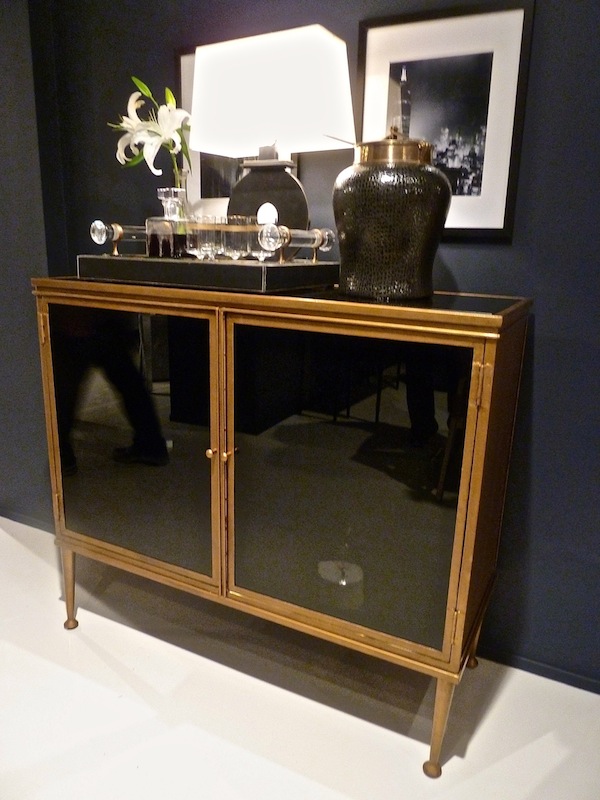 And how fabulous was Fiore's chic styling? I wanted all the accoutrements as well as the chest!!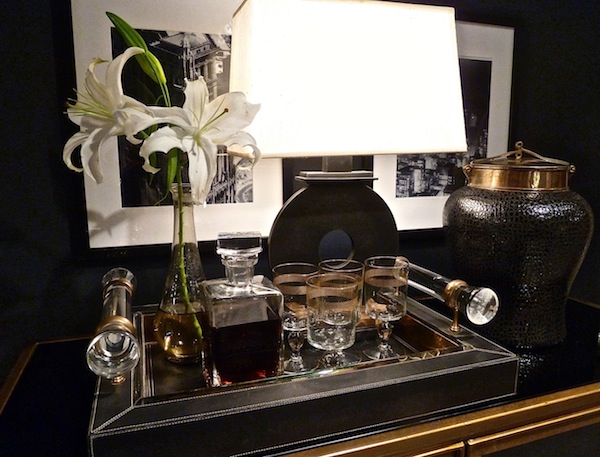 There were more wonderful vignettes but without turning this into a catalogue I thought I'd share a few more of my favorite pieces. For a desk that has plenty of surface space but reduces the visual footprint, I loved the modern glamour of this piece. In a large room, it could even function as a console and in an apartment could do double duty as a dining table.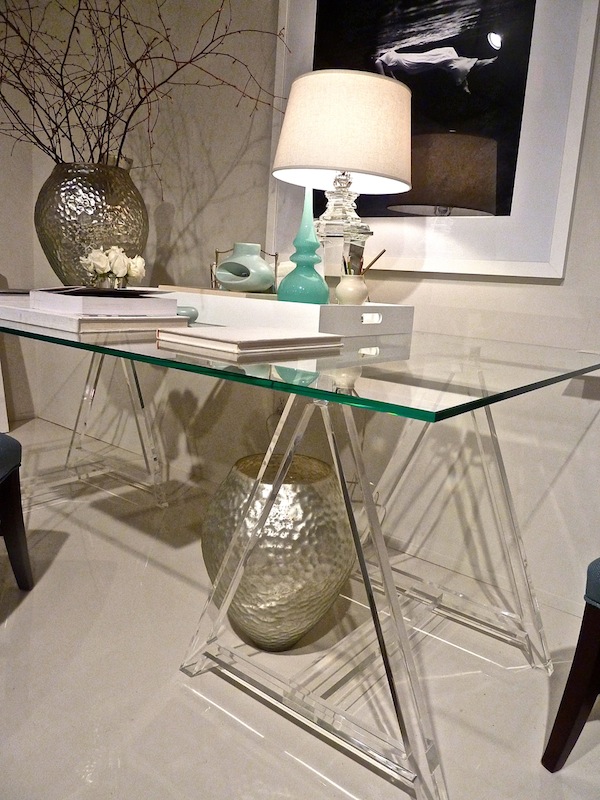 The hexagonal Florian cocktail table of natural water hyacinth lends a touch of natural exotic chic. With great texture and scale, it would be a great addition to both rustic and sophisticated settings.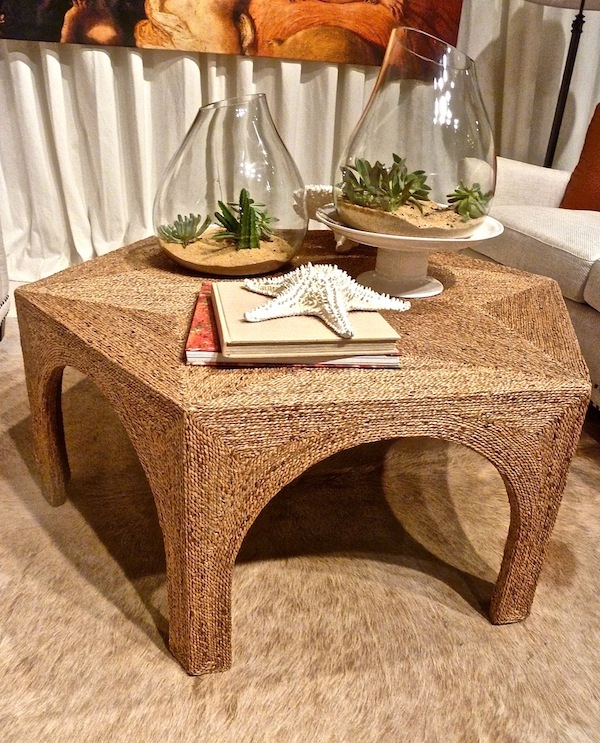 And you can guess after whom this retro chic Jeannie chair is named.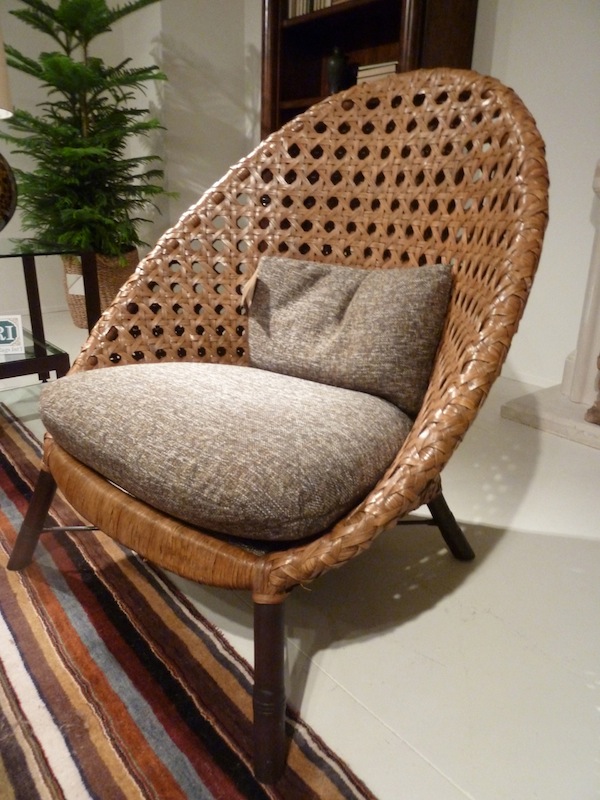 And while this perfect little pedestal table may not be a statement piece, it is one of those incredibly useful and versatile items with great base details that is great to have in your files.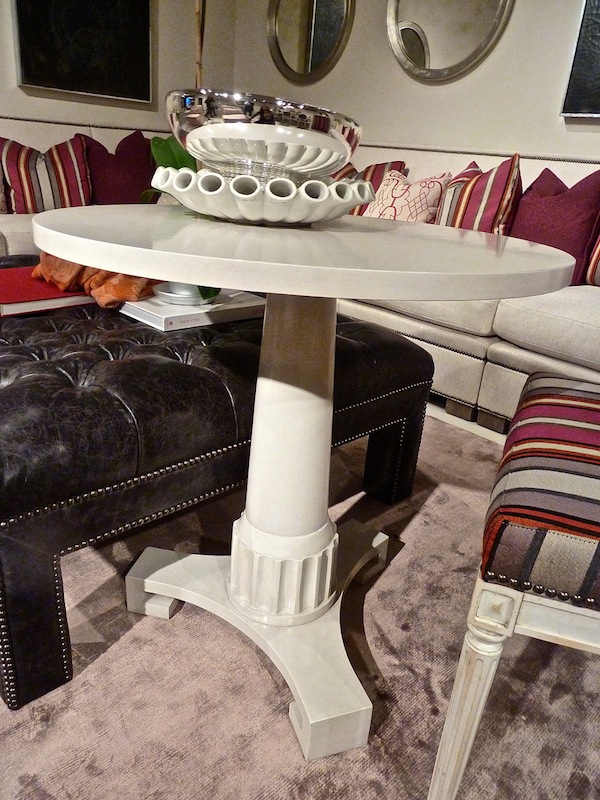 Many thanks to Stephanie Lowder and Heather Eidenmiller for the elucidating tour. Congrats to Bernhardt – I now can't wait to see what Ron Fiore and his team come up with next market!