I don't need any wine to speak the truth about this project. It's simply spectacular. If you were to plan a wine cellar in your home, what would you imagine – perhaps a modest room in your basement, with, if you're lucky, a small place to sit and sample your wares. Well Gil Schafer and his client envisioned this!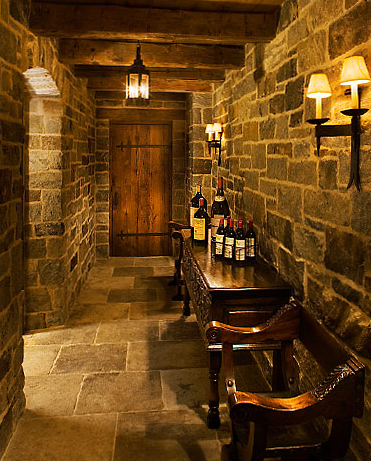 "We want our houses to have charm, character and warmth, but without being gimmicky about it." says Schafer. Well I would say they exceeded those expectations and more. One of my favorite aspects of his work is that in these very large, expensive homes, there is no sign of ostentation. They exude grace, elegance and comfort. This project is no exception. Let's take a peek shall we.
One enters through what seems like an ordinary door in the finished basement. But you are then transported to another world – one of stone, old wood and antique French limestone pavers on the floor.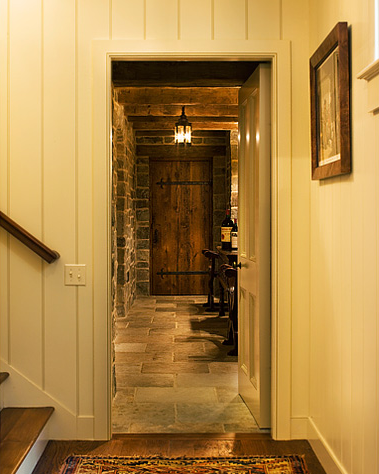 Schafer loves the sense of surprise that people experience upon entering and likens it to going through the wardrobe into Narnia, which amazingly, was exactly my reaction upon seeing these photos.
While many of us enjoy drinking and learning about wine, few become serious oenophiles. Not the case with this client. After the firm finished a country house for him, which Schafer never named but I strongly suspect may be the Hudson Valley Farm shown on the firm's site, the owner's growing interest in wine necessitated the need for a new wine cellar. But of course not just any wine cellar. In my online conversation with Schafer about the project, he wrote, "We wanted it to feel like it was built within the stone foundations of the farmhouse above it, and the reclaimed beams and ceiling boards are meant to evoke the floor framing and floor boards of the room above". Such a simple concept with such remarkable results.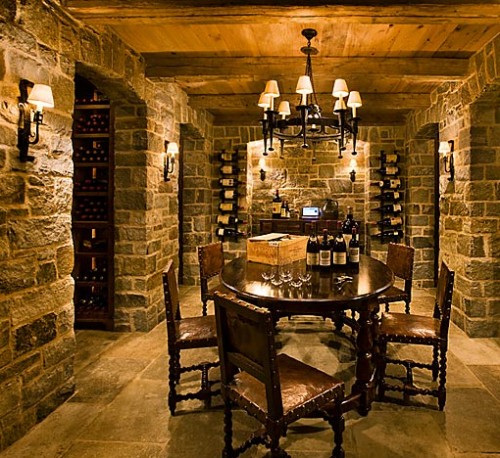 Is this not stunning?  I don't know if I every would (or could) make it back upstairs! Schafer and his team chose all the antique furnishings or had them made. Shown  is the central tasting room with a table made by Laszlo Sallay, a furniture designer, who frequently works with the firm. This room is then surrounded by alcoves holding the shelving for the wine, which is organized by both types of wine and vintages. Because the owner was not satisfied with any of the typical wine shelving systems he saw, Schafer designed custom racks, which are crafted from antique oak. They even added small slate tablets for labeling the different vintages.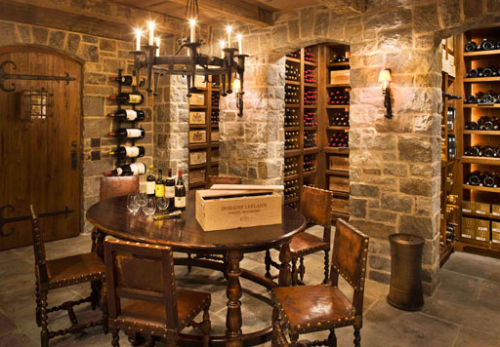 Don't let the antique look of this room fool you. As with most of Gil Schafer's houses, there is up-to-date technology hidden beneath the sheath of his classic interiors. All of the shelving is back-lit with low-zero fiber-optic lighting AND every bottle in the cellar is affixed with a bar code and linked to a computerized database which is automatically updated whenever a bottle is scanned leaving the cellar on its way to the table.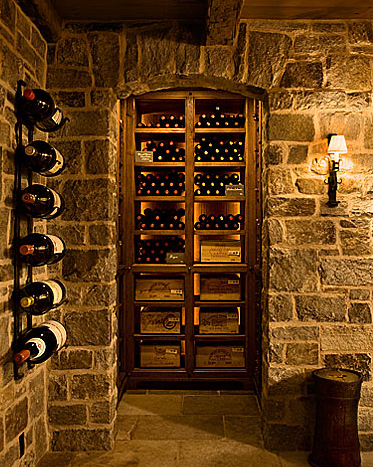 The team designed all the custom wrought iron hardware, made by Historic Housefitters (another firm favorite), who also made the incredible wall-mounted bottle racks that hold the large (and valuable) Jeroboams  and Methuselahs for example. I'll take the Chateauneuf du Pape there on the bottom please – oh or maybe the Pichon Longueville – decision, decisions!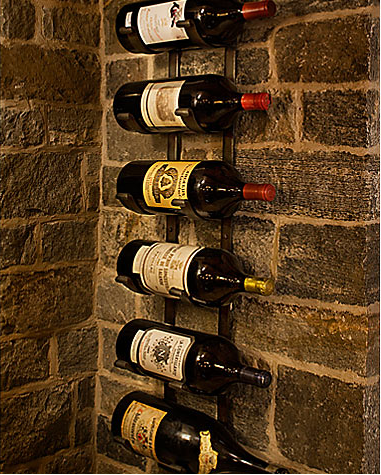 As is customary in a Schafer project, all the mechanical and system controls are hidden behind decorative grilles and access doors. Shown below is the equipment hatch, made with the same antique oak as the shelving, with a custom light above. Even the electrical switches and outlet plates were custom-made by John Danzer's factory in Costa Rica (if his name sounds familiar, it is probably because he is the owner of Munder-Skiles, the wonderful company that produces elegant and understated garden furniture).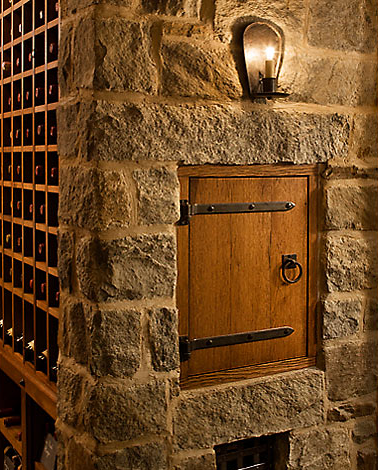 Beyond this charming vintage-looking space is a more contemporary storage room reserved for cases. This area is fitted with a rolling library shelving system, which can be stacked up tightly upon itself to fit more wine. The cellar has a capacity of approximately 12,000 bottles – more than many restaurants.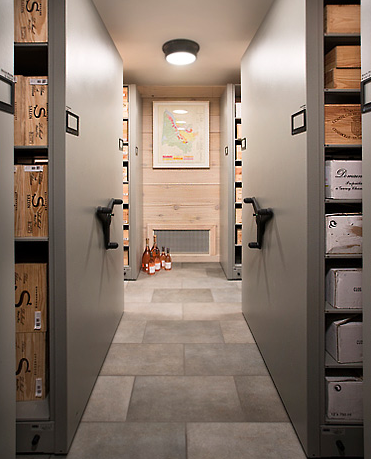 To ensure a stable environment for this vast collection, Schafer installed two dedicated mechanical systems for controlling the climate and maintaining very precise temperature and humidity levels. They are of course hidden as well.
Schafer describes the owner as an amazing client, whose knowledge of and passion for wine and collecting was inspiring. He graciously credits this very busy owner with maintaining an unwavering focus throughout the entire project, which in turn encouraged him and his colleagues to create something even more special.
Aimee Buccellato, a former associate at the firm, who is now an Assistant Professor at Notre Dame's School of Architecture said of her ex-boss, "One of Gil's strong points is his ability to make a connection with our clients immediately. The schematic-design phase in a project can be long and tortuous, but on most projects, Gil tends to nail it from the beginning. He has a way of listening to people and understanding what they need, to get a sense of their lifestyle, and our projects reflect that in the end."
I'd say so, wouldn't you?! I want to thank Gil for his accessibility and generosity in offering me detailed information about the project. His work is iconic and I feel privileged to be able to share it with you.