Some marketers have finally realized that guys like stuff too and are willing to shop online and even spend money just like their female counterparts. Two new sites which have arrived (or are coming soon) are targeted to them or their significant others shopping for them. The first has been getting quite a bit of press because it is being brought to you by the team who brought you the very successful Net-a-Porter, the "world's premier online luxury fashion destination" – which it is.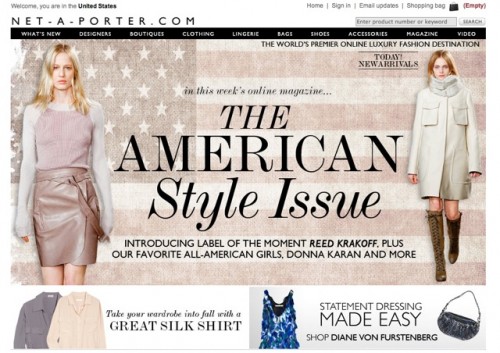 Natalie Massenet, the founder of the fabulous Net-a-Porter, earlier this year sold a 93% financial stake in her company (netting her a purported cool 50 million pounds) to Richemont, the Swiss luxury conglomerate which already owns a stable of other luxury brands such as Cartier, Van Cleef, Montblanc, Chloe and more.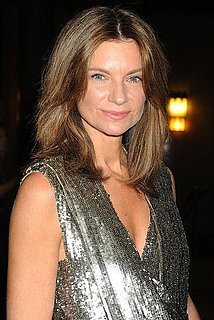 Together, the two will be debuting the new site, dubbed Mr. Porter, in January. Labels such as Lanvin, YSL, Ralph Lauren and Burberry have already signed on. And it will follow Net-a-Porter's lead in featuring all its wonderful extras such as style advice and editorial commentary. The website placeholder features a no nonsense spare space with bold type which is perhaps an indication of the site's style to be.

Now will my very traditional husband be shopping here? Uh – I don't think so – but you can bet there are plenty of guys who will be. According to the Wall Street Journal, the upper income men who these sites are targeting may buy less but spend more. "Affluent men, those with income levels in the top 20% of U.S. households, spent an average of $3,970 on Internet purchases during the fourth quarter of 2009 compared with $1,958 for women, according to Unity Marketing." And evidently they don't like wading through the women's stuff to get there – they want a site just for them. Tell me you're surprised.
The second site is already up and running. It is Kingdom59.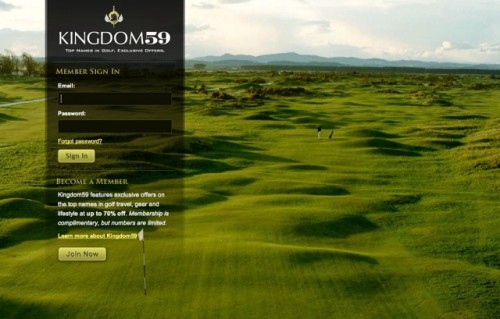 Think Gilt (which has already had a men's section for a while) for golf, for men. In researching this, I came upon an established golf site, golfwrx.com that has a forum section. In one of the forums, guys were discussing kingdom59 and I have to tell you, I was almost laughing out loud reading the comments. You would have thought it was a group of  young women conferring about the latest styles on Gossip Girls. If anyone has any doubt about the potential success of this site, go here . Kingdom59 is the brainchild of Alan Parker, the husband of Splendora (the terrific fashion, beauty and lifestyle site) co-founder Amy Parker. Like Gilt, it is a (free) members only site where high end golf merchandise from manufacturers such as Scratch Golf, Travis Mathews, Feel Golf, 59 Belts, Puma Golf, Izod G and Dunning (today's sale) is heavily discounted.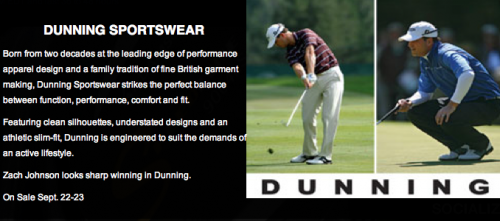 And like Gilt, if a recommended friend makes a purchase, you receive a $10 gift credited toward a future purchase of your own. Although the site is definitely geared towards men, they will be including a few women's and kids' items throughout the year. Parker says the inspiration for the site "was born on the fairways of St. Andrews, the Home of Golf. After 14 rounds in 10 days in and around the Old Towne, I was inspired to turn my life long passion for this game into something that could be shared with fellow golfers everywhere." Now this is a site I could see my husband visiting.