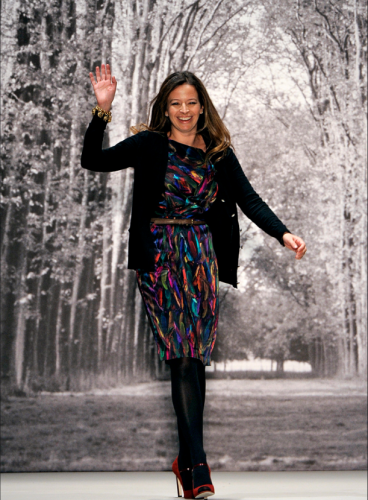 You always know you're going to have a good time at the Milly show. The enthusiasm and upbeat energy was palpable on Wednesday as people took their seats. And the show did not disappoint. Michelle Smith said her inspiration this time 'round was French fashion photographer Guy Bourdin, whose brightly colored graphic, and sometimes controversial work for Vogue, Bazaar and companies such as Charles Jourdan was legendary. Considering Smith's love of color and time spent in France, it is understandable that she would be attracted to the sexy and alluring work of Bourdin.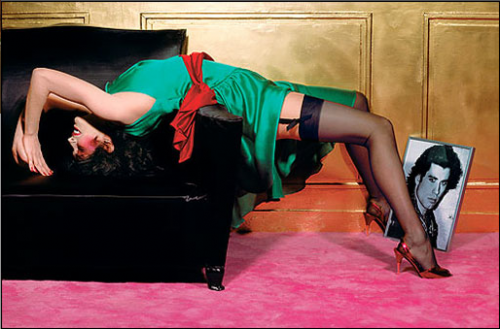 Against the beautiful backdrop of monochromatic trees, the jewel toned collection came down the runway. I always love Milly's outerwear and this season was no exception. The new longer lengths were evident immediately with this double-faced wool cape jacket (another shape we're seeing a lot of) over a similarly colored wool gab culotte skirt.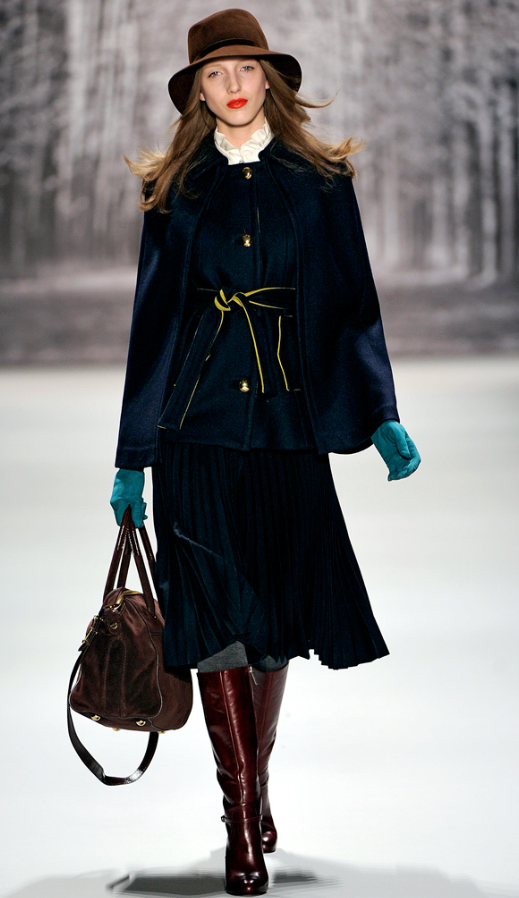 Milly's youthful feminine flair was exemplified perfectly with this emerald silk herringbone jacquard ruffle dress under a midnight blazer.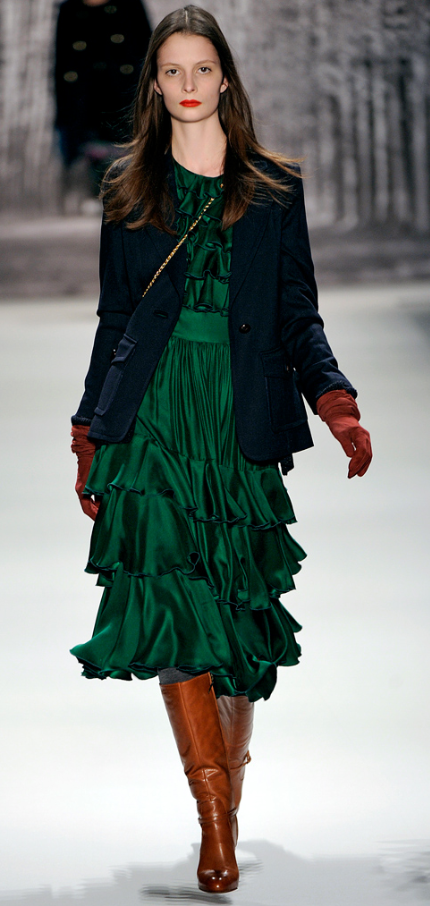 We are seeing a resurgence of corduroy for fall as in this eggplant wide-wale blazer over the beautiful knit cardigan, emerald silk blouse and wide -wale corduroy culottes. I'll say it again – color is back for fall and Milly handles it here with perfect ease.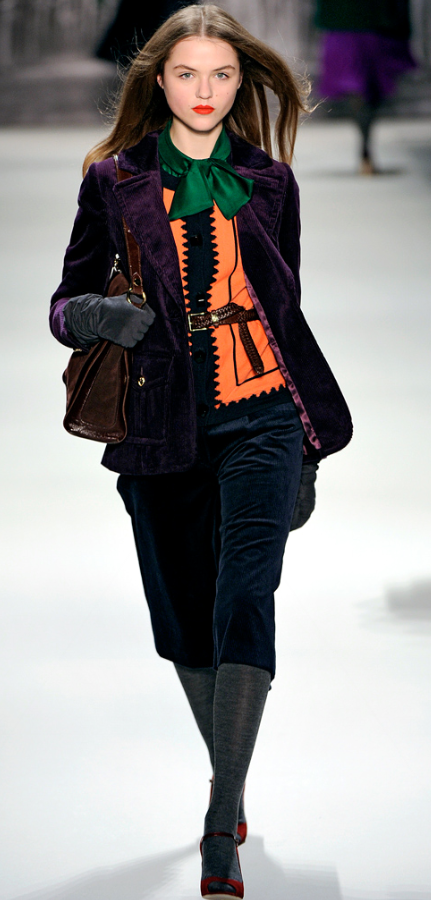 Another version of the popular peacoat silhouette emerged in ruby paired with cognac wide-wale corduroy full leg and pink cap-sleeve sweater.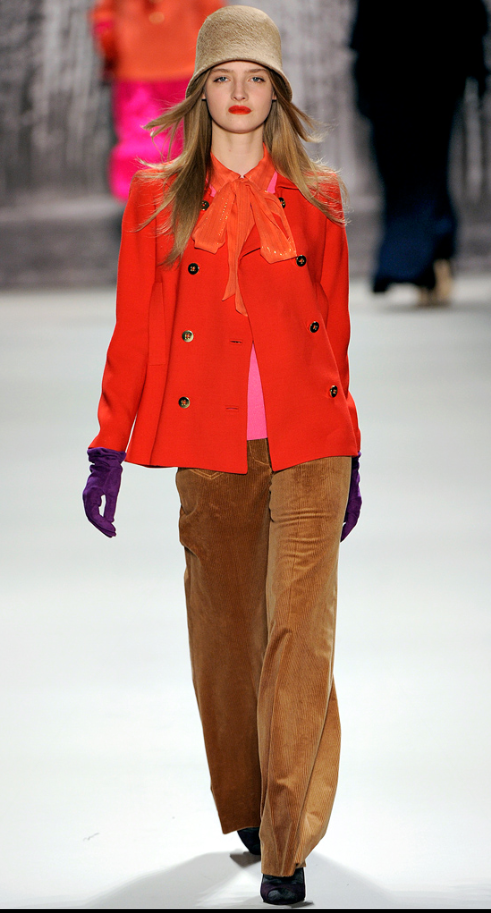 It's hard to see the details in this shot, but the knife pleats in these culottes are fabulous. This is a classic dress me up dress me down item that would be a great staple in anyone's wardrobe come fall.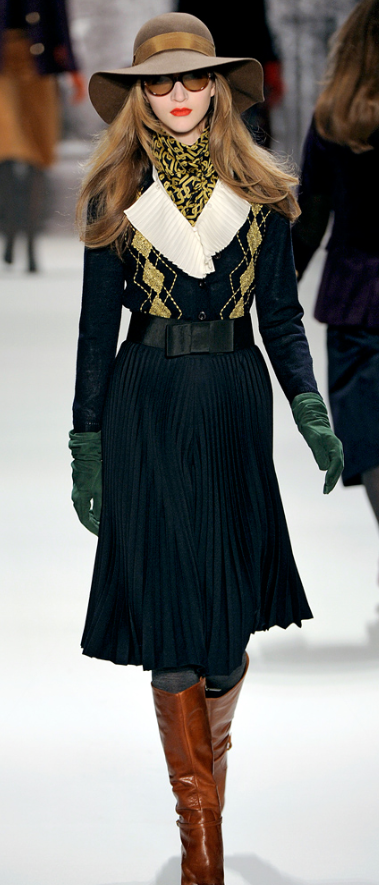 This Mongolian lamb vest is one of the mainstays of the collection. It was shown over several different outfits and looked fabulous with each, as here paired with this beautiful thistle brushstroke print metallic jacquard dress.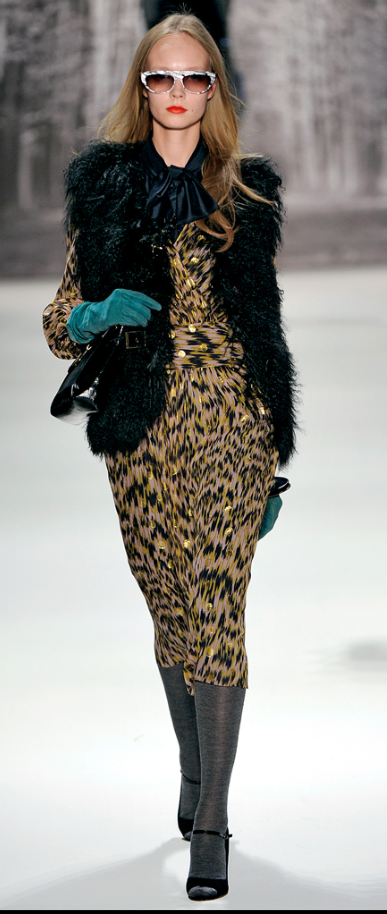 Continuing with the fur trend, here is the Mongolian vest seen in its jacket incarnation.  I love the textural contrast with the wood tweed skirt.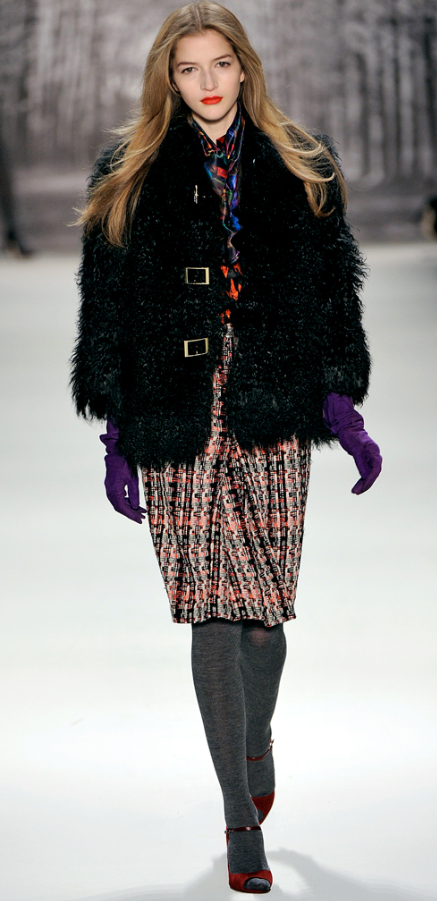 How glamorous is this look with the Mongolian vest in natural this time over an ivory wool jersey dress – although the inspiration for this look seems to come more from last season's Peggy Guggenheim than Guy Bourdin.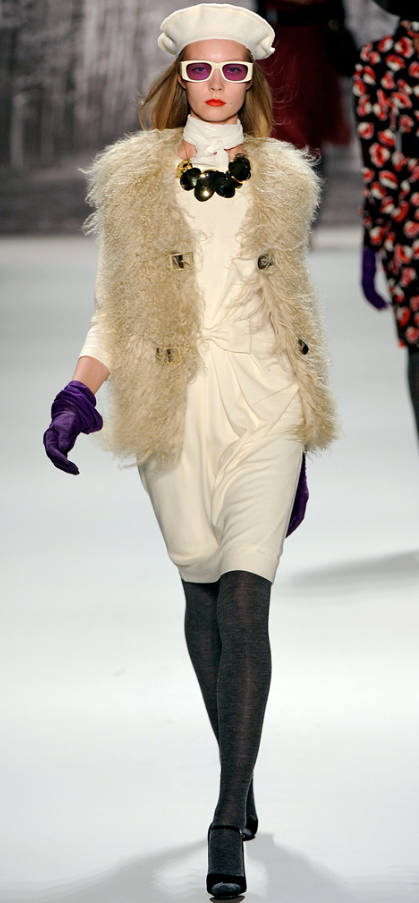 Another fabulous cape appeared in melange tweed, shown over black silk chiffon blouse and double weave pin tuck trousers. A versatile wearable and interchangeable look!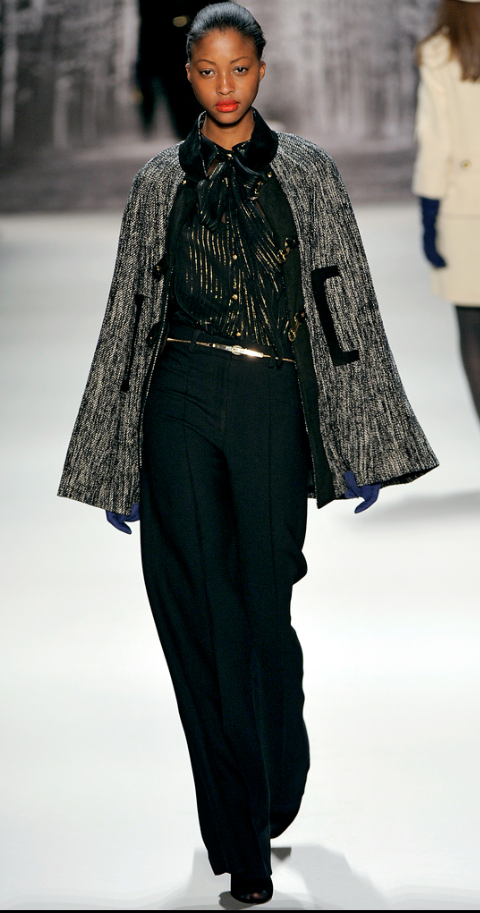 The outfit above signaled the switch from vibrant color to an elegant scheme of black and gold. Witness this vest of black fox thrown over a black silk georgette blouse with lace insert and double weave pin tuck trousers. The fabulous Amelia – an antiqued leather oversized clutch is part of the Milly's handbag collection – the first spring accessories collection debuting now in stores.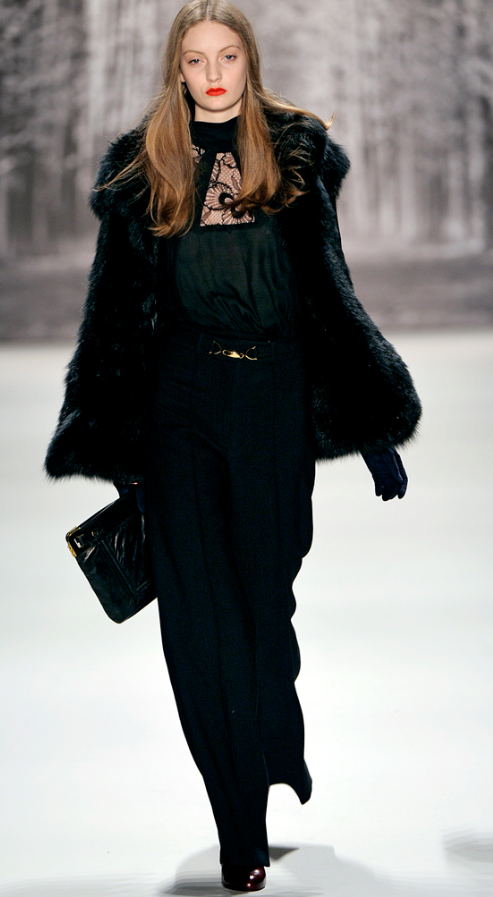 This spring marks not only the introduction of the handbag and jewelry collections but also the "Milly Minis" clothing line for girls aged 2-7 and the opening of the flagship boutique on Madison Avenue.  In fact sitting across from me was Elizabeth Hasselbeck with her 5 year old Milly Mini daughter, Grace, attending her first runway show. To the left is Kristen Chenoweth. The new line offers the opportunity to expand the brand's already devoted following to a new generation of future shoppers.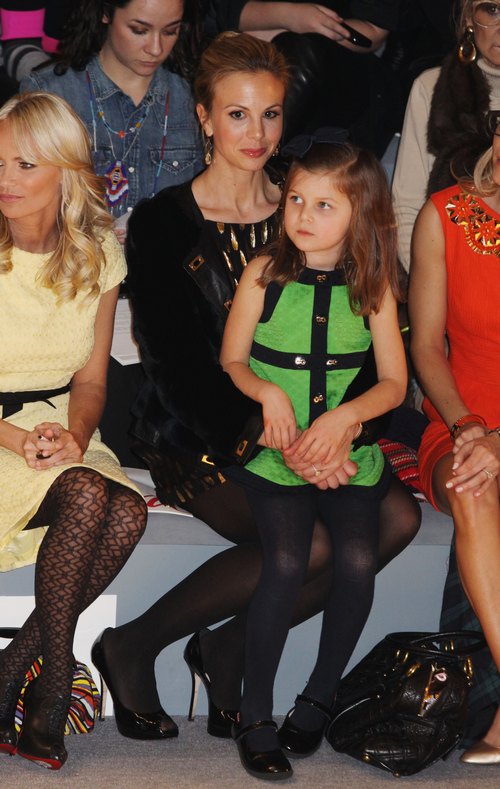 This wraps up my fashion week coverage for this season. I would like to thank my friend and personal shopper extraordinaire Linda Levy of Richards in Greenwich and husband Peter for extending the invitation and to all the fabulous people at IMG who made it a comfortable and effortless experience. They do such an incredible behind the scenes job ensuring that absolutely everything runs smoothly.