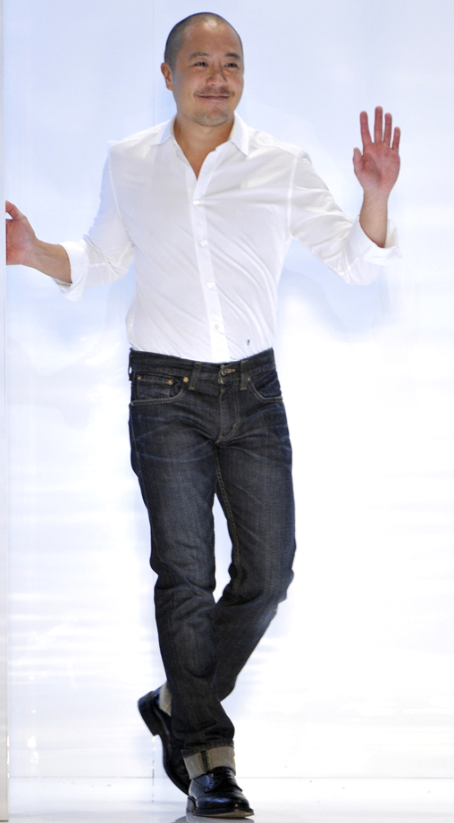 Yesterday I was delighted to be back at Lincoln Center for the fall 2011 fashion week shows with my friend Linda Levy, whose husband Peter is in charge of the successful venue at Lincoln Center. Sunday started off with a bang at Derek Lam. Following on the heels of his beautiful pre-fall French inspired show, he proved that he is definitely on a roll. He presented his collection with a quote from George Balanchine "there are no new steps, only new combinations." And he elaborated on this with the adaptation of new fabrics. Created by combining raw materials in new ways, he has added substance and loft to these fibers. And by layering, he made these lighter materials more appropriate for fall. His incredible tailoring was evident starting off with one of my favorite pieces, this fabulous doubleface wool pea jacket in a gorgeous smoky blue. The welting details and shorter style made it feel fresh and new.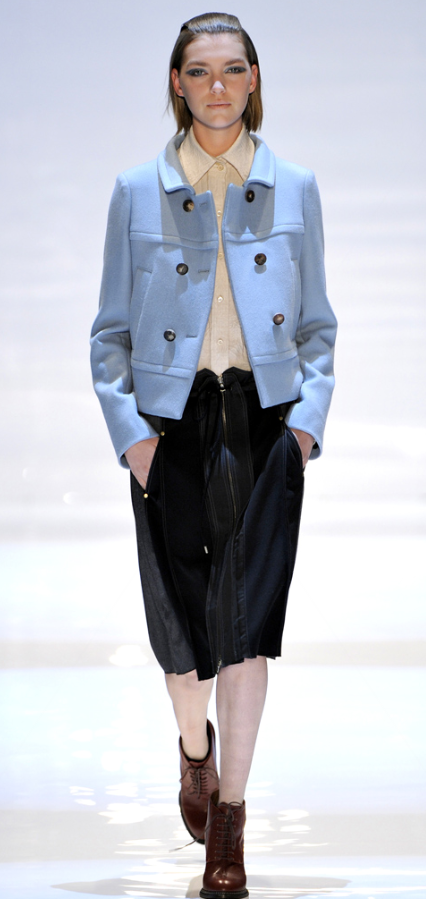 It was followed immediately by this handsome ode to menswear. Love the color combination and beautiful full leg trousers. And to demonstrate the validity of the Balanchine quote, he took the pea jacket silhouette above, and with a few simple changes  (making it single breasted, with patch pockets and a car coat length in a vibrant red) – voila – an entirely new look.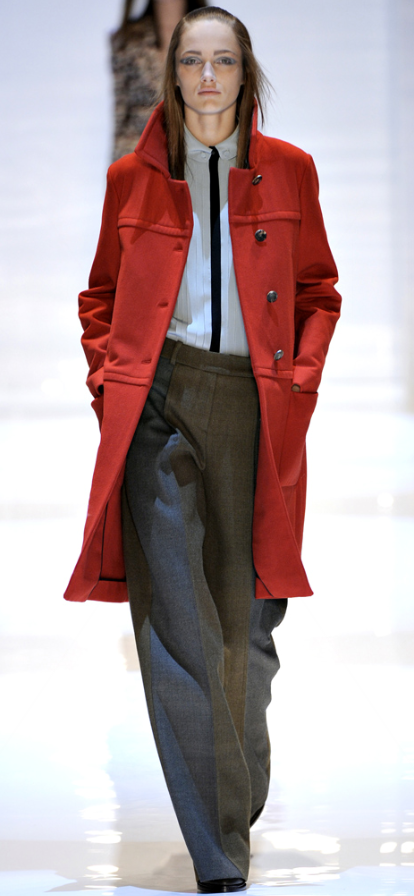 Now witness another fresh combination through color – a third version of the pea coat again in the blue, with these red and black wool stretch flannel trousers – these colors sang on the runway! All the collections I saw had some sort of version of pants with side stripes.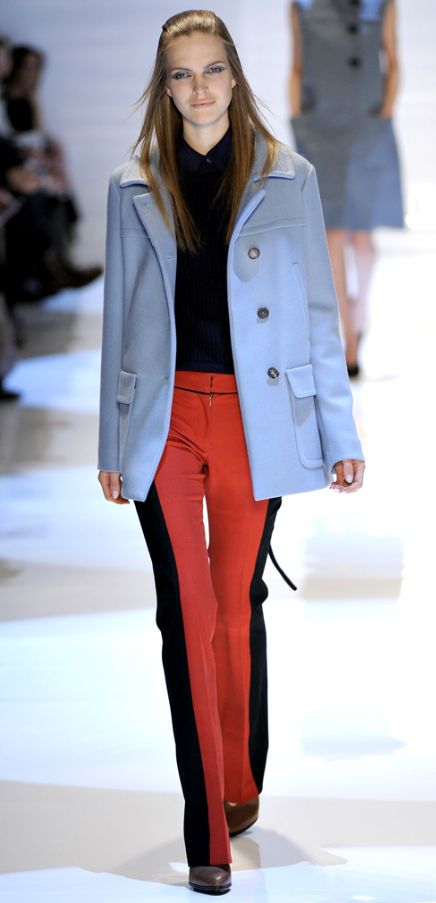 This glamorous look features a dress of newly combined materials under a spectacular laundered cotton gabardine coat with waxed mink sleeves and cashmere felt collar. The waxing is a new treatment making the fur more impervious to weather. Love the boots as well!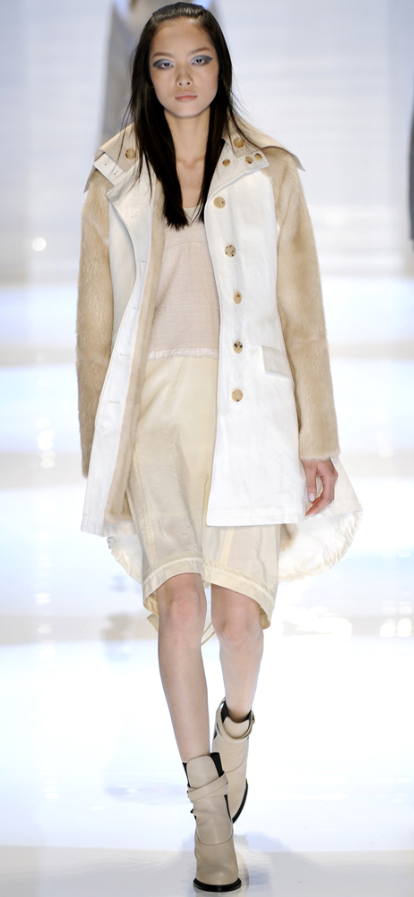 This dress of doubleface cashgora was even more elegant on the runway.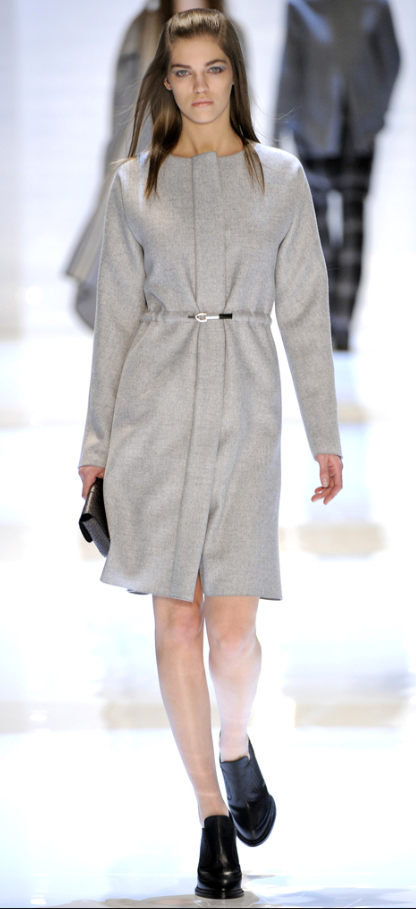 Another glamorous coat offering was this ivory shearling. Love how he paired this model and outfit, the white coat sandwiched by the short dark hair above echoing the black velvet and leather sandal below.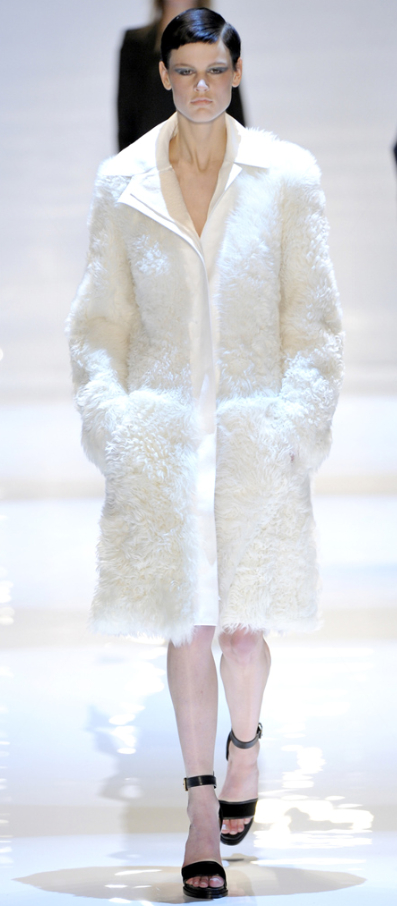 We're now used to Lam presenting his beautifully tailored signature version of American sportswear. The surprise, however, was the fabulous collection of architectonic eveningwear. The combination of new technical fabrics billowing effortlessly down the runway with leather or suede made for a unique collection of understated yet memorable gowns.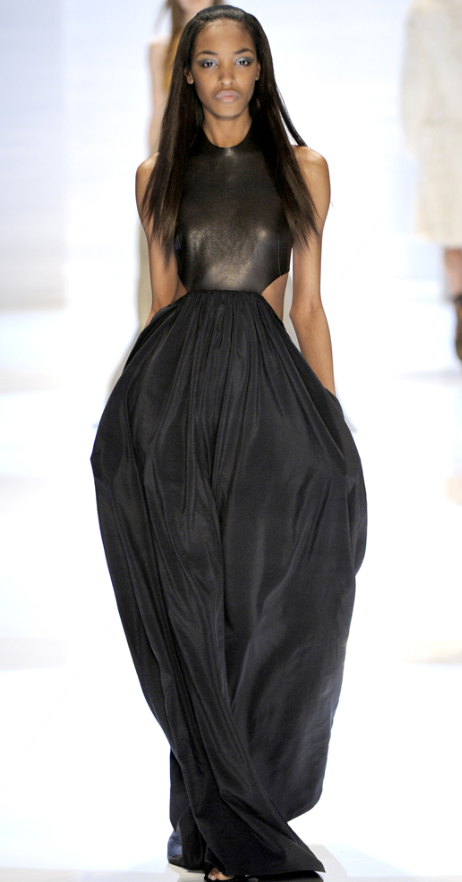 This gorgeous number with laundered satin khaki bottom and saffron lambskin top was seriously calling my name.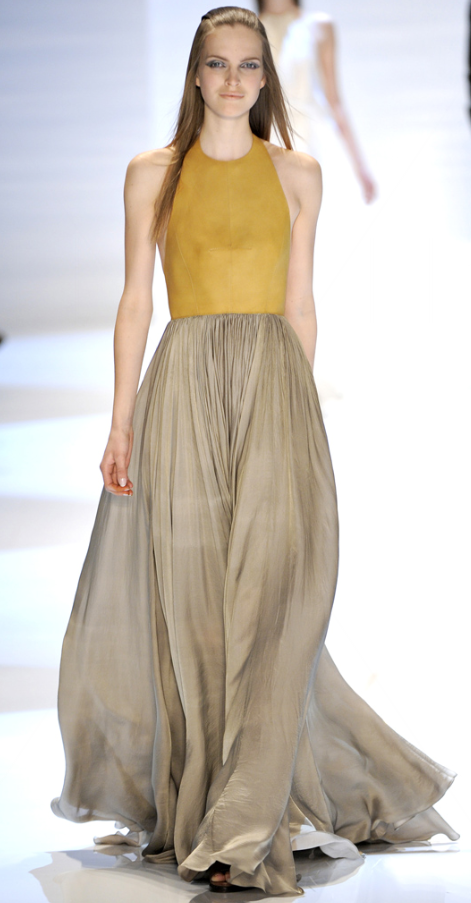 This grey shadow plaid silk chiffon practically floated. Too bad you can't see the movement – like a Greek Goddess.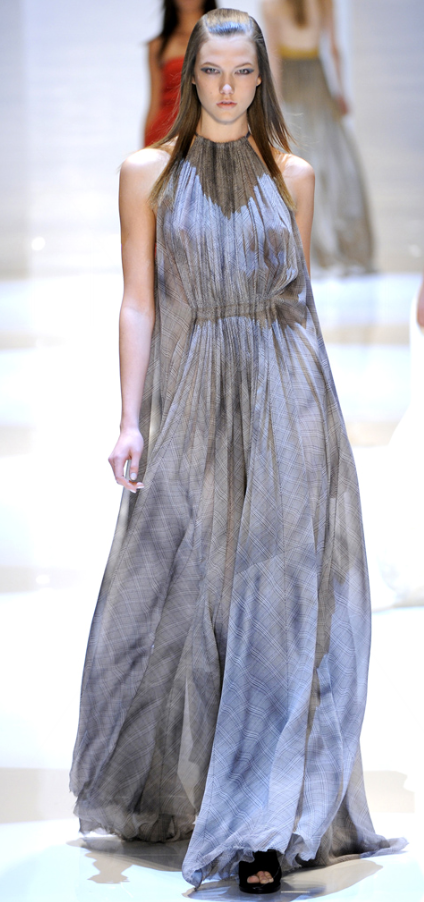 The sheer silk jersey bottom of this gown was a recurring theme at the shows – I expect to see more of this trend later in the week.
all photos Alessandro Viero / GoRunway.com
This was a great way to start off fashion week. Derek Lam continues to refine his vision and add to his repertoire. My guess is we may very well see some of these gorgeous gowns on the red carpet in the fall! More tomorrow from the runways!!