There were many glamorous tables at this year's DIFFA Dining by Design. Luxury living was exemplified at Inson Wood's table for Manhattan Magazine featuring Fendi Casa. With a love of all things Italian, acquired after a stint living in Rome, the designer has a definite appreciation for the handmade in Italy craftsmanship of the line.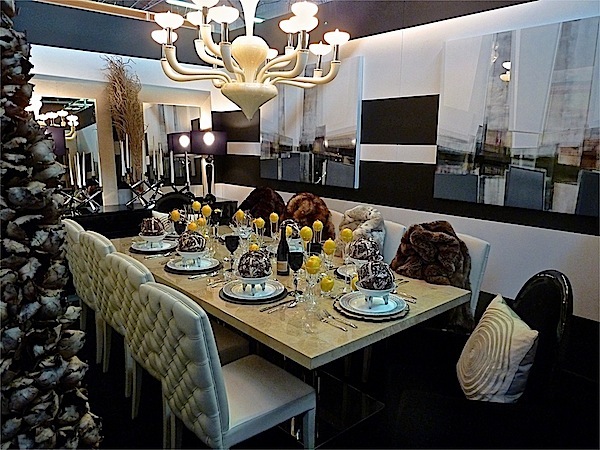 Horizontal stripes on the walls with paintings by Michael Dickey added a graphic punch to the otherwise chic neutral palette. And the clean lines of the Bernini dining table were the perfect foil for the luxurious tufted Alba leather chairs and sinuous VIA Lattea chandelier.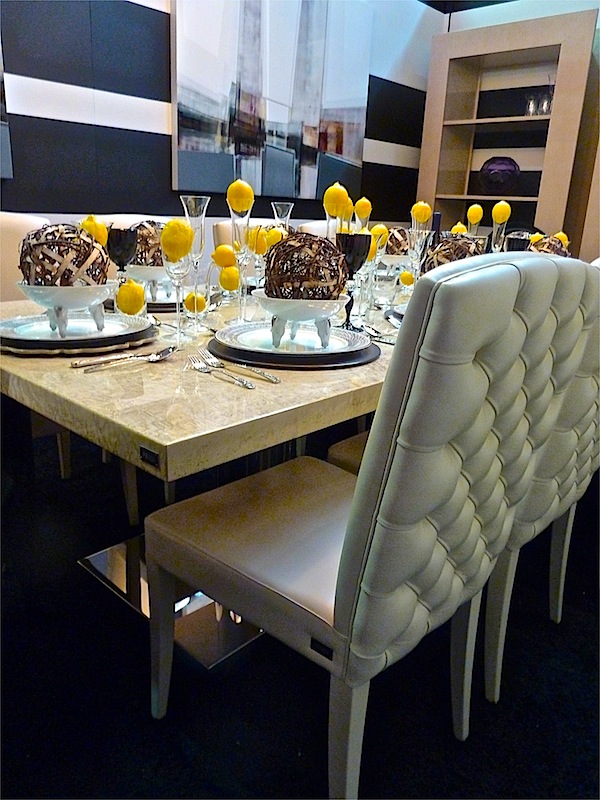 I loved how the whimsical decorative balls from Jamali Garden added a light hearted textural touch against the fine Fendi dinnerware and Murano goblets.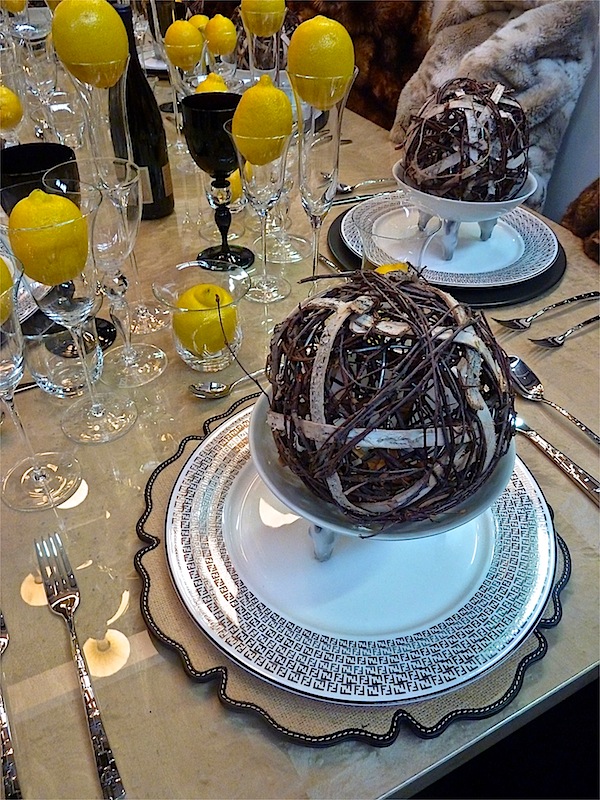 The understated elegance of Elizabeth Bolognino's table centered on the concept of the classic circle. Anchoring the space, she chose Avenue Road's burnished brass Light Ring Chandelier designed by Massimo Castagna. Its strong simple shape belies its high tech abilities. Using LED lights, it is powered by the wires connecting the rings. And do check out the beautiful marble mosaic floor which was all hand laid on site.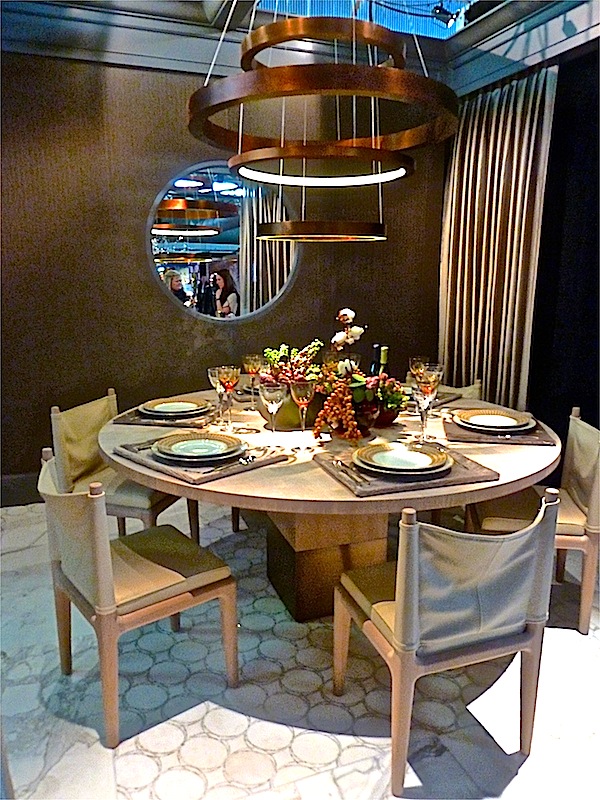 I was delighted to finally meet Elizabeth, pictured sitting in the wood and leather Christophe Delcourt ABI Dining Chairs, also from Avenue Road. She fit in perfectly in her elegantly layered space.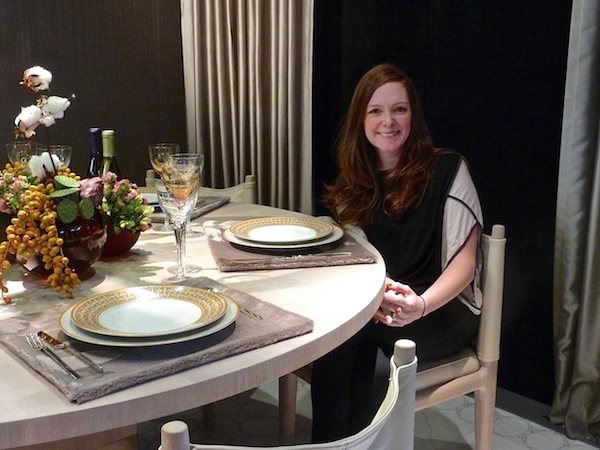 And her dining room wasn't without a whimsical touch – I adored the luxurious placemats, made from Orsette mohair by Dedar, who also supplied the curtains and textured wallpaper. They were a fun Merritt Oppenheim-esque textural complement to the beautiful Hermès Mosaique au 24 dinnerware and amber Saint-Louis Amadeus stemware. Kudos also to Stephen Fanuka for his expert construction of Elizabeth's dining environment.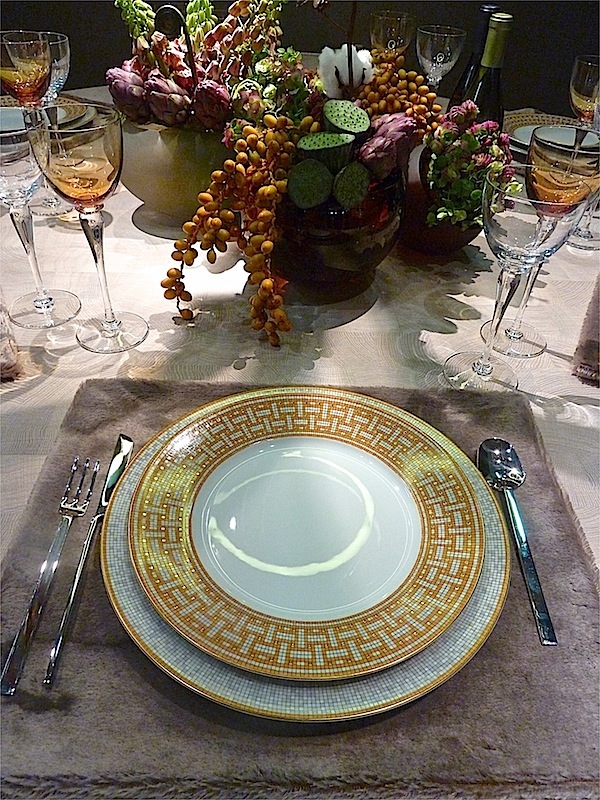 I wish I had seen Alexis Audette (Operating VP of Design) by the Beacon Hill vignette. Her lovely blue dress would have the perfect accessory to their "Nature at Night" themed table. Featuring Moon Blossom from their upcoming Midnight Garden collection, their dark lush space was an exotic natural fantasy. The surrounding boxwood hedges lent the space a mysterious elegance, like a magical secret garden.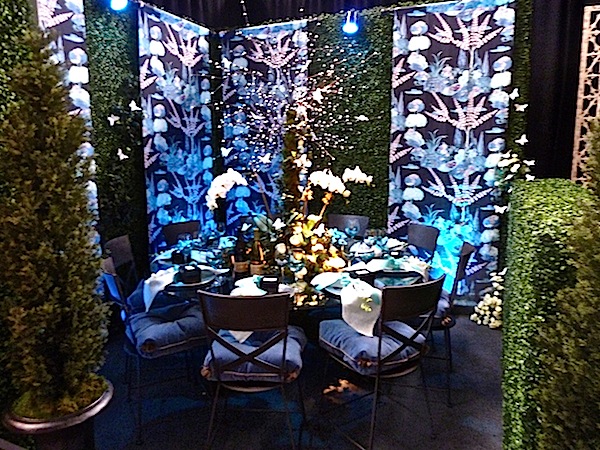 Richard Newman, Robert Allen's Director of Marketing and Visual Merchandising, and Audette designed the table setting which offered a graceful almost fairy-like counterpoint to the dark opulence of the surroundings.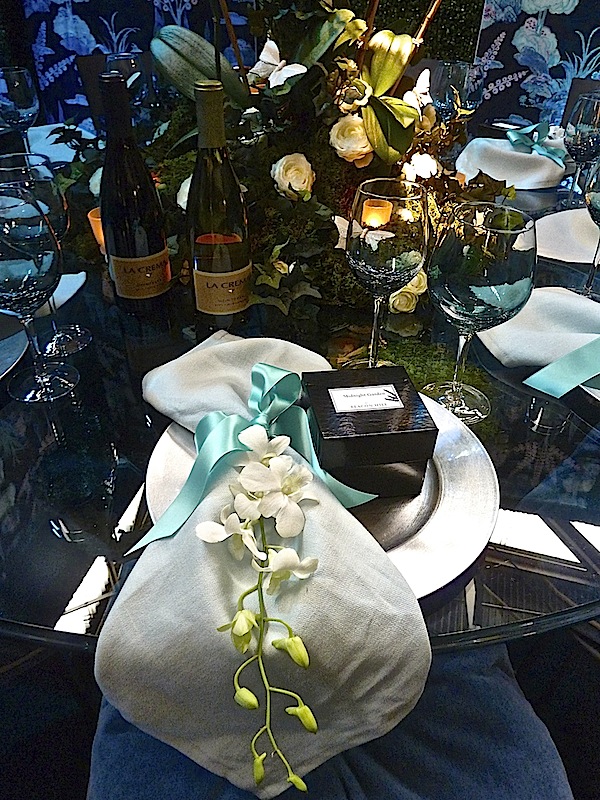 More light hearted natural themes were seen in the Echo room, where their scarf collection provided a backdrop for a creative display of butterflies and other creatures.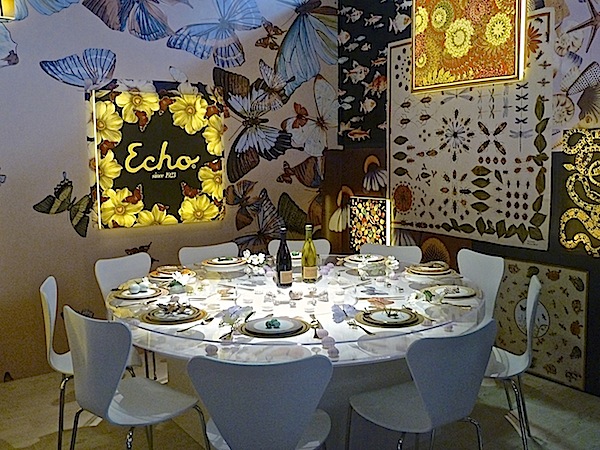 The table was cleverly designed with a cantilevered clear top so a tabletop of natural beauty showed through.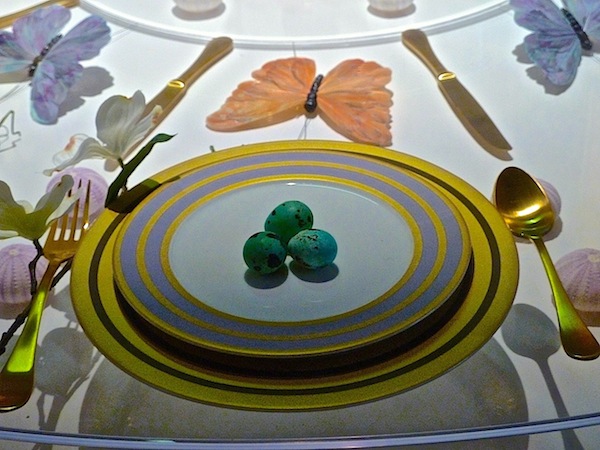 Stop back as I continue my coverage of DIFF Dining by Design.