DIFFA is a cause close to the members of the design community's hearts and Dining by Design always brings out the best in them. There were some especially creative solutions this year from elegant to outrageous. One of the more flamboyant designs was the creative collaboration of the Rockwell Group with Maya Romanoff to celebrate the April 4th opening of producers Daryl Roth's and Hal Luftig's new Cyndi Lauper Broadway musical Kinky Boots.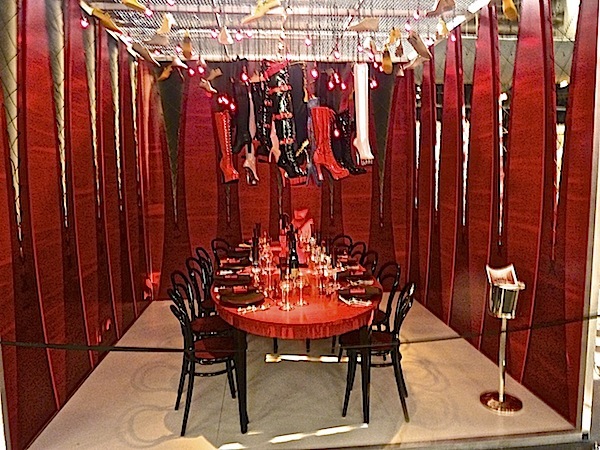 Maya Romanoff  created Kinky Boots red, a custom hue with a patent leather look, for the walls. Alternating with their signature hand-painted Candy Apple, the colors are interspersed with sexy laced up panels.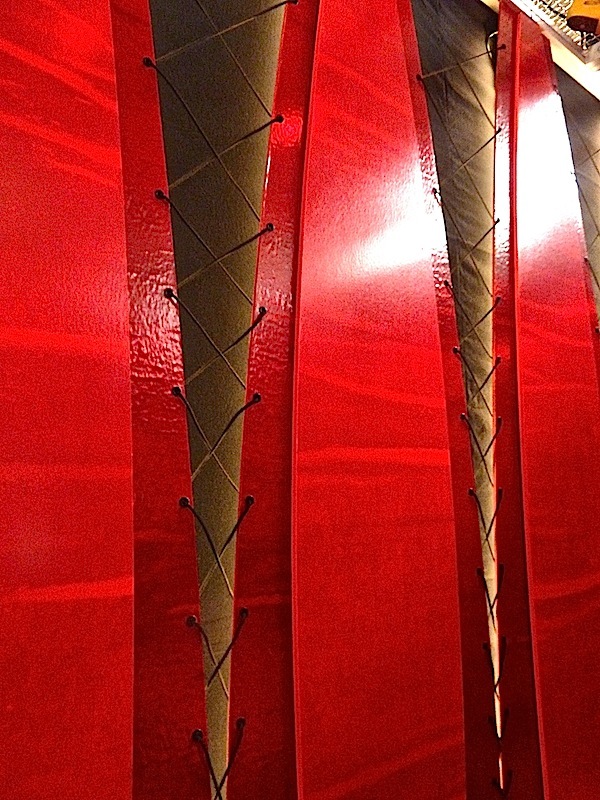 The tablecloth is Stitched, a wallcovering designed by Rockwell Group for Maya Romanoff, with Baccarat champagne flutes, napkins make from Maya Romanoff's Fabricadazzle and stitched napkin rings, a popular idea this season.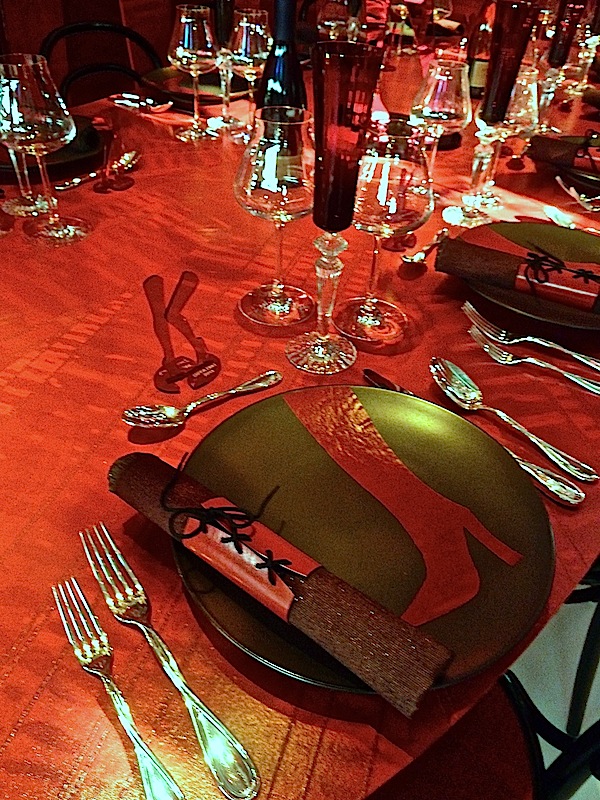 Rachel Laxer's table also had a sense of whimsy mingled with a surrealist take on an Alice in Wonderland Mad Hatter party. Anchored by a painting by Ray Cesar, which was enlarged for the space, Rachel's design mixed a refined elegance with her love of functional art, resulting in a surprising sense of the unexpected.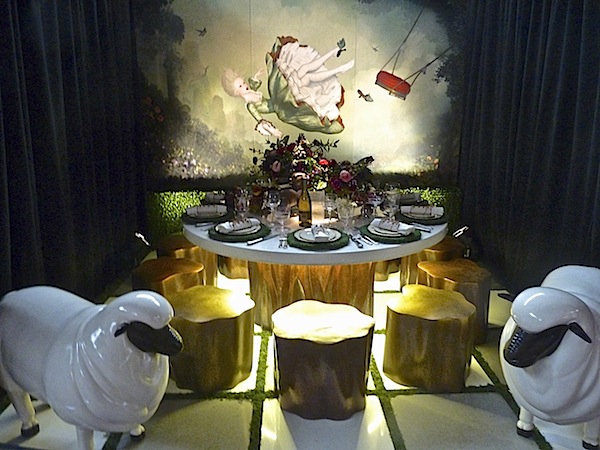 She co-hosted her table with the artist/furniture designer Robert Kuo who created the copper repoussé root table and stools and fantastical sheep sculptures. As Rachel explained, "I wanted this space to have an indoor/outdoor feel, for the table and setting to reflect what is happening outside, and with Robert Kuo's tree trunk table, guests can feel as though they are in tune with nature." The moss on the floor also made its way to the table as a charger with another chic version of a corsetted napkin and a lush floral centerpiece by Gabriel Marquez, based on the opulence of 17th century Dutch still lifes.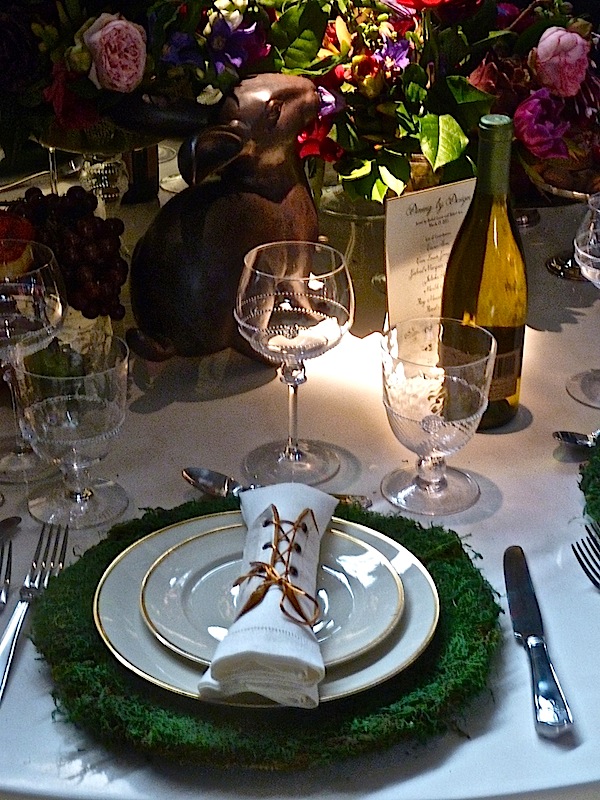 On a more understated bucolic note was the charming Frette table for The New York Times. The bike from Adeline Adeline and the tented pavilion (with drapes from Patricia del Castillo) set the tone for a country lunch that could have been anywhere from Manhattan to Morocco.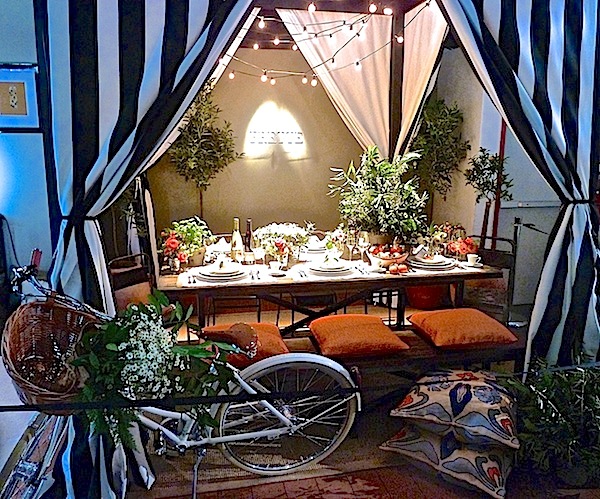 Hemstitched Frette placemats, dinnerware from Table de France/Guy Degrenne, and flowers from Randi Costa made for casually elegant dining.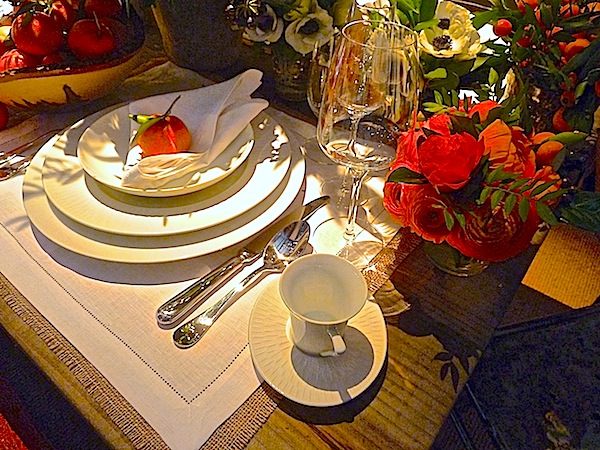 References to and inclusions of natural motifs were a popular mode du jour. The Ralph Lauren table at the entrance had an upscale zen-like appeal with a functioning water wall,   neutral colors and natural materials.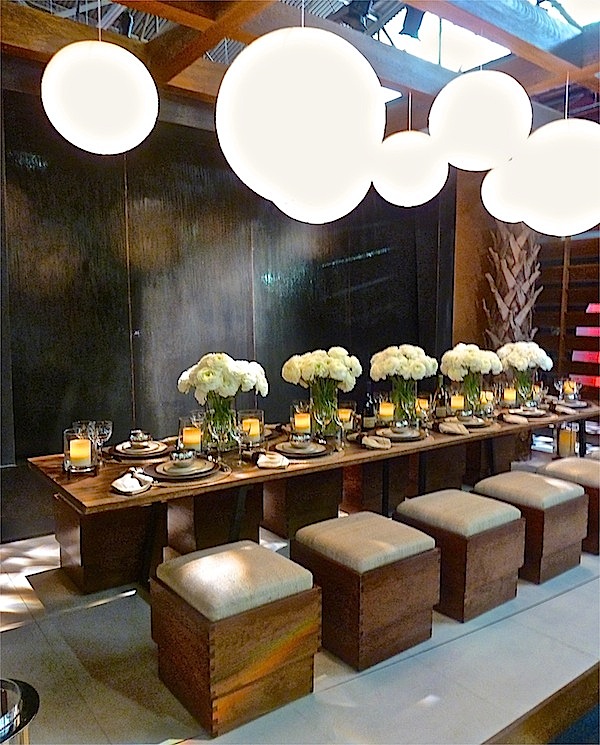 The table setting was classic Ralph with a rustic chic mix of clean modern lines and leather, linen, rough woven mats and hammered metals.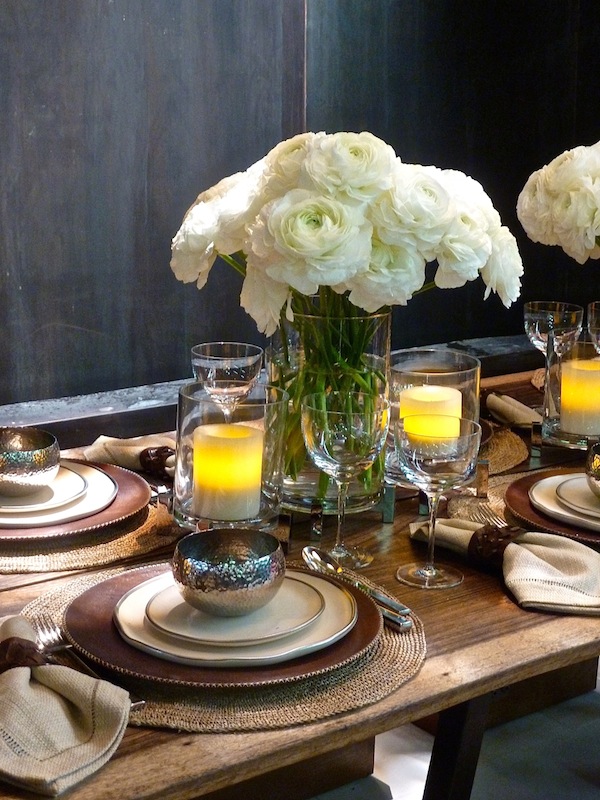 More casual chic was seen at Aerin Lauder's table for Kravet, featuring her not yet released new fabric, Montrose, for Lee Jofa. Showing the versatility of the linen damask, she used it as tablecloth, chair pads and wallcovering.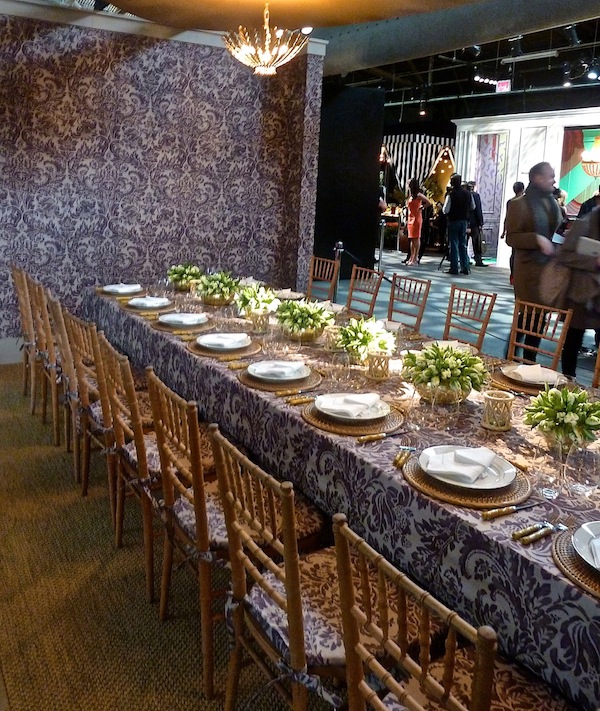 It is the type of pattern that be dressed up but is equally at home in this type of low key setting with rattan and bamboo (just noticed those naughty renegade forks). And if you look up, above,  you'll catch a glimpse of an example of Aerin's new lighting line for Visual Comfort to debut at High Point next month.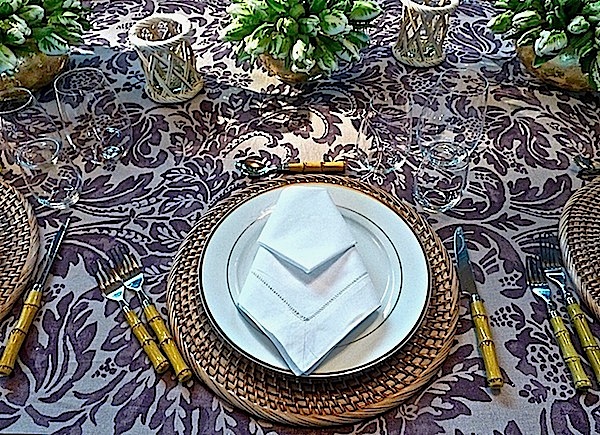 Stop back tomorrow when we'll take a look at more tables from this worthy event.