On Monday evening Dining by Design 2017 marked the 20th anniversary of DIFFA's (Design Industries Foundation Fighting AIDS) landmark event, bringing together brands and designers to help raise awareness, support and funds for the fight against HIV/AIDS. It's always inspiring to see the inventive installations created for this special evening. Ralph Lauren is one of this year's sponsors who has supported Dining by Design almost from its inception in 1984, along with Crate and Barrel, Benjamin Moore, The New York Design Center and the Rockwell Group.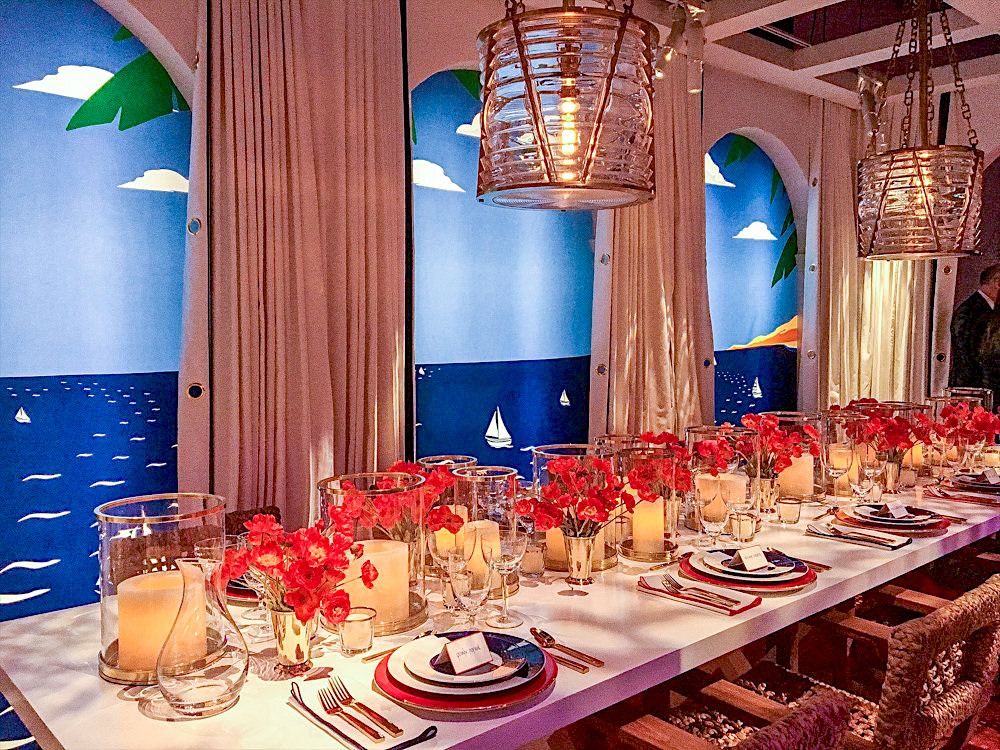 Inspired by their Spring 2017 Grand Plage collection, Ralph Lauren Home's installation recalled the retro chic of classic French resorts. The crisp seaside color scheme with pops of red was augmented by nautical references and natural materials.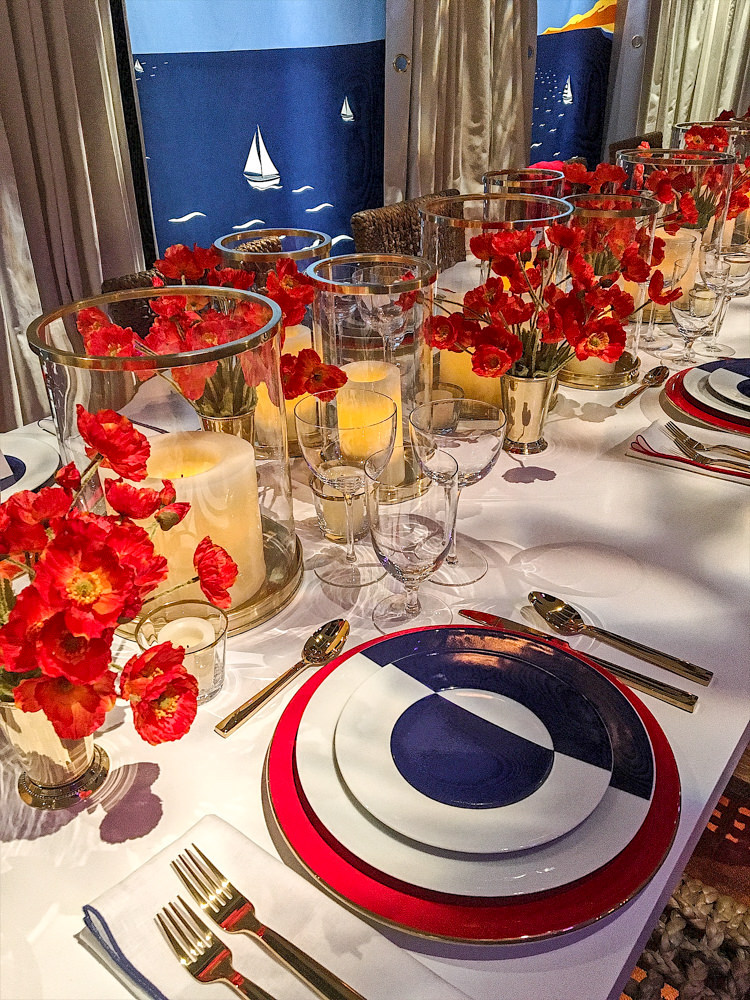 Crate and Barrel's Midnight Snacks room was set in a black and gold kitchen that captured the dark glamour of post party reveling.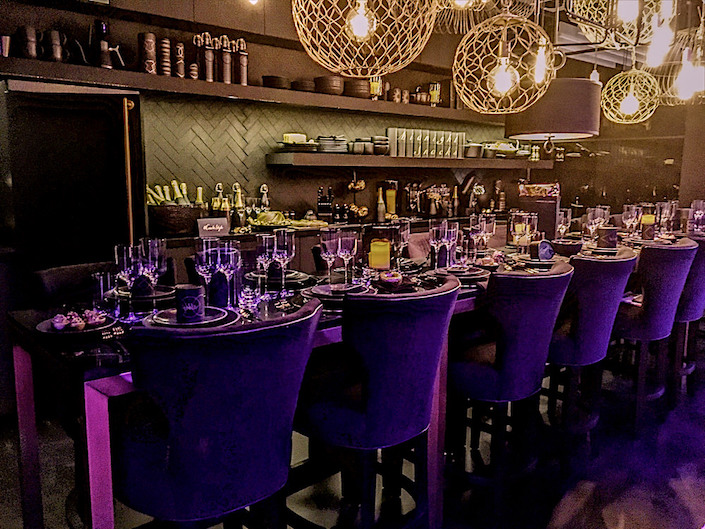 Century is Benjamin Moore's brand new small batch interior paint with a unique soft suede like touch.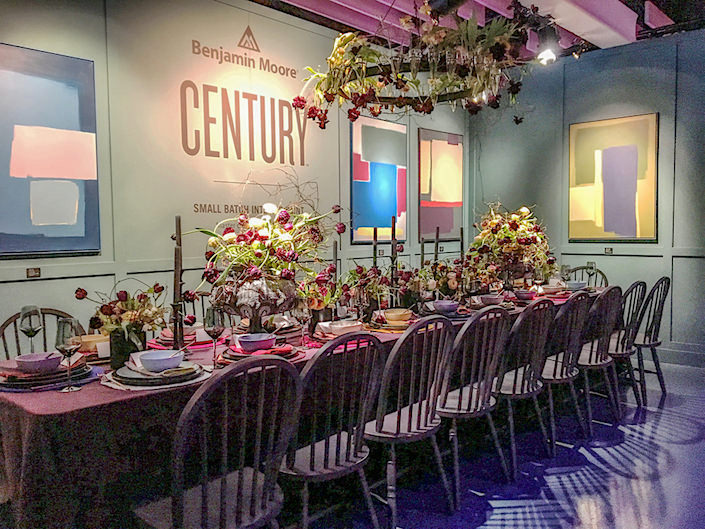 Its carefully curated collection of 75 colors was the star of their table installation.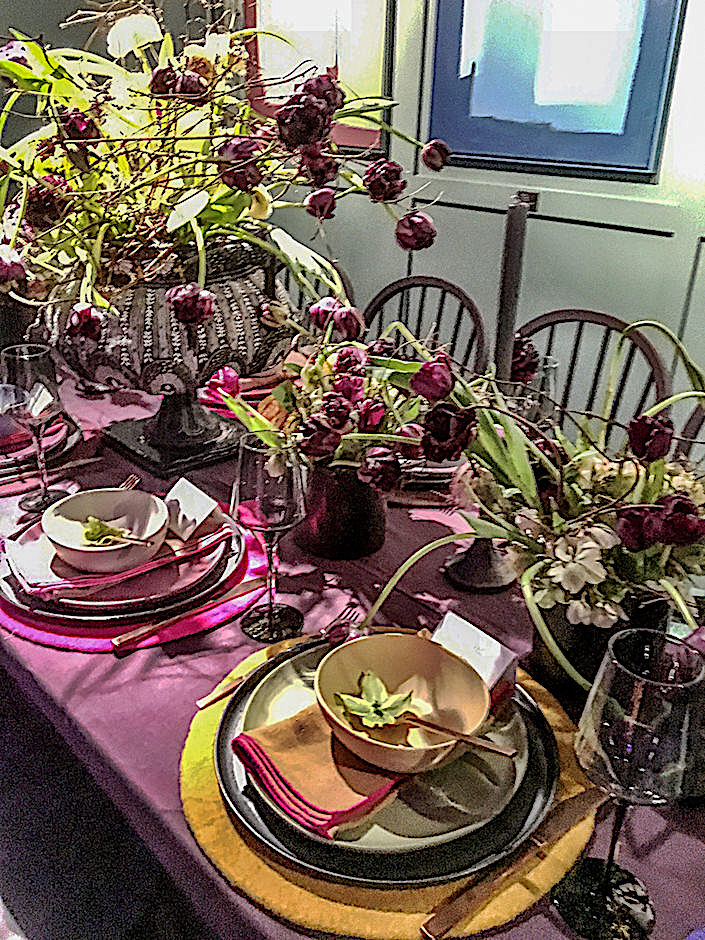 Brad Ford has been instrumental in bringing attention to today's modern makers and artisans.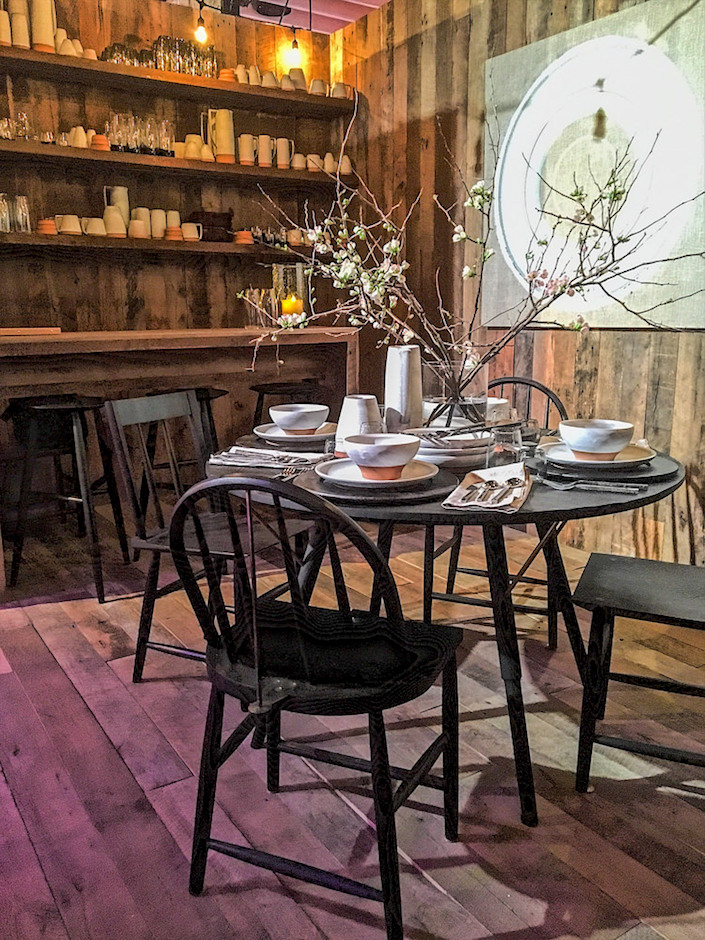 Following the success of his Field + Supply craft fairs, he opened FAIR, a permanent showroom at the New York Design Center showcasing the workmanship and artistry of these designers.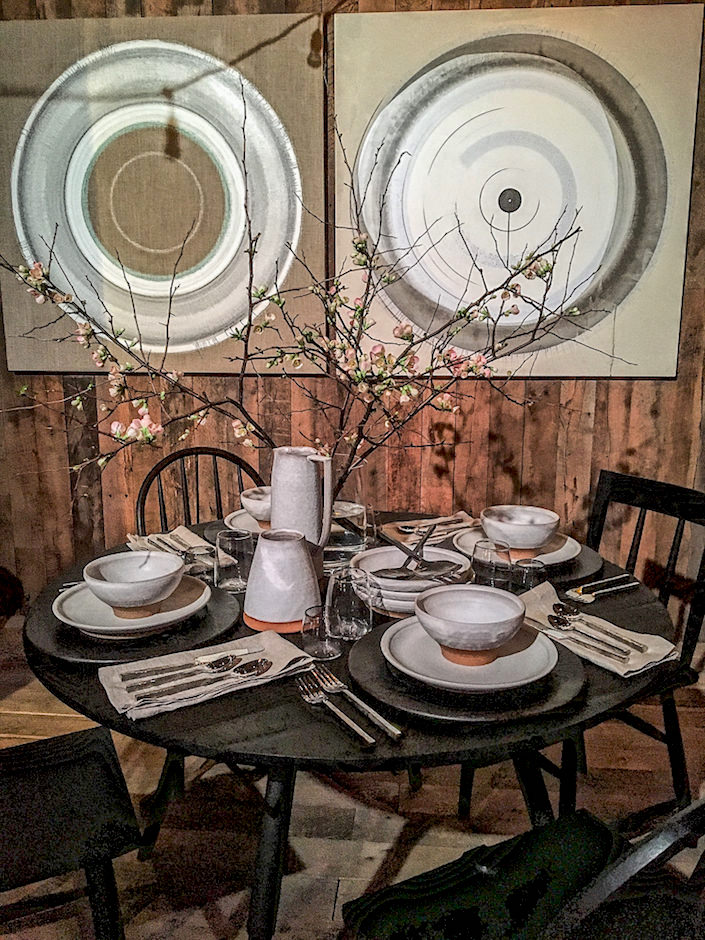 For the NYDC's Dining by Design 2017 booth, he created a warm and welcoming space with a reclaimed wood bar and dining area.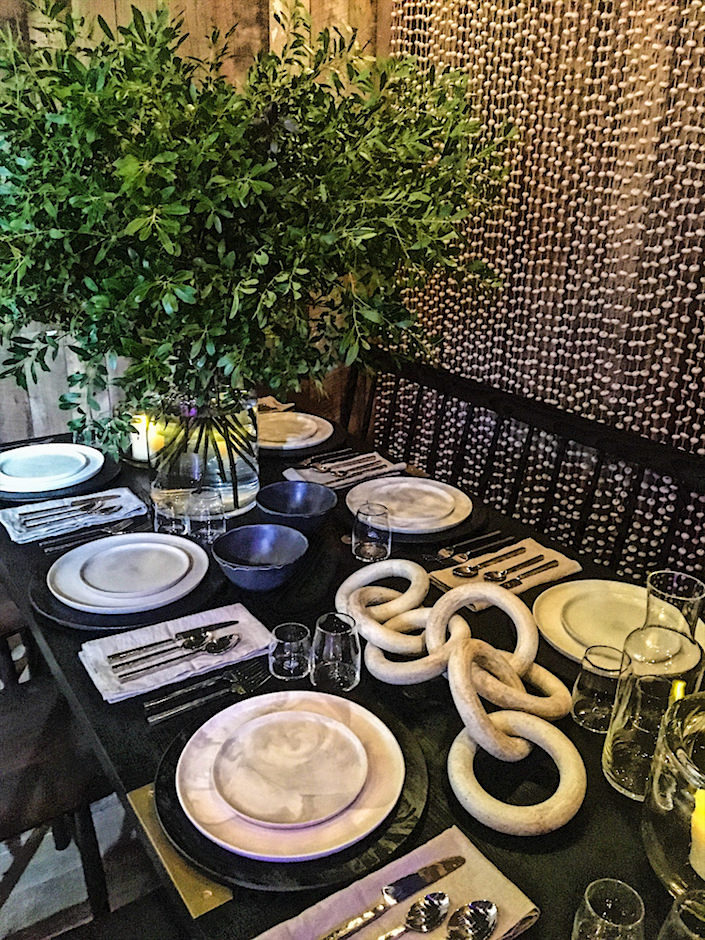 Rockwell Group, with Ovando, designed a modern version of a simple potting shed, using colors inspired by dusk in the desert.
photo: Alan Barry
Inside was a treat for the senses with a vertical garden serving as backdrop to a table with blooming flowers projected onto cacti centerpieces by mini projectors and the air filled with a signature scent from strategically placed diffusers.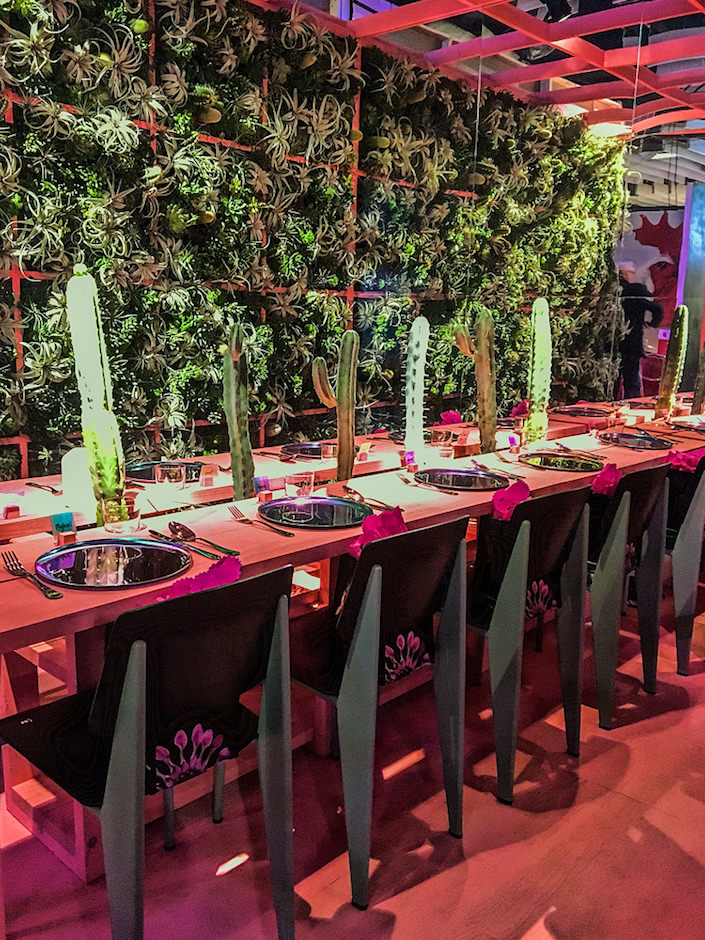 I was honored to sit at the table sponsored by the New York Times, designed by LIAIGRE with the multi-talented Douglas Little. I missed the original installation, below, from last week as it had already been deconstructed for the gala dinner.
photo: Alan Barry
Little's inspiration for the installation was to infuse the space with an "irreverence and tell a story of a dinner party gone mad." He explained,  "The iconic masterworks of LIAIGRE, renowned for clean, simple lines and extraordinary finishes, create the structure for the DIFFA environment. I loved the idea of creating a maximal installation made from champagne flutes that would juxtapose the furniture's elegant minimalism and also create tension." The striking wall of towering champagne glasses, LIAIGRE red sisal rug, Dinka floor lamps and Schotten & Hansen European oak floors were all that remained for the gala dinner.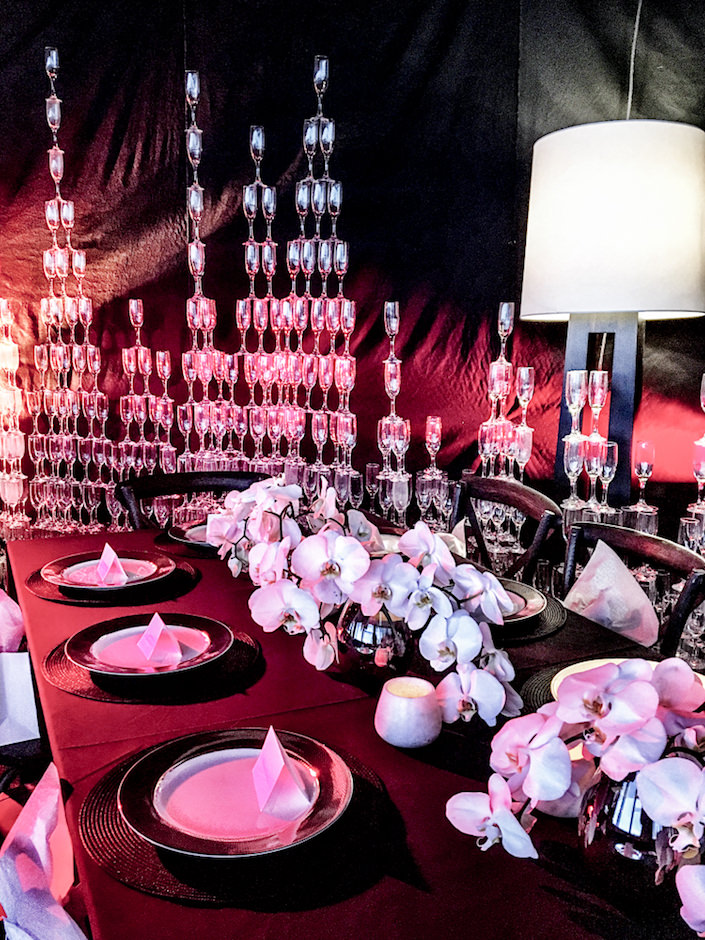 Eddie Ross created an amazingly elaborate Victorian-style greenhouse for The Mine by ATGStores.com, where he serves as Style Director.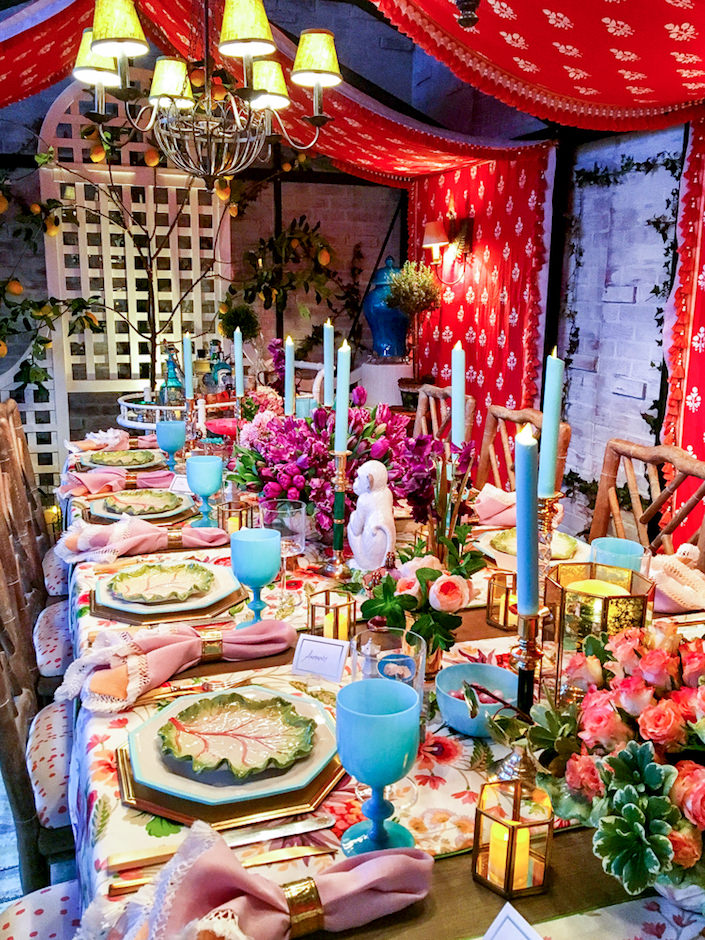 For a dinner in the conservatory, he designed a lush environment topped by his signature modern mix tabletop. How gorgeous are those violet parrot tulips?!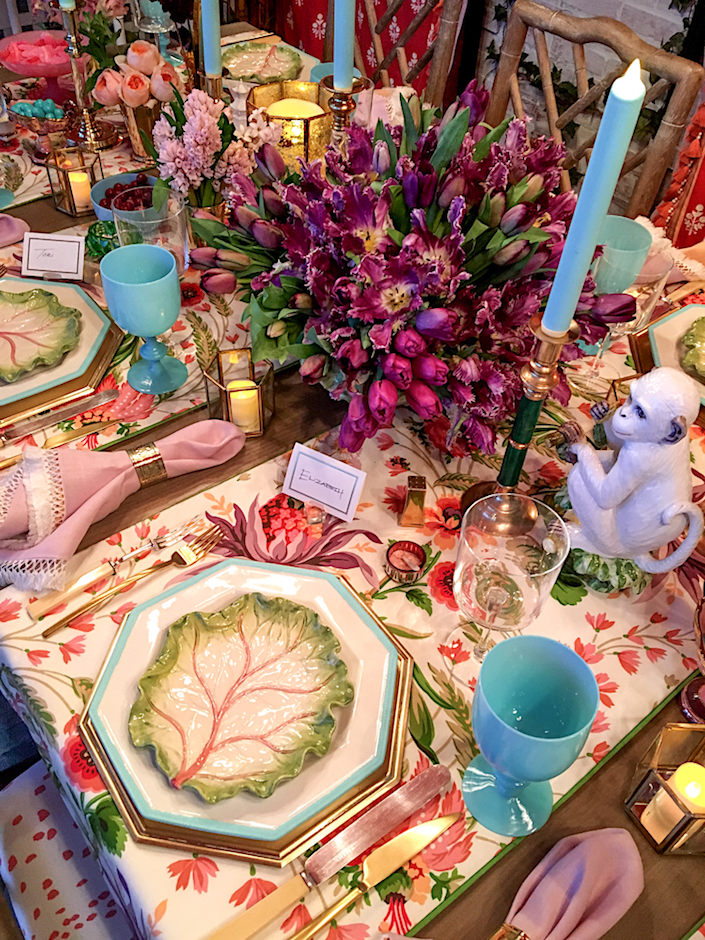 Almost all furnishings in the space, from bar cart to trellis, were sourced through the comprehensive online retailer.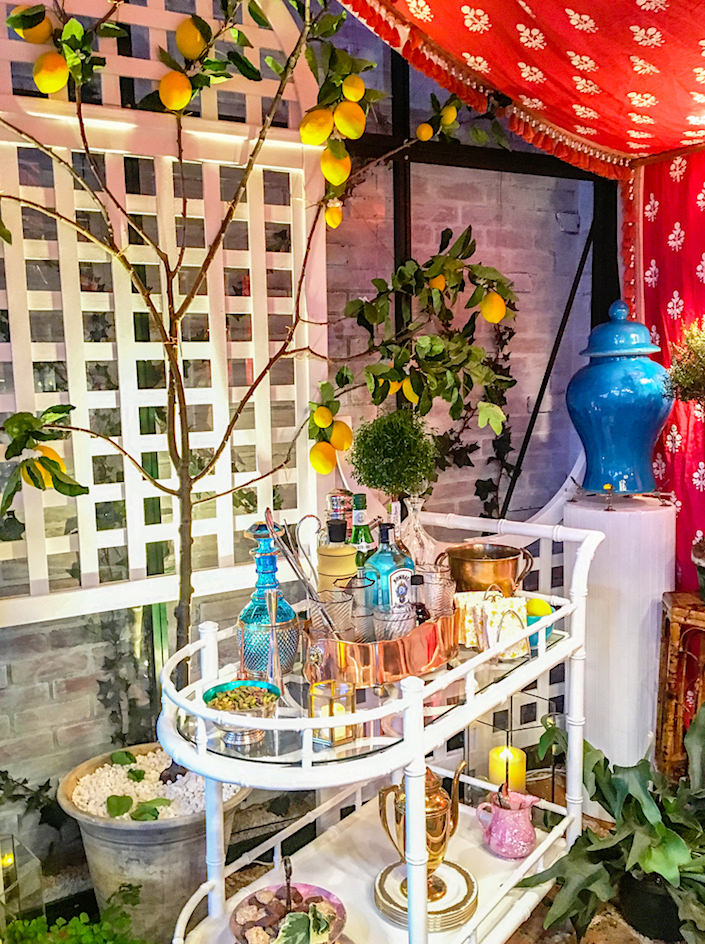 I happened to catch Eddie, partner Jaithan and the retailers' executives together in the space.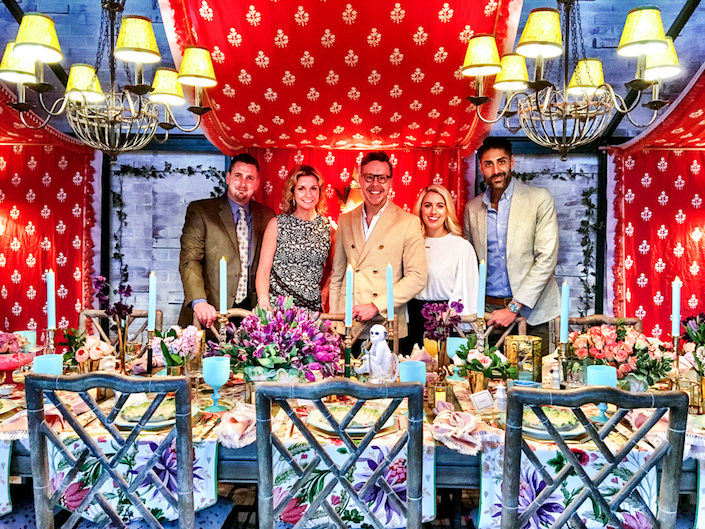 Another favorite installation was by Language Dept., with Bette Blau and Steven Randazzo of What Bette Found and Gloria Collins for Design Within Reach. It just proved that modern design and layered lush environments aren't mutually exclusive.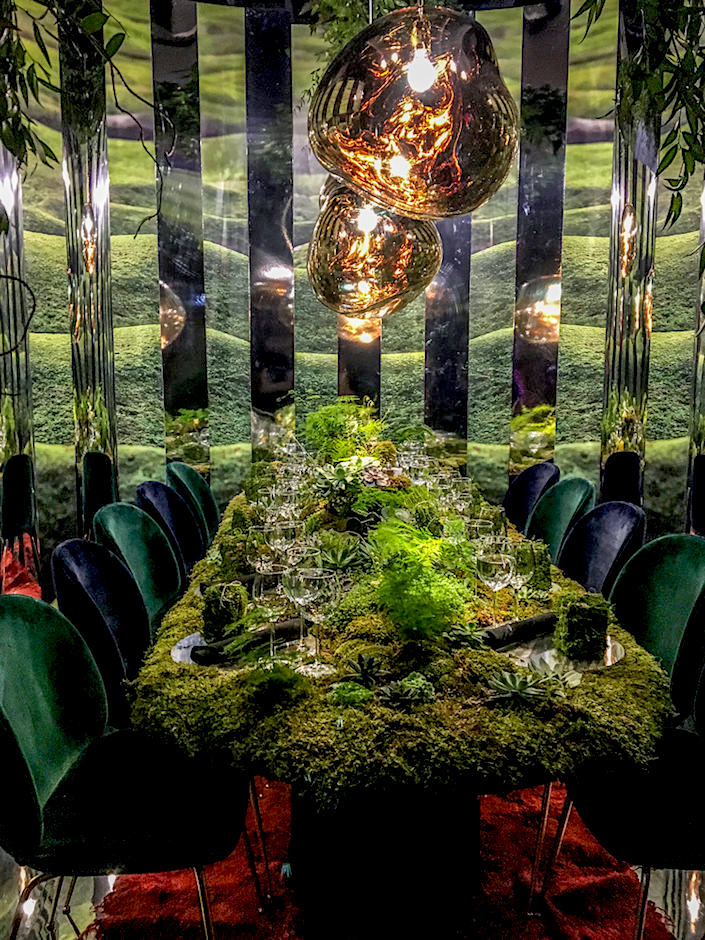 Described by Language Dept. as "A minimal space setting with grand illusion," it was an enchanting naturalist escape where "the edge between the manmade and the natural is sharp yet blurred."
Maximalism is the word these days in design and LUXE Magazine's installation, created by Dekar Design, payed homage to the great Renzo Mongiardino's Baroque palazzo in Genoa with multiple layers of pattern on pattern.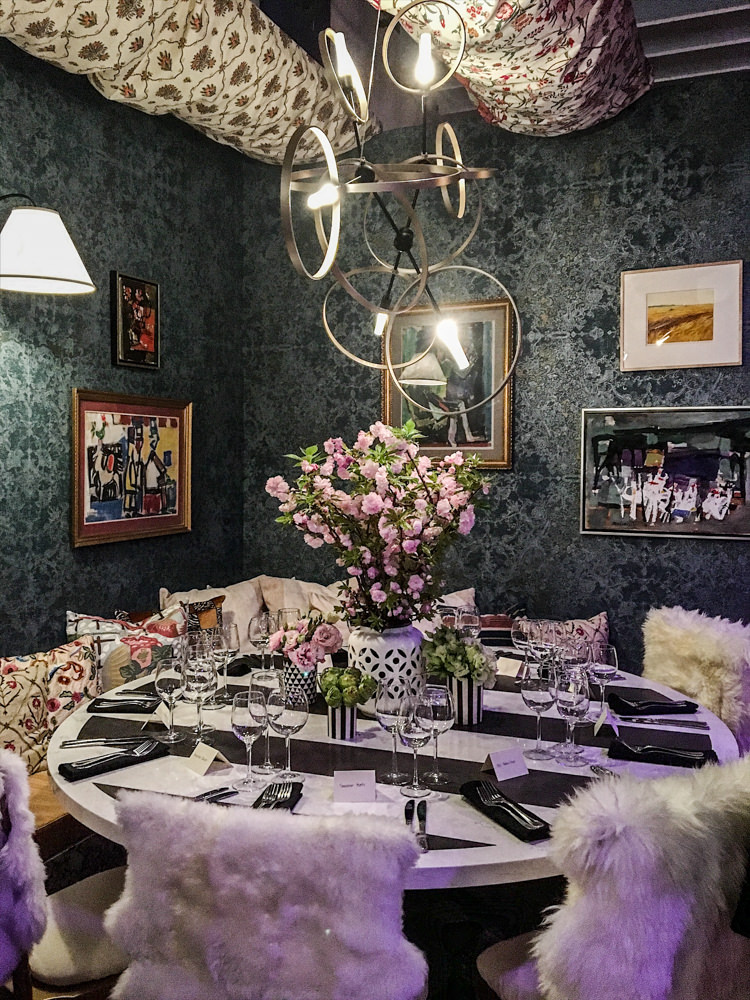 Parsons The New School for Design's space, Meal, was an inventive use of found materials. Foraging throughout each borough allowed the students to donate their allowed material costs to VOCAL-NY. The unifying white color scheme represented the "colorless" faces of those affected by HIV/AIDS.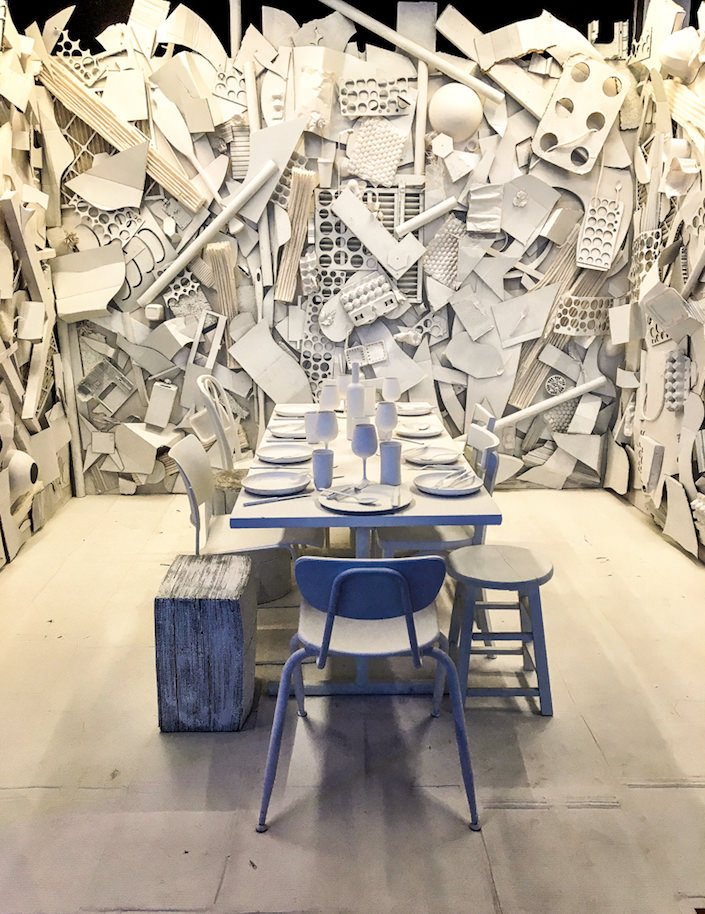 The serene Tai Ping space celebrated André Fu's beautiful new Scenematic rug collection for the brand.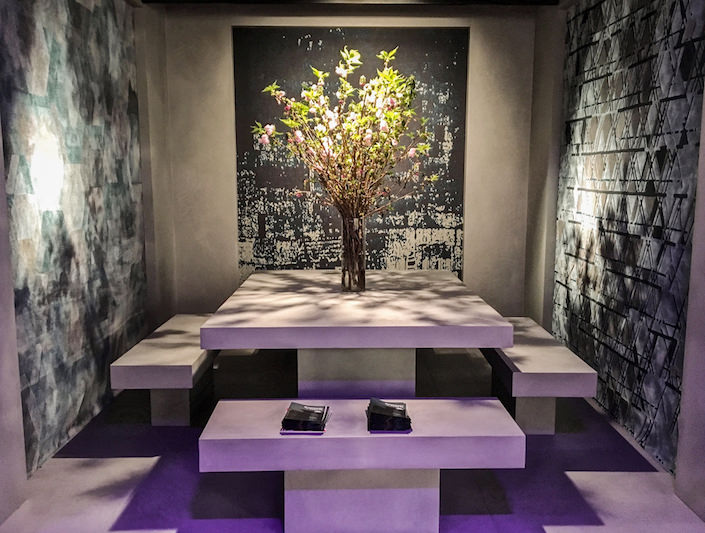 If, like me, you are a fan of Coral & Tusk's charming embroideries, you will be happy to know they have collaborated with Sunbrella for a new line of high-performance, embroidered fabrics and accessories.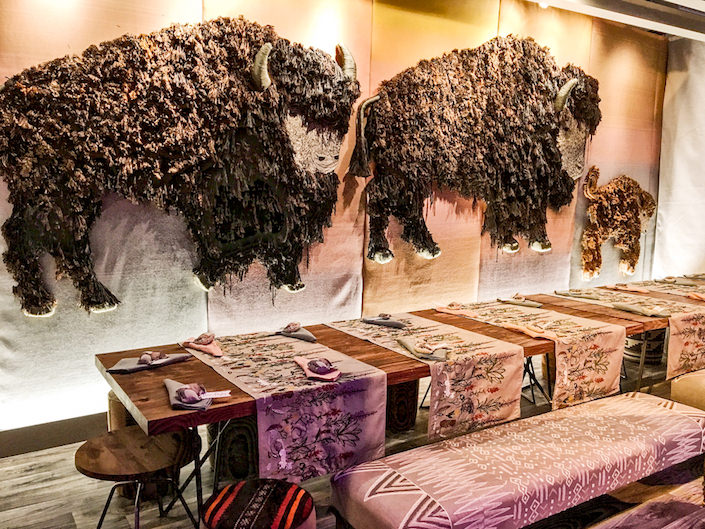 Their installation was inspired by the American Great Plains through the eyes of a family of bears who visit the region each year. As Stephanie Housley, Coral & Tusk founder explained, "Embellishment can transform something really simple into something magical. Our table at Dining by Design will allow child-like fantasies to roam wild."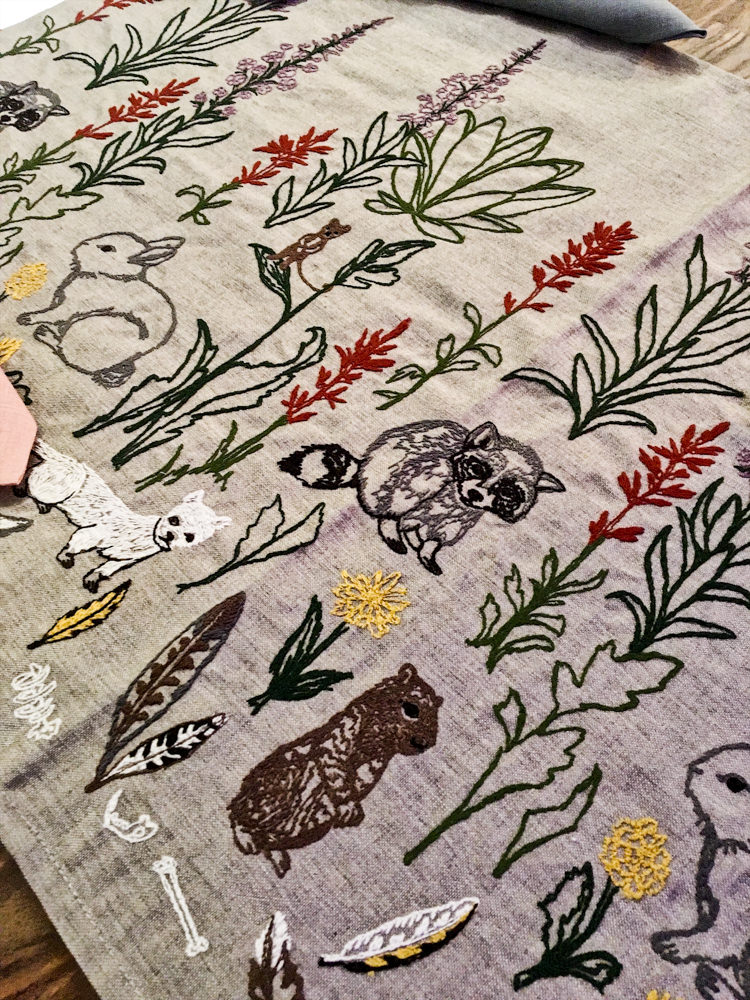 Arteriors's dining room was a dark and color-saturated blend of old and new.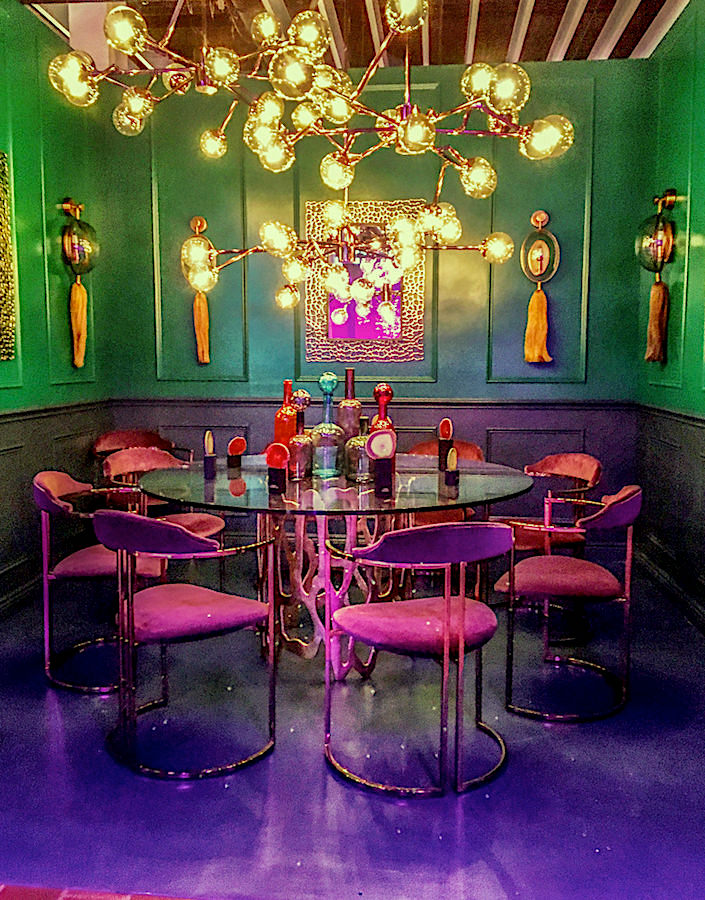 While I was sorry to miss featured artist Edward Granger at work in the space last week, I still enjoyed seeing his paintings in online art purveyor Twyla's space.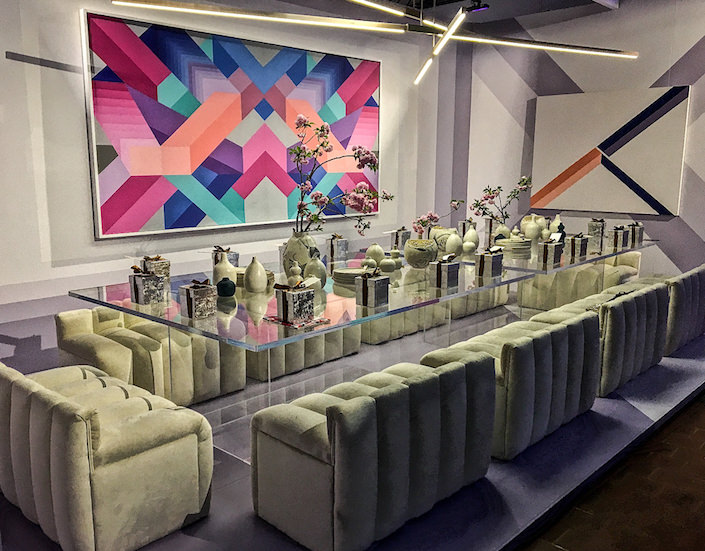 Roche Bobois partnered with Gensler to create an inventive dining space that was "an immersive experience based on the natural environment."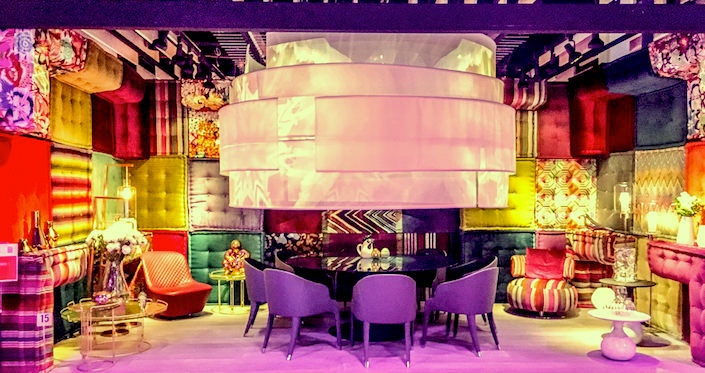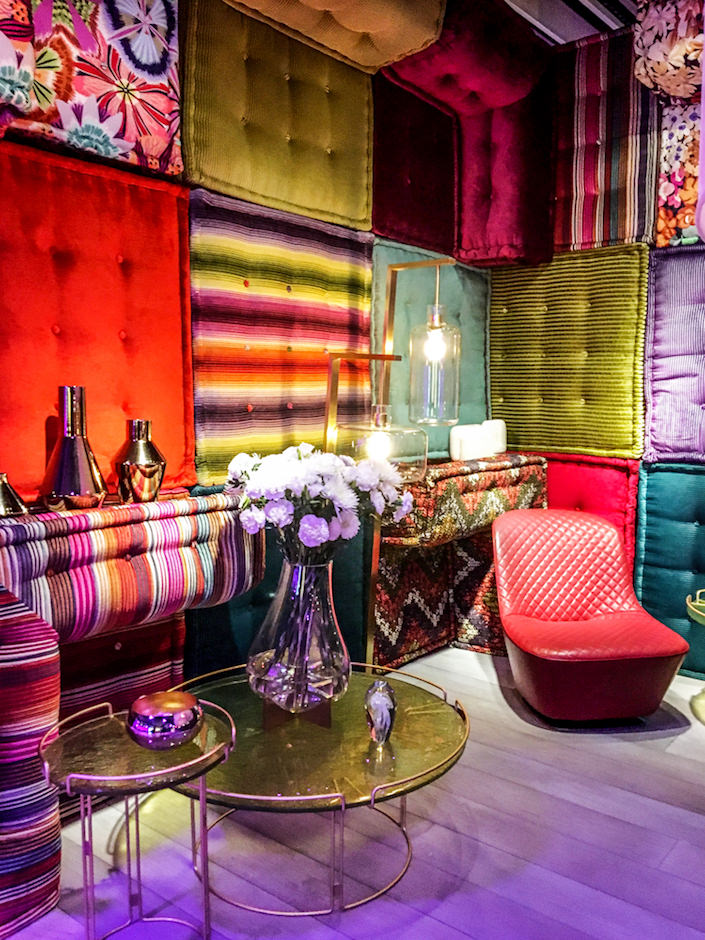 all photos by Stacey Bewkes for Quintessence unless otherwise indicated
Congratulations to all the brands and designers on their creative collaborations for such a worthy cause.