Since 1983 Chesney's has made creative collaboration the core of their business. Initially joining forces with the past, the firm focused on restoring antique fireplaces but it was when they began creating historically accurate reproductions as well as bespoke designs that their business really boomed. Since then, they have become the luxury leader in their field with a wide range of designs and collaborative collections with The Soane Museum, The Lutyens Foundation and distinguished contemporary interior designers.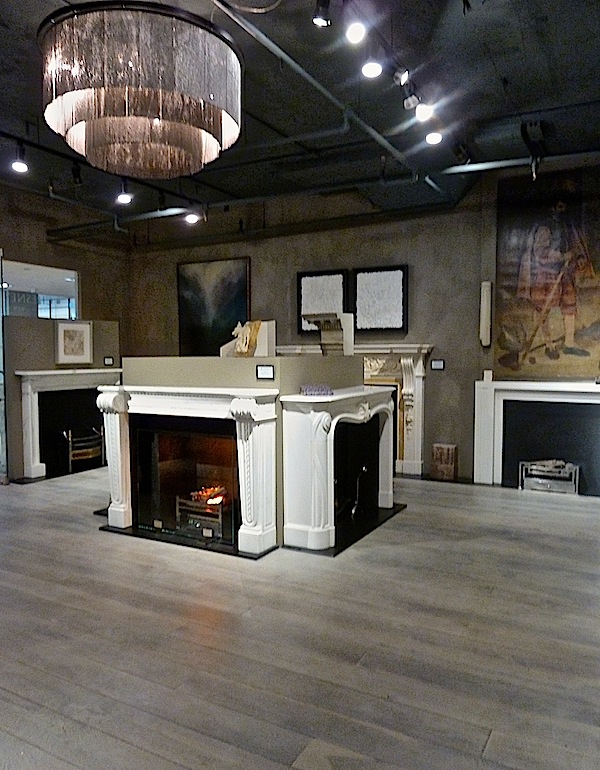 In their spacious new showroom in the D&D building above, creative collaborations enhance the space. The contemporary glamour of lighting and hardware by Ochre is a wonderful contrast to the wide plank limed oak flooring by Rode Brothers (the firm who installed the floors in the White House). And the distintive Corical mineral lime wash on the walls by AD Applications is a product originally developed in Belgium for historic restorations. Its marvelous texture and tonality perfectly set off the architectural features of the fireplaces, such as the Palladian style mantel below, carved in statuary and sienna marble with jasper inlay.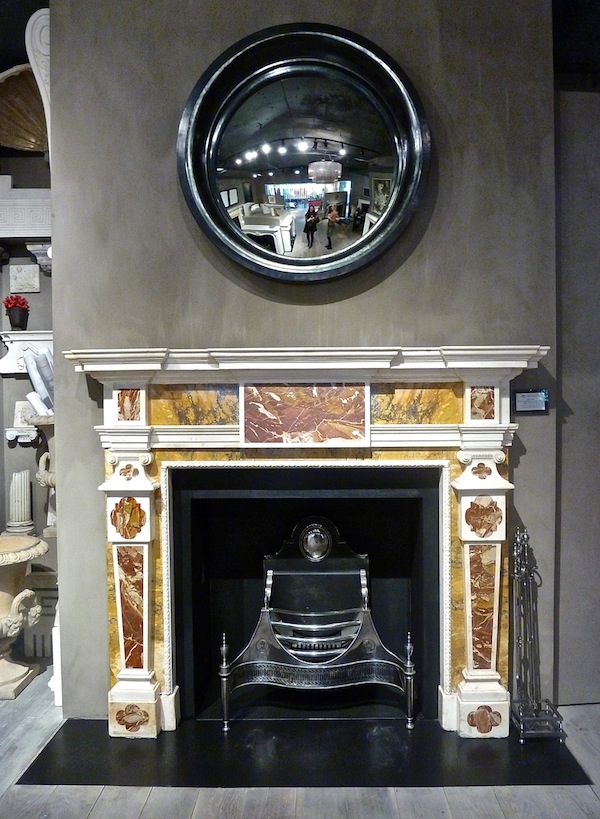 The Georgian style mantel below combines the statuary marble with lively antico verdi inlay and features several decorative accessories Chesney's offers from their marble carvers. Of course fire baskets, such as this handsome Dorchester brass one and fireplace tools are part of their accessories lines as well.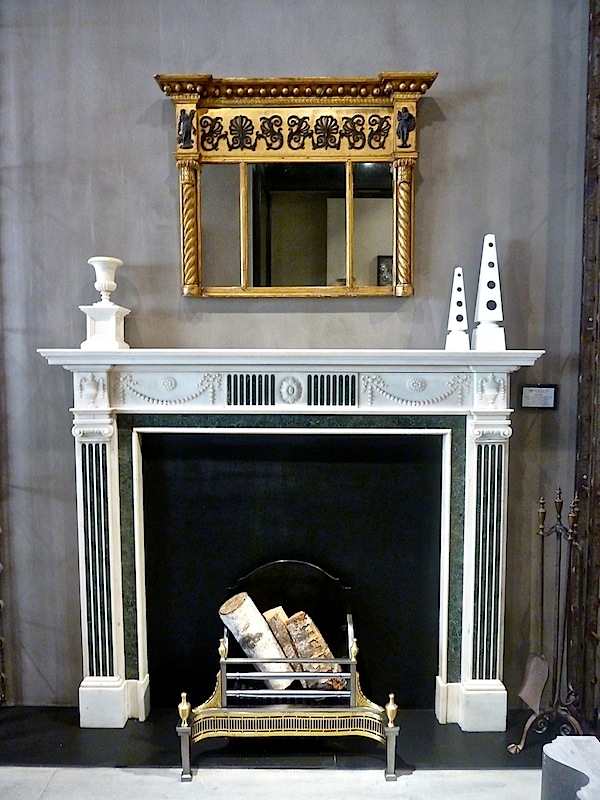 I immediately noted the creative mix of old and new with the choice of artwork. The evocative Turner-esque quality of Tobit Roche's contemporary paintings is a masterful match with this marble Louis XVI style beauty.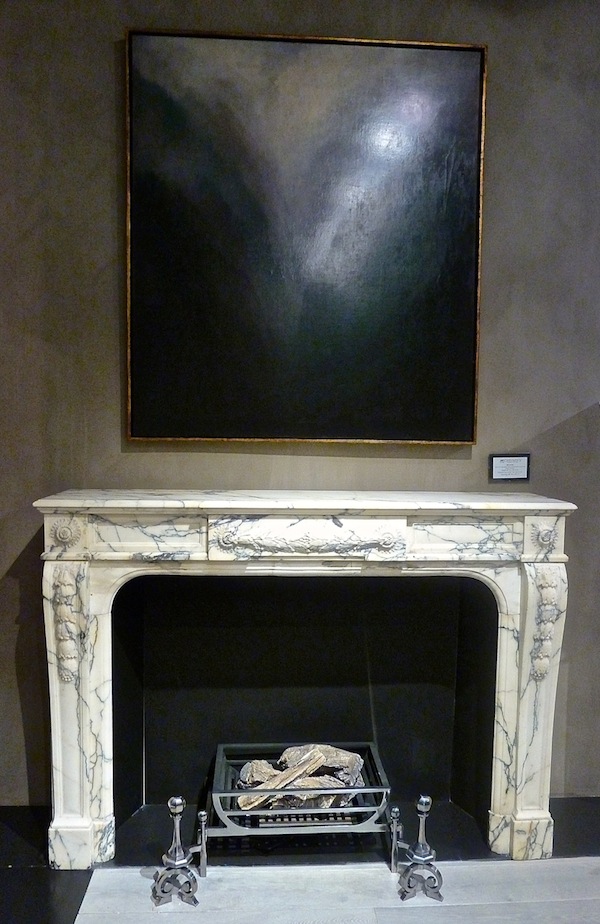 The sunflower corner blocks and daisy cartouche are elegant details.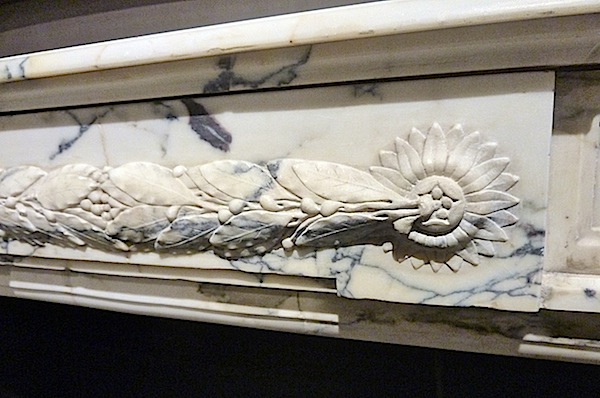 And yet the art feels much more stately paired with the architectural Flitcroft fireplace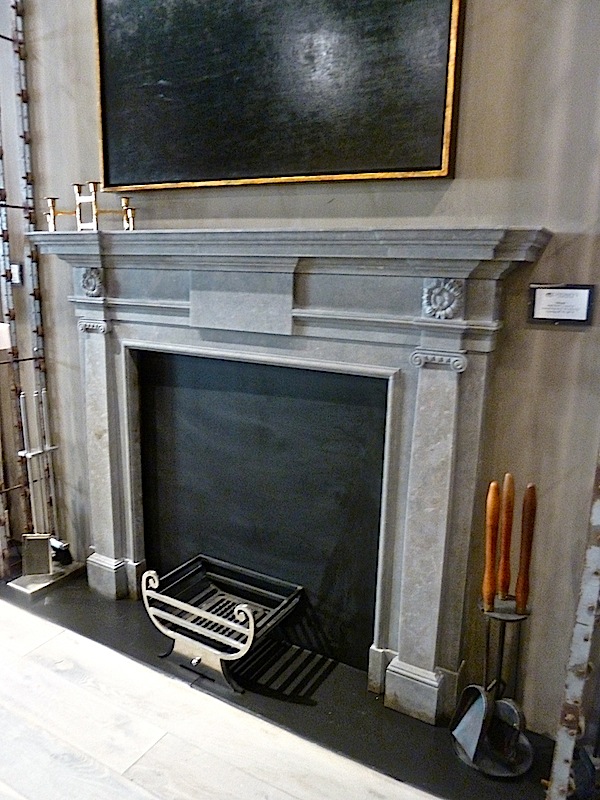 with its ionic capitals and impressive corner blockings.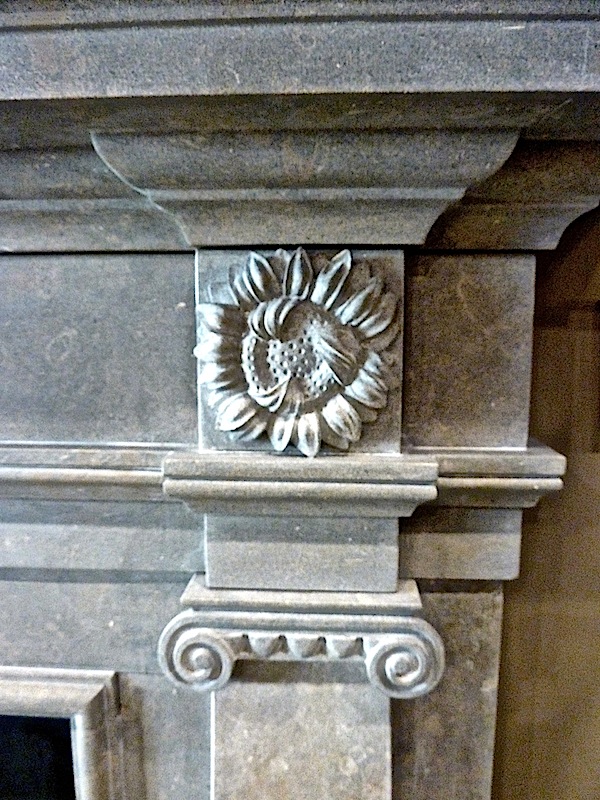 Both of Chesney's historic collaborations elucidate the way in which these architects were classic and yet forward thinking. The Sir John Soane's Museum chimneypieces, exacting replicas reproduced from the archives, emphasize the clean stylization of England's first modern architect. To build on the historic relationship, the new showroom includes a corner of neo-classic Soanean inspiration, featuring the Soane Pattern IV mantel.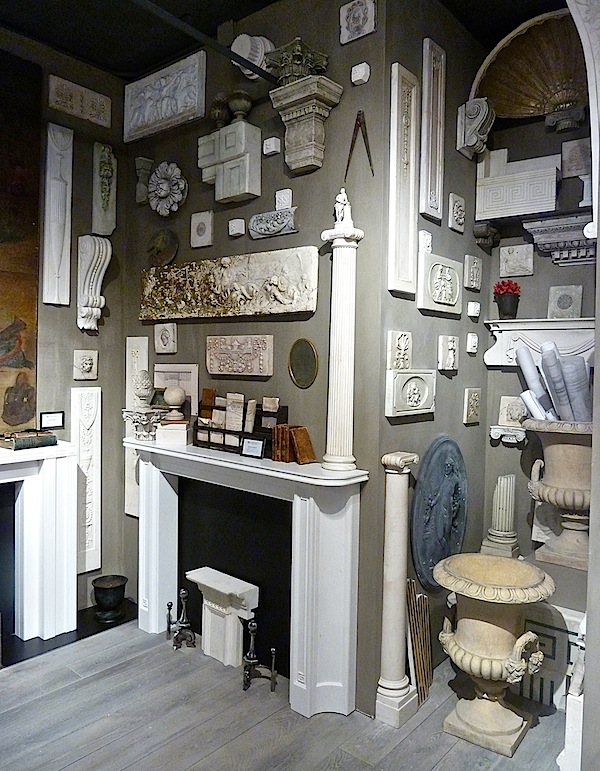 The Sir Edwin Lutyens fireplaces, approved by the family and Lutyens trust, show off the bold and clean lines of his work. The latest, Pattern No. V, is a sculptural classic.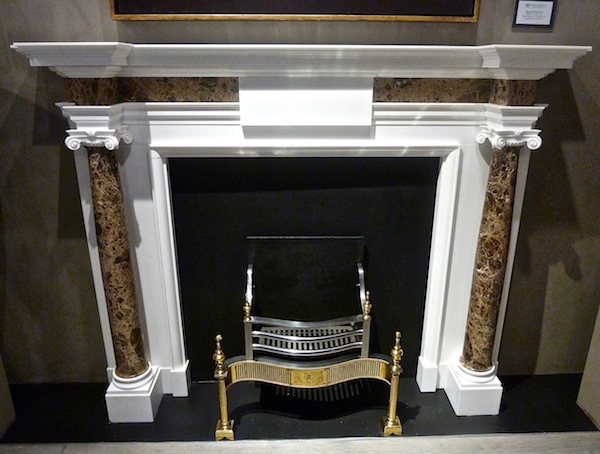 The designs are surprisingly modern, perfect to update a traditional room or add some architectural authenticity to a contemporary interior.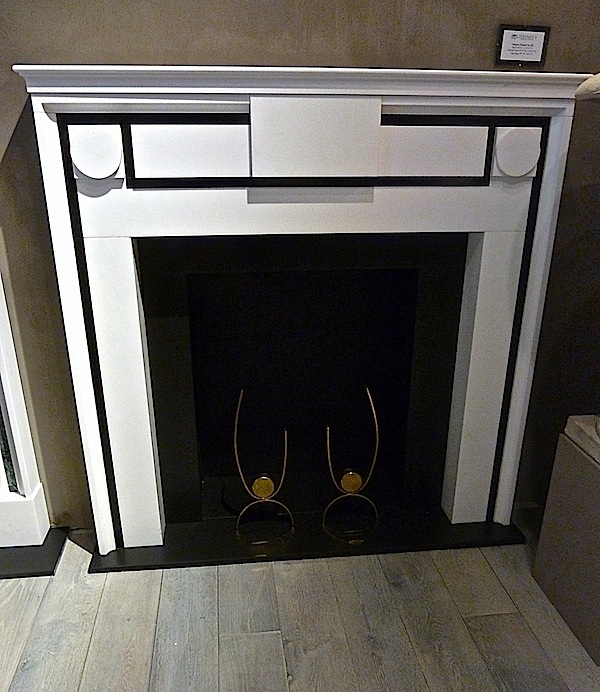 Chesney's offers even more contemporary options such as this clean monolithic marble design, combined with their Alchemy gas fire. With Ochre lighting and striking shell art by Blott Kerr-Wilson, this creative contemporary vignette is installation ready.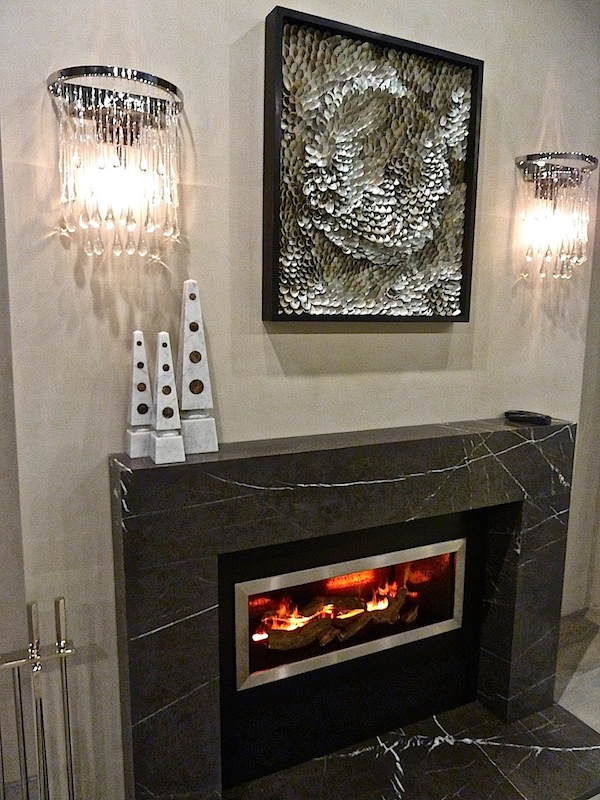 In fact Chesney's offers a wide variety of gas and electric fires. The unbelievably realistic Opti-myst effect below is achieved through ultrasonic technology and is the most authentic looking electric fire I've ever seen.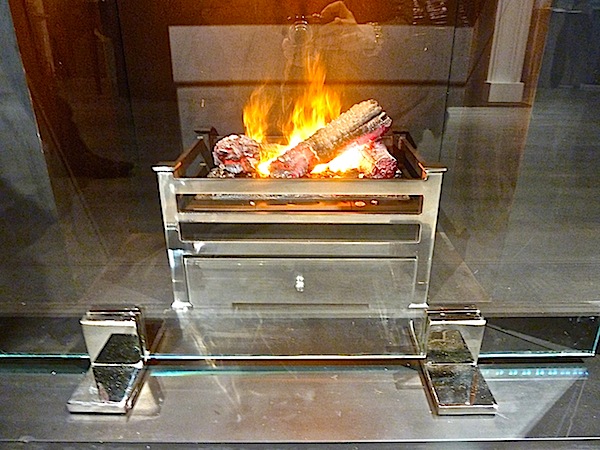 Chesney's creative collaboration extends to designers including Alexa Hampton, whose classic white marble Belvedere is tailored and chic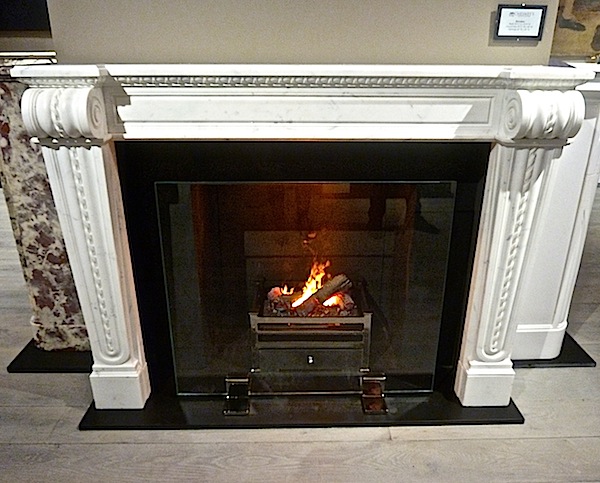 with a sexy profile.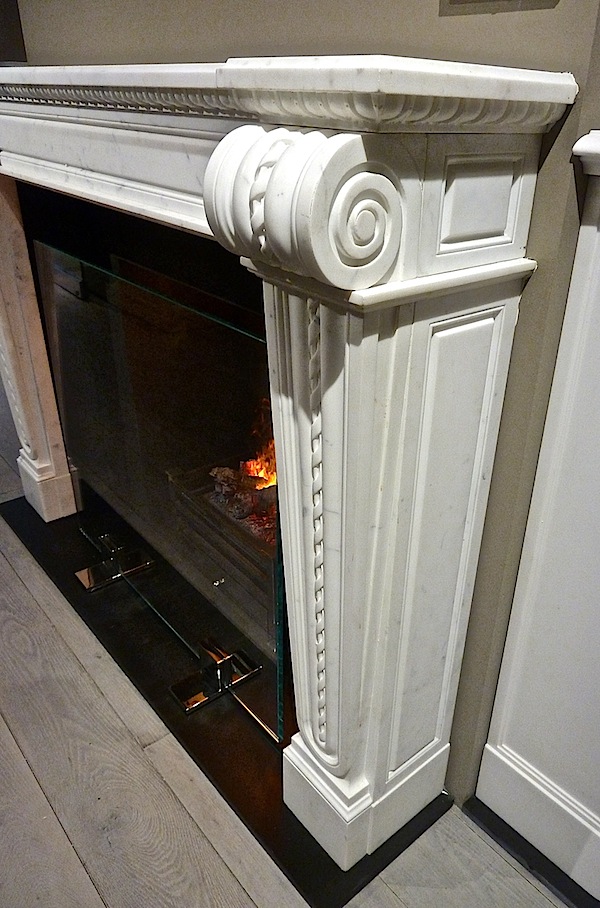 Her Carlton mantel is an exercise in elegant restraint, perfect for any room and looked particularly fabulous paired with one of Kerr-Wilson's pieces.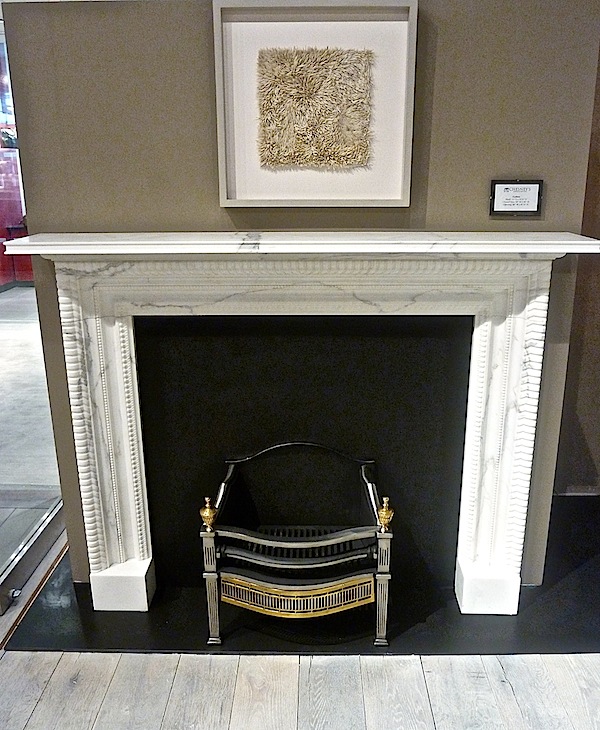 The possibilities at Chesney's are endless. Whether you choose an antique, historic replica or modern design, you can be sure of exacting craftsmanship and elegant execution. Or you can initiate a creative collaboration of your own and take advantage of their extensive bespoke services. The hardest part will be making a choice.