I know, I know, it's supposed to be At the Movies today. But this week got all topsy turvy, so we'll resume next week!! In the meantime, let's take a look at the renovation of a Los Angeles landmark.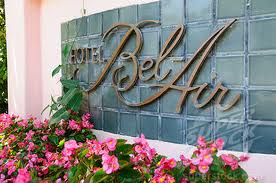 The Hotel Bel-Air has been an iconic location in Los Angeles for the last 55 years. Its Spanish Colonial architecture bathed in Pantone happy pink has stood intact while the interior has undergone a dramatic two year renovation by Champalimaud Design, the lead designer responsible for setting the style for the majority of the interior and exterior and Rockwell, in charge of the redesign for the new Restaurant, Bar, Ballroom areas and Public Washroom sites. I love Alexandra Champalimaud's hospitality work – you may remember my feature last October on the spectacular and historic Fairmont San Francisco Penthouse.
The lobby sets the tone with the center fireplace and modern sensual design.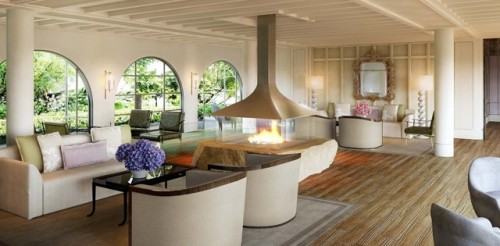 The main guest rooms are successful and sophisticated eclectic mixes. Most now have larger bathrooms with separate showers and tubs and heated floors!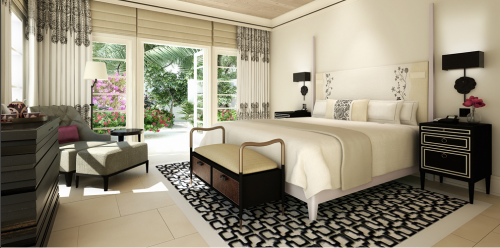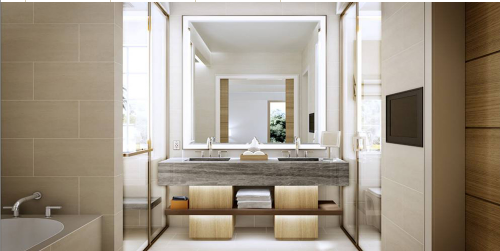 The new hotel will open this fall with 103 new guest rooms and suites and seven specialty suites including the famed Grace Kelly Suite and a new enormous Presidential Suite, below, which offers private dining, a chef's kitchen, study, great room with grand piano, amazing bathroom and a private pool. I know there are some upset by the redo of such a beloved institution, but having never stayed there in its previous incarnation, the new designs are looking rather swish to me.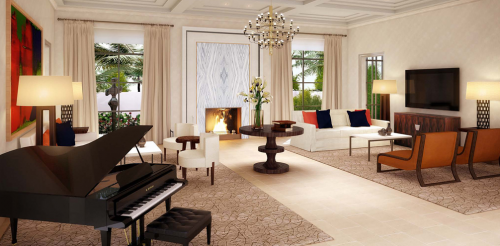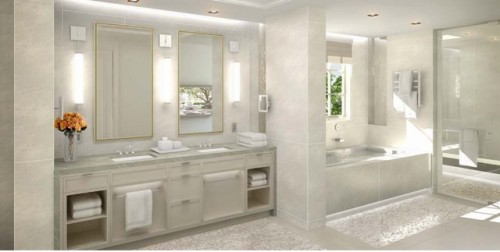 There is an entirely new building featuring a fitness studio as well as a brand new fabulously luxurious spa by La Pairie (which includes three loft suites, full of light with center fireplaces and special Spa bathrooms). The hotel will be the first in the US to launch an in-room line of their beauty products. I think they'd better be prepared for many of those little bottles disappearing. Don't you just love the chic mani pedi station?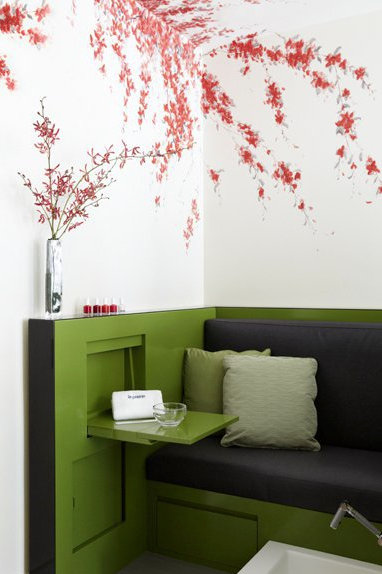 The spa vanity is the ultimate in sleek chicness.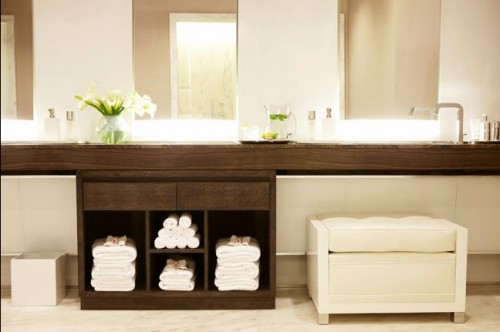 Do you think your other half would be interested in the partners' retreat? My husband isn't normally the spa type – I think I'd have better luck convincing my sister or girlfriend.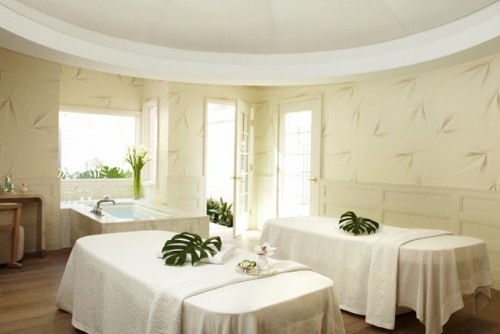 Even the relaxation room looks appealing – no one asking me what's for dinner!!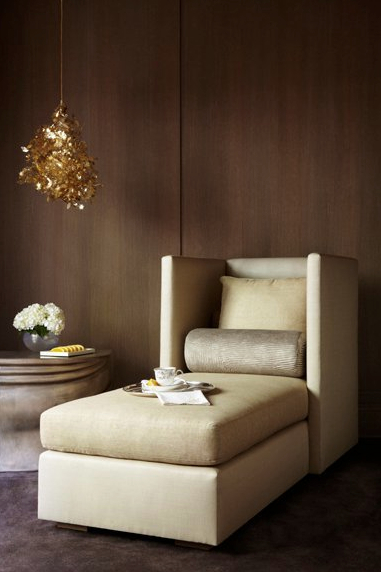 Wolfgang Puck will be overseeing the new restaurant as well as all the food operations.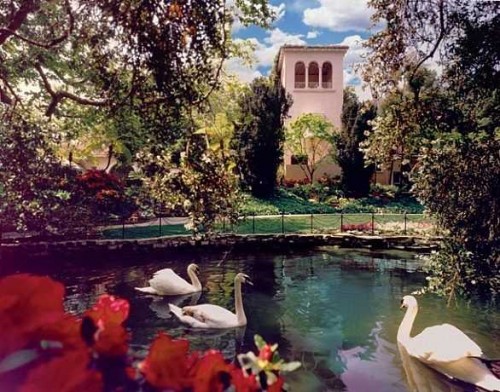 And in case any of you wondered, the famous swans have remained at Swan Lake during the entire renovation. There is even a new pump ensuring the pond has beautifully clean water. I understand through Champalimaud that the hotel is running a facebook contest. They are offering a three night stay, $500 dining credit, $500 La Prairie Spa credit and an autographed Wolfgang Puck cookbook. You can enter here. If you win, don't forget where you heard about it :-))