I've always been fascinated by textile design. So you can imagine how thrilled I was to have the opportunity, with my colleagues at Blogfest, to be invited by Kravet to visit their offices. It would take all week to reprise the incredible wealth of information I garnered from my visit but I wanted to share at least a little of this amazingly inspiring day.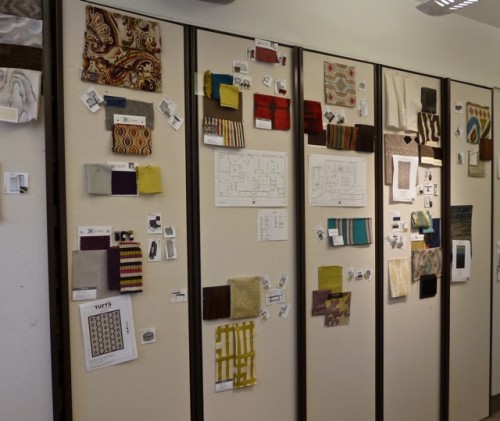 Our group started in Kravet's furniture merchandising department, where we learned how they furnish the showrooms across the country.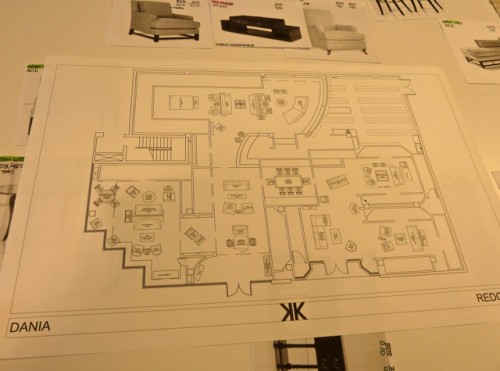 The rug division is the latest and one of the fastest growing divisions. From Tibetan to Modern, each collection offers levels of customization that can be seen in an amazing computer program that is available to account holders. Here you can preview colors and sizes and even see how the rug would look in a room.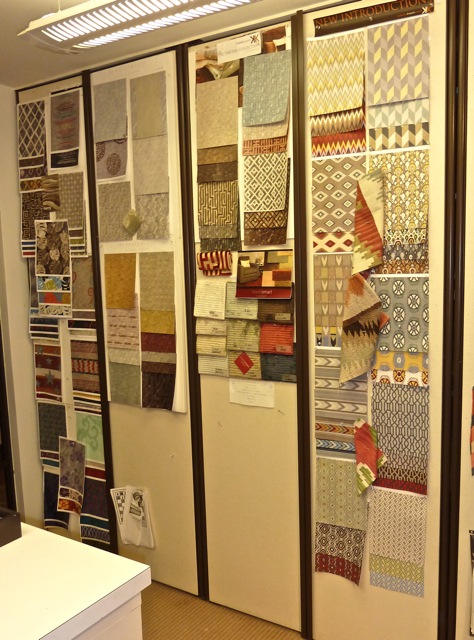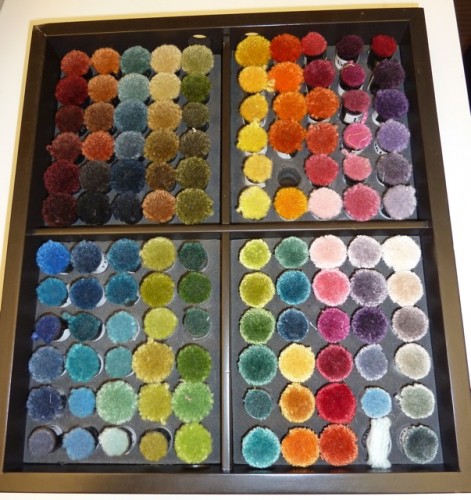 The Kravet design studio was amazing!! We saw custom contract work for Disneyworld and beautiful new collections by such designers as Barbara Barry, Barclay Butera and Alexa Hampton.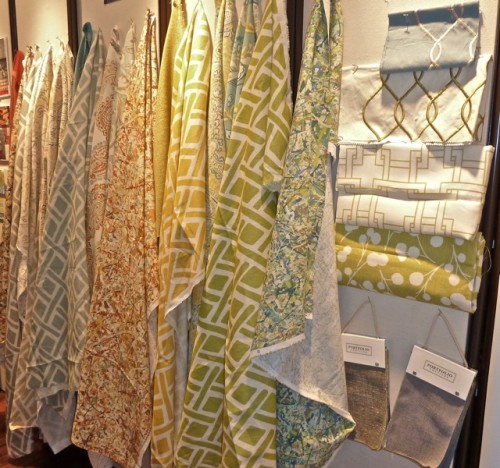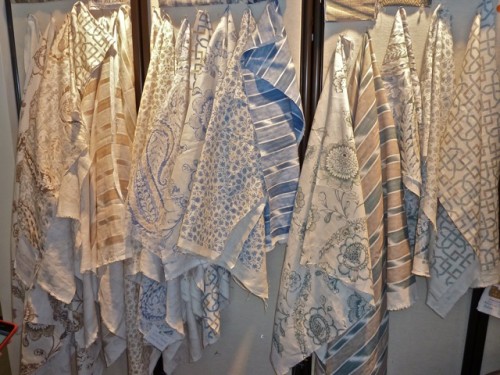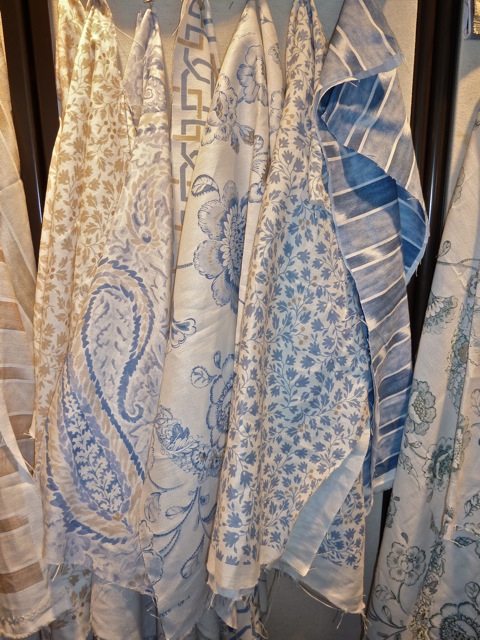 It was incredible to see how new colorizations are designed by CAD computer programs. Each designer has their own computer station and individual printer so that they can be assured that the color print outs are accurate, since this is how the colorways will be matched. Anyone in the graphics field knows how wide ranging the color accuracy of monitors can be so the designers quickly learn the quirks of their individual machines – a perfect example of how important human supervision is even in the age of digitization.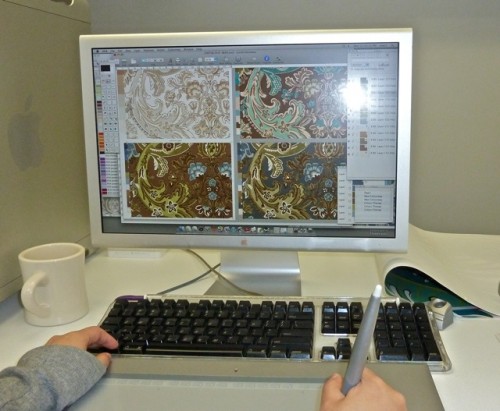 At Kravet, the fabric merchandising for the showrooms is handled by a separate department. Piles and piles of samples are organized and coordinated for the hanging wings.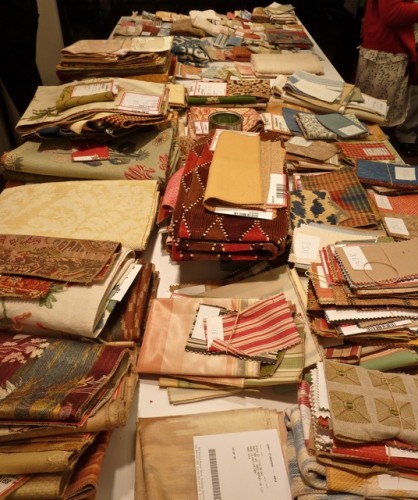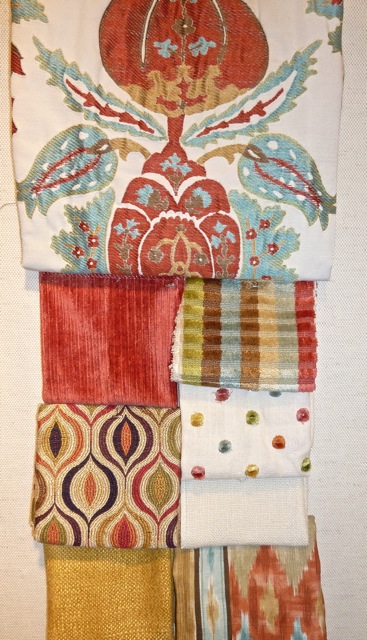 Lee Jofa has long been one of my favorite lines. Their handblocked linens are exquisite and new colorways for these and many of their other fabrics are still created the old fashioned way – by hand. This is painstaking work carefully executed by the skillful hands of talented artists.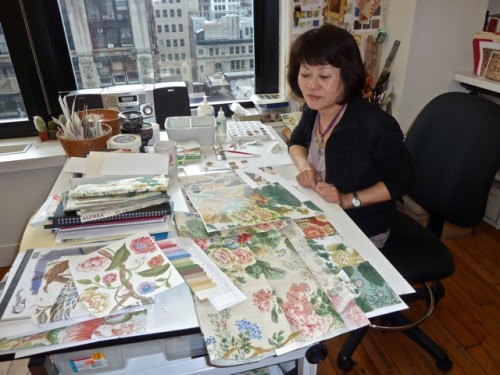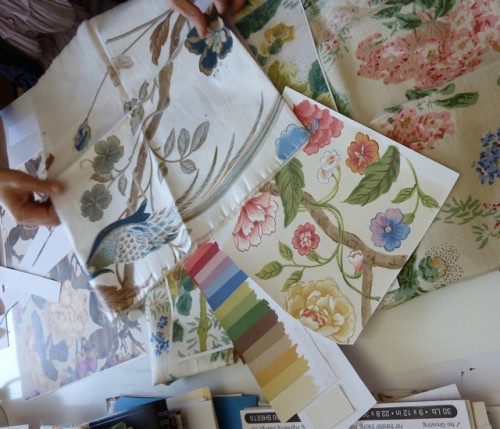 I was so impressed with the time commitment, creativity and level of workmanship involved. This is where the men are separated from the boys so to speak – these fabrics are worth every penny in terms of quality and attention to detail.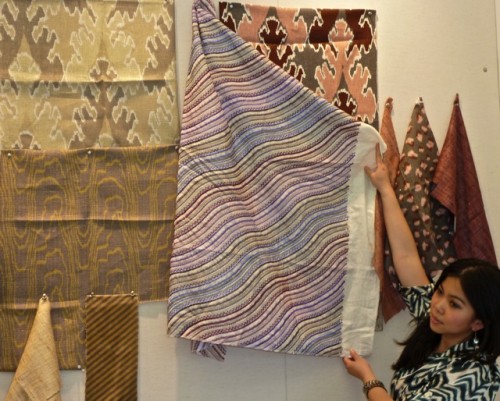 It's hard to see here but Kelly Wearstler's new line is so incredibly textural with woven effects.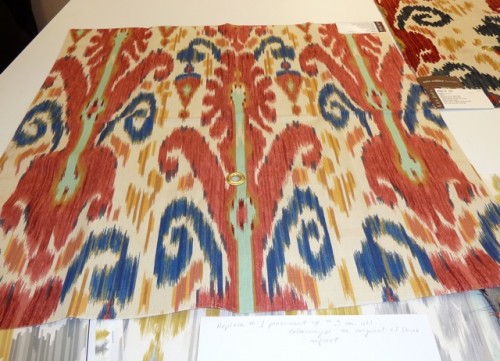 This hugely popular pattern by Eric Cohler is being recolorized for a new reissue.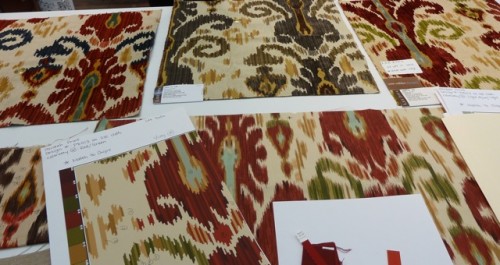 For those of us who love the connection between fashion and interiors, the inspiration for the Oscar de la Renta Lee Jofa collection was fascinating. Here, for example is a beautiful Oscar dress and its fabric.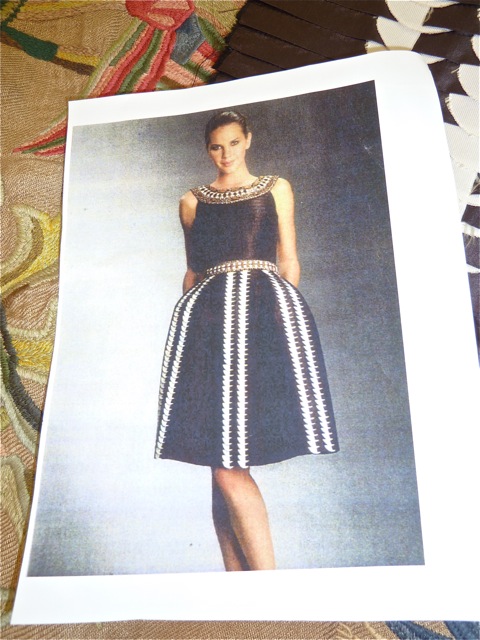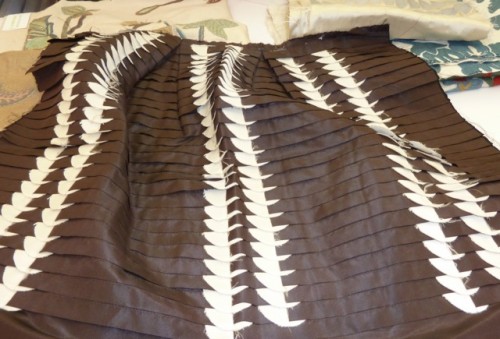 And here is the interpretation for a Lee Jofa fabric that has lovely dressmaker details perfect for curtains.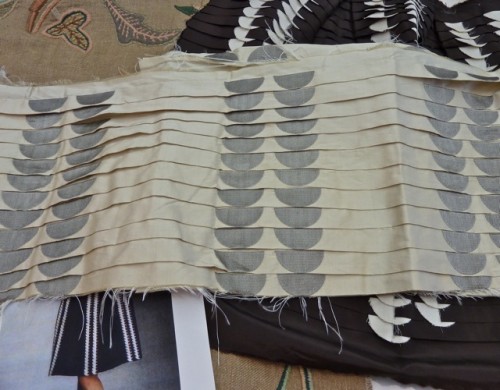 Oscar requested that this beautiful old suzani fabric be copied for a fabric in his line. Lee Jofa's factories in India created a modern version, faithful to the essence of the original.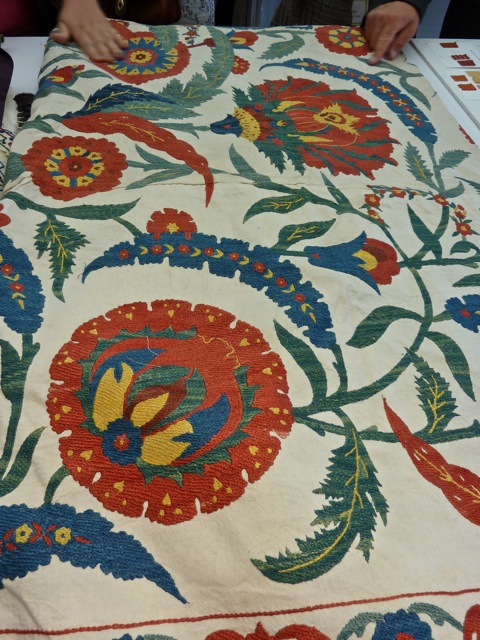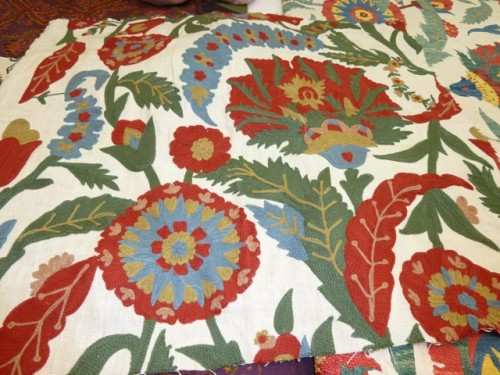 At Lee Jofa, the merchandising for both fabric and furniture is combined in one department. Here is the idea board for the San Francisco showroom.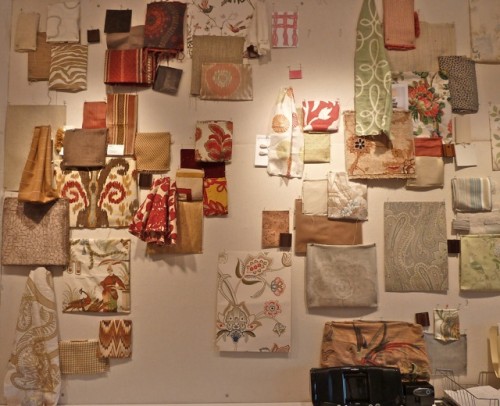 The latest jewel in the Kravet crown is Brunschwig et Fils. Many of their classic fabrics are being given new life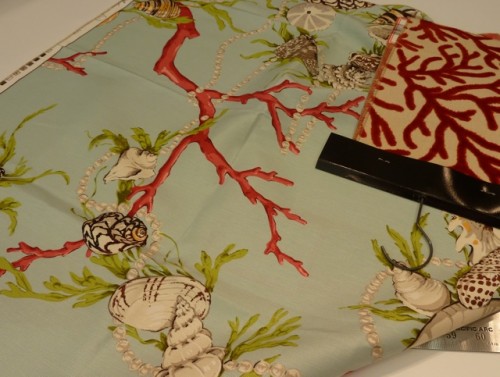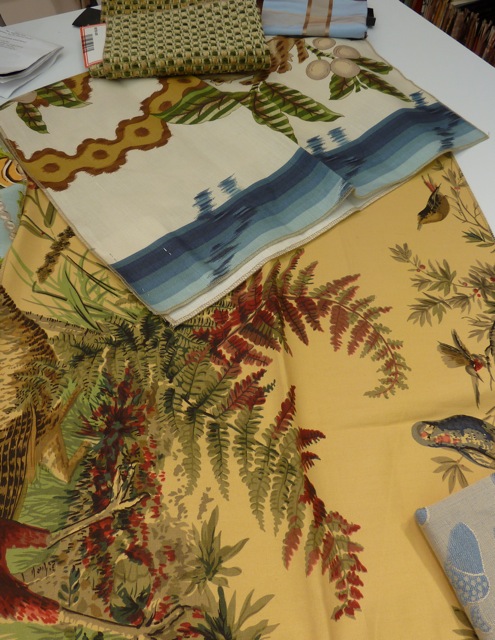 and they have plans for the development of new designs with a decidedly younger bent. The members of the small Brunschwig team are thrilled to be given a new home in which to continue their distinguished tradition.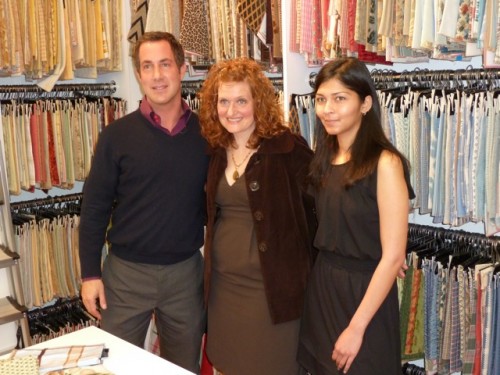 Our last stop was the contract department where the custom, outdoor and hospitality lines are developed. Windsor Smith has a dynamite outdoor collection coming soon.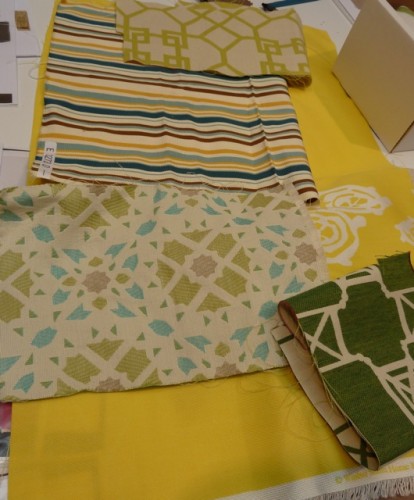 And these handsome contract fabrics are totally impermeable for use in more industrial, high traffic or potentially staining environments (like hospitals).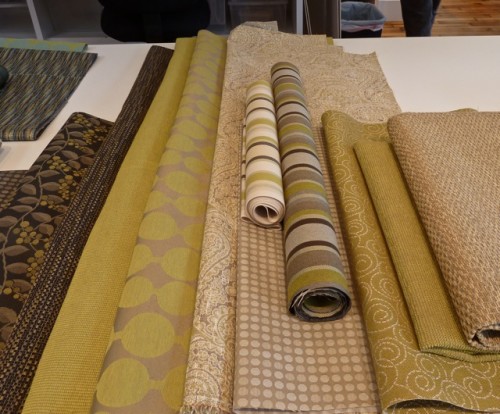 There was also a very interesting discussion in this department how the decisions are made which division gets which collections – very strategic and smart marketing!
I can't tell you how creatively inspiring this inside look at Kravet was. This forward thinking innovative company seems to be doing everything right. They are a vital growing firm with a full stable of complementary designers and collections, from revered established lines such as Lee Jofa and Brunschwig to the energetic youthful collections of Lily Pulitzer and soon Jonathan Adler.  And you know a company is doing great things when many of its employees have been there for years and all seem delighted to be there. These few hours were barely enough to take it all in. I'm thinking a revisit might just be in order!!