I recently attended an event at the Lillian August store nearby in Norwalk, CT where various fabric lines presented their "spring introduction" of many of their new collections. There were many beautiful new offerings but what really caught my eye were the embroidered samples at Holland & Sherry. I took the opportunity to find out more about this amazing aspect of their collection with the two charming young representatives from the company who were there that day –  Brian Thompson, Manager of the Carpet Division and Daniel Waldron, VP of Holland & Sherry Interiors.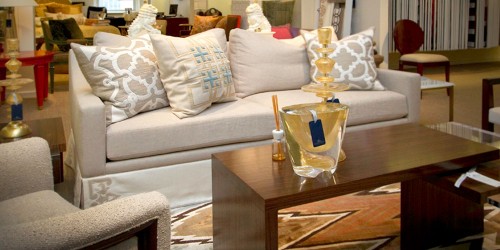 As many readers know, Holland & Sherry is the estimable British fabric line that has been supplying beautiful wools and silks since 1863. As the company has grown, it has purchased over 20 other wool companies and features luxury fabrics from cashmere to vicuna. Fourteen years ago, Bryan Dicker introduced its interior collection in their New York showroom.
In 2003, CEO Charles Stewart introduced Dicker to Nicolas Chambeyron who had come from working at Christian Dior with John Galliano to create embroidery for the apparel division. Realizing the potential for his interiors applications, Dickson wooed Chambeyron to create some designs for his division. They started with border designs moving eventually to overall patterns.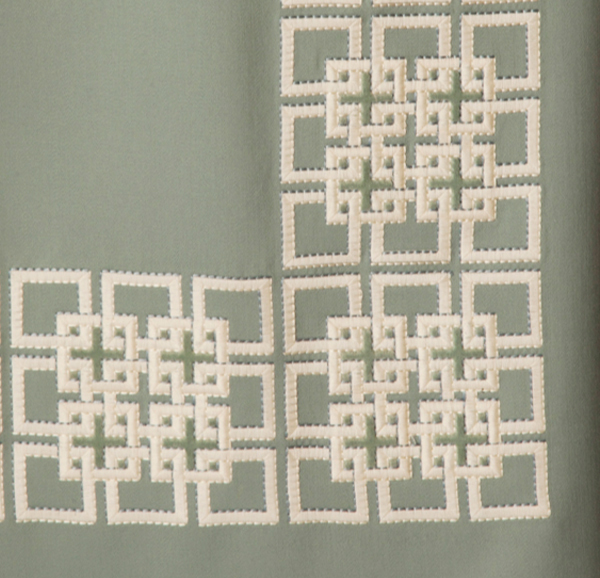 All the embroidery is machine produced at a mill in Germany, but finished with hand details. And it is all exquisite. I couldn't stop looking at the samples, one more beautiful than the next – my mind was reeling with possibilities! Although Holland & Sherry offers stock patterns, such as the Geometric Klostra above, the work is totally custom. Each sample includes three strike offs so clients can pick which variation they prefer. And the embroidery can be applied to any fabric – from wool or linens to outdoor fabrics or silk. I love the architectural inspired patterns and the level of workmanship is just amazing, as seen in the Rubens style below.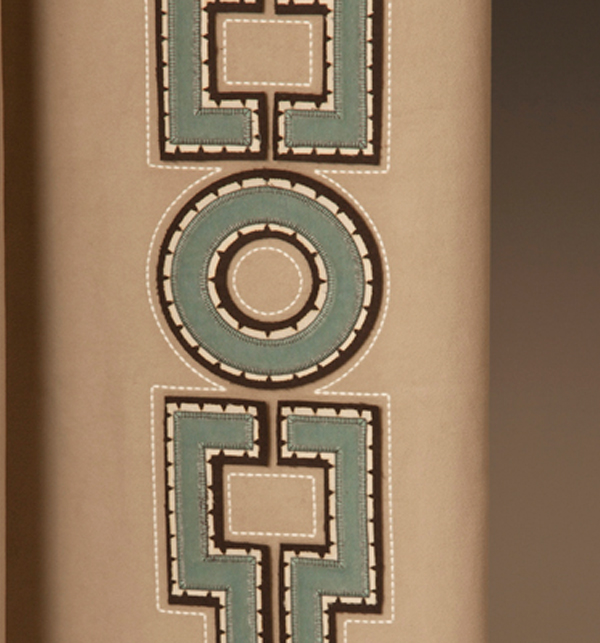 Tony Ingrao and Laura Hunt along with Arthur Dunham were several of the designers in the know to first take advantage of this incredible service.
In addition to the embroidery offerings, there is also applique work available. I just love the look of this – it seems as if it is from another era entirely. Can't you imagine a library outfitted with curtains appliqued in this Scala pattern?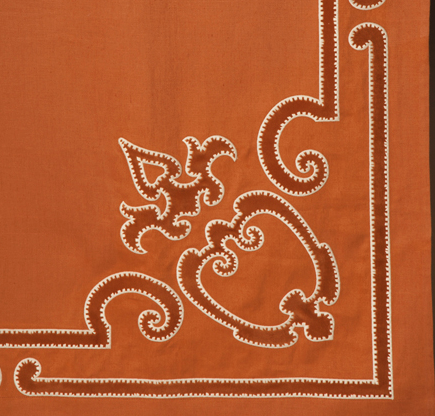 Or a bedroom with the classically feminine Asaka?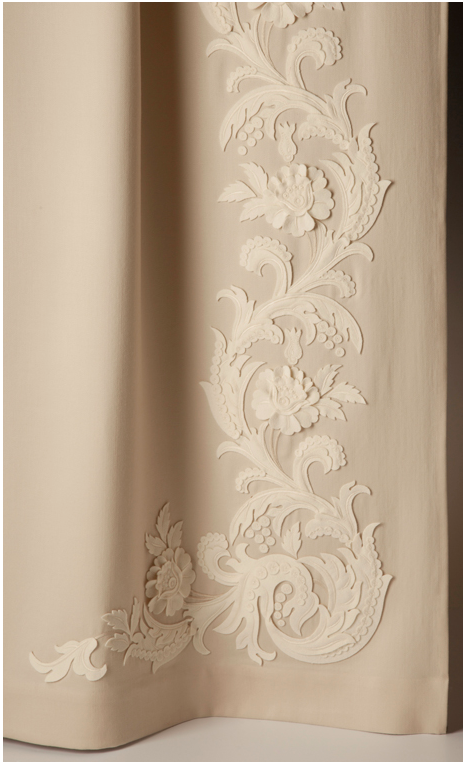 But the piece de resistance in my mind is the elegant Heritage collection.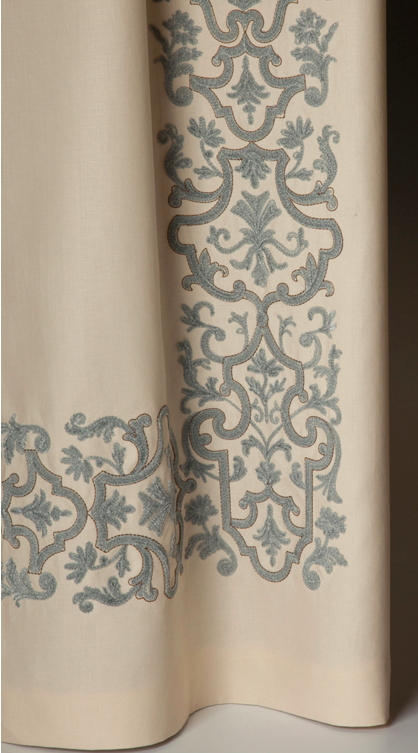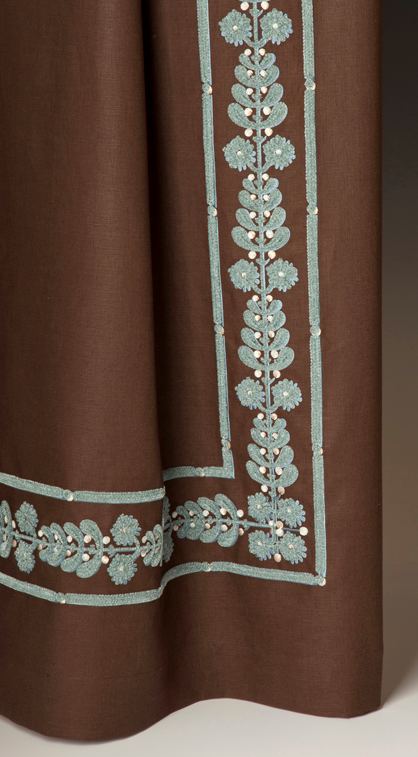 And the embroidery option does not even have to be executed on a Holland and Sherry fabric. They will contract the embroidery services for designers' COM fabrics as well.
About two years ago, a rug division was developed. Again, Holland & Sherry produces all sorts of embroidery but the exclusive part of the rug division is wool felt, which started about a year ago. About 20 color ways of felt are stocked leaving room for limitless combinations. The threads for the rugs are the same for the embroidery so they can be coordinated with the curtains for example. The felting can also be combined with the embroidery for a spectacular custom layered effect as seen here.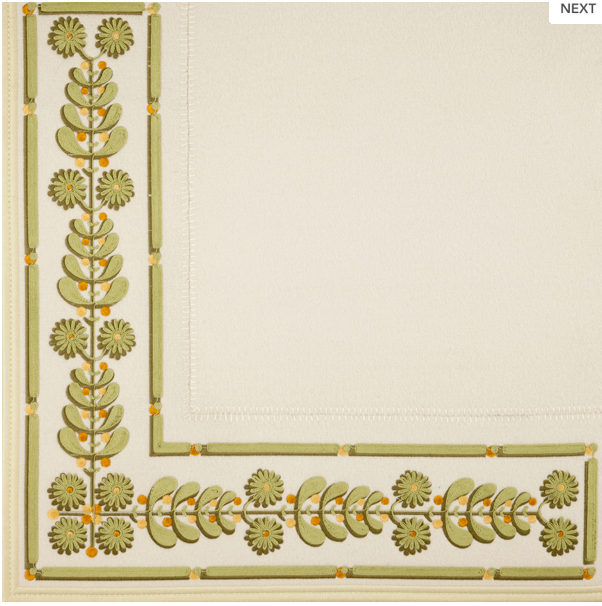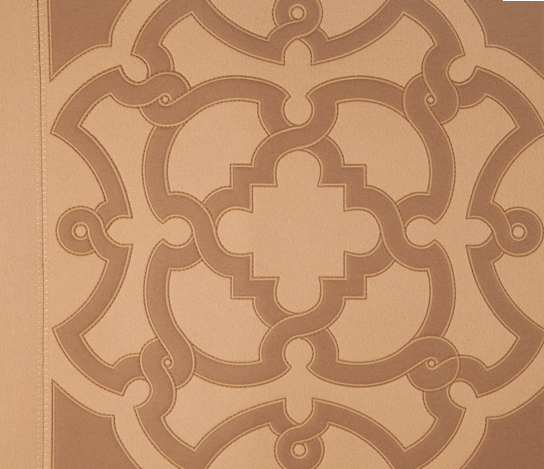 The embroidery also comes pre-made as pillows and throws. Another division, that of wall coverings, will be added in the fall!!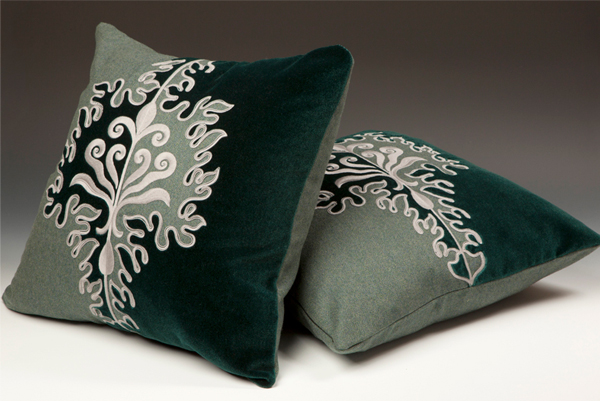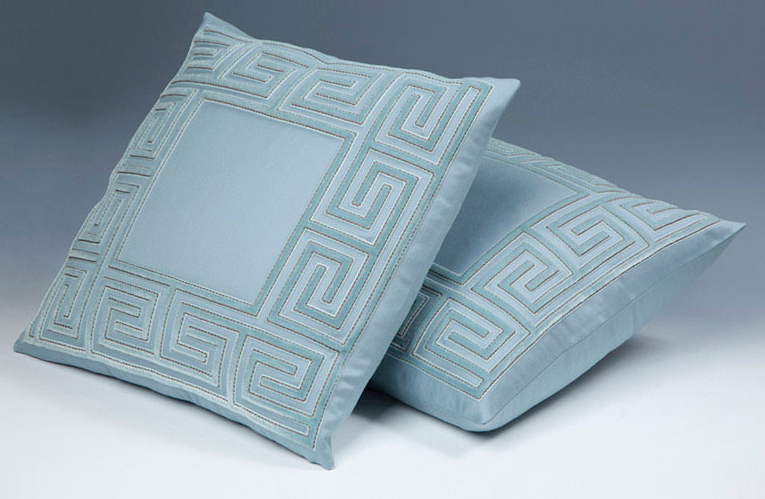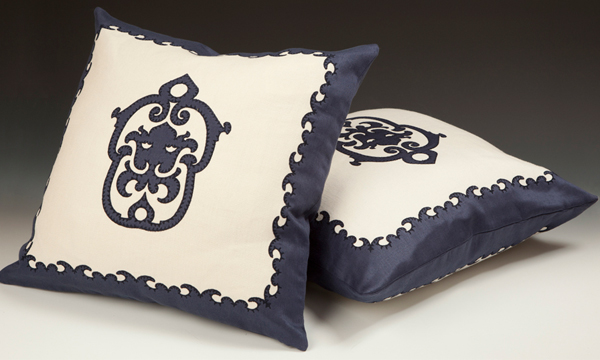 Are you starting to get a sense of the infinite possibilities? Here is a TriBeCa apartment with a custom Byzantine rug.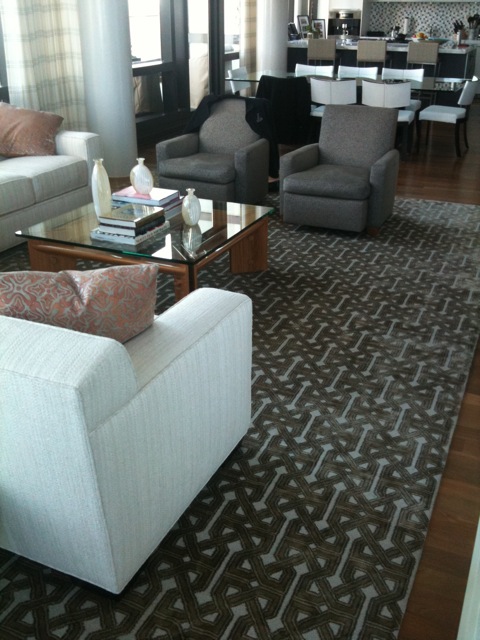 I have always loved Holland & Sherry's elegant fabrics. I am hoping we can look forward to more collections, such as Ellie Cullman's new first ever fabric line, which Shari Markbreiter used to such lovely advantage in her beautiful showroom recently. But I was just blown away by this aspect of their business. It is creative, clever and I am dying to see how more designers take advantage of these fabulous options!!