A couple of weeks ago, Miles Redd made an appearance at the Stamford Antique & Artisan Center for a celebration of The Big Book of Chic. It was a fabulous evening with a packed house of festive guests. New partner and managing director of the Center, Mari Ann Maher, has big plans for the space and one of her most recent updates was the addition of a fabulous library, in which Miles signed books for an eager crowd. Come along and take a peek at the festivities.
From the age of five, Miles aspired to be a part of the "great big glittering world" with fantasies of Cecil Beaton's royal portraits, the 30's chic of Fred Astaire in Top Hat and the timeless style of the glamorous interwar period.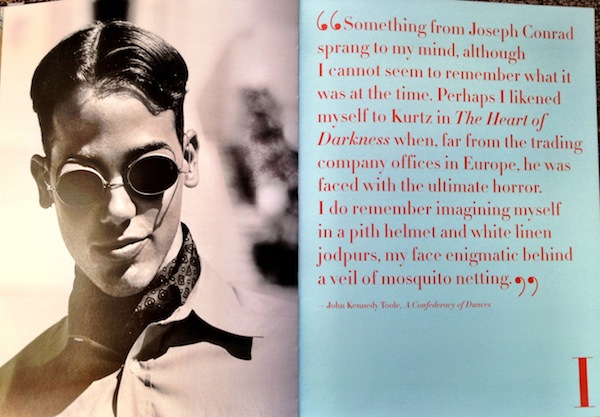 From his ridiculously stylish un-student-like dorm room at NYU to his first apartment nicknamed "Rue Quatorze," on the then unfashionable 14th Street, he has risen through the ranks with an uncompromising sense of joie de vivre and reverie. He learned the ropes from the best, working for John Rosselli and then Bunny Williams. But don't expect any decorating advice in this tome (at a weapon-sized 9-3/4 x 13″ 300 pages). This is visual escapist inspiration at its best – a potential pinfest of drool-worthy imagery.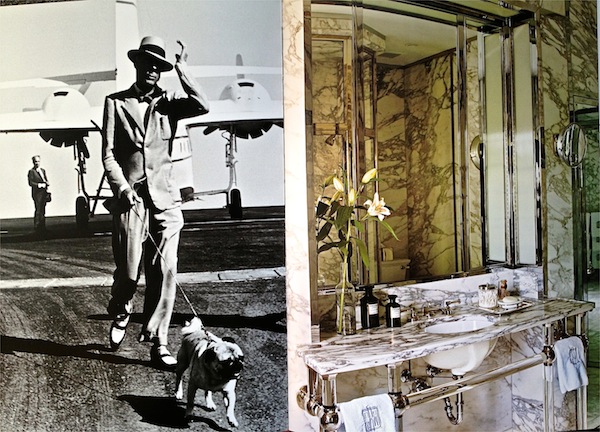 While Miles downplays the intellectual component of the book, make no mistake, there is a cultured educated eye behind this panoply of pretty. You'll be looking at the pairings more than once, recognizing some new aspect with each viewing. Design is all about the mix and training the eye to see the possibilities, and this book is an invaluable lesson in  connecting the dots.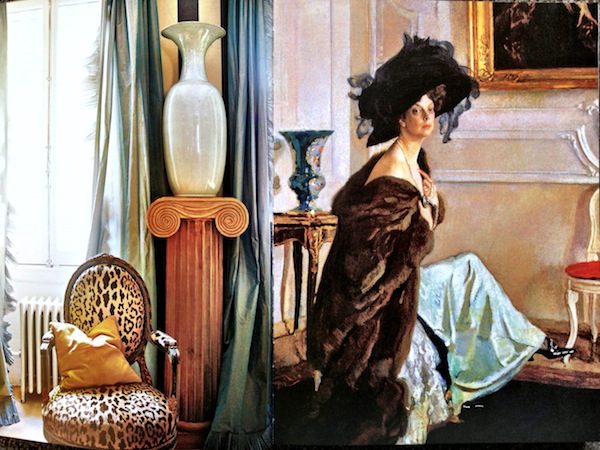 But I don't mean to take the fun out of it because this book IS fun – a frothy vicarious look at Redd's particular style of cozy glamour. From his bold exuberant use of color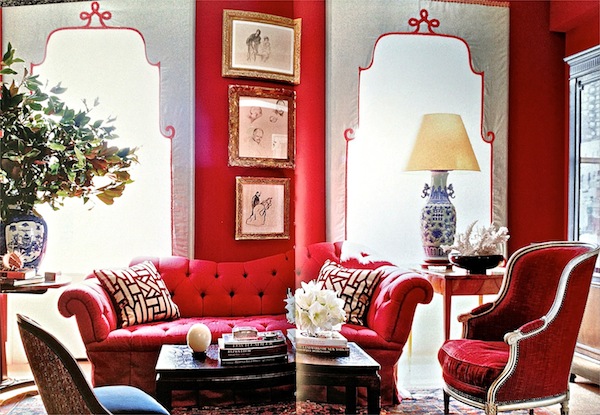 to his eclectic elegant spin on classic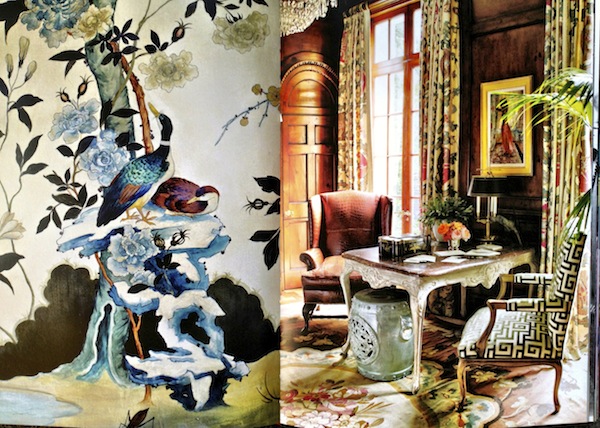 you'll want to dog ear every page. Sprinkled throughout are literary inspirations. I'm impressed with the lines he remembers or has accumulated. So many favorites read over the years – I'm not sure I'd know where to start. I didn't even recognize this quote from one of my favorite books – the pairing is so seemingly straight forward it makes you think twice.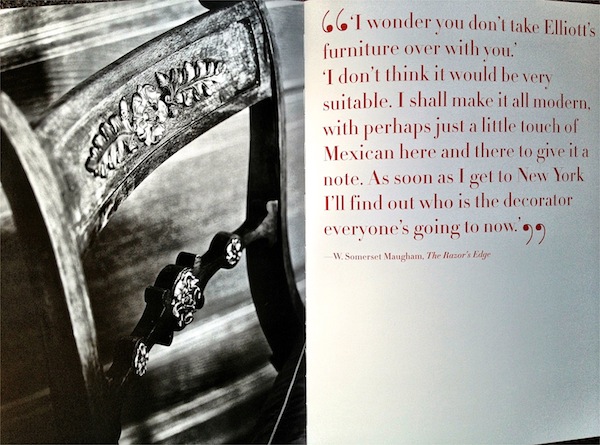 You will certainly see why Redd chose this quote – it's exactly how you'll feel, enveloped in his world of wonder and whimsical beauty. And to add another layer to this pairing, the room is from Redd's friend Danielle Rollins' house, with whom he has collaborated on not only the decoration but some memorable entertaining as well – a very Mummy and Rory duo!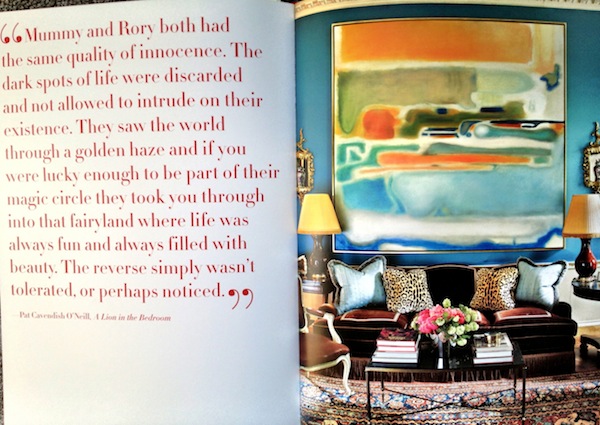 I had the opportunity to ask Miles a few questions I thought you might enjoy.
Q – That now famous shot of you leaping in your bathroom seems to say so much about your style. What is the story behind the photo?
MR – The story goes as thus, House and Garden wanted a portrait, and that is something that does not happen very often, so I decided to go for it. The inspiration comes from many places – Fred Astaire and Hollywood should take all the credit. It was my Top Hat fantasy brought to life.
Q – We know you love to entertain and have done so even in that iconic bathroom! With the holiday season approaching, can you share three tips for creating a successful party for those of us who don't  have a vintage David Adler mirrored bath?
MR –  Entertaining is fun, but only if you do not make yourself exhausted getting it together so, 
Make it easty – don't do everything yourself – hire help!
If you don't have a big budget – think pizza, chinese or tacos – it is the way you do it, not the price tag
Good music and soft lighting, which are free go a long way
Q – Your book is unusual in that it has so little text and yet the thoughtful pairings say so much. Do you think there is an inspirational connection between design and literature?
MR – I do, every quote was something I read and remembered – and felt…style is in everything. How you dress, what you like to eat and certainly, what you like to read!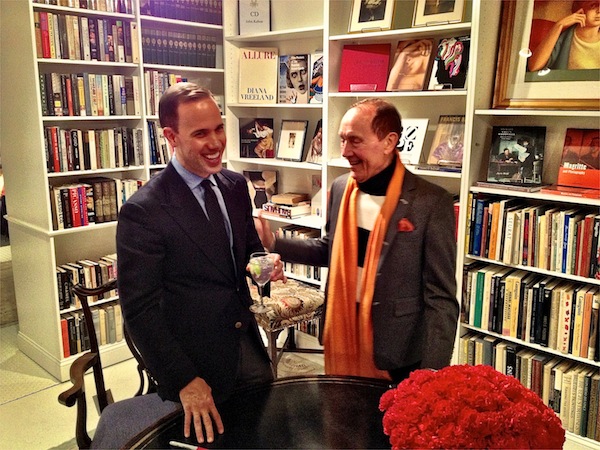 So come along for the ride. Miles' particular brand of effervescent glamour is contagious.  Dare to dream! He'll be the first to tell you that "This is a book about dreams coming true; the curiosities in the rooms I have decorated; and the people, artists, and places that have inspired me. … a very personal blend of work and fantasy."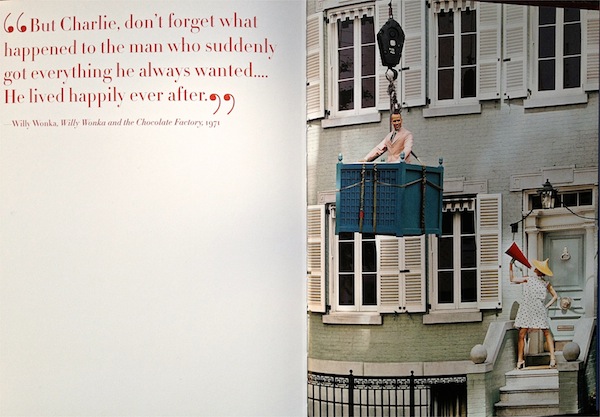 So if you haven't ordered, put it on your immediate to-do list because I have a feeling this must-have volume for holiday reading and gifting may very well be destined to go back to the presses.