I felt I should feature a movie about France today since yesterday was Bastille Day and on Wednesday we covered a classic French Grand Cru but I've had Hayley Mills on my mind for weeks. We were  recently chatting about her on twitter, then Gaye over at Little Augury mentioned her and Liz Lange cited Pollyanna as inspiration in her recent BEHIND THE Q.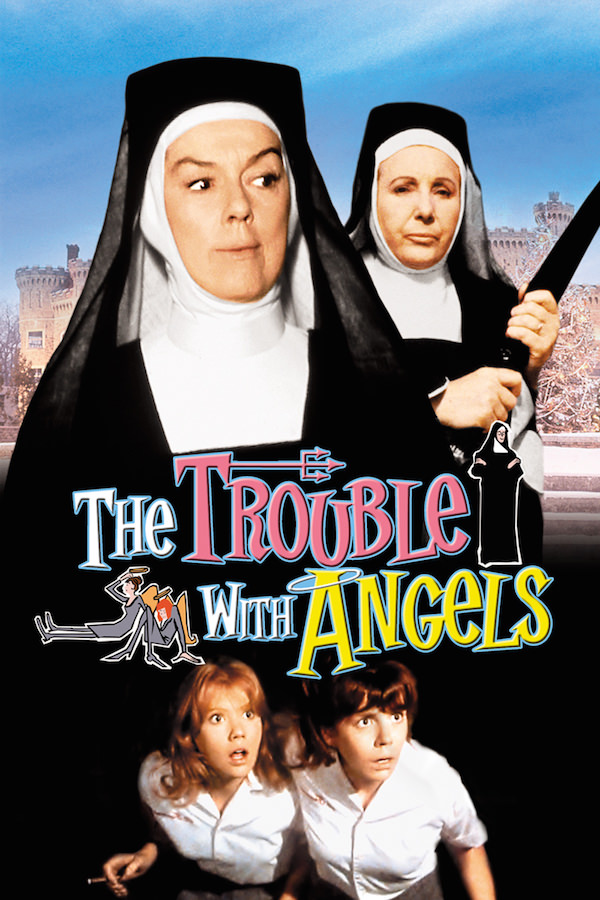 So as you see, I've given into temptation. It was a tough choice – I just adored all of Hayley Mills' films – but I've chosen one of my personal favorites. The Trouble with Angels. This 1966 comedy chronicles the antics of two teenagers in an all girls Catholic convent school. The great Rosalind Russell is fabulous as the exasperated Mother Superior. Mills plays Mary Clancy, the rebellious half of the duo with June Harding as the more innocent Rachel Devery, her companion in mischief.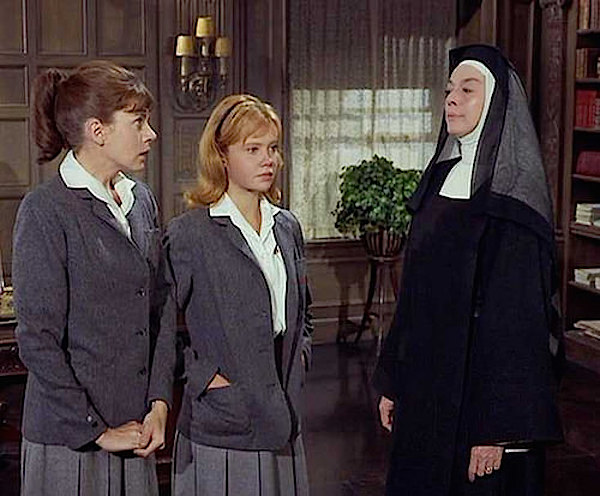 Ida Lupino, one of the few female directors of her era, did an excellent job behind the camera on this film. There are a few other interesting tidbits in play as well. Gypsy Rose Lee has a small part as Mrs. Mabel Dowling Phipps. Also, as a perfect example of type casting, three of the actresses who play nuns in this movie, repeat their performances in later films. Marge Redmond goes on to play Sister Jacqueline in the TV show The Flying Nun, Mary Wickes stars in Sister Act and its sequel and Portia Nelson had the year before portrayed a nun in The Sound of Music. On the other hand, one of the nuns is played by Camilla Sparv, who three years later stars as Robert Redford's glamorous love interest in Downhill Racer.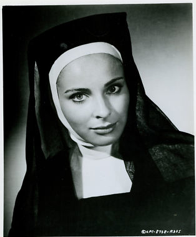 Also, the original subtitle of the movie was "a habit forming comedy" – don't know why they changed it – I think it's perfect.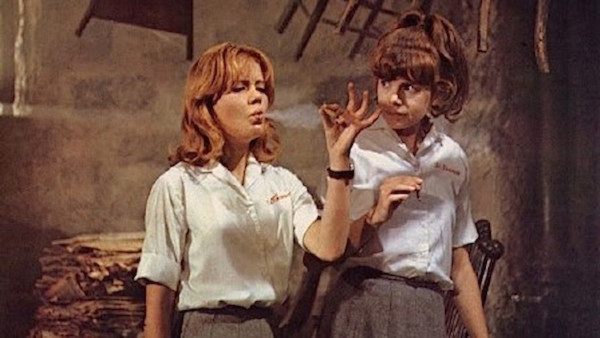 This is a movie you could definitely enjoy with your children. The pranks are relatively harmless and include such behavior as setting off fire alarms, smoking cigars in the basement, putting bubble baths in the nuns' sugar bowls and other such "scathingly brilliant ideas". Several times the girls come close to expulsion, but the Mother Superior always gives in, knowing their histories and having faith that the school will ultimately help them mature. Of course by the conclusion, the girls have indeed grown, and Mary, in particular, has developed a fondness for the place.
Although dated and the religious overtones (and ending) notwithstanding, this is a charming coming of age tale that showcases Hayley Mills' particular brand of 60's appeal, not to mention the great Rosalind Russell who shines in this scene. "To bend, but not break. To yield, but not capitulate. To have pride, but also humility."