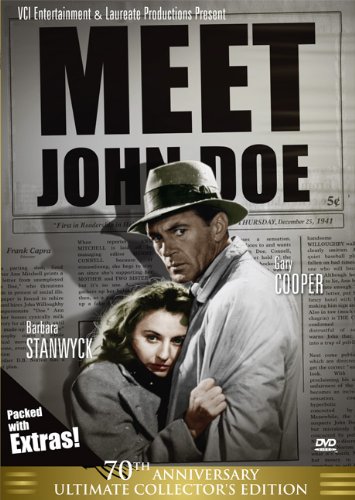 This Frank Capra holiday masterpiece is frequently eclipsed by his more popular and uplifting It's a Wonderful Life. Perhaps it's because Meet John Doe is a more serious film or because up 'til now, the prints of this movie have not been very crisp. Whatever the reason, this is a classic that should not be missed. And this new release has much improved the previously "scratchy" versions.
This is not a Frank Capra mad cap comedy. This is a drama more akin to another of his greats "Mr Smith Goes to Washington". Now there is some humor and certainly some charming scenes and clever banter but this movie has a powerful tale to tell. Gary Cooper delivers what probably would have been an Oscar winning performance were it not for his role that same year in Sergeant York for which he did win the Academy Award. Barbara Stanwyck is also terrific as the cynical professional woman whose ambition originally outweighs her morals.
The film, made in 1941, has intentional anti-Nazi and Fascist undertones. It pits the political machine and manipulative media against the  plight of the common man. This is a timeless theme as relevant today as it was then and certainly appropriate for this season as Capra espouses his belief in the basic goodness of man and the power of brotherly love. Here is an extended clip of the beginning, where you can get a feel, hint – watch the jackhammer, for the obvious theme of this film.
The movie can obviously also be viewed as a universal religious metaphor as the ordinary man rises to be a national hero and a "messiah" for all the plain and little people who want to believe in something bigger than themselves. On many levels this is a film extremely well suited to the more meaningful messages of the holiday season. Even if just as a reminder to do unto others, this film has a rousing feel good ending that will reinforce your faith in mankind.