Naturally I wanted to find a movie appropriate for the Fourth of July. It isn't quite as easy as one might think. So I decided to pick a film with patriotic values, one that, however sentimental, represents  a sense of freedom and democratic ideals.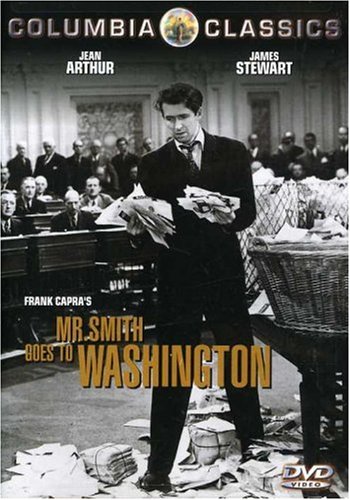 Mr. Smith Goes to Washington is a movie from that year of all years in American film making – 1939. Although nominated for 11 Academy Awards, its only award went to Lewis R. Foster for his original story of the naive and idealistic Jefferson Smith, appointed to fill a vacancy in the US Senate, and his discovery of the shortcomings of the political process. Although many were disappointed that Jimmy Stewart didn't win for best actor, the role firmly established him as one of the country's strongest leading men.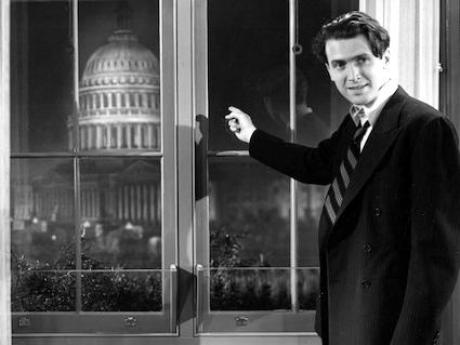 Although political in nature, this is a Frank Capra film after all, so there is also humor and romance. Jean Arthur is simply wonderful as Stewart's cynical secretary and eventual love interest.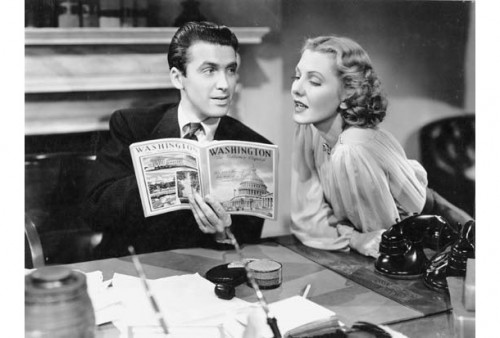 Their relationship is not unlike the one between Barbara Stanwyck and Gary Cooper in Capra's Meet John Doe – the wise yet world-weary woman skeptical of, yet enchanted by the naive and idealist man. And the message is a variation on the same as his later film – the power of innocence and the victory of David the individual over Goliath as, in this case, the corrupt political machine.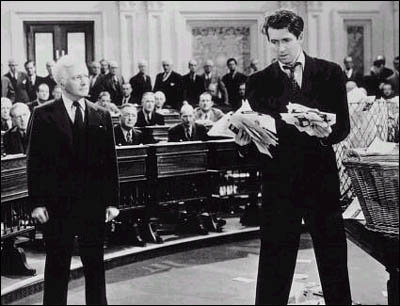 In the film's climax, Stewart's character delivers an almost 24 hour filibuster to speak his piece. He is utterly convincing as an inspiring source of  integrity, tenacity, honesty and decency. And if you ever felt that your one vote doesn't make a difference, then be sure to put this on your list!!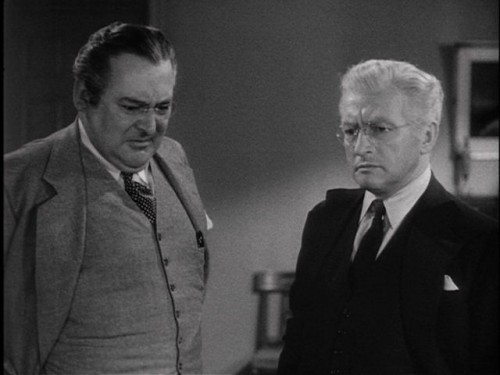 There is a wonderful supporting cast including Edward Arnold as the ruthless party boss Jim Taylor and Claude Rains as the corrupt and jaded Senator Paine.
In conclusion, something I read when I was researching this film sums it up perfectly, "This film should be required viewing by all members of Congress at least once a year, and all voters before each election." There weren't any fabulous trailers but this will at least give you a bit of the flavor. Enjoy!!