While I hinted at the AERIN furniture collection I saw when I was in High Point last April, I am delighted that I am now able to share with you some of the pieces I saw at the EJ Victor debut. Effortless style is the AERIN tagline and within her ever expanding lifestyle brand, the theme remains consistent. If you have ever seen any of Aerin Lauder's homes, you will already have a feel for the collection. Her own chic lifestyle serves as inspiration for the line and several of the pieces are based directly on those in Aerin's collection.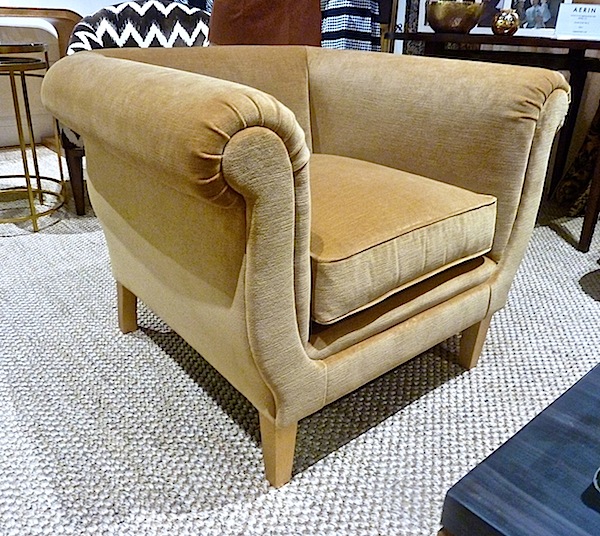 The elegant Willow Chair is clearly based on a pair of Jean-Michel Frank armchairs in her Jacques Grange designed NYC living room below – go with anything classics that are not only stylish but comfortable.
photo by Simon Upton for ELLE DECOR
And who doesn't love a little leopard. Her Wooster Chair, below, is the updated version of her fabulous Paul Dupré-Lafon club chairs, with her bamboo trimmed Maylen Side Table. You can see how well they all work together. For those of you who were not at High Point, I must add the AERIN space within EJ Victor is simply stunning, an amazing series of rooms that accurately mimics the proportions and feel of Aerin's gracious Manhattan abode, down to the doors and hardware. I was ready to move right in.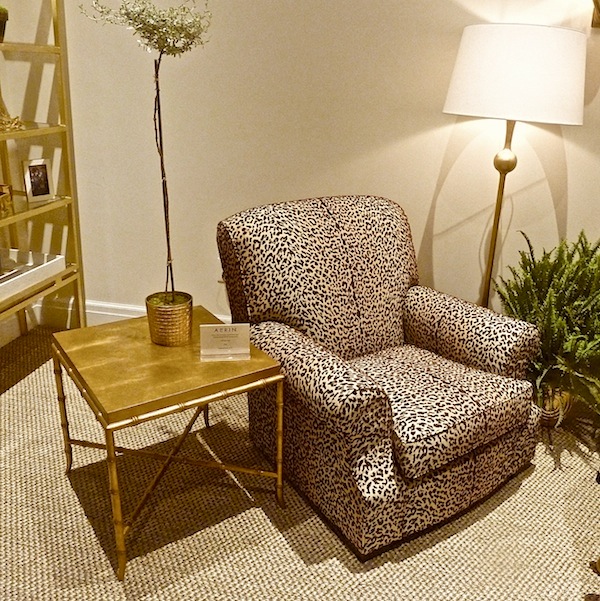 I'm sure many of you will recognize this fabulous drinks-laden table from Aerin's apartment, as shown here in APT with LSD on Vogue.com.
photo by Claiborne Swanson Frank for Vogue
In its current incarnation as the Chatham Coffee Table, it is a fantastic statement piece in walnut burl and satin brass for those who have the room (74″ x 47-1/2). In the back you can see the very sinuous Morris Chair, packing a lot of punch into a small footprint.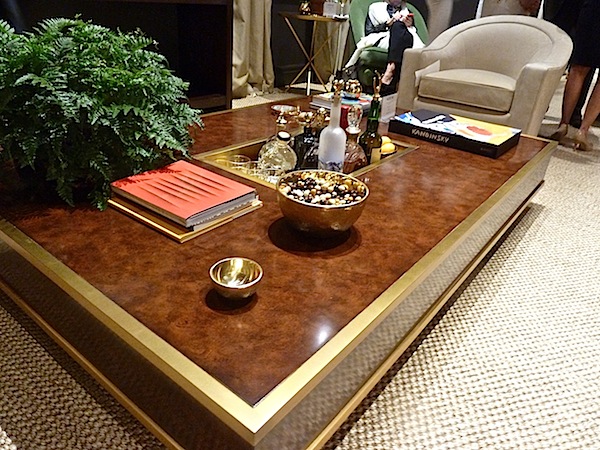 From the same APT with LSD shoot, this room shows Aerin's love of blue and white.
photo by Claiborne Swanson Frank for Vogue
The sofa on the left has been translated to her tufted Federal Sofa. I unfortunately never got a good shot of it but you can see the back here behind her Dover Table Lamp, part of her lighting collection for Visual Comfort.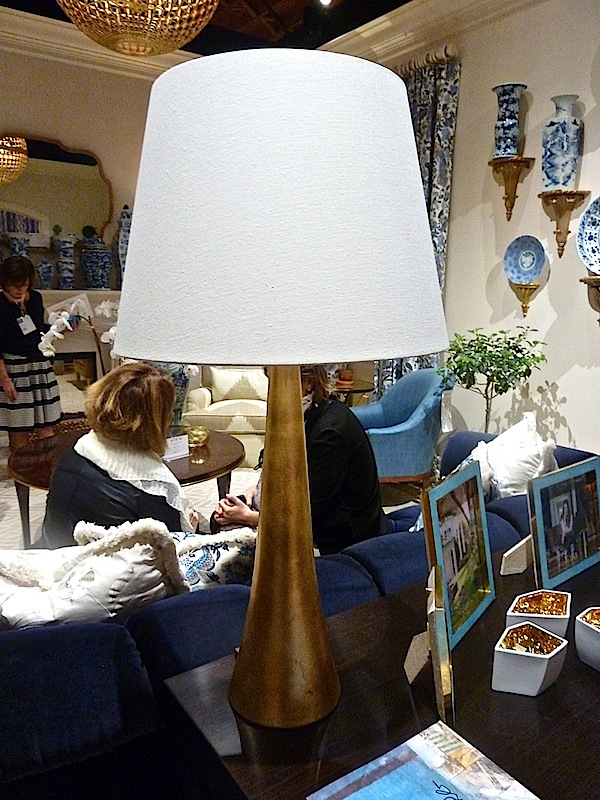 And throughout the space, as in her home, were gold corbels with blue and white porcelain, here above her classic Joseph Chair (right) and slightly mid-century Easton Chair (left) with versatile Flint Round Nesting Tables in between.  Of course all the fabrics used throughout are from her new collection for Lee Jofa, which I wrote about recently. The casegoods section of the collection also includes two lovely mirrors – the Bridle Mirror shown below in the dove finish (also available in gold gilt)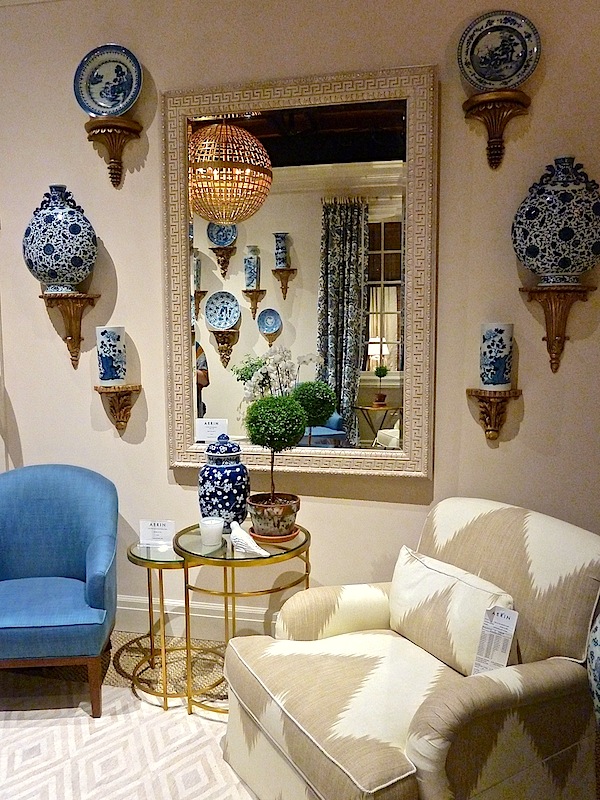 detail, below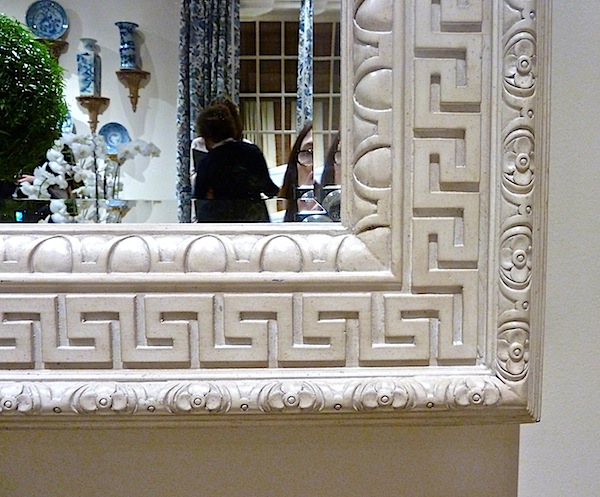 and curvaceous Colonnade mirror in gold gilt.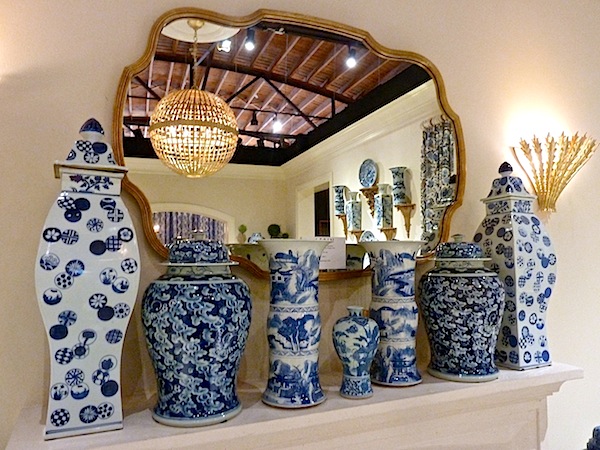 The reflection shows her Mill Ceiling light and to the right the Hampton Wall light. Below is the library in Aerin's Manhattan apartment as seen in ELLE DECOR. The table is another French classic by Jean Royère.
photo by Andreas Gursky for ELLE DECOR
You can see its influence in AERIN's handsome Cromwell Cocktail Table with a beautiful honed blackwood stone top. The finishes on her pieces are all pitch perfect as is the matte stain brass on the base.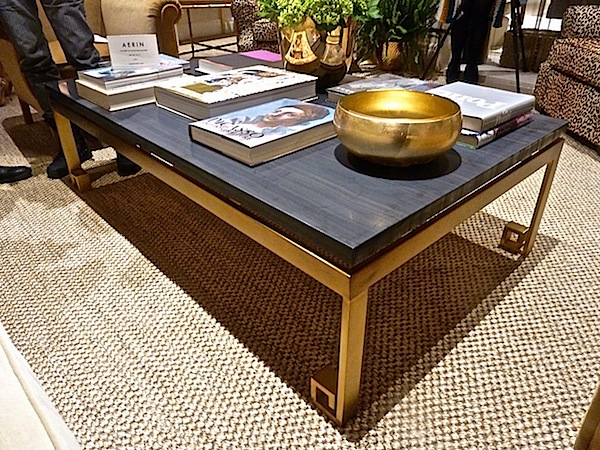 There is a interesting variety of case goods in the collection, from the elegant gold gilt Edgewood Console Table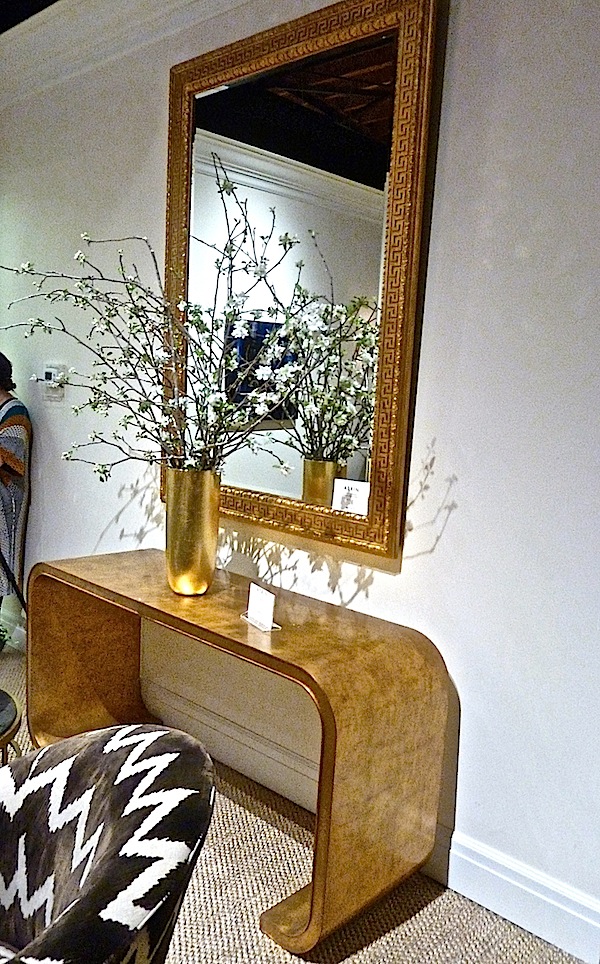 to the masculine feel of the mahogany Dearborn Nesting Tables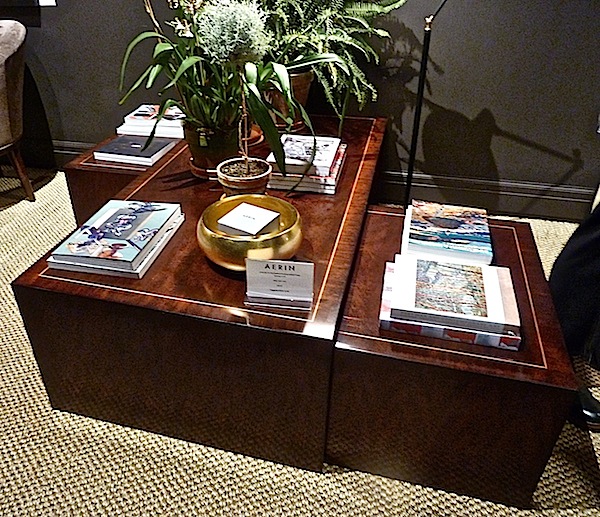 also shown in a beachier non-banded pale wood iteration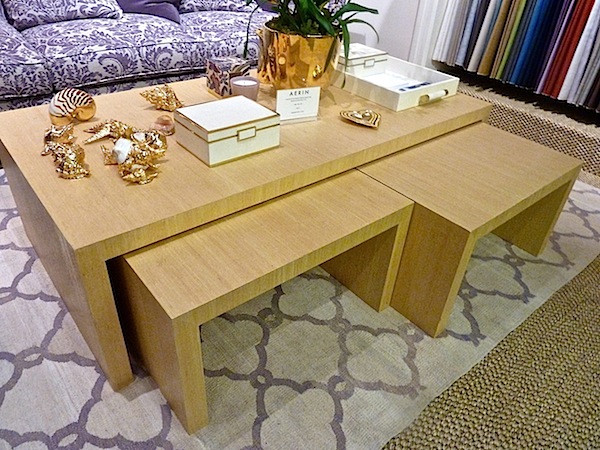 to the Fairlawn Server, a fabulously dramatic piece for a little Nick and Nora glamour in high black lacquer with honed blackwood stone top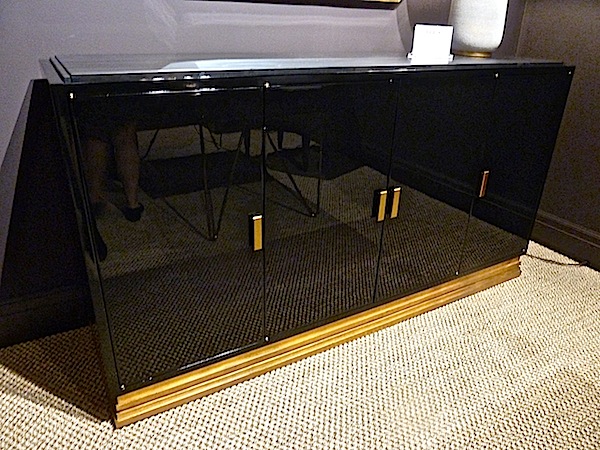 and the simple lines of the mahogany Delph Bar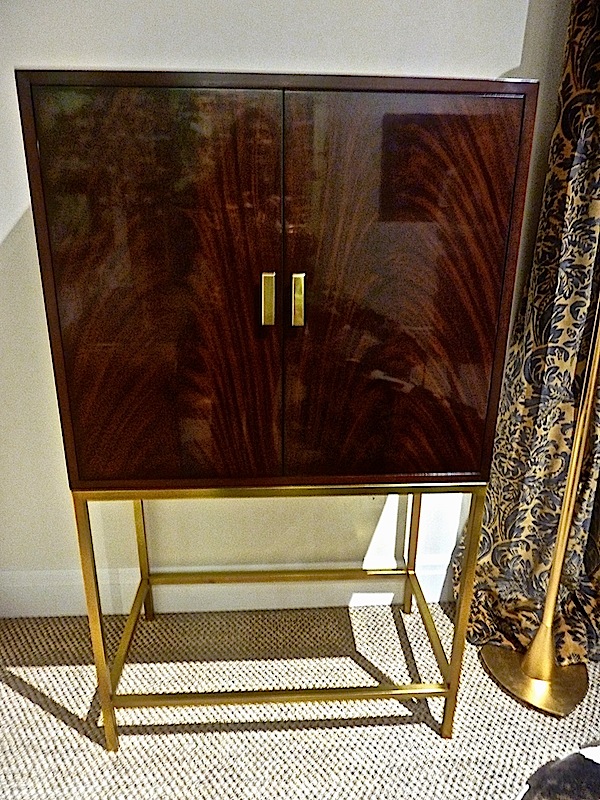 with an antique mirror backed LED-lit interior – available just in time for holiday entertaining!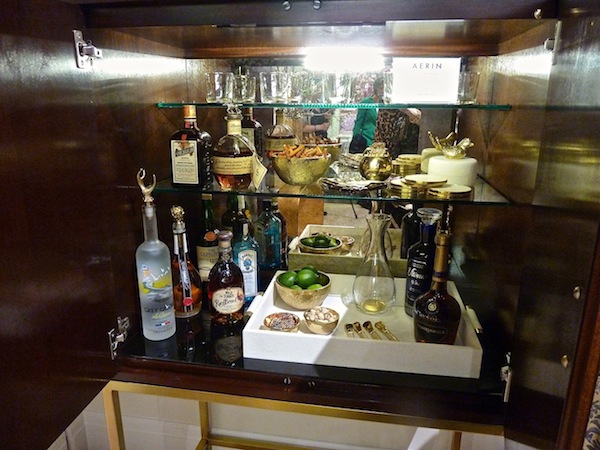 Like everything else she does, the AERIN furniture line is executed with great attention to detail and adds another layer to the lifestyle story. With elegant understated pieces, Aerin Lauder has created a first collection representative of her life – the legacy of old world glamour mixed with a classic modern edge. Best of both worlds!