Over the next several days, we will be finishing up our look at the Hampton Designer Showhouse. For the weekend, we'll be spending a little time outside. As I approached the house, I was immediately struck by the handsome landscaping. Casual, yet tailored, it was a lovely combination of container and in-ground plantings.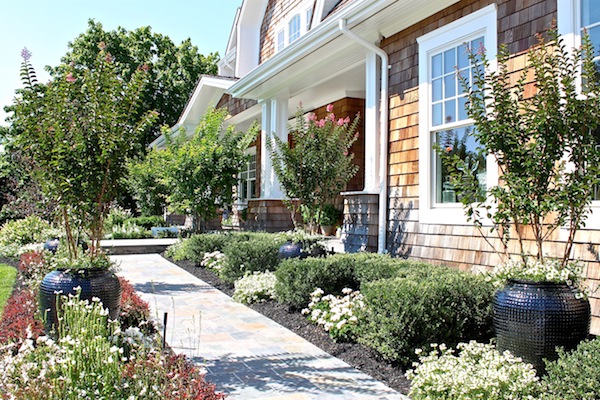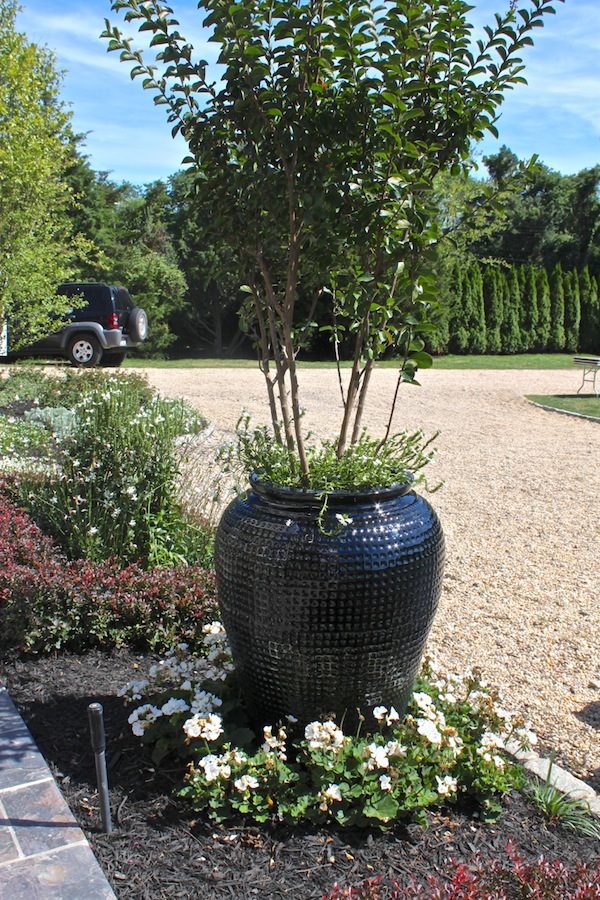 While I took a few of my own shots above, I was delighted to receive some additional images from the designer Antonio Parratta showing the progression of the landscaping, starting with the original sketch below.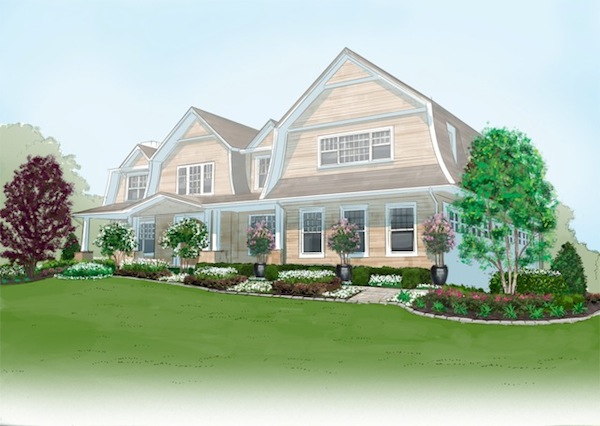 Parratta used mature specimen trees and shrubs to stay in line with the scale of the large house. Here you can see how he installed a combination of square and round hedgerows to establish the basic architecture of the design.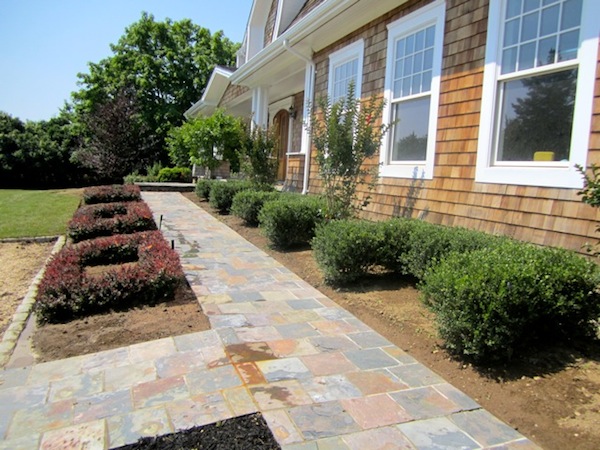 A large portion of the plantings are white. Parratta explained, "This color blocking adds a huge impact and maintains a flow keeping the design simple and elegant. Flower varieties were chosen for their informal and loosely structured appeal.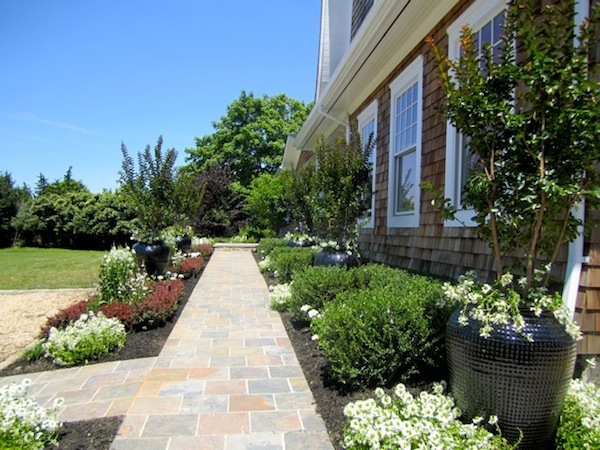 Five large black glazed terracotta planters with flowering trees border the front walkway approaching the entry. The planters elevate your eye from the ground up and add an element of drama, in contrast with the white flowers."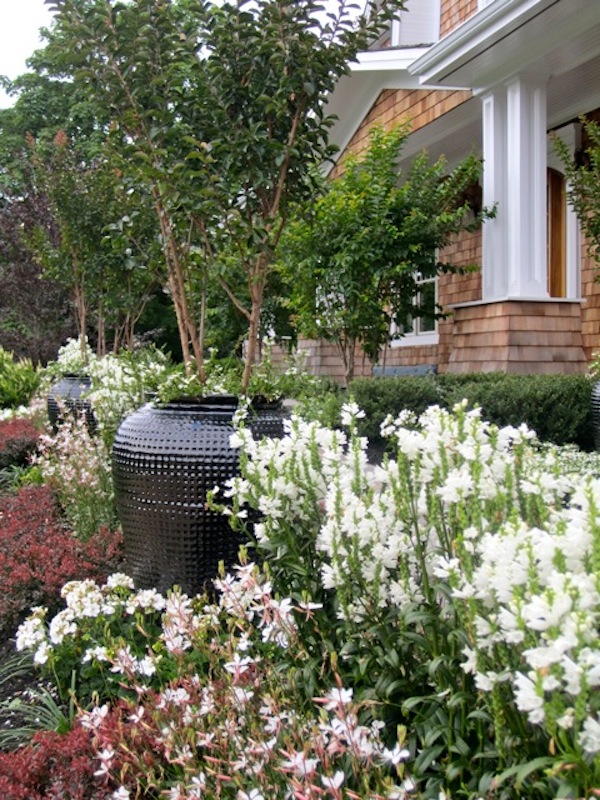 As someone with a brown thumb, I am always so impressed with successful landscape design. Through careful use of color, texture and scale, Parratta transformed this empty property into an inviting, charming entry.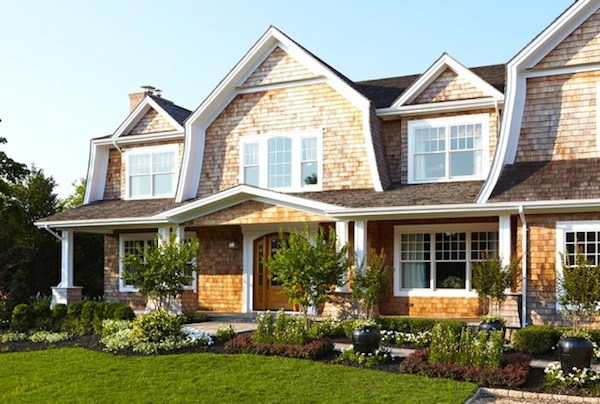 Since visiting the showhouse, there has been a new addition – a mascot named the Cloned Bulldog.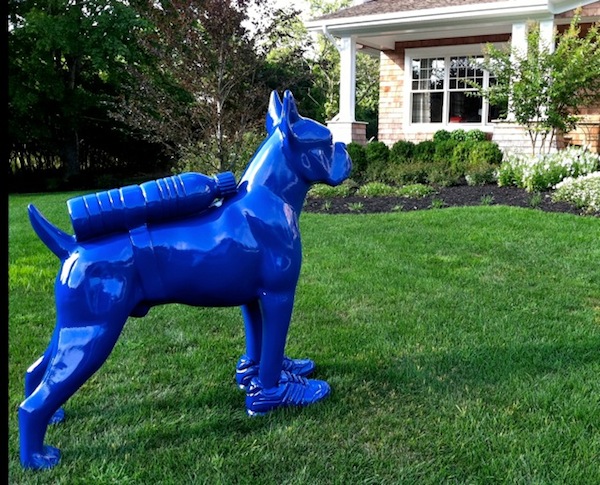 Artist William Sweetlove, represented by Shelter Island based art dealer Karen Boltax, uses his brightly colored animal sculptures, scattered around the Hamptons this summer, as a commentary on climate change and how "all beings adapt to their surrounding, which is why the oversize animal sculptures wear backpacks and carry water bottles." Parratta reports that he has become a popular feature and photo opp for those visiting the showhouse!