Designer Libby Langdon, below, was assigned the largest and perhaps most challenging space at the showhouse. The only unfinished room in the house when she first saw it in June, she transformed the almost windowless 1,150 square foot basement into an inviting multipurpose retreat. Originally named the "Rec Room," Libby approached the design with an upbeat positive attitude, redesignating the sprawling space as the "Fun Room," a version of an "English clubroom with a modern, sexy twist."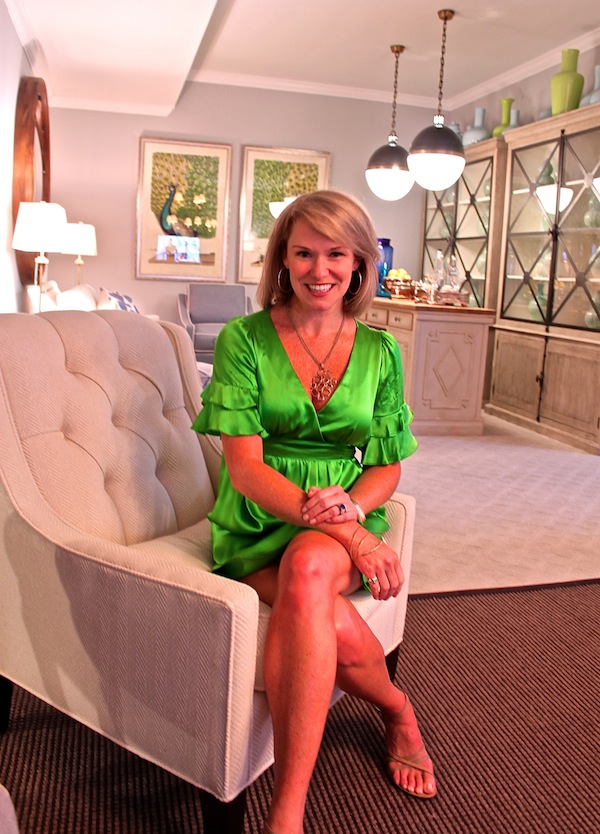 You may recognize Libby from her TV makeover appearances on NBC's Open House, The Rachel Ray Show & HGTV's Small Space, Big Style. With extensive feedback from clients and show audiences, Libby was inspired to design a collection of furniture, which she used effectively in her showhouse space. "The desire to create my own collection of upholstered furniture was born out of working directly with countless diverse clients across the country who would repeatedly ask for the same things. They wanted something chic but also comfortable and suited to their modern lifestyles. I wanted to offer clients exactly what they wanted, so I decided to design a collection based on their input."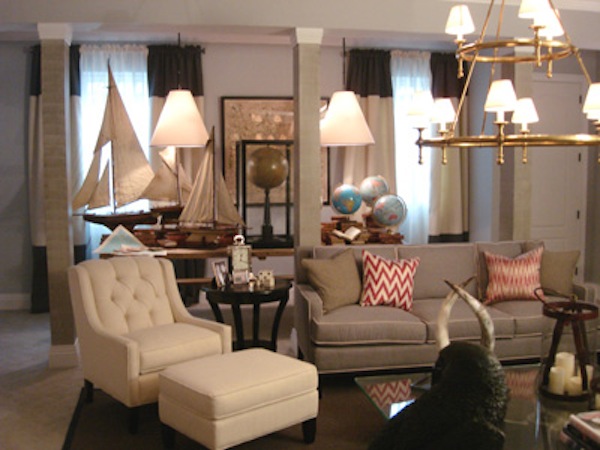 Those looking for decorating ideas will be delighted to learn that Langdon made shopping easy – everything in her room, from Libby's collection for Braxton Culler, to the  case goods and accessories are available locally in Bridgehampton at English Country Antiques. The large central area, above, features her tailored Merrill chair and ottoman with two Andrew Sofas, all retaining sleek silhouettes without sacrificing comfort. Libby also sits in the stylish Merrill chair at top, a versatile updated piece that could be at home in either a traditional or modern setting.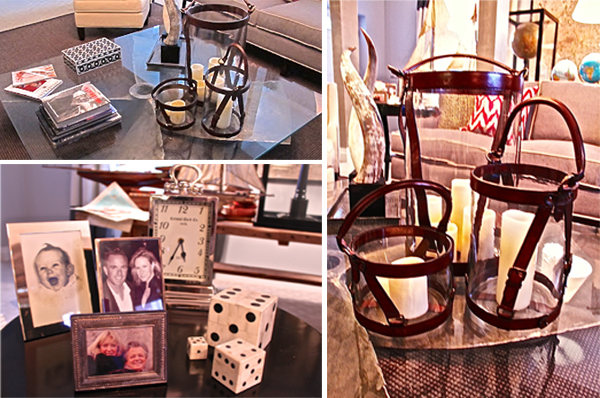 A glass cocktail table, above left, the base made from an 800 pound propeller, is an unexpected conversation piece. At 5′ square it is large enough to access from either sofa or chair and fills the space visually without adding bulk. The leather hurricanes contribute a bit of equestrian chic and other accoutrements make the room fill lived in and personalized.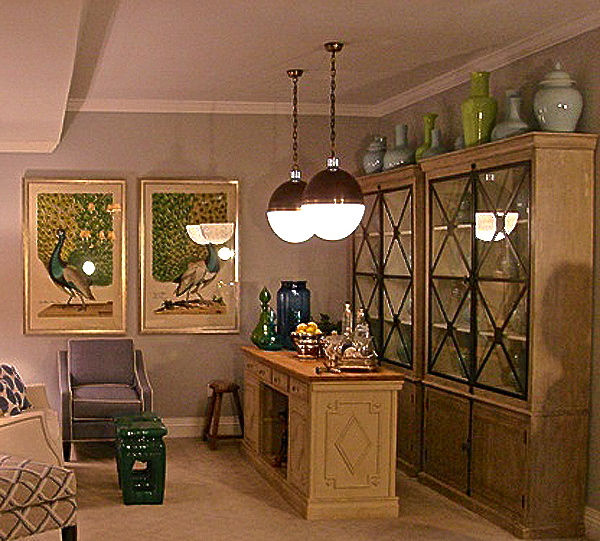 Libby took advantage of the enormous space by devising different entertaining venues to create a multifaceted room. In the back is a bar area featuring a pair of cabinets that work as one with a pine bar in front. I love the peacock prints from Wendover, which I wrote about at the NYIGF in the spring, as well as all the chic accessories from ECA.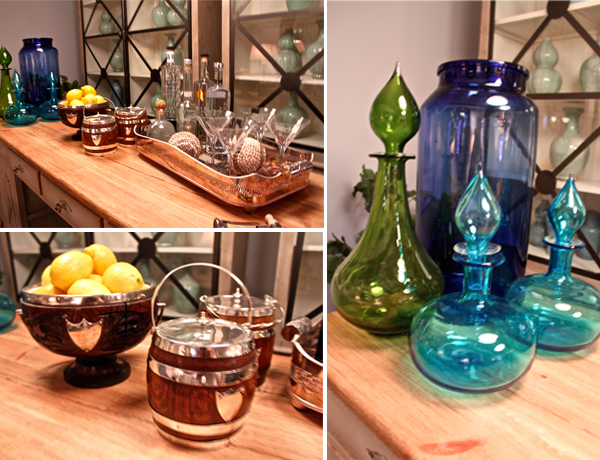 Across from the bar the Haynes loveseat is dressed up with ECA silk Ikat pillows and a fabulous oversized convex mirror.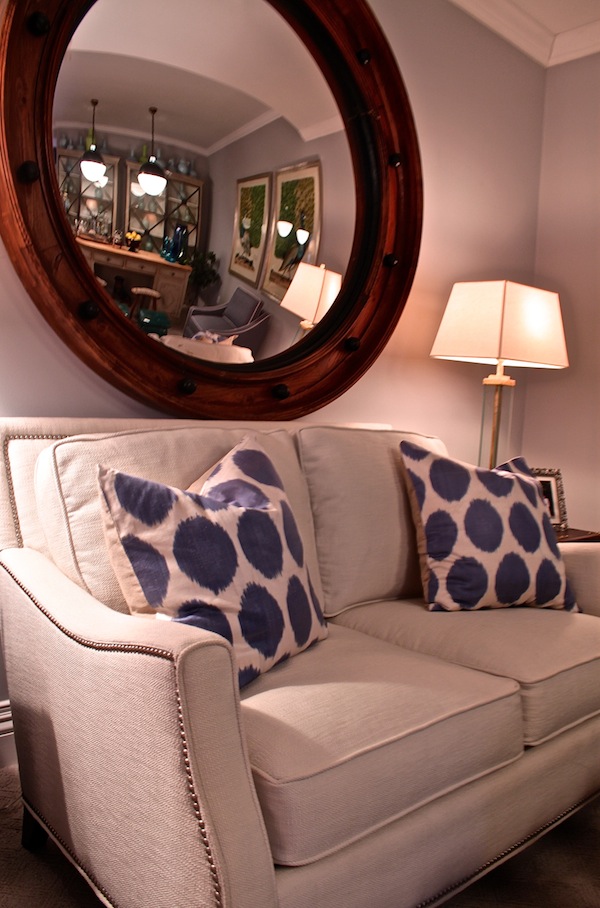 By the windows, dressed in Schumacher draperies, a weathered library table adds a sense of age and place.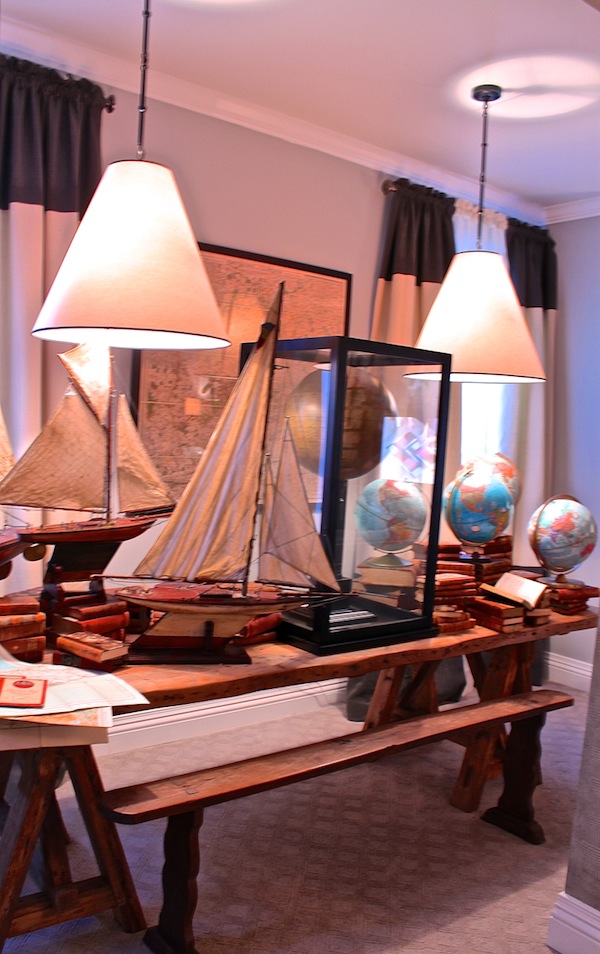 As Libby explained, the maps and globes reflect the "taste and extensive travels of the hip homeowners I envision here. Plus, the long, narrow shape makes it so versatile; I can also see it in a foyer, as a buffet in a dining room, or even a console behind a large couch or sectional."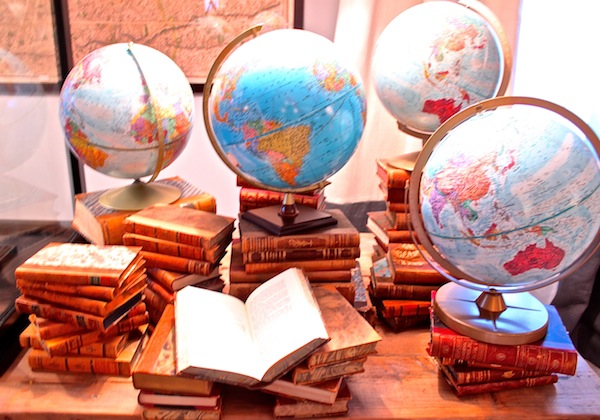 The final vignette within the larger space is a billiards corner dominated by a handsome free-standing library case from ECA, complete with ladder and brass rail.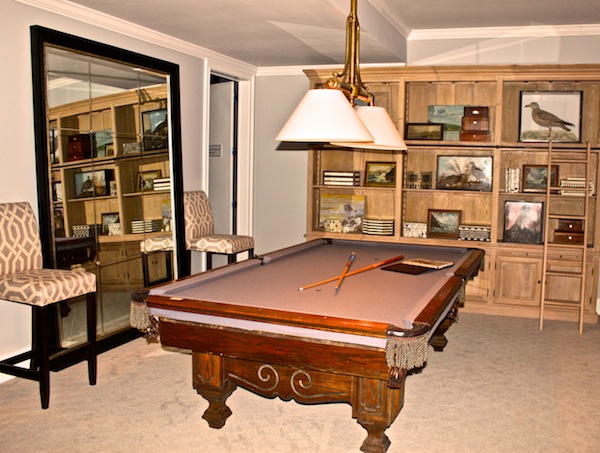 A terrific alternative to the ubiquitous built-ins, the bookcase adds the usual opportunity for storage and display while lending character to the space.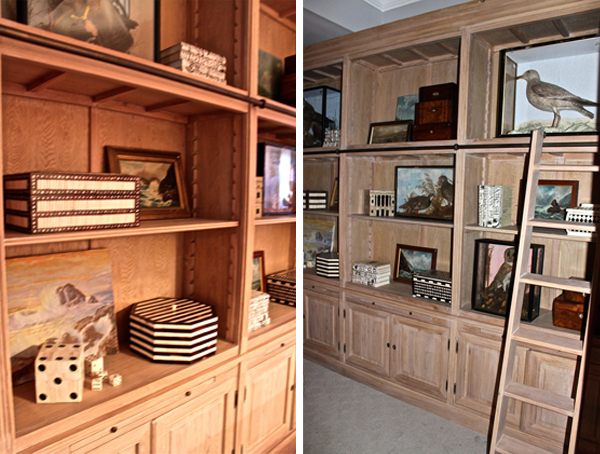 That concludes my coverage of the Traditional Home 2012 Hampton Designer Showhouse – phew! I apologize to those I didn't have a chance to include – it was just a matter of time and space! All the more reason for readers to visit! If you happen to be in the area, I encourage you to stop by – it is open through Labor Day!