Taking my cue from the inimitable Ms. Vreeland and a page from J.J. Martin's piece in today's Off Duty section of the Wall Street Journal, I'm hoping more people realize how easy it is to travel in style. While I certainly see my fair share of well-dressed men and women flying the friendly skies, there is also a preponderance of those who feel that comfort cannot be synonymous with stylish or even neat attire. That is of course their prerogative, but as someone who is always on the lookout for the aesthetically appealing aspects of life, my inspiration lies with those who do make the effort. And as the author points out, looking presentable is frequently appreciated, and occasionally rewarded, by airline staff and security (upgrades and infrequent pat downs). I love the shot included in the WSJ piece of Grace Kelly, Elizabeth Taylor and Laraine Day from 1954. Now that is "Flying in High Style."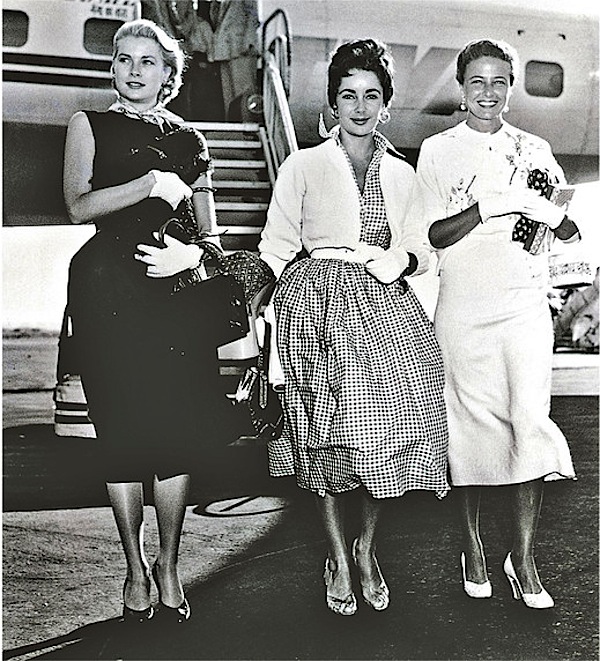 photo: Bettmann/Corbis via the WSJ
But others of the era took their style to the skies as well. Supreme travel style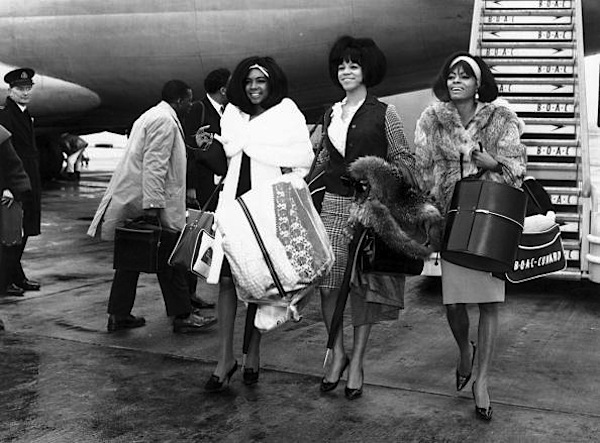 Bombshell deplaning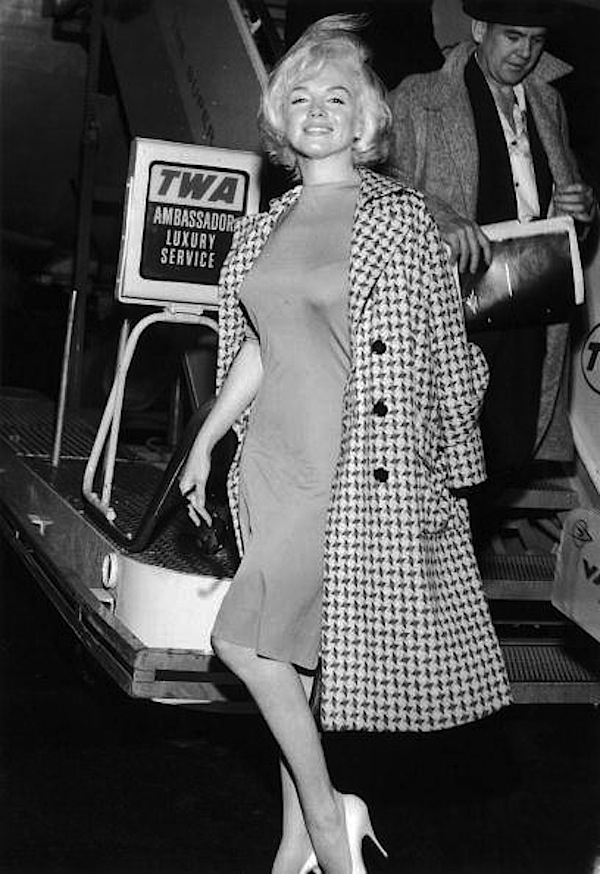 with canine companion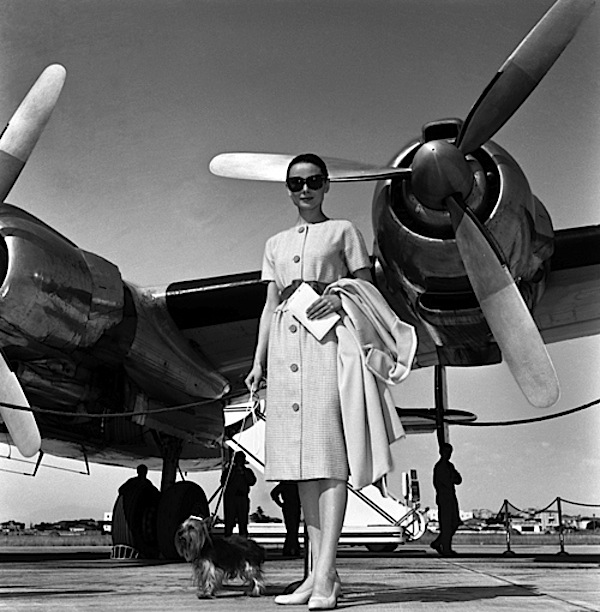 Swinging 60s style with Sharon Tate and Roman Polanski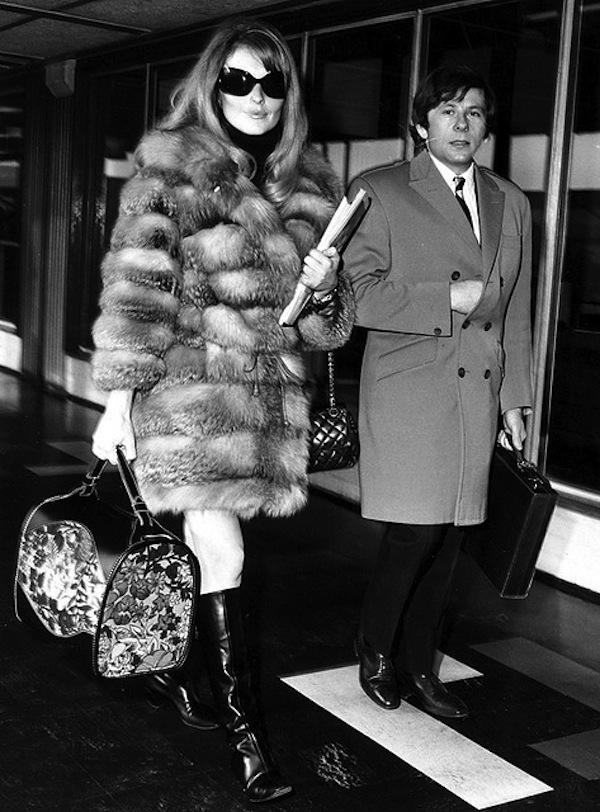 Unlike these beauties and article author, Ms. Martin, who prefer dresses for travel, I have a preference for pants, both for comfort and warmth. Unlike pre-911 travel, the travails of security is now a consideration as well, so comfort and ease, like the 60's casually chic style of Jean Shrimpton is a model to perhaps be emulated.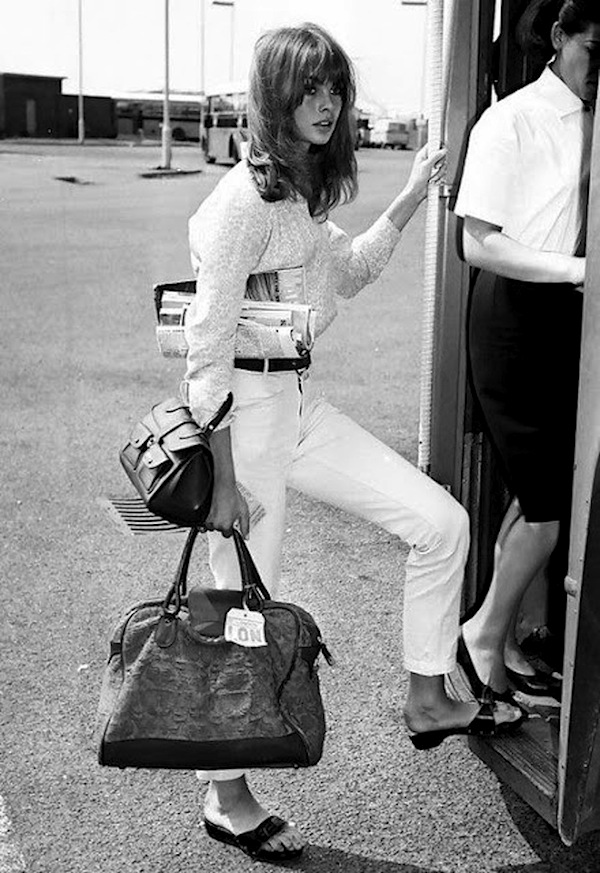 So here's what I'll be traveling in later today, a mix of old and new, high and low. My taste for style in travel is not far off from my preferences in interiors.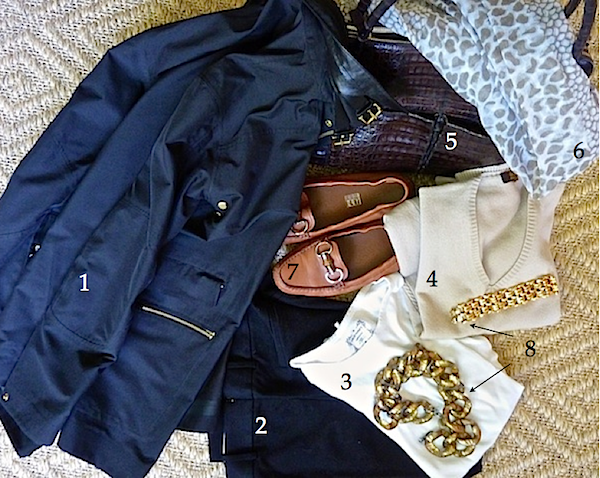 Here's a quick run down of the look for those interested. 1) A Ralph Lauren Collection jacket (bought at Neiman's Last Call sale a few seasons back) that works for both rain and cool weather layering. 2) The J. Crew minnie is a versatile classic – here in black. 3) I collect Old Navy tees and loaded up on this style which was long and slim. 4) This is my favorite go-to cashmere sweater, a fitted Italian version in a pale mushroom with beautiful subtle detailing. 5) Any who know me, know my bag. A serious but timeless investment, it is a beauty with fantastic organization and go-with-anything style. More than anything else I own, this consistently garners the most compliments. 6) I always travel with a scarf – this cotton neutral goes with my black, tan and navy travel scheme. 7)  Gucci Damo driving mocs are a fave – classic, comfortable and easy on and off at security 8) I don't travel with much jewelry. My vintage bracelet is an everyday wardrobe staple but I always include a few chunky costume necklaces for accessorizing like this light Pono chain link.
So there you have it. Hope I'll be getting in some good people watching of those who travel in style at the airport. Next stop Paris!