What to do in Paris? As we were planning our recent trip, my sister and I wanted to introduce the city to my daughters with a balanced mix of culture, history and fun. She spent the beginning of her career as a high level corporate events planner, giving her the perfect skills set to organize a trip full of memorable activities. These days, with information and acquisitions so readily available online, investing in the experience has become an important commodity. Even with not much lead time, she was still able to find some great Parisian activities that we all enjoyed. With the help of a local Parisian concierge service, we were able to go behind the scenes at several local establishments.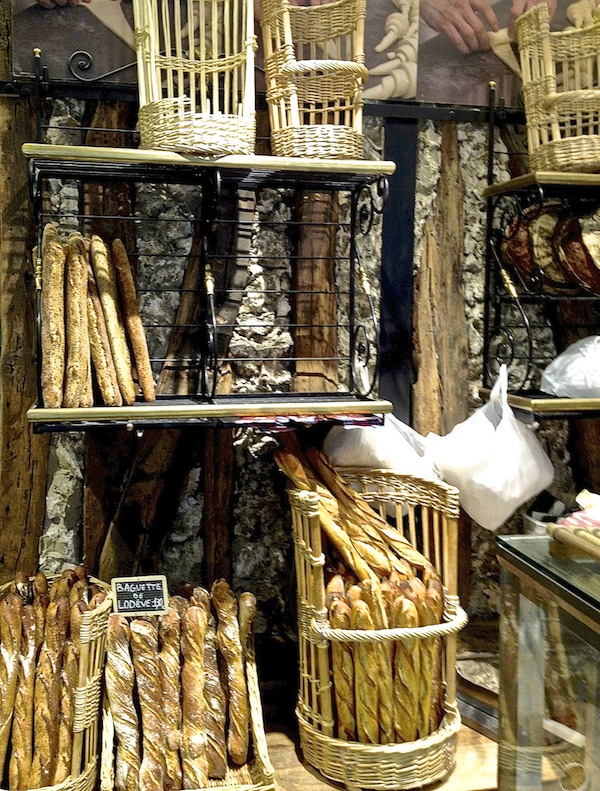 For a food family like us, learning how to make perfect Parisian baguettes and croissants at a wonderful bakery in the Marais was great fun. The proprietor, Benjamin, a charming ex-finance executive, has found his passion in a different kind of dough, baking hundreds of baguettes daily to sell in his two shops and to restaurants all over Paris. Here the mass of already risen dough is placed in a machine that divides it into equal portions.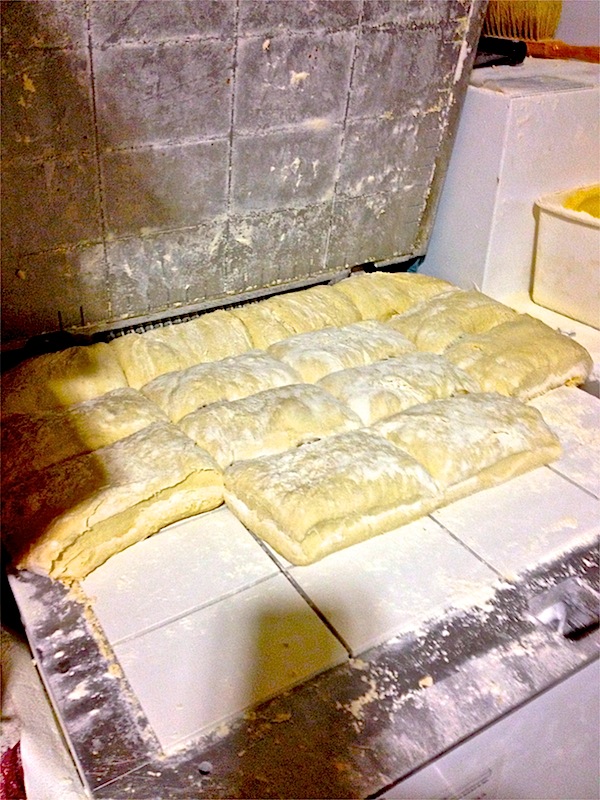 My daughter learns how to form a long length, folding it over on itself several times in the process.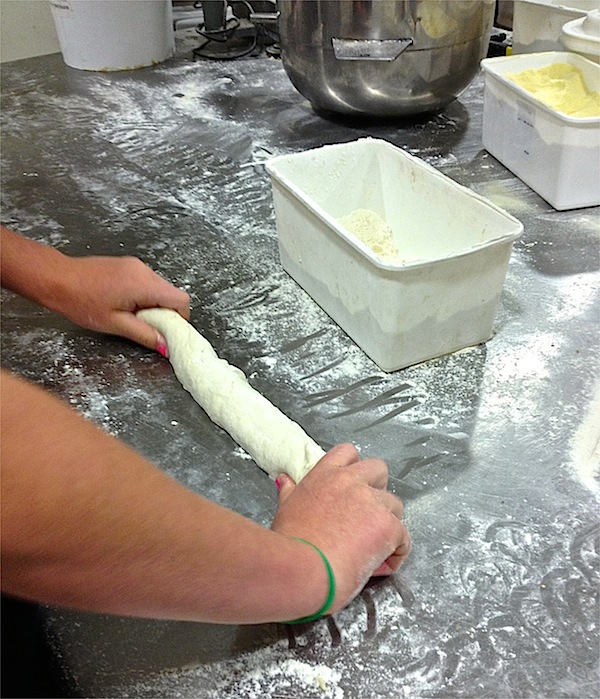 The loaves are then loaded onto a cloth so they don't stick to each other and carried over to the oven. You can see that some of the loaves are braided or twisted into different patterns.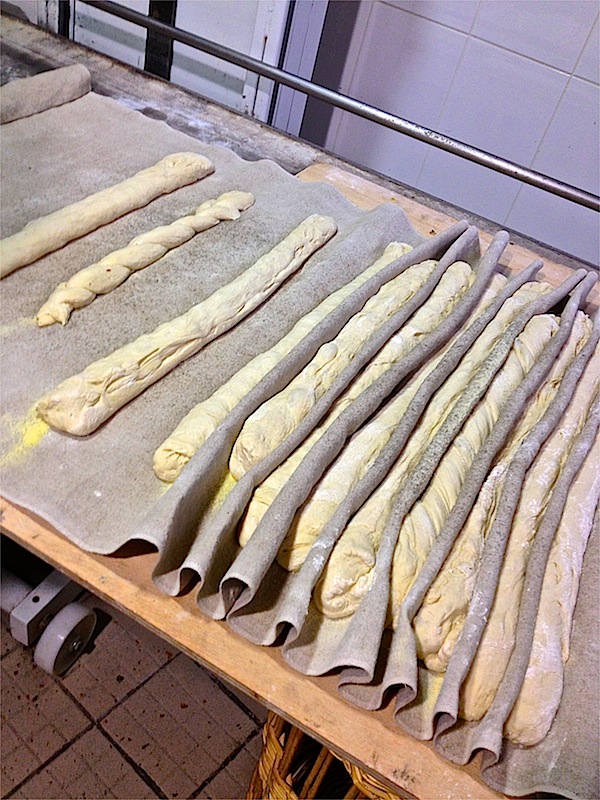 It's all in the wrist! Each baguette is then expertly flipped from the cloth to a plank to load.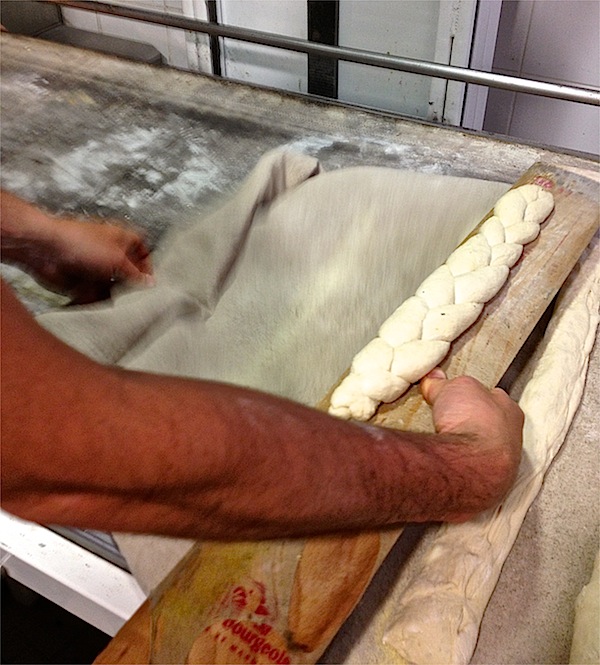 Each baguette receives several diagonal slices with a razor blade to allow for even baking.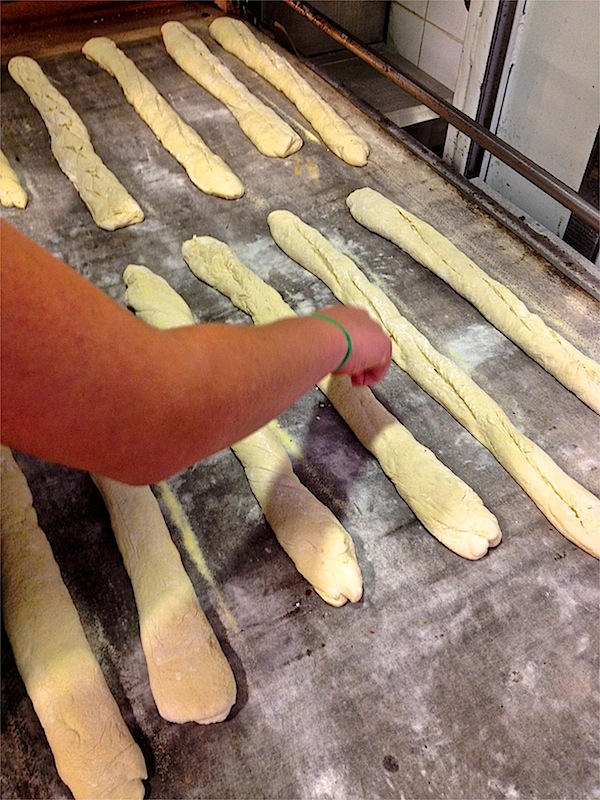 And look at the beautiful (and delicious) results – we were all so proud! Benjamin explained that true Parisian baguettes are very crusty and on the dark side. He frowns on the paler softer variety. His are made with very little gluten that makes them not only easier for many to digest but helps the bread to last longer.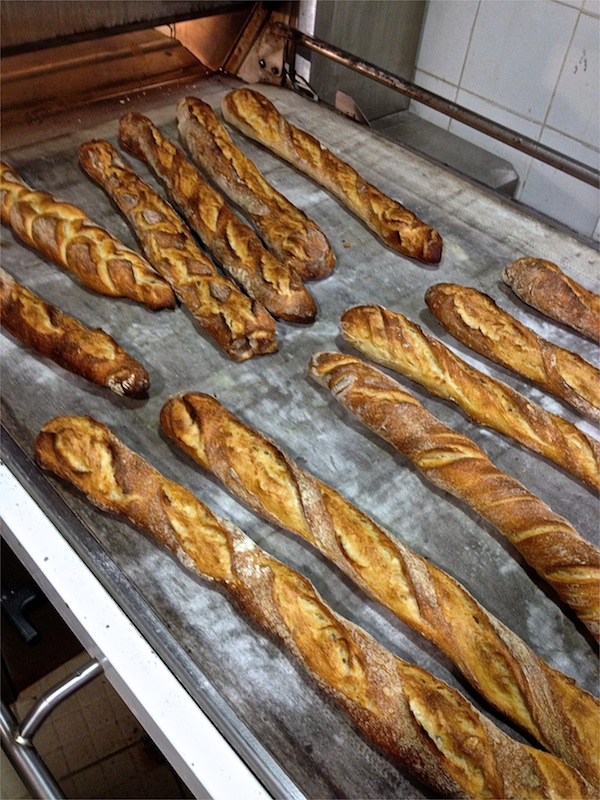 We also learned how to bake (or should I say prepare, since the dough was already made) the perfect croissant. The dough is hand fed through a machine several times to create the many necessary layers and is then cut into triangles as you can see at the top of the shot below.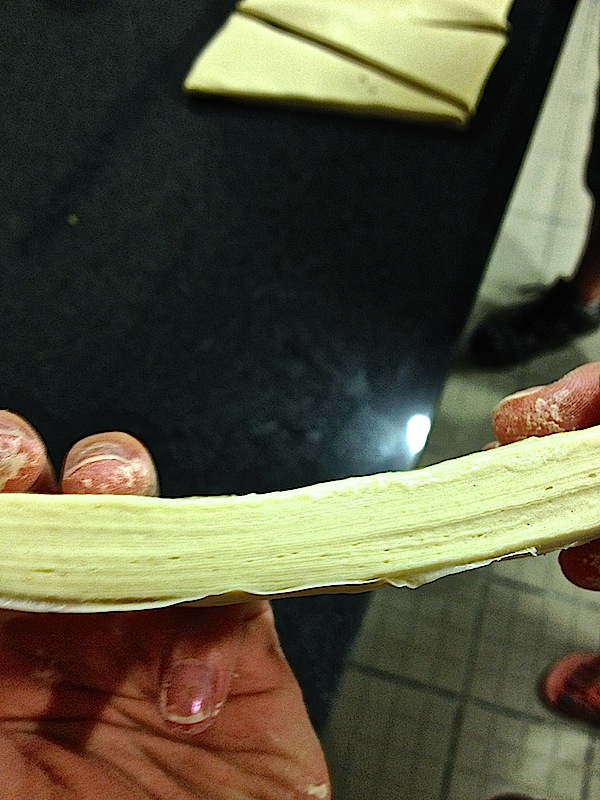 You can't believe how quickly and perfectly Benjamin can roll each one up into the perfect shape. It took us longer but we got the hang of it. (sorry – doughy hands make for blurry pictures).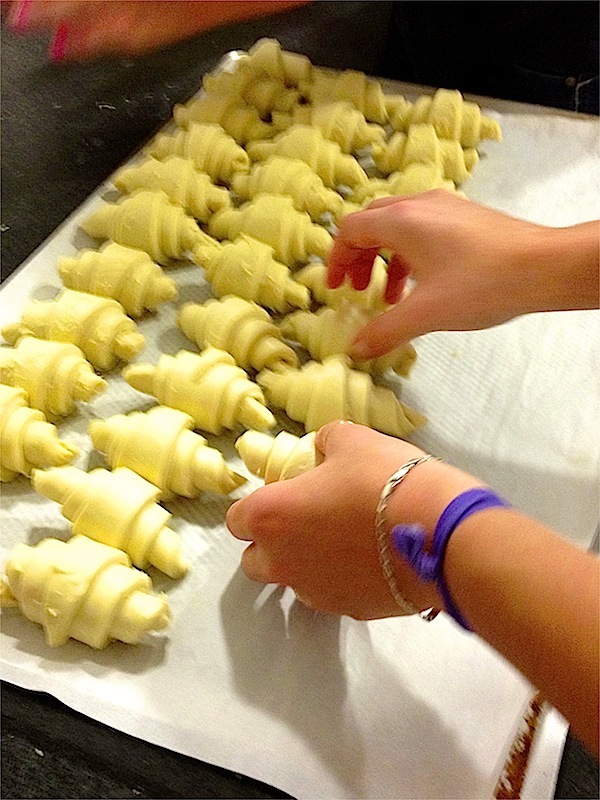 Et voila! Delicious perfection!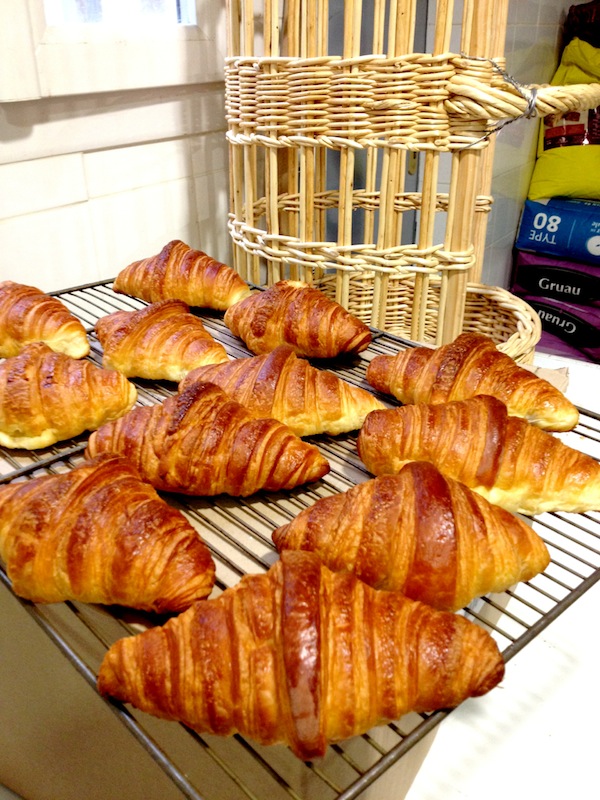 Although not officially part of our two hour class, we were also treated to some pastry baking observation. The key to the tarts is of course the freshest produce.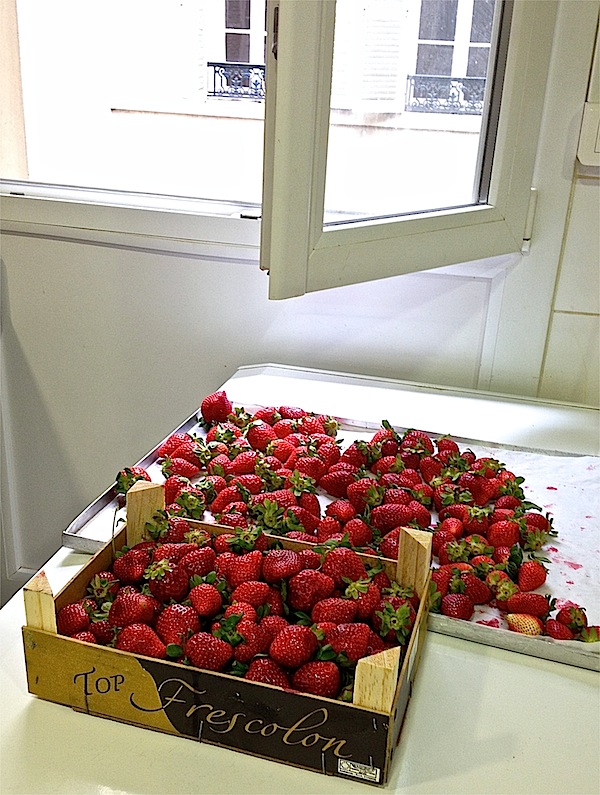 Custard perfectly piped into prebaked tartlets. (mini clafoutis loaves in front)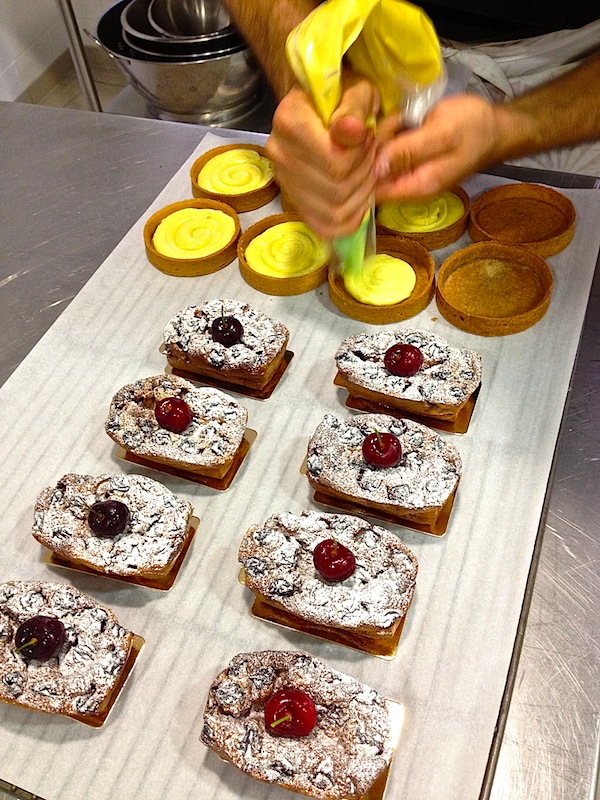 resulting in these beauties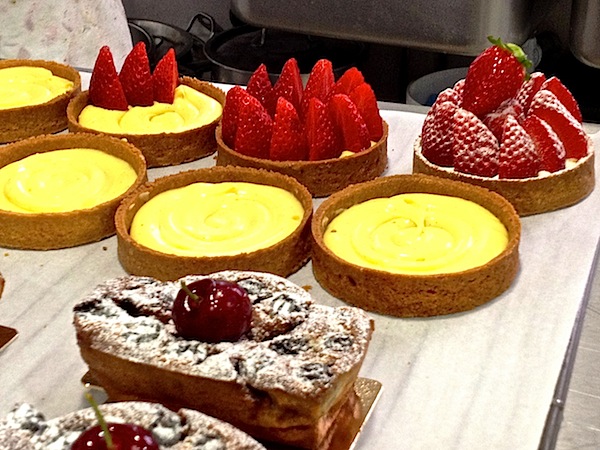 The same tartlets were the basis for praline and chocolate confections.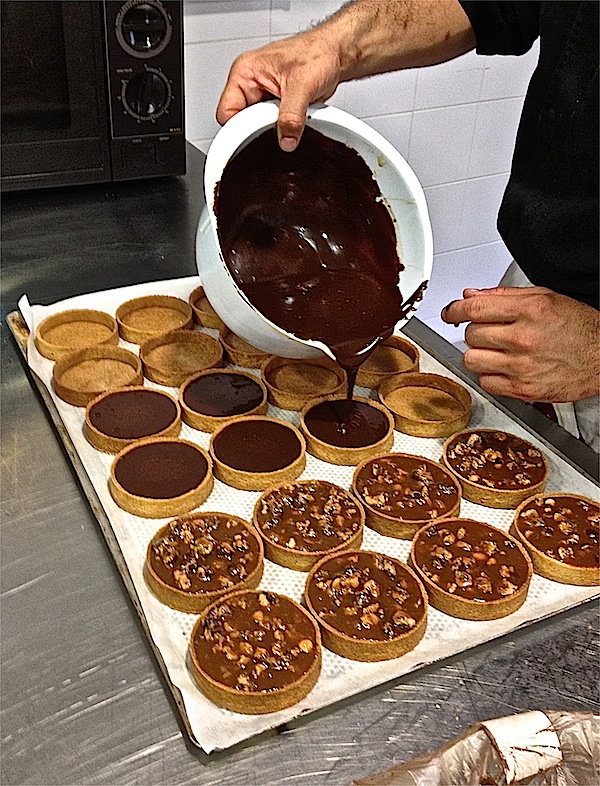 What a great experience! And afterwards we brought delicious sandwiches from the shop, sat in a nearby park and listened to a local school band performing. Stay tuned for more unique ideas of what to do in Paris!