Another smaller show celebrating innovative design and authenticity was Tramshed. Located on Rivington Street in the heart of the artsy Shoreditch Design Triangle, this was the second year for the event during the London Design Festival. Although Tramshed offered many seminars and interactive lifestyle discussions, we just managed a quick whirlwind tour through the loft-like space to become familiar with some of the exhibitors.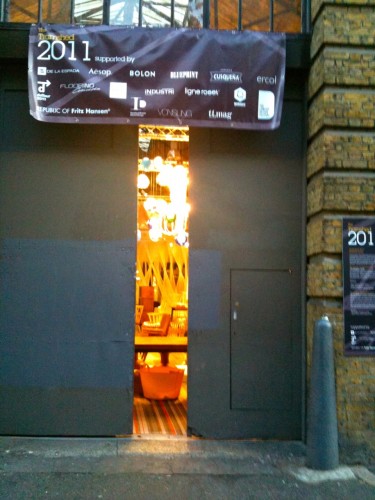 Leading the show was De La Espada, a design management firm and manufacturer, representing seven designer-led brands, all focused on high quality contemporary products. The Turkish-based architecture, interior design and product design studio of Autoban was one of my favorites. Their bold pieces are iconic statement pieces. I'm trying to think where I could fit a pair of the fabulous Nest Lounge chairs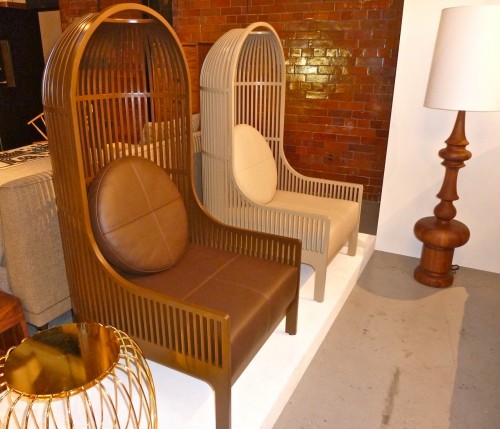 To the right of the chairs is the shapely King floor lamp, thus named for its resemblance to a giant chess piece – it's a glamorous and somewhat exotic light also available in a smaller table size – don't you just love the fabulous turquoise high gloss?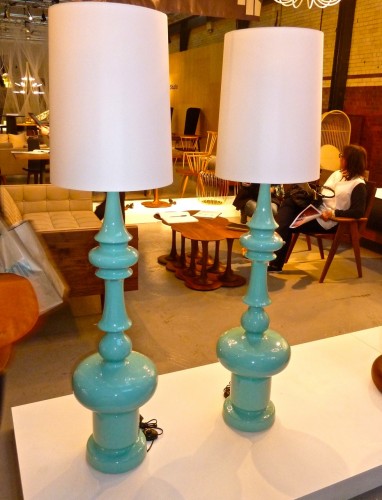 Autoban's latest design project is the THH Bosphorous Hotel in Istanbul. Their concept was to combine old and new (see why I like them?) incorporating their signature use of luxurious classic materials such as marble, brass, oak and walnut to combine modern design elements with a sense of the past.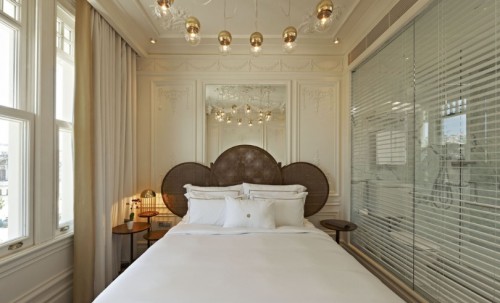 De La Espada just launched its collaboration with British designer Benjamin Hubert. His collection has an industrial feel with an emphasis on materials and the process of crafting the object. Made from pressed felt (a material seen in many collections throughout the festival), his fabulous Pod acoustic privacy chair (this piece designed for Dutch label De Vorm) has a strong tactile appeal,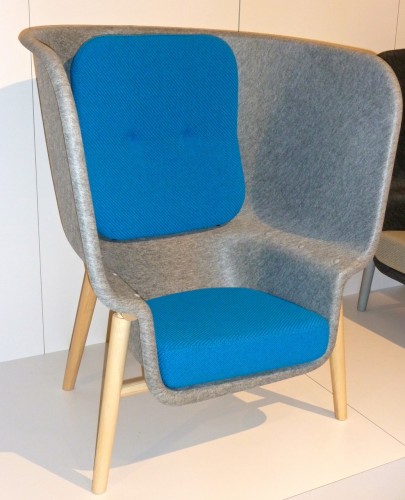 I loved his hand-turned marble Quarry lights. Their luminous quality, like much of his collection, walks the line between the organic and industrial. In the back you can see the dramatic installation he did for De La Espada using debri mesh.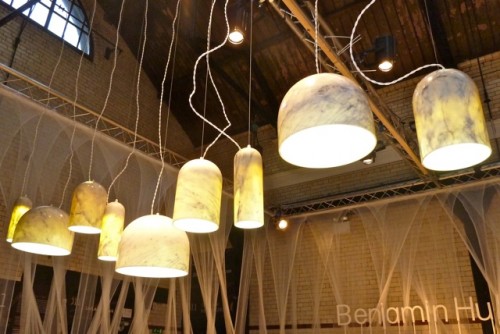 Another company in their repertoire is Leif.designpark, a Japanese design studio who have a strong focus on traditional craftsmanship with their emphasis on wood. The Flower Cup chairs have an elegant almost delicate shape. The Lily table is available in other shapes and sizes some with a marble top.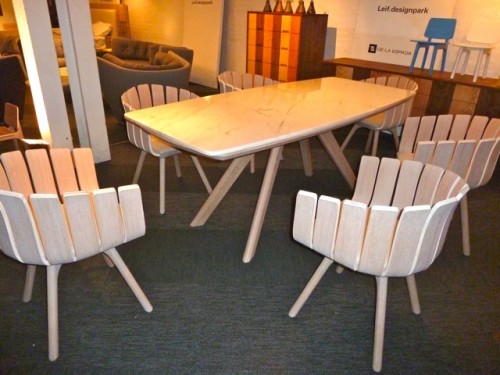 Another designer who caught my attention was Irish artist Karen Morgan, whose innovative porcelain line is a winning combination of sculptural handcrafted pieces with a contemporary minimalistic flair.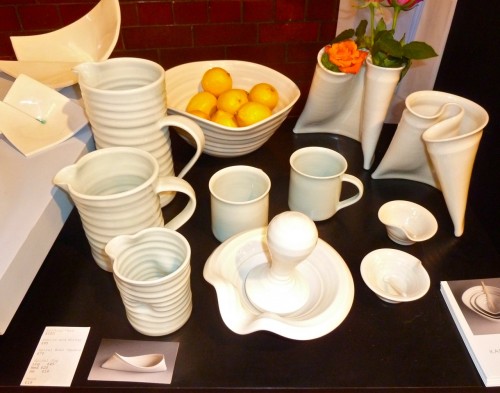 It was impossible not to be entranced by Canadian lighting firm Bocci's exquisite 28 series by Omer Arbel. Each hand blown 28 is created from a proprietary complex glass blowing technique. Resulting in distorted spherical shapes with inner forms, one of which is made of opaque milk glass housing a low voltage light, each 28 globe is unique.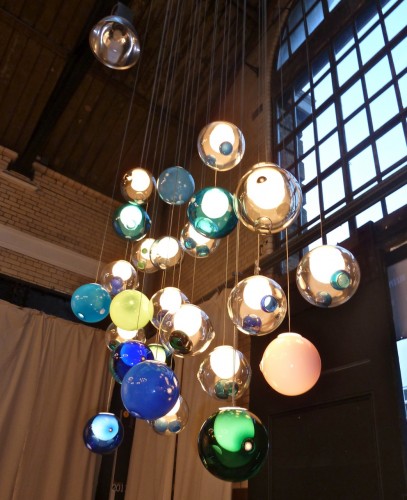 If you are interested, as I was, here is a short video, showing the process
28 series from Bocci on Vimeo.
Lastly, I loved the very interesting work of John Reeves of REEVESdesign. This piece from his SKETCH collection reminded me of the architecture of Antonio Gaudi. Reeves, who I chatted with briefly, said he had heard that reference before. He describes the fluid and organic form of the collection as capturing "the tension between the stationary and the moving, the living and the inanimate, the man made and the natural". It's all about the juxtapositions.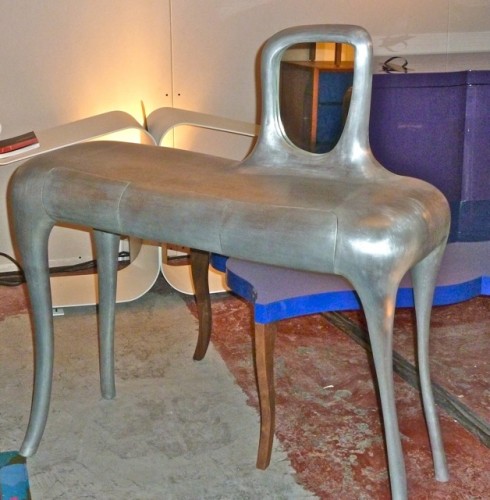 I also loved his Aqueduct Bookcase. I'm using the product shot because it was very hard to capture the beautiful brass interior lining.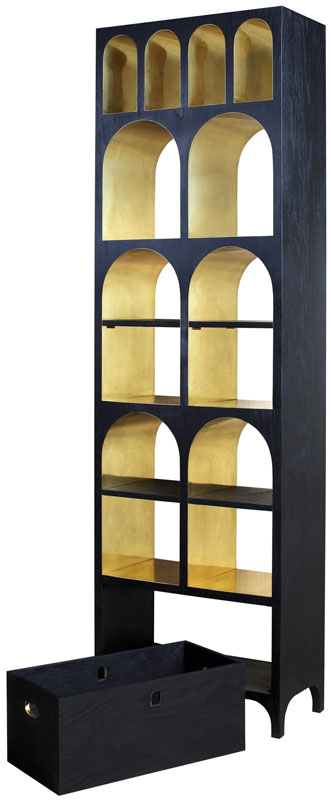 Reeves' designs are available here in the States at abc in NYC.
Tramshed was another great design venue. In the best of all possible worlds it would have been fabulous to attend some of their seminar series which encompassed discussions with designers, manufacturers, producers and journalists. A couple of of the interesting topics included "The Designer's Craft" and "So You Want to Launch a Design Brand?". If you'd like to have more of a feel for Tramshed, take a look at this lovely video filmmaker Juriaan Booij made for De La Espada.
We really needed another week to cover all that there was to see – you reading that Veronika?