With a breathtaking setting overlooking Beverly Hills, Greystone Mansion is the spectacular location for the 2015 Luxe Magazine Maison de Luxe Designer Showhouse. A magnificent example of gilded age architecture, the estate has weathered the years with distinction thanks to the efforts of the city of Beverly Hills and Friends of Greystone. This year's designers have taken the opportunity to update the stately rooms with style.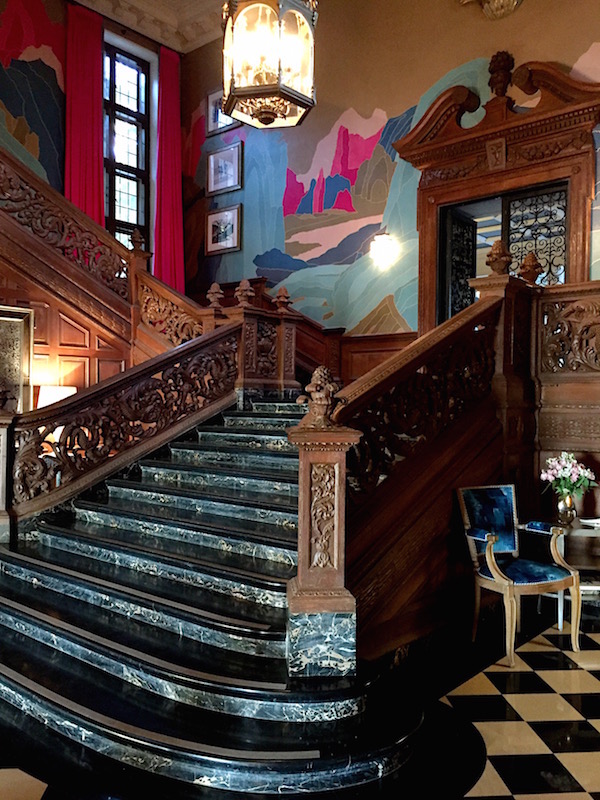 In the entry and upper landing, designer Timothy Corrigan has honored the legacy of the estate and the city with a dramatic and colorful mix of old and new. An original shot of the entry below for comparison.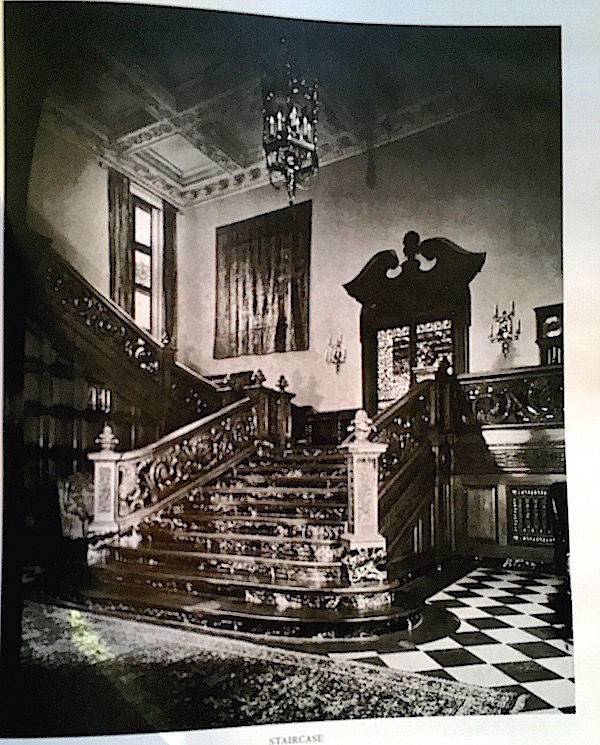 Grand Entry Hall at Greystone is one of the most architecturally impressive spaces in the house but rather dark with its extensive wood paneling and sparse windows – one on the stairs and one on the second floor landing.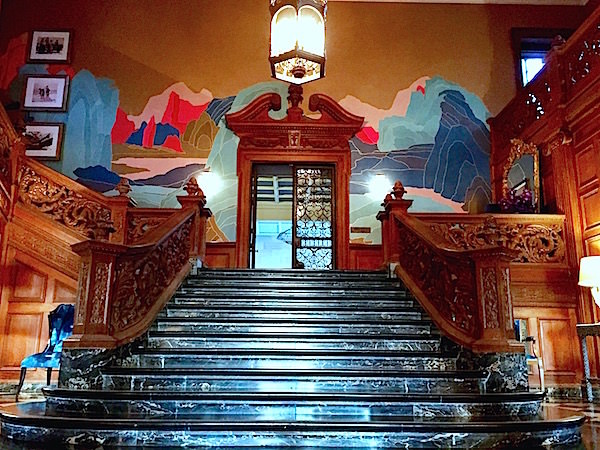 As Tim explained, "Our objective was to infuse the space with color and light while still respecting its majestic scope." Inspired by the hills that serve as the setting for the mansion, he worked with British wallcovering company Fromental to create a custom coloration of their new "Rockface" pattern. With hues ranging from hot pink and tan to turquoise and blue, the wallpaper brightens the space, echoing the technicolor glamour of Los Angeles.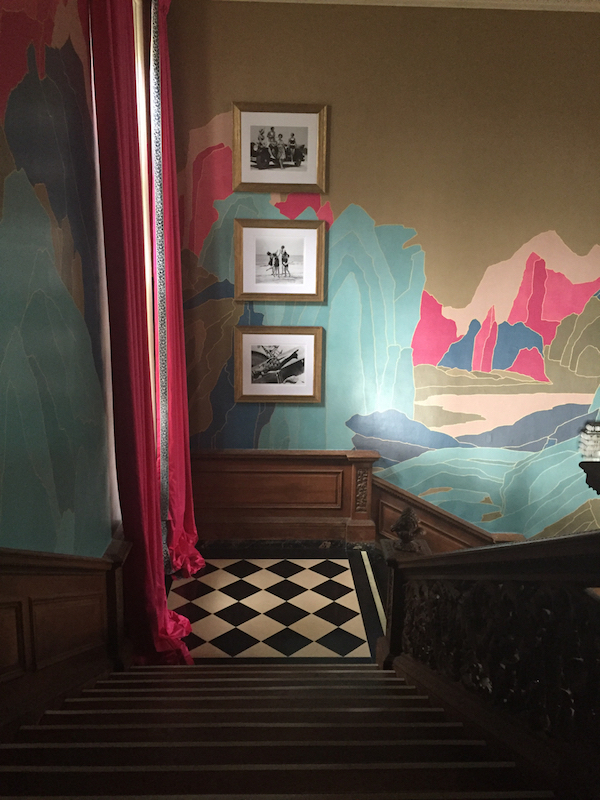 The color story is continued with bright pink curtains of a Manuel Canovas fabric, adding a sense of lightheartedness and modern mystique to an otherwise imposing space. Black and white photos from Trowbridge Gallery harken to the past, featuring the elegant and playful spirit of 1920's Hollywood.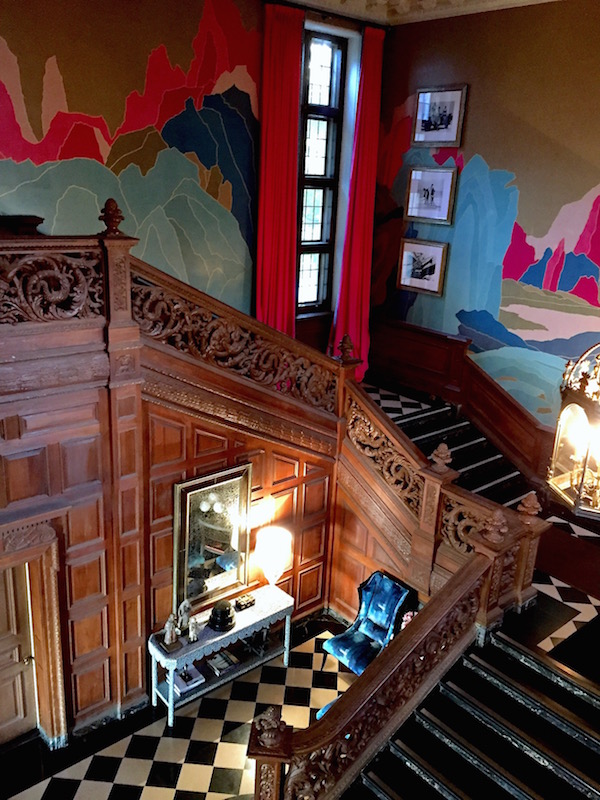 On either side of the stairs on the first floor, sitting areas feature a stylish mix of old and new. 1940s French Arm Chairs from Tim's collection of antiques are upholstered in a contemporary Zoffany pattern and custom consoles, with whimsical scalloped edging, are covered in Tim's leopard Madeline Velvet for Schumacher.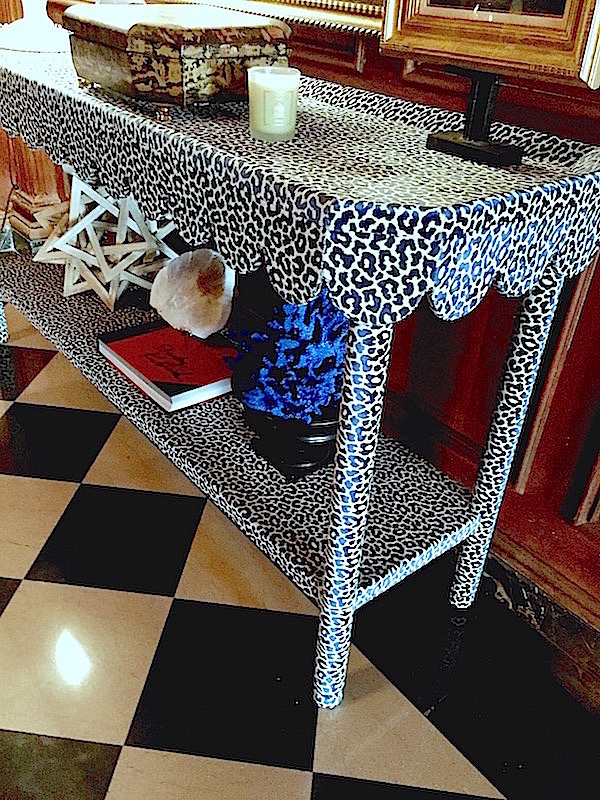 The colors from the entry hall are carried up to the second floor Upper Landing. Here a multi-colored Missoni rug anchors the space with movement and whimsy.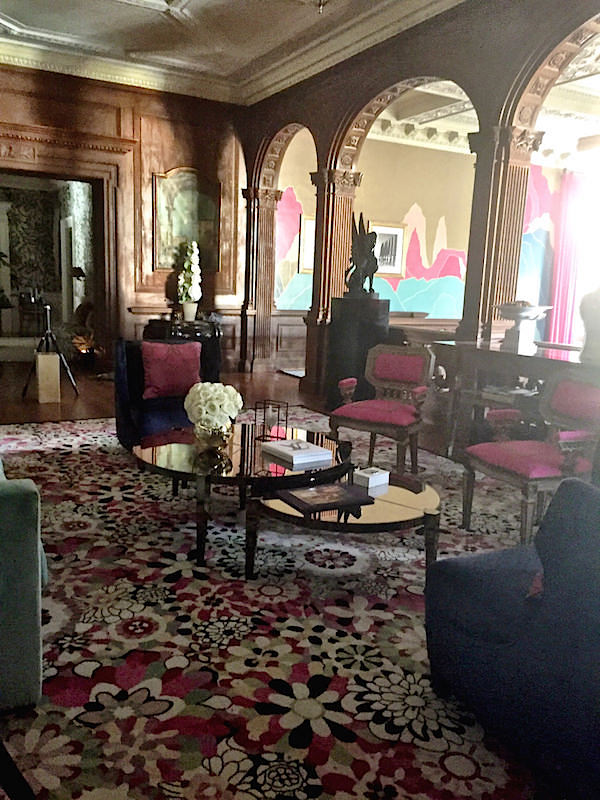 A turquoise velvet sofa, modern Fendi chairs and coffee tables are paired with Zuber panels, a Venetian Capriccio painting, 18th century Baltic Chairs from the Timothy Corrigan Antiques Collection, upholstered with a fun and fanciful twist.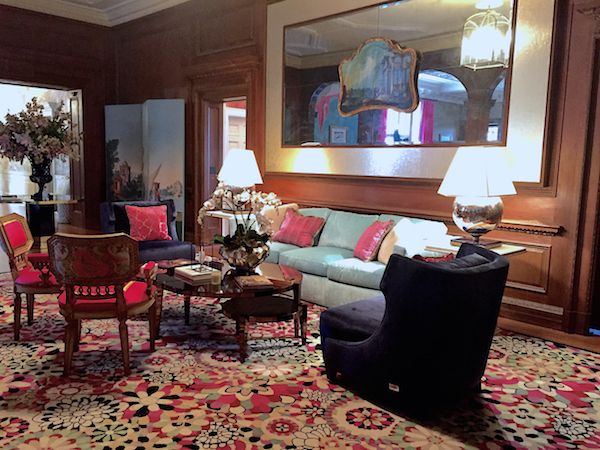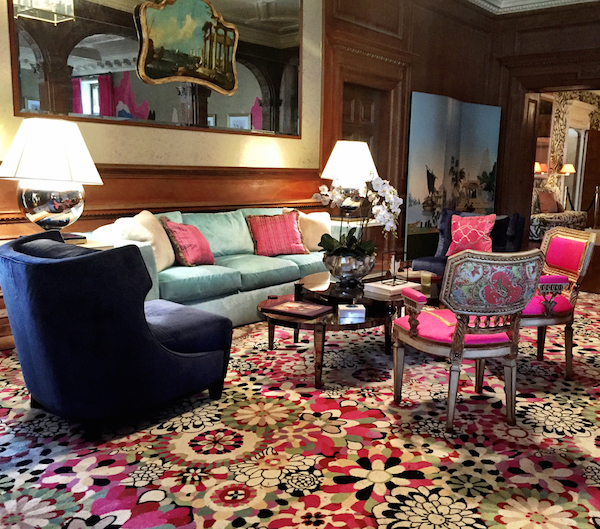 The seats are of the same fabric as the curtains while the backs feature Pickfair Paisley from Tim's fabric collection for Schumacher.
The landing pays homage to the stature of the residence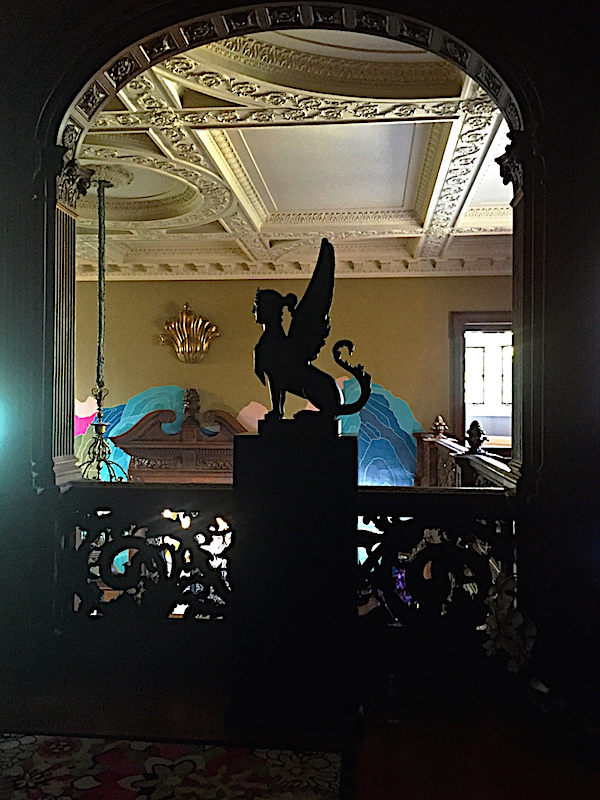 while creating an environment full of fun contrasts and visual delights. Below a paper Livia Cetti black hollyhock sits on a leather Italian commode. An entry sets the tone for the entire house and Timothy's gracious yet lively space respectfully nods to the past while bringing the house into a new era for contemporary living.