I just received my David Easton book, Timeless Elegance, today and although I don't want to spoil it for those of you awaiting your copies, I couldn't wait until next week to post at least a few images.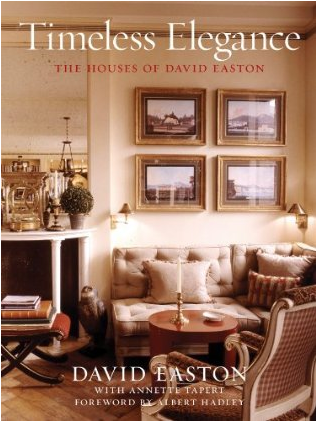 The title is apt – Easton has mastered this genre. One image is more beautiful than the next. Some of his more extravagant designs are a bit too over the top for my taste, such as the Kluge's famous Albemarle House in Virginia, the contents of which Sotheby's auctioned earlier this year for a grand total of $15.1 million.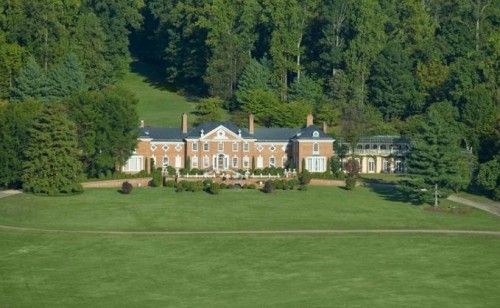 But most are lovely and there is no denying that Easton is a supremely talented architect and designer. The photographs are beautiful as are Jim Steinmeyer's drawings.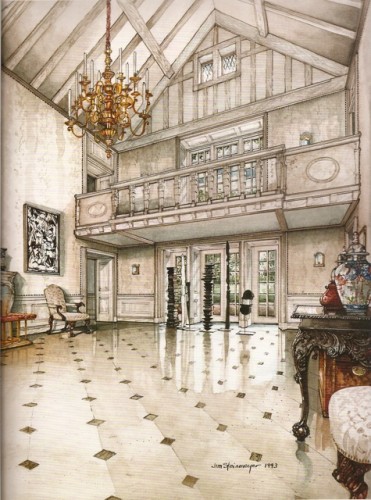 Even the casing is understatedly elegant – a John Fowler type red with a simple gold embossed spine. The text, accomplished with the able assistance of seasoned veteran Annette Tapert, is approachable and conversational with a modest tone and Easton's introduction is informative and charming as witnessed by this photo of him and Lizzie having breakfast at Balthazar which is featured at the conclusion.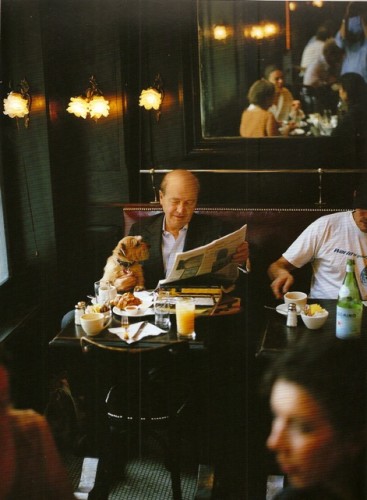 You will recognize many of the images, but there are certainly enough that I hadn't seen and it's always nice to have it all contained in one volume.
Here is a quick peek inside.
Let's start with this lovely bedroom from the Serrano house in Mexico City.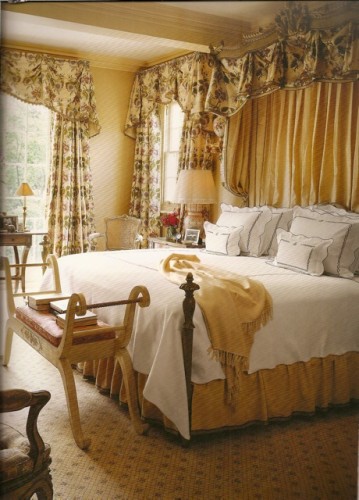 When I saw this next image, it reminded me of Joni at the wonderful Cote de Texas, because of both its Texas location and its successful mix of casual vernacular architectural style with Continental antiques.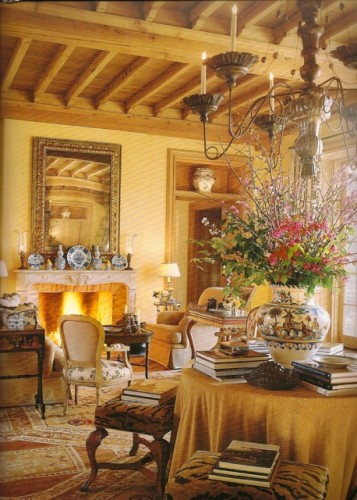 Sprinkled throughout the book are Easton's own sketches, particularly of lanterns, which he collects. This drawing is based on one he saw in a villa in Italy.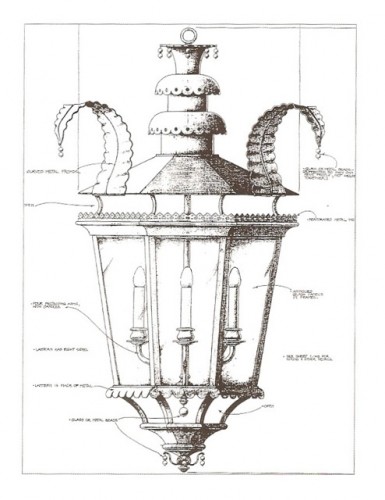 And incorporated into this fabulous entry in a house in Nassau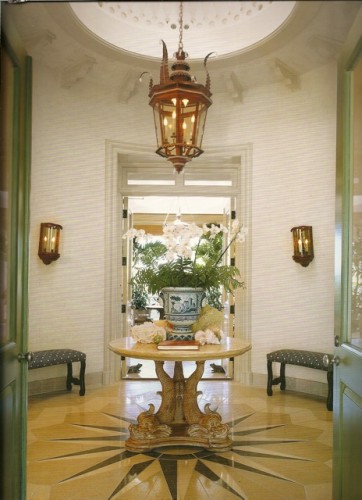 As seen above, Easton is a master of entries. His vignettes in small spaces are superb. Take for example this niche in a house in Aspen.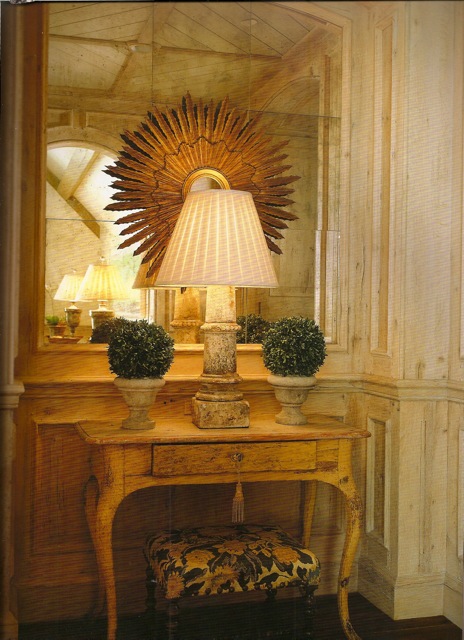 The woodwork is bleached pine, wire brushed to show the grain, and then stained pearl gray and glazed to an antique finish. The attention to detail is amazing.
In this Aspen entryway, Easton used limed oak millwork and a Swedish painted console table (excuse the page divide).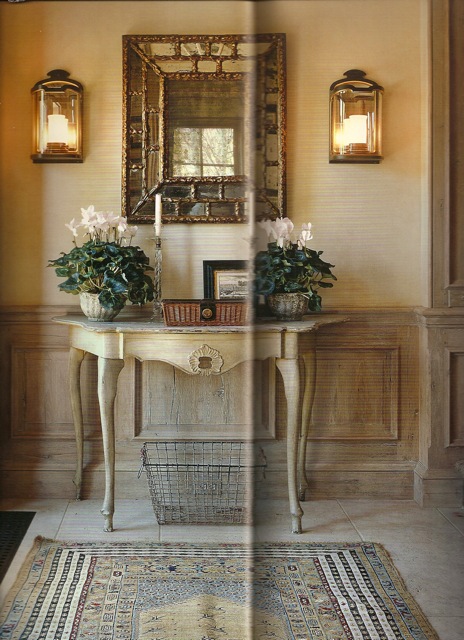 How would you like to soak in this tub overlooking Central Park? The mosaic floor is copied from an ancient one in Pompeii (naturally) and I have a weakness for curved tub enclosures,  especially since my husband nixed it when redoing our last bathroom.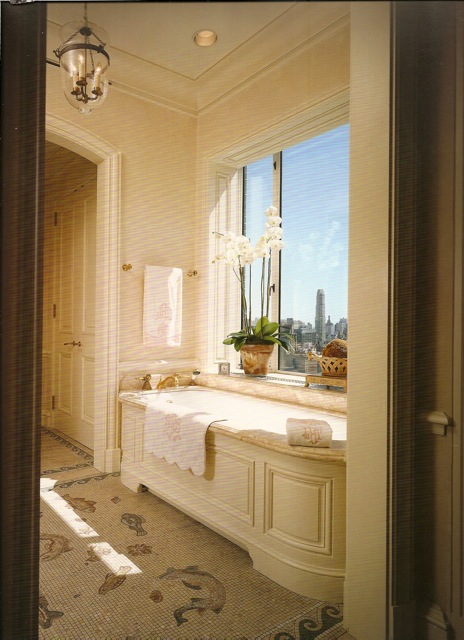 This next New York City apartment is an interesting story. Easton had done a total renovation for a client in 1995. She then sold it to someone whose last place Easton had done fifteen years earlier. Of course she brought him in for the job again, which meant he had decorated this apartment for two different clients, twice within four years. Here is the gallery hallway as decorated for the second client. How fabulous is the stenciled floor, which was kept from the first renovation – can you imagine getting rid of it?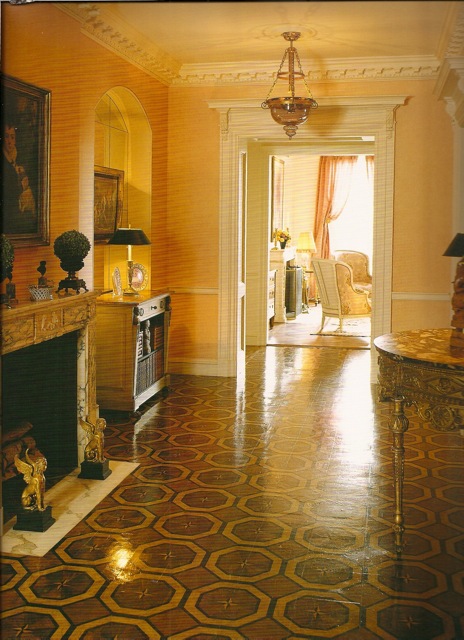 This library from the same apartment (decorated for client #1) was always one of my favorite images of his with the beautiful painted wood and Napoleon III furniture.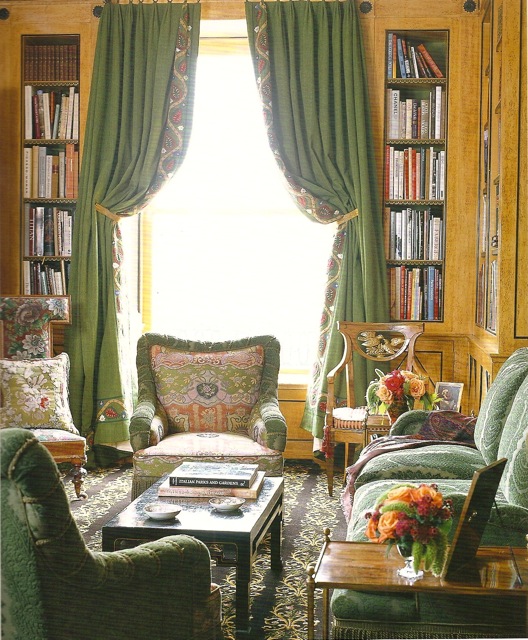 The last section of the book is devoted to Easton's own residences. Most of you will remember his gorgeous house, Balderbrae, in Suffern, New York. I still have tattered tear sheets of it from years ago. Here is the charming dining porch.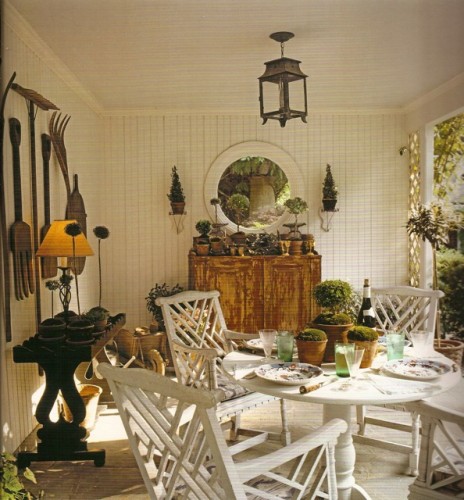 This stunning entry (yet again a perfectly orchestrated vignette) is from Easton's current residence in a renovated loft downtown in the Flatiron district.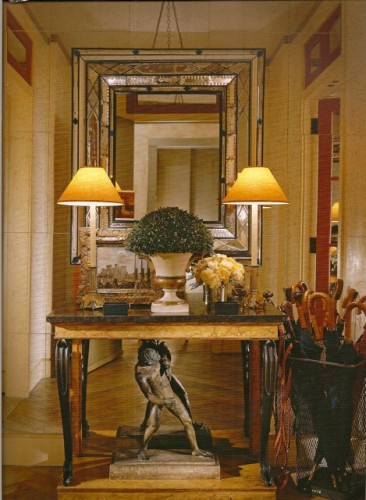 He is contemplating a redecoration in what sounds like a more contemporary Belgian style aesthetic with upholstered pieces in more "linenlike materials."
The epilogue references his latest personal project – a modular house in Lac Brule, about an hour north of Montreal. Although the layout will be similar to Balderbrae, the construction will use all sustainable materials and will have geothermal heat and solar panels. Easton, a vibrant 73, sums it up in both an appreciative and forward looking manner, "How lucky I am to have the opportunity to build a house for myself that is both an intellectual and professional search of what "home, sweet home" will mean in years to come." And how lucky are we to have a look at the results of his intellectual and professional achievements so far.