The Scottish Country House counts as one of my favorite volumes this season. While I am dreadfully behind in my book reviews this year, I wanted to be sure to squeeze this wonderful title in before the holidays. More than merely a book on glorious interiors, this appeals to any who also love Scotland, art, architecture, history, and the people whose stories unite them.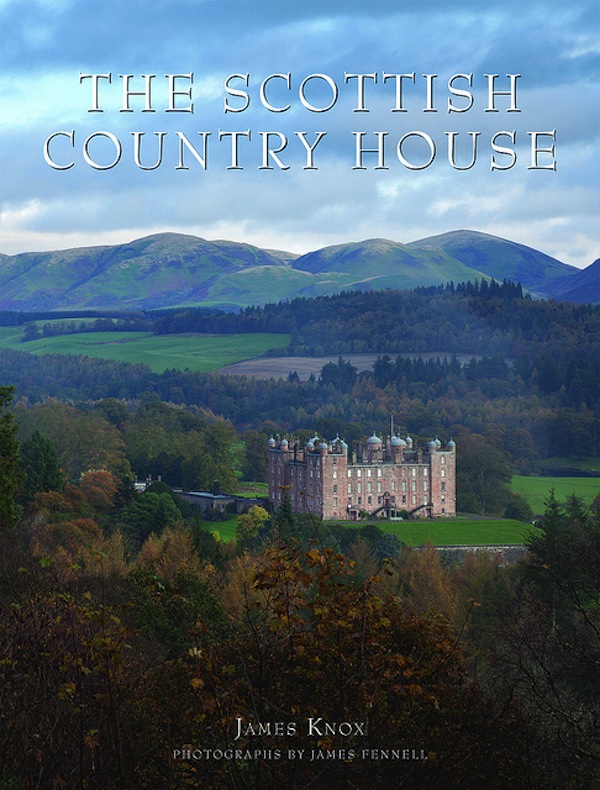 This book is indeed a story, of ten extraordinary houses and castles, all but one still occupied by the families who built them. These homes are not only representative of Scottish history and its corresponding decorative styles, but of the people who inhabit them, expressing personalities from the traditional to eccentric. Yet the commonality throughout is the sense of pride and endurance. Like the spirit we remember from Braveheart, for example, the strength of the Scottish people, for both their land and heritage comes through in the portraits of the dedicated owners.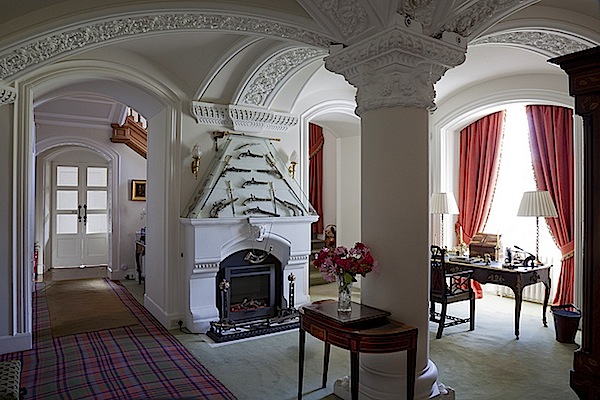 Take Ballindalloch Castle for example. As Lady Laird Clare Macpherson-Grant Russell (and don't you just love that there are such a thing as lady lairds) shares, "Ask the owner of any great house and they will tell you that inheriting is the easy part. It's hanging onto the place that's hard." But since 1546, that's exactly what her family has done and now, with her husband Oliver Russell, they have not only maintained but thrived with innovative and creative solutions, including best selling books by the lady laird. Above the hall with its beautiful plastered vaulted ceiling, originating from a single pillar, updated in 1850 by local architect Thomas MacKenzie.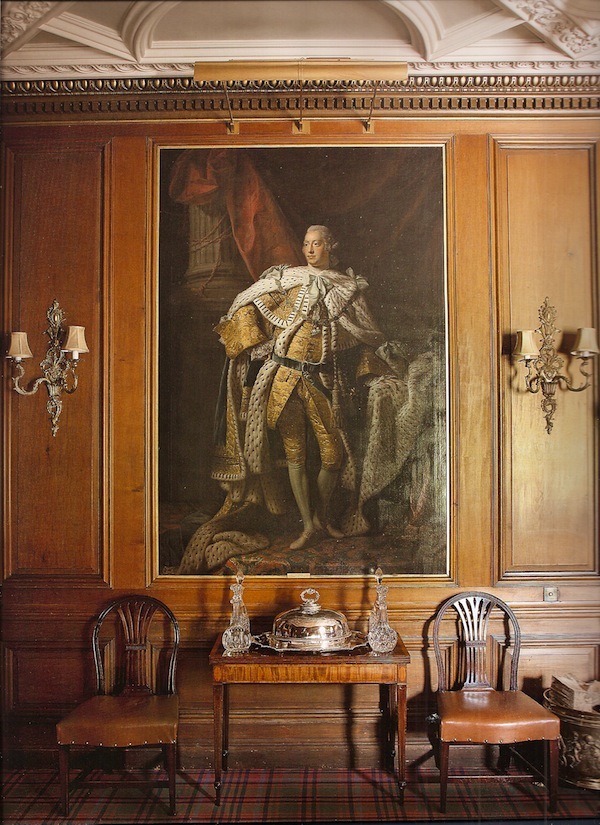 The dining room features a prominent portrait of George III by Allan Ramsay. How timeless are the leather upholstered chairs with nailheads!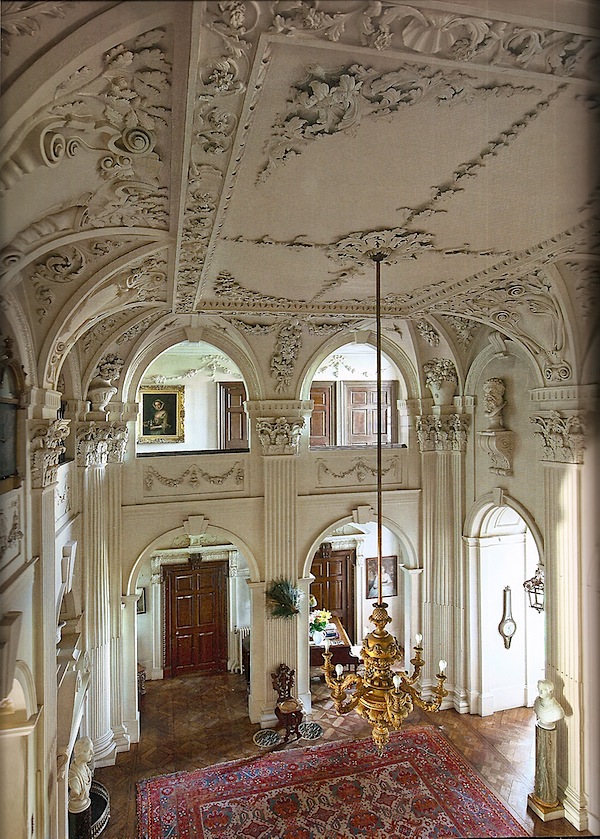 Another lady laird, Althea Dundas-Bekker confesses that her love for her house "is all tied up with my love of Scottish history, precipitated as a child by seeing the film Bonnie Prince Charlie starring David Niven." With an austere facade, architect William Adam's spectacular entrance hall is a jaw dropping ode to baroque. It took German craftman Josef Enzer  six years to complete the plastering. The original library, below, remains intact, with carving and stuccowork also by Enzer.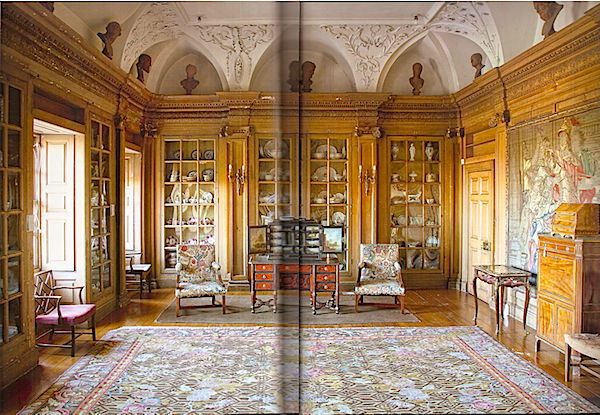 In contrast to Adam's baroque is architect William Bruce's vigorous classicism at Balcaskie, which can be seen in this handsome gallery.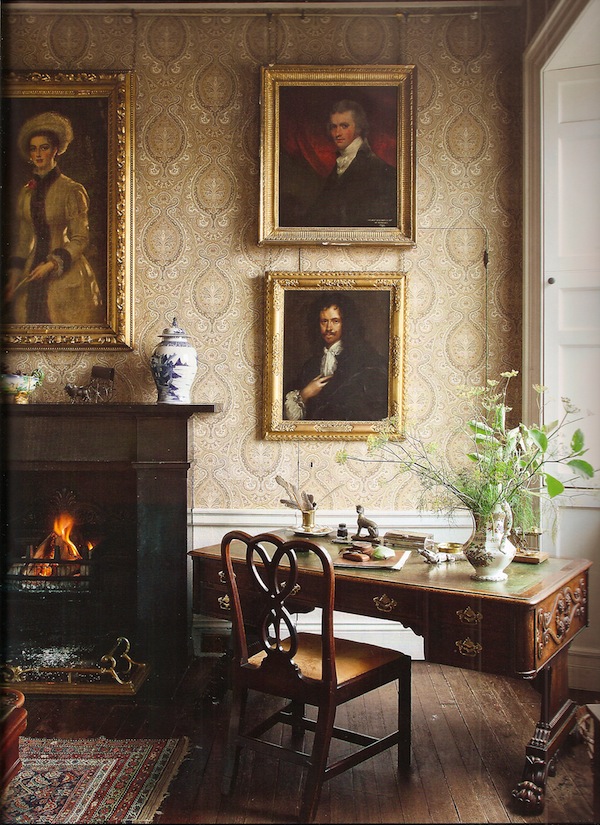 One of the most well known examples is Dumfries House, rescued by Prince Charles in 2007, after the last family member put the house up for sale.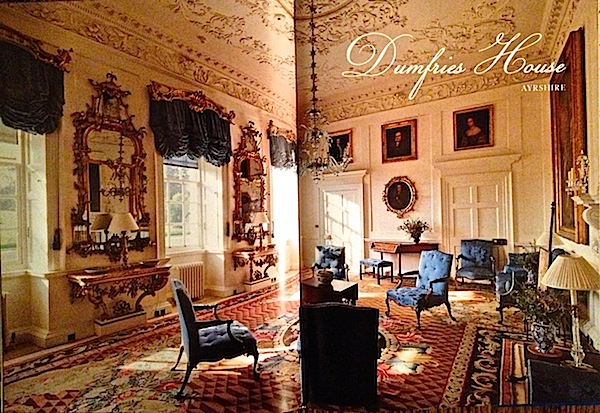 The young Adams brothers, John and Robert, designed a masterpiece in Dumfries, considered their greatest early country house, of rose-tinted sandstone from the estate. With an elegant classic exterior, the interior features a frothy rococo, perfectly suited to Lord Dumfries' extravagant tastes. He went on a major buying spree for the house, purchasing over fifty items from Thomas Chippendale. Below an 18th century Murano chandelier in the entry. What is remarkable is that every original invoice and instruction from 1760 is preserved, making it one of the most complete documents of Enlightenment taste in Scotland.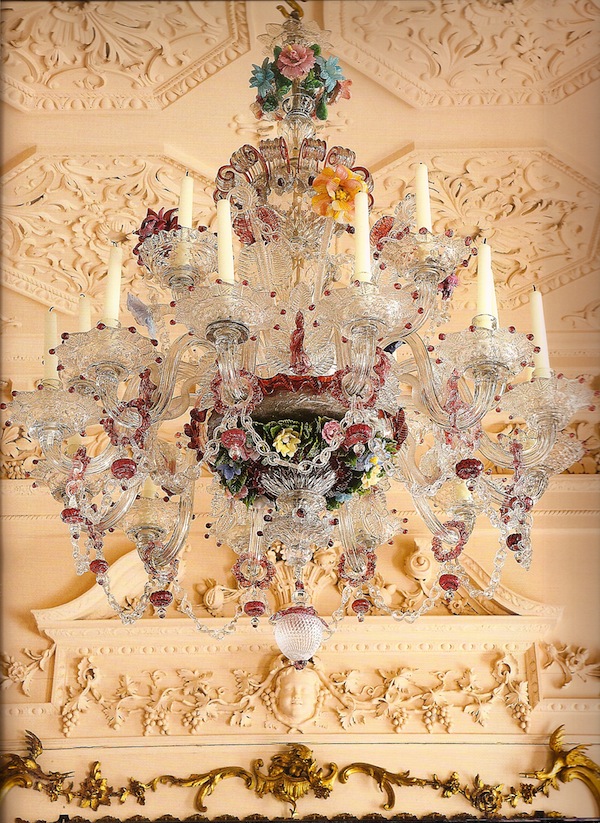 A family bedroom includes an amazing Chippendale bed, completely swathed in silk.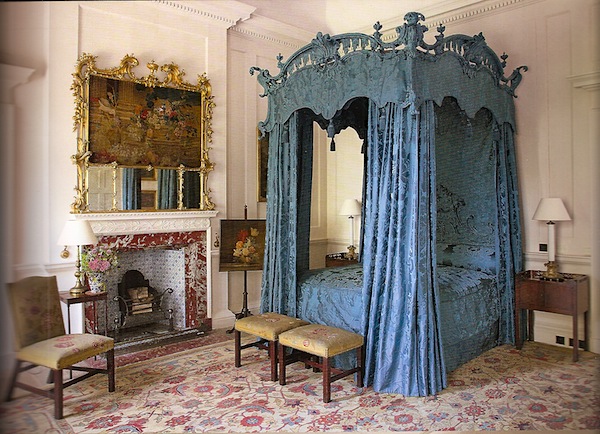 Lord Dumbfries' study is appropriately restrained. But importantly, not only has Prince Charles rescued the house, but through associated programs and projects has rejuvenated the surrounding area, creating a lasting legacy.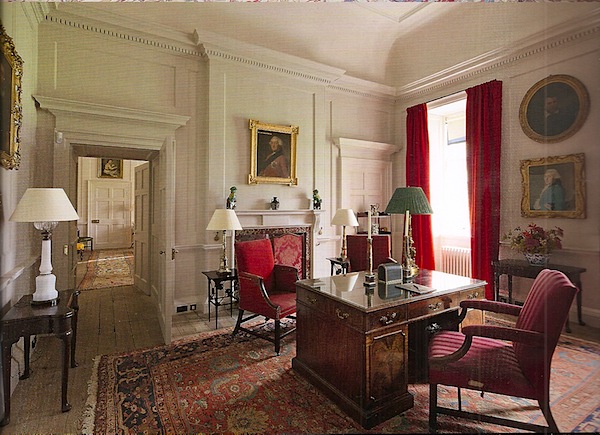 The Scottish Country House is a total delight to read. With spectacular photography by James Fennell, who shot the entire book using only natural light, and entertaining text by James Knox, I am confident you will find this volume enchanting!