The tables at the Veranda NYBG Orchid Dinner were amazing in their diversity and creativity. Some designers focused on the splendor of the floral centerpieces while others chose to exhibit their talents for stylish entertaining. Veranda contributing editor Danielle Rollins has long had a passion for the latter as seen in her pieces for the magazine and her book Soirée.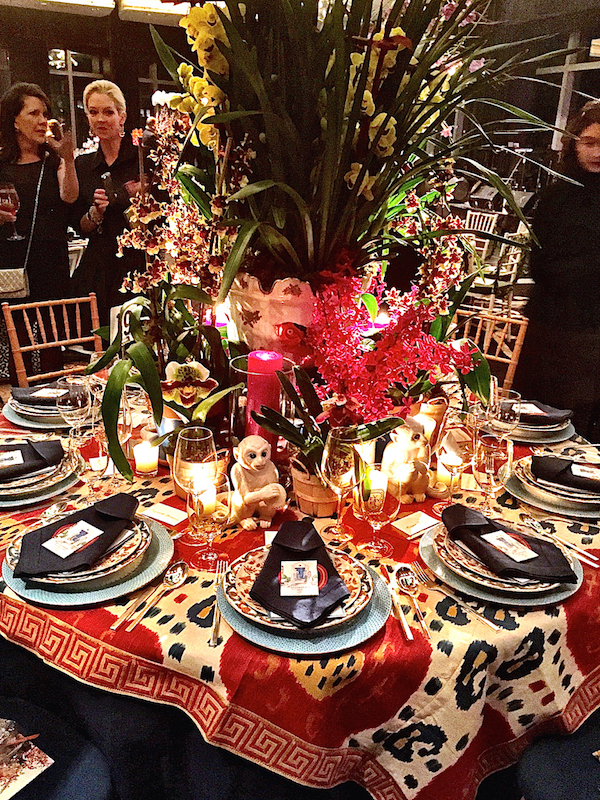 Her table was a study in spirited and layered eclecticism. With a navy underskirt of SFERRA linen, she used one of my favorite Brunschwig patterns, Samarkand, as a topper, edged with Samuel & Sons' bold Aristotle Greek Key – a wonderful pairing. Partnering with Mottahedeh, she featured their lace service plate in turquoise, the historically inspired floral Merian dinner plate, topped with the Sacred Bird & Butterfly dessert plate, a pattern I also own and frequently use for layering.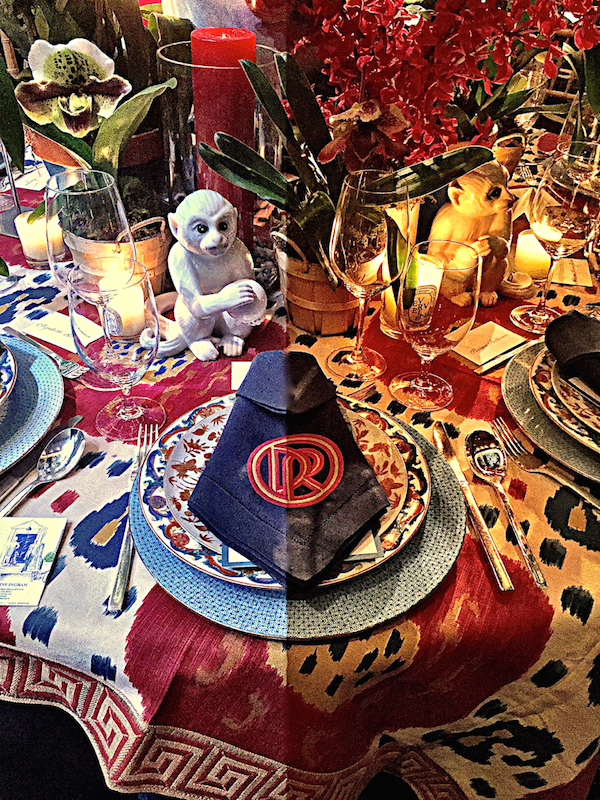 SFERRA Festival dinner napkins received a dramatic monogram treatment from Number Four Eleven continuing the navy and red theme. Various cachepots, whimsical creamware monkey bookends from Mottahedeh, and candles from Diptyque and Creative Candles completed the festive scene.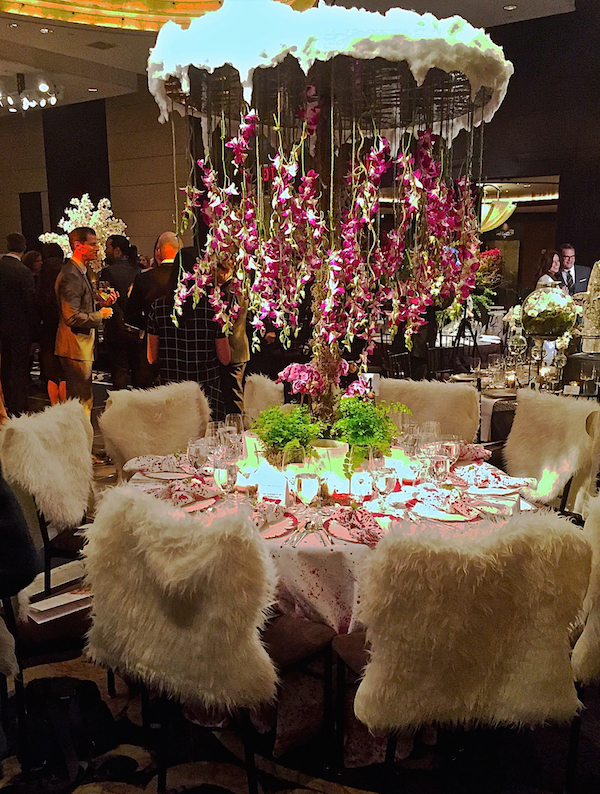 I always look forward to Selina van der Geest's Orchid Dinner tables that she collaborates on with artist Brett McCormack. They are consistently beautiful, creative and unusual in their out of the box treatments.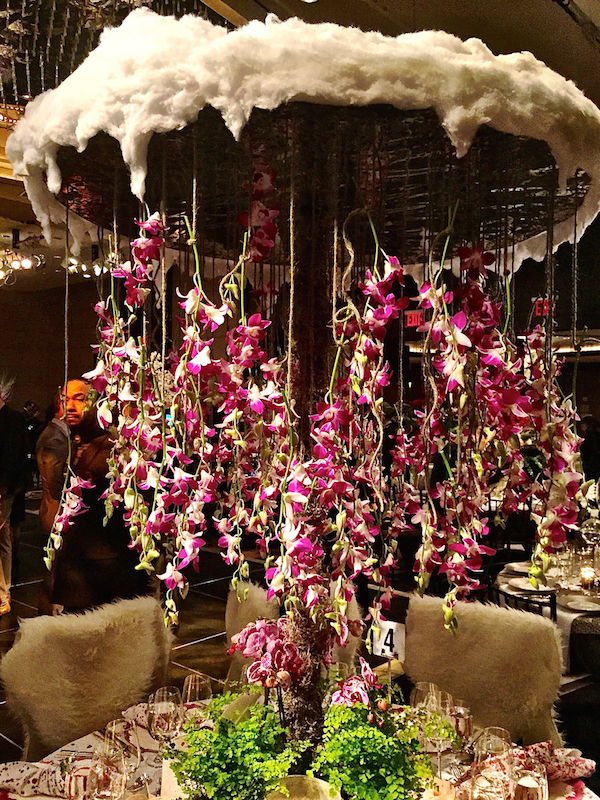 This year's Snow Orchid table clearly referenced the Botanical Garden's upcoming Chandelier Orchard Show. Yet with a play of textures and custom tabletop, it is transformed into a fantasy winter wonderland of cascading flowers.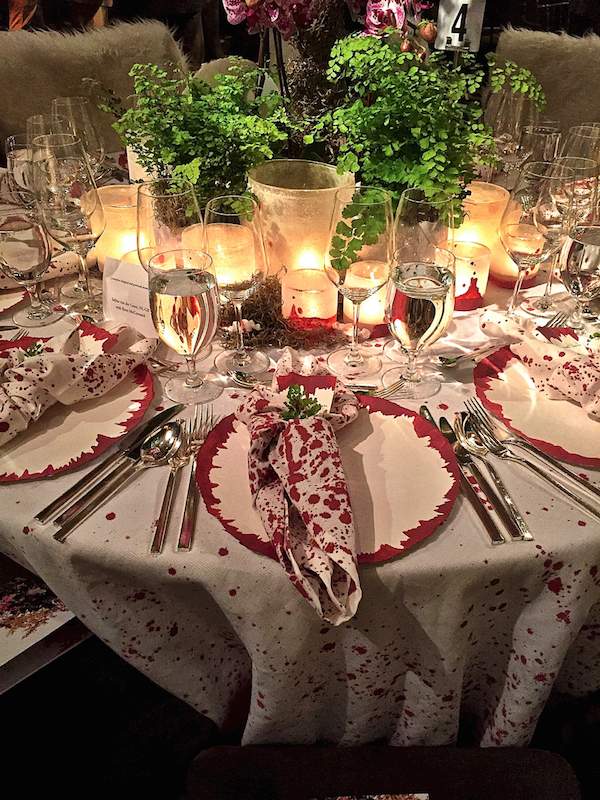 Designer James Rixner partnered with Robert Allen's Beacon Hill and Christofle for his glamorous table. The grand scale geometry mixed with subtle metallic bling on the Olympus tablecloth paired perfectly with the stylish Cheetah Velvet on the chairs.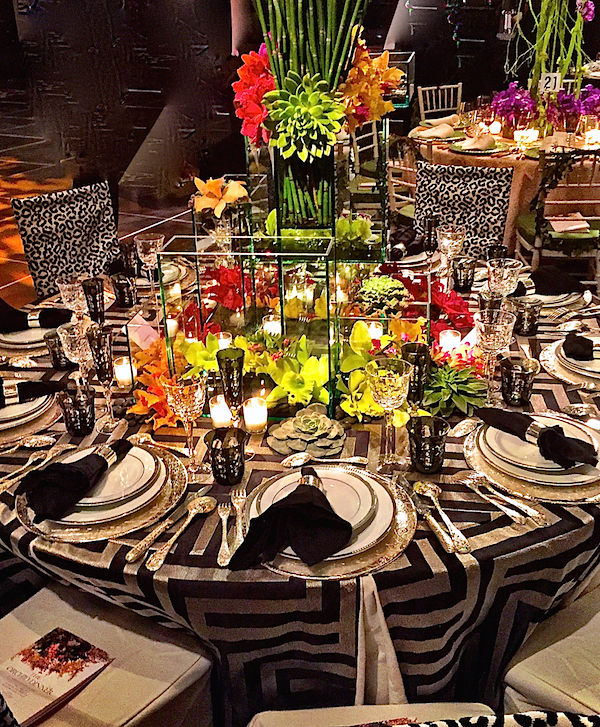 And I loved that he picked several of my favorites from the line. The dark grey Kawali goblets and champagne flutes are fabulously chic and the Marcel Wenders Jardin d'Eden chargers and flatware are modern classics. Mixed with the glass centerpiece, it's all just the right amount of bling to feel festive but not over the top.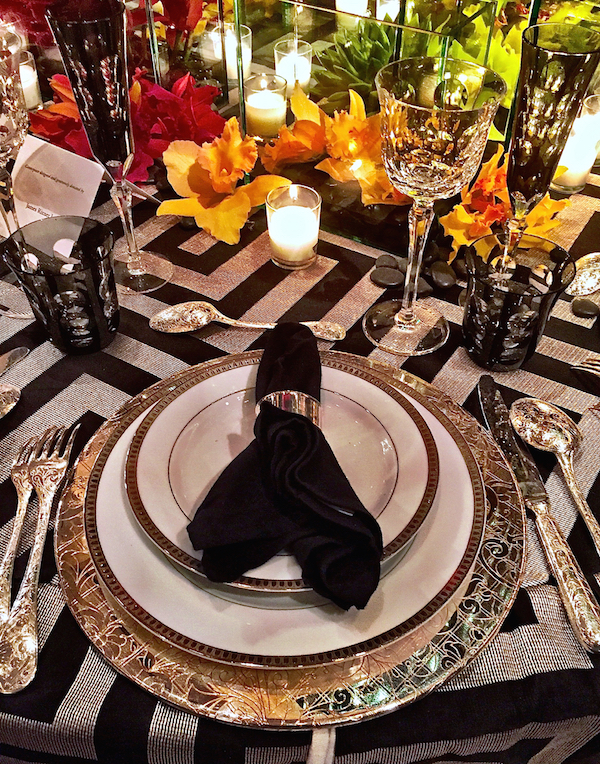 David Handy's Memories from the Attic table was a through the looking glass nostalgic nod to the past with a small oriental rug on the table, orchids in a variety of vintage looking pots and an orchid-filled birdcage as chandelier.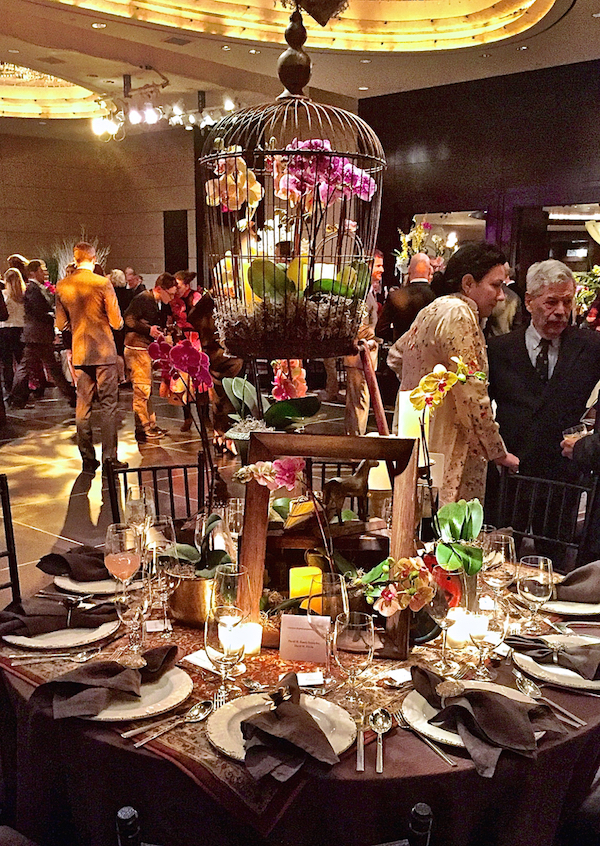 It looked like a very warm and cozy spot to have dinner!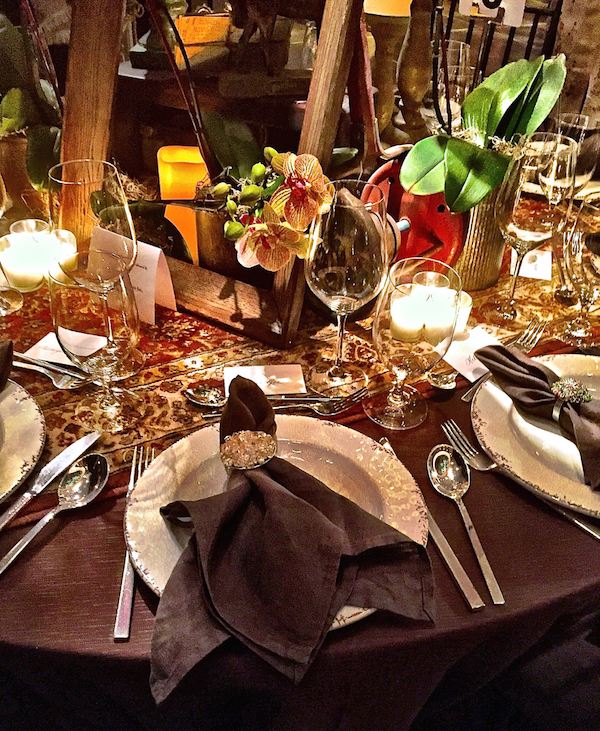 FlowerSchool New York created a chinoiserie chic table with lush orchids overflowing from the centerpiece lanterns.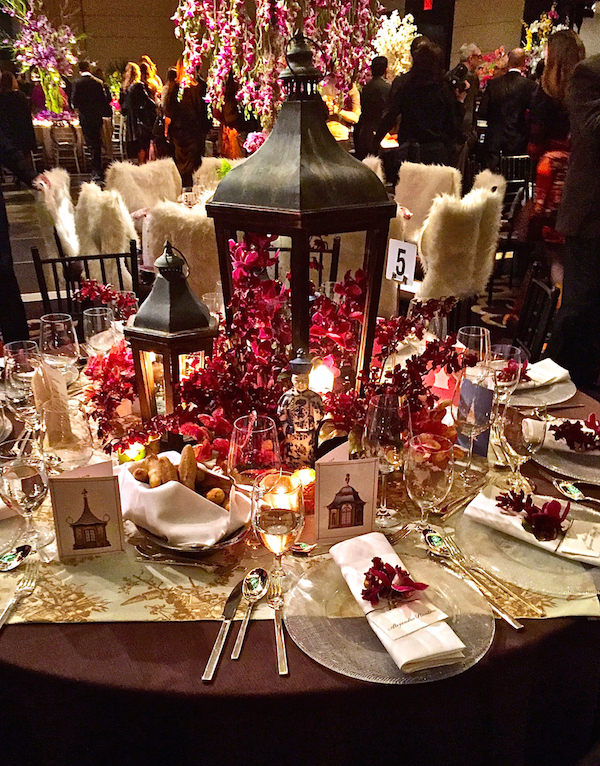 My favorite Pagodas notecards from Andrew Zynga served as placecards. And I liked the very simple but elegant orchid tied over each napkin.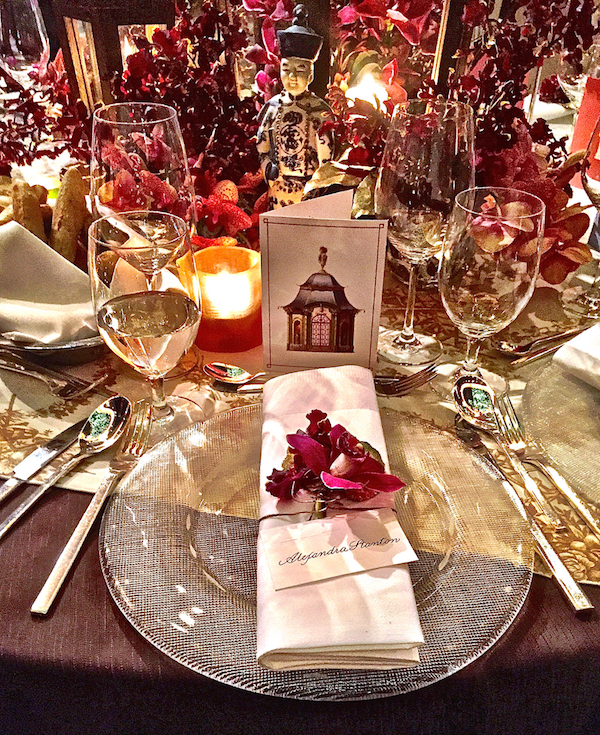 One of the most statuesque centerpieces was executed by Lewis Miller. In a glorious tall golden vase, an enormous bouquet of resplendent orchids overflowed. Really wonderfully graceful proportions contrasted with the low table setting in a lovely contrast of black and lavender for a truly elegant table.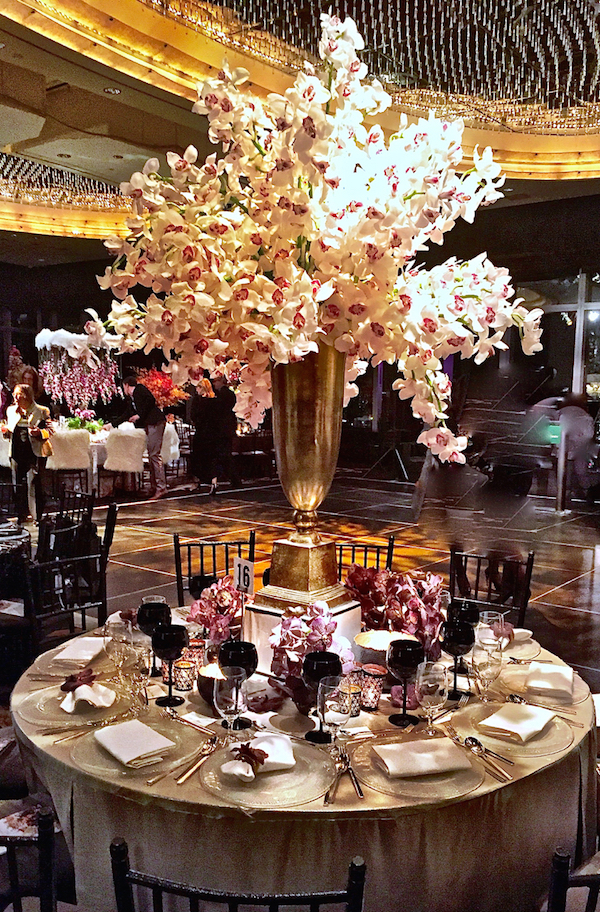 And lastly, a fabulously vibrant and colorful centerpiece from Carlos Aparicio looked perfect in a monumental Svend Hammershøi for Kähler vase from his Gallery BAC.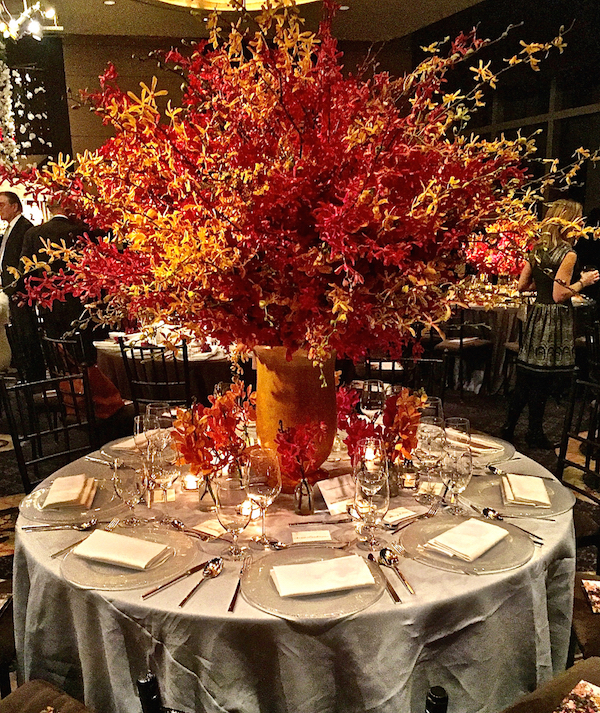 Congratulations to all the designers and Veranda for a wonderful evening of stylish entertaining. And of course thank you to the New York Botanical Garden for continuing to provide us all with such a magnificent landmark to enjoy for its beauty, educational programming and important horticultural work.