My favorite scene in The Bishop's Wife, my At the Movies pick yesterday, is when Cary Grant and Loretta Young are skating on the outdoor pond. It's such an evocative holiday setting that I thought it might be fun to pick an outfit to go along with the movie. I realize theirs was a last minute decision and they didn't have time to select proper attire but you can be sure I'd like to be wearing something special if I were ice skating with my style icon! I think this casually chic ensemble might just do the trick!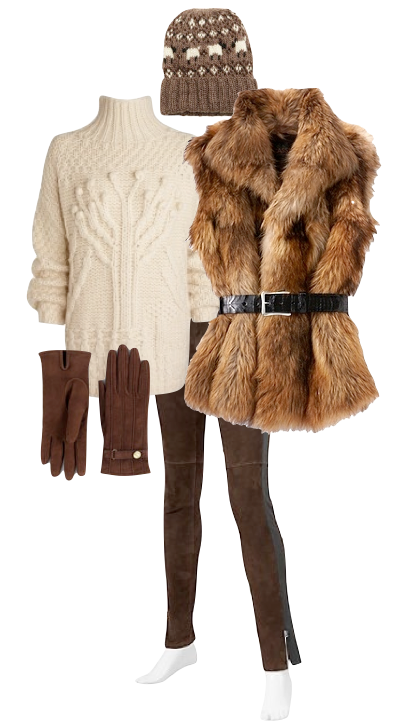 Since I know readers are going to ask, here are the sources: hat and sweater from Barneys, fur vest, belt and pants all Gorsuch. Gloves from Bergdorf's.
After skating, Dudley (Mr. Grant's character in the movie) and I would go back to the house which I've already decorated for the holidays (of course) and have some tea or cocoa by the fire.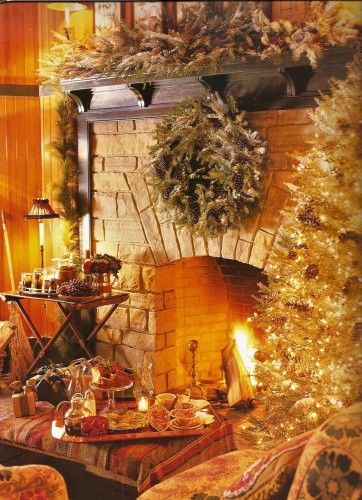 We'll have a lovely afternoon and then it will be time for him to go from whence he came (don't want to give the movie away). I will, however, be left with a newly enlightened husband (yeah!) and this beautiful house! All in all a very good day!!
And because Santa has told me that you all have been very very good this year, I'm attaching a clip of the beginning of the film to entice you (feel free to fast forward through the credits – they are the first 1:10) –  not the skating scene of course – for that you must get the movie! So enjoy and have a lovely weekend!