If luxury is determined by value, quality and craftsmanship and the sign of true authenticity is a vision that has remained consistent over the course, then SFERRA is a company that embodies the quintessential essence of a luxury brand. Since 1891 when Gennaro Sferra started his luxury linens business in Venice, SFERRA has been synonymous with the highest quality linens available. And since purchasing the company from the Sferra family in 1977, president Paul Hooker has remained singularly focussed on providing the same level of excellence in uncompromising quality and value.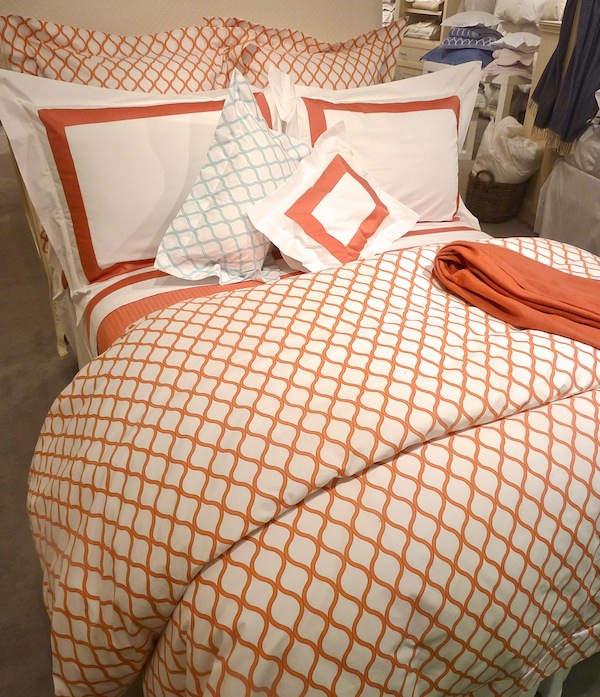 In Atlanta at AmericasMart last week, I was excited to get a first look at SFERRA's offerings for the upcoming market. What a fresh color story for spring/summer! Two of my favorite introductions are the new additions to SFERRA's Italian-woven and printed collection. Andover, above, and Barrington, below, are graphic geometrics that I predict will be hugely popular as versatile modern classics this year. You can imagine how much I loved the Andover aqua and salmon colorway.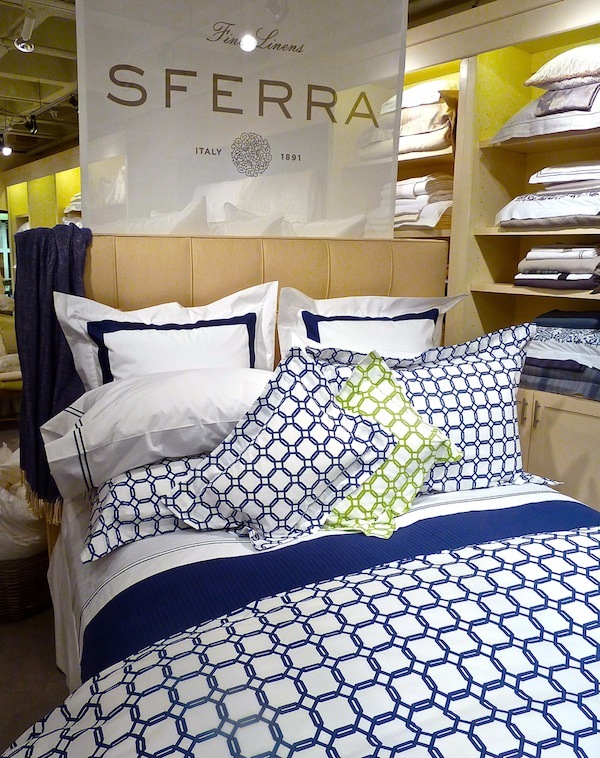 And the navy and chartreuse offer a fresh updated look for the luxury linen market. Both the Andover and Barrington would be perfect for beach or weekend homes and a terrific way to add a little stylish luxury to a summer rental. While it's easy to admire SFERRA from afar, its real value can only be truly appreciated in person. The quality of made in Italy products is immediately discernible.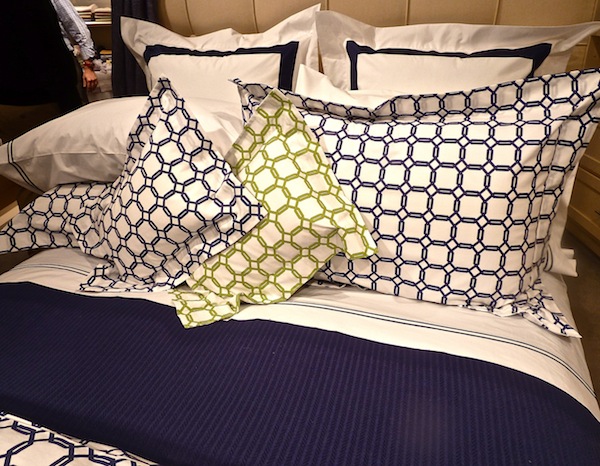 The crisp clarity of color and design are the result of printing in Italy on Italian fabric (in this case their Grande Hotel percale sheeting) – a very rare combination these days. And you will discover there is a world of difference in the incomparable drape and feel of the fabric.
photo courtesy of SFERRA
Of course they are offering chic new color coordinated pieces in their other lines as well. The wide stripe on the European squares above is Orlo and the narrow double stripe is their classic Grande Hotel Italian-woven sheeting. And one of my all time favorite SFERRA products is their machine washable herringbone Celine throw above, in luscious new spring shades. My local linen shop offers these monogrammed and they are a fabulous gift at a great price point.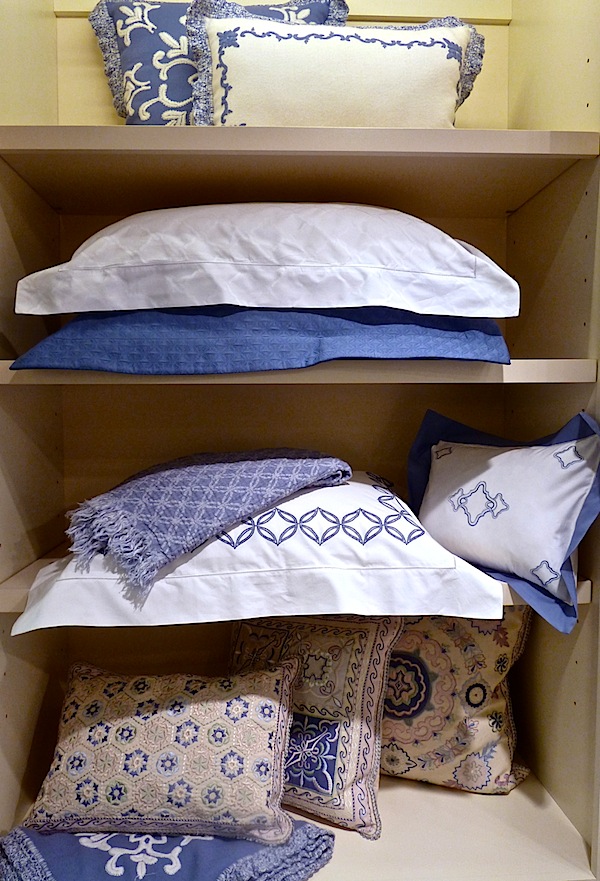 The second new offering for spring is the Berber collection. Inspired by the Moorish 10th century Alhambra palace in Spain, the designs have an exotic global appeal enhanced with old world detailing. From embroidered Italian-woven Egyptian cotton linens to throws and embellished decorative accessories, there is a something for everyone. I loved the cornflower colorway above and there is also a delicate lilac ash seen in the Quarto Palette bedding and Nola pillow below.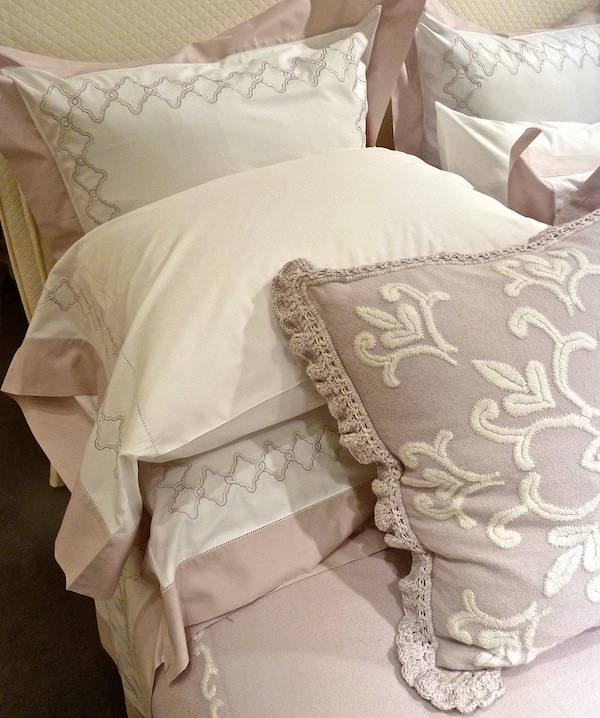 The Cossa Palette pattern, shown below in silver sage, is a bold sophisticated pattern that could go modern graphic or more subtly exotic depending on its partners.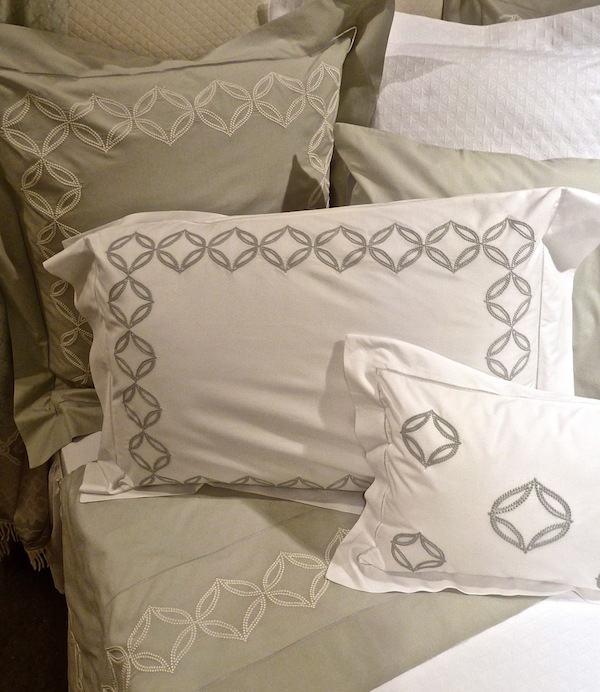 It is rendered with incredibly detailed pearl-like stitching that gives it a jewel-like feel.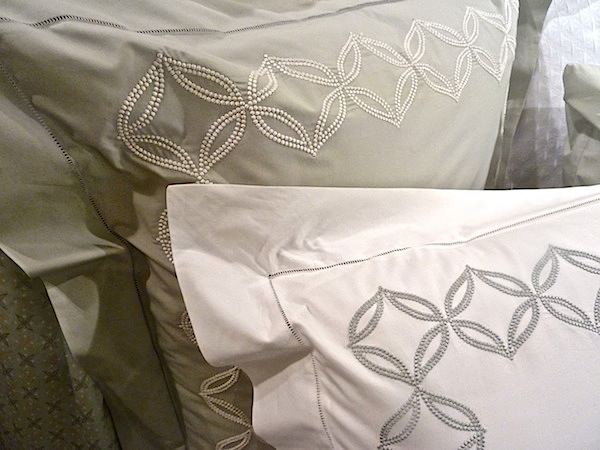 My favorite accessory of the collection is the spectacularly luxurious Marmi throw, below. I asked SFERRA for a photo because mine just didn't do it justice. The front is Italian printed silk and is backed with baby fine cashmere. Worthy of placement in the most extravagant residences, it would be equally at home mixed with modern styles, as seen here.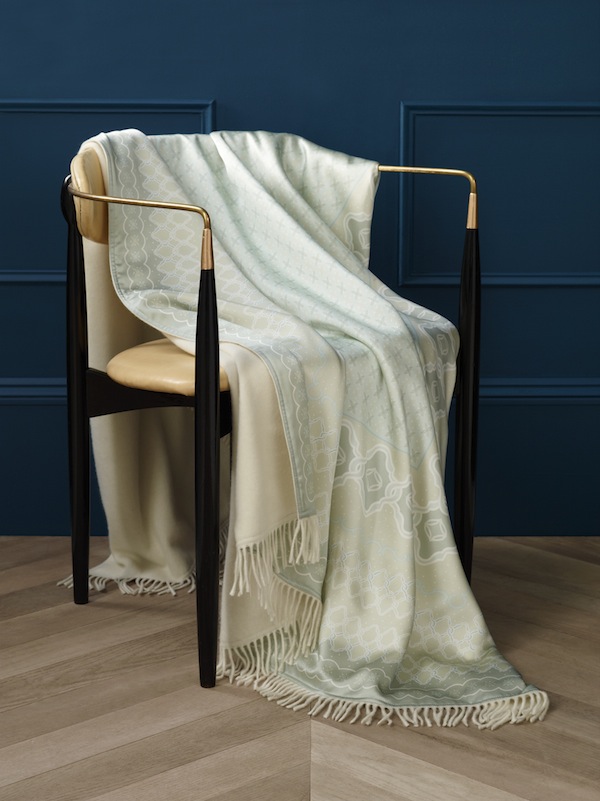 The one jacquard introduction this season is the beautiful tonal Angelico, below. This has an exquisite hand and totally luxurious drape for those seeking a sumptuous bedtime experience.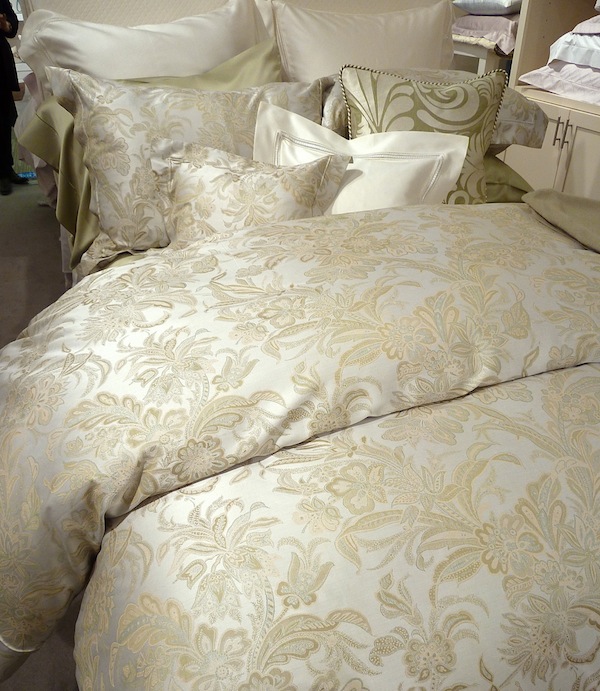 It was shown with the timeless Diamante, a silky cotton sateen with intricate edging, showcasing the amazing Italian craftsmanship with classic understated elegance.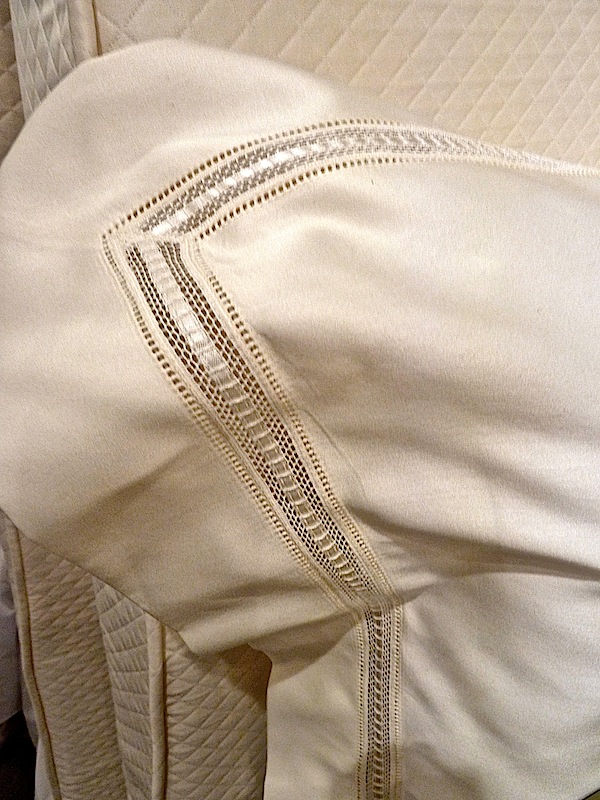 SFERRA has also expanded its tabletop collection for spring.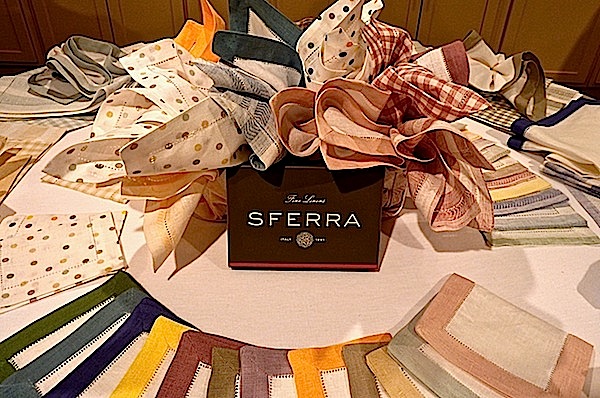 The new Beach Glass and Garden palettes are pretty collections of pastels and sun drenched hues perfect for warm weather entertaining. The classic striped Ascot, checked Piccadilly and newer Filetto are now available in a very versatile blue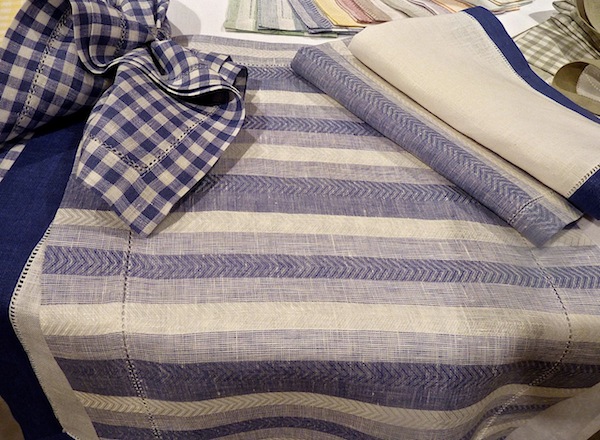 as well as the other lovely shades in the collection, from delicates pales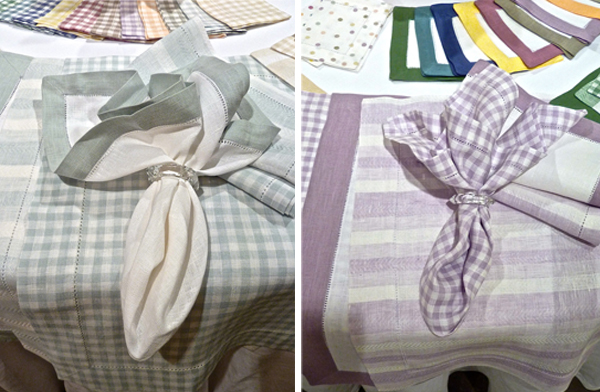 to versatile neutrals.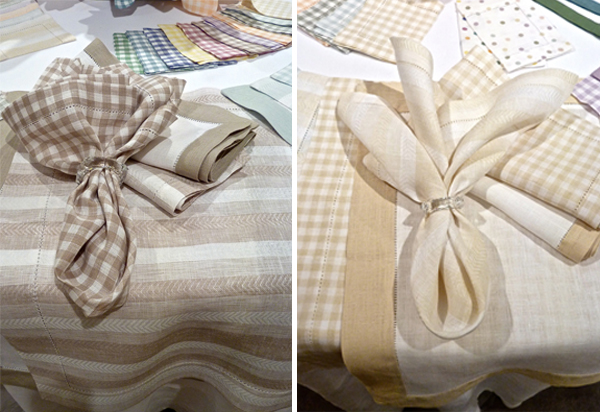 As you can see the patterns are all mix and match and are beautiful additions to the table, that enhance but don't overwhelm your place setting. In fact, SFERRA has a clever app you can download that helps you coordinate your china with their linens. Take a photo of your dinnerware, touch any color and voila – the exact match from SFERRA's 101 colors of Festival table linens appears!
photo courtesy of SFERRA
SFERRA also helps you care for and learn more about your luxury linens. A basic stain removal guide is on the website. But even better is their Lose Count, where you can learn why threadcount is a much misunderstood misnomer, explore the difference between sateen and percale and even master the elusive art of folding that bottom fitted sheet.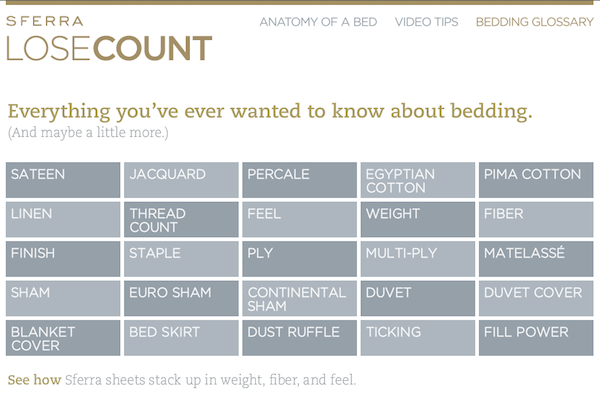 While you can of course shop online, I would encourage you to shop local. SFERRA is carried in high end specialty stores all across the country (you can find a shop near you  with their handy store locator). Luxury linens are a very personal purchase and touch and weight are more easily determined in person. Not to mention you can bring in any items you are trying to match (I frequently show up carting swatches and or tabletop pieces). But you're sure to find something you love with SFERRA's beautiful new spring collection!