If you're looking to ferret out the major trends for fall, you need look no further than the fall collection of maestro Michael Kors. A study in contrasts, the collection presented styles from rustic chic to glamorous elegance, all with his usual easy to wear élan. Even if you cannot afford the Kors price tag, he distills down his vision to a refined essence that is easy to emulate. While many of the looks are representative of runway amplification, it is still simple to see the spirit of what will be making store appearances come fall. This example of rugged elegance shows us how it's done – the importance of red, mixing textures and graphic patterns and fur as a major accessory.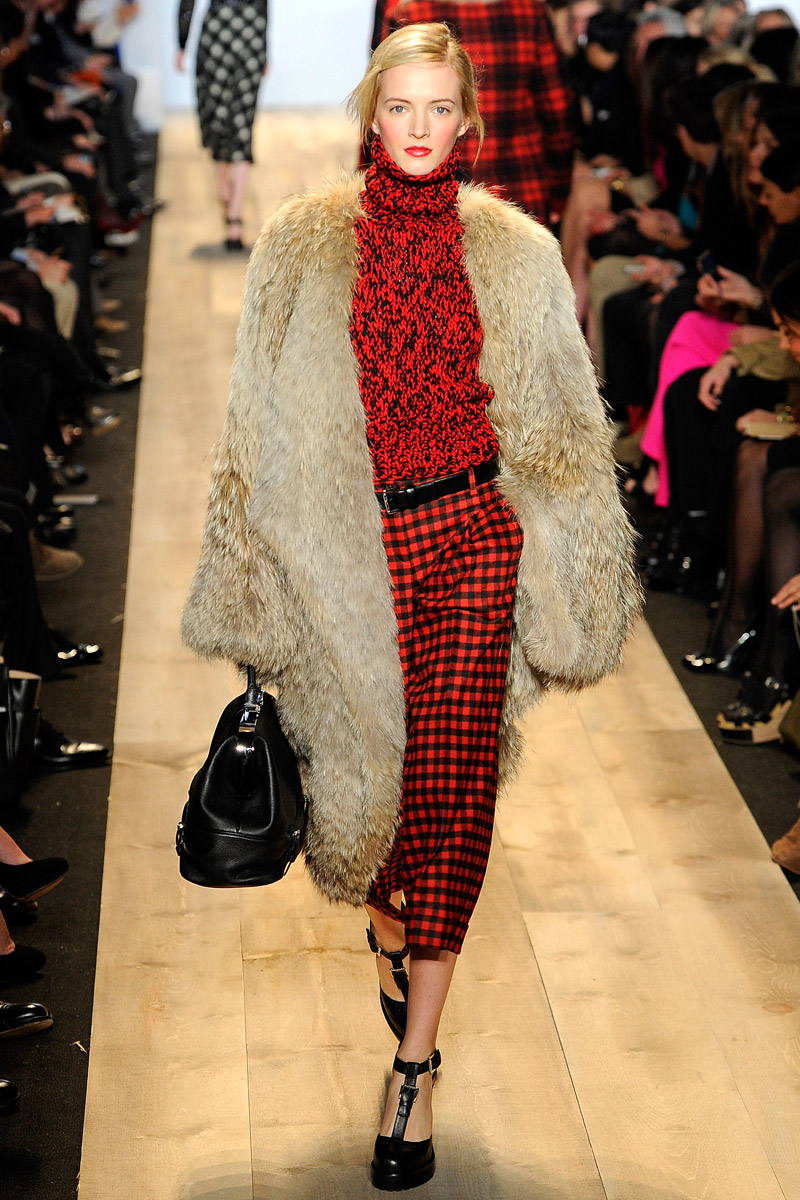 Black is essential, especially in leather. The addition of fur just adds to the luxe mix. Even if your wallet protests the purchase of a coat, find a vest or short jacket – you'll feel so chic come fall. This trend will be available at all price points I'm sure.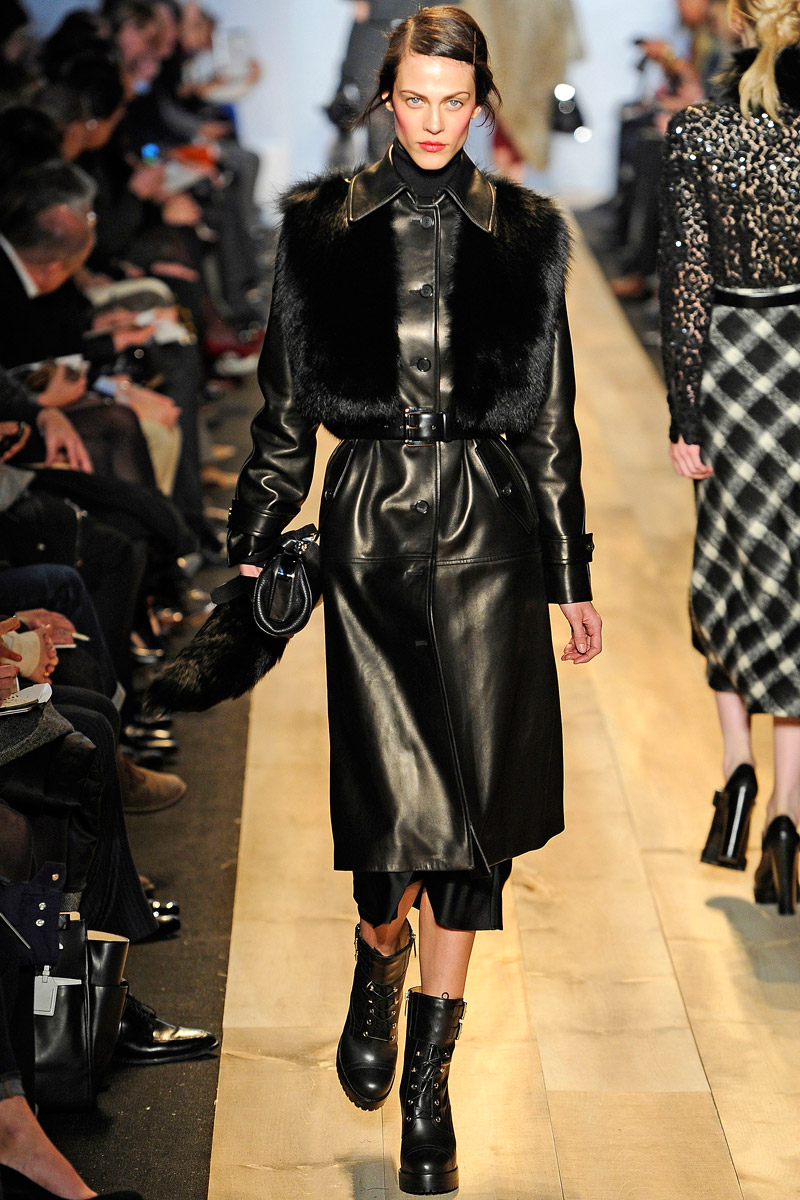 Here we see the black and white theme interpreted with a country inspired tweed. Mixed with leather or lace, in simple elegant lines, it becomes a day to evening look that works for almost any occasion. The floppy fur hats seen throughout the show are a great way to accessorize as are the elbow length gloves – yet again – seen in a variety of textures.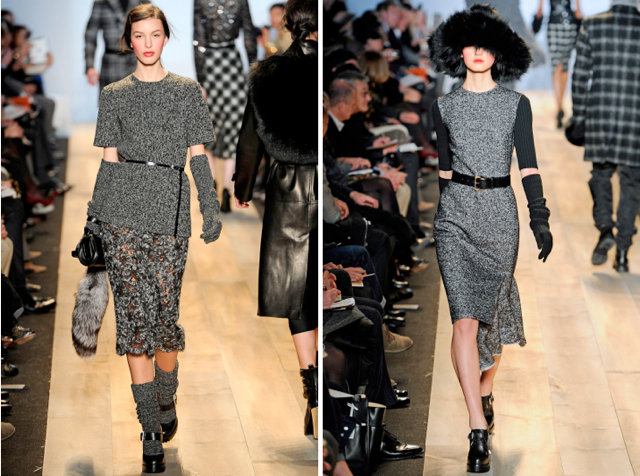 More black and white but now with a spin for evening. It's all in the mix. Purchase a black and white tweed or plaid skirt for day and it can do double duty mixed with a glittery tank for evening. And think about adding several pairs of long gloves in different textures – accessories are the easiest way to bring an outfit from daytime to dressy.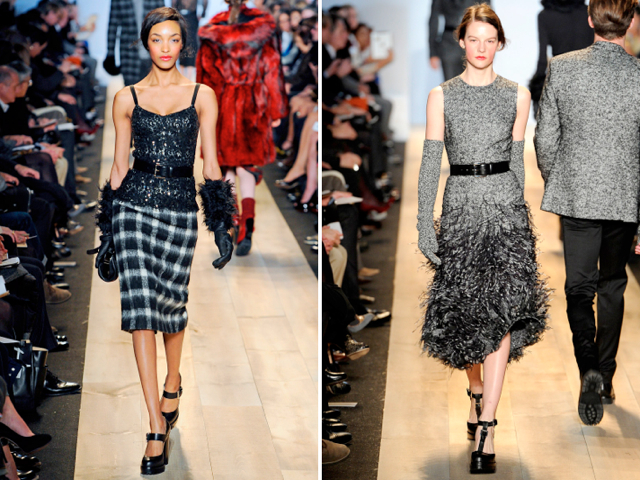 The same theory goes for the red and black concept. Look at how accessorizing the same pattern changes the look. And think about proportion. Large volume on top over a slim or flowing bottom speaks day while a slim fitted top in a sleek texture adds instant sexy allure for evening.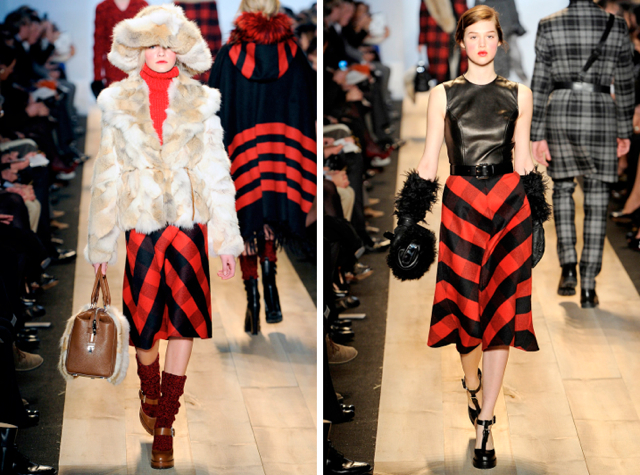 Of course it's not a Kors show without a dose of his beloved neutral tones. See how the beautiful mix of textures and lines create different looks. Already have a big fisherman knit sweater in your closet? Mix it with a lacy or silky skirt for evening or with your new red and black plaid skirt for day. And you don't have to buy a whole new coat to get the look – find a fur collar, faux or real to wear over your own sweater jacket and belt it over a slinky negligee and you're all set. The look on the right is all about architectonic tailoring over flowing lace. Have an old double breasted jacket you never wear? Take it to the tailor and have the sleeves removed and you can layer it with everything from turtleneck to tee come fall.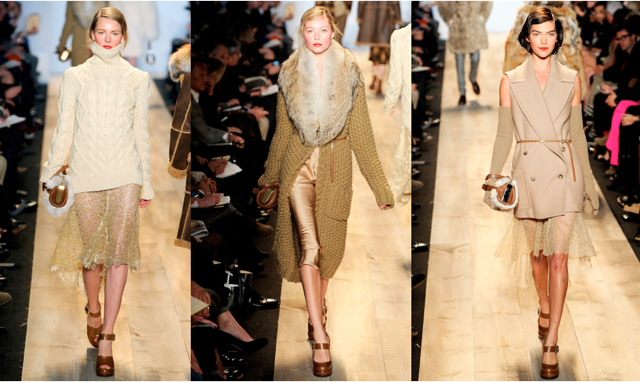 Evening is all about feminine elegance. We've seen sexy stylish dresses in gold in many collections. Kors' paillette chemises, in gold or black bring red carpet glamour home with a 20s siren style.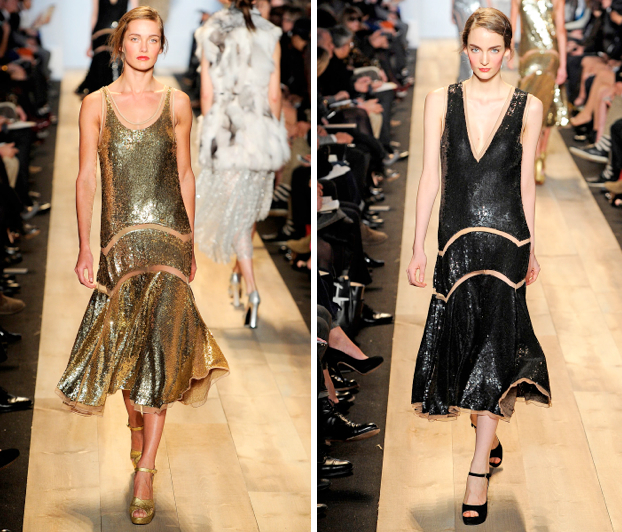 What a smashing statement in red! The contrast of the melton crimson chesterfield and charmeuse slip dress is a winning combination.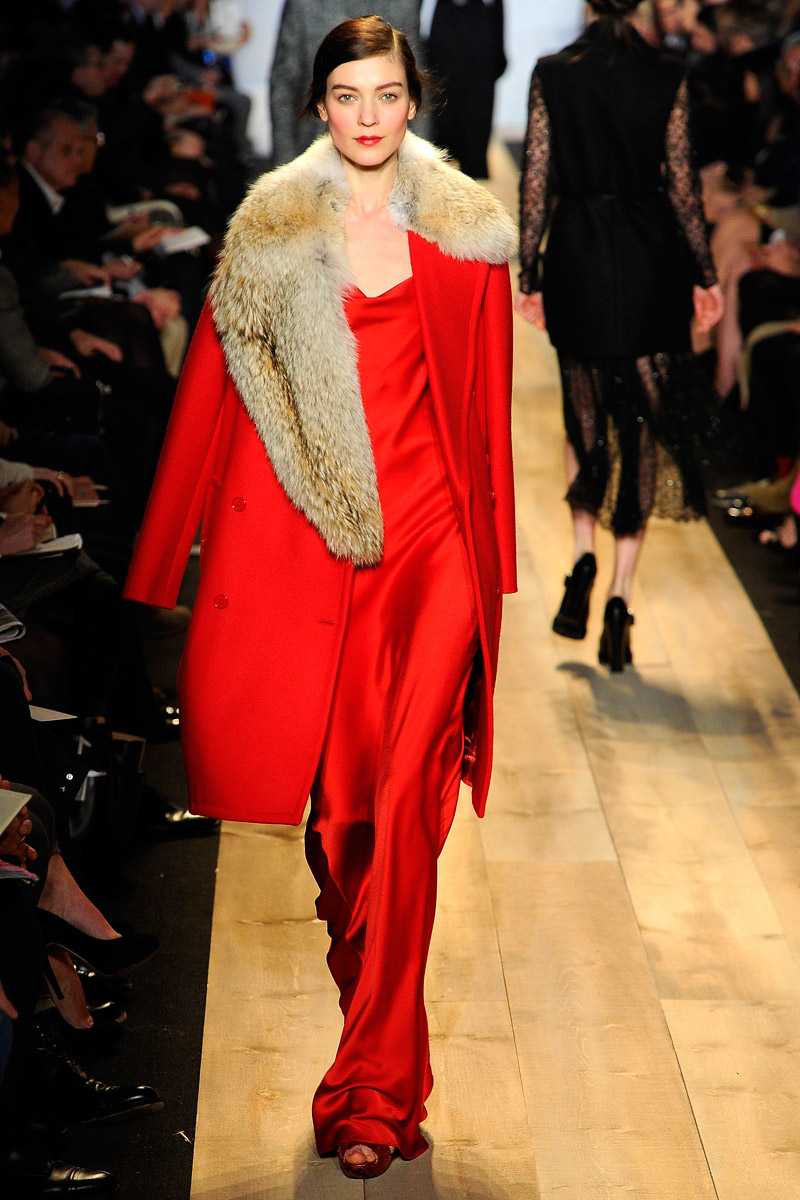 Whether you want to show off your hard work at the gym, or look classically elegant in an always flattering ruched waist, you can't go wrong with these crystal beaded stretch jersey gowns.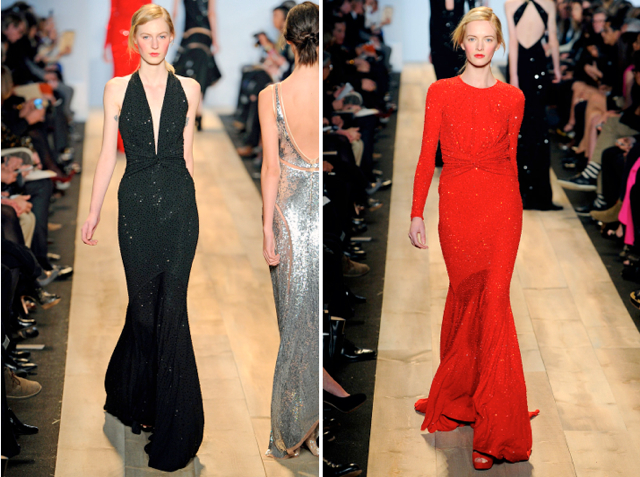 Seeing a show like Michael Kors offers a perfect opportunity to spot the trends and think about ways to make them your own. Fashion week is all about seeing the designers' visions and connecting the dots – internalizing the overall spirit for the season and then interpreting it, whether for your fall wardrobe or how it will translate into trends for the home. I wonder how many family rooms we'll see with red or black and white with fur pillows and throws and accents of gold.  It's like the ubiquitous art history mantra – compare and contrast!! Who knew how useful it was really going to be!