Several spaces at AmericasMart were celebrating expanded showrooms, including the always charming Mr. Brown. The stylish younger sibling of the distinguished Julian Chichester, Mr. Brown offers a youthful interpretation of the brand family's updated English sensibility. While the parent line offers interpretations of classic 19th and 20th century designs with a contemporary twist, Mr. Brown follows up with more accessible price points and an accessories-rich collection.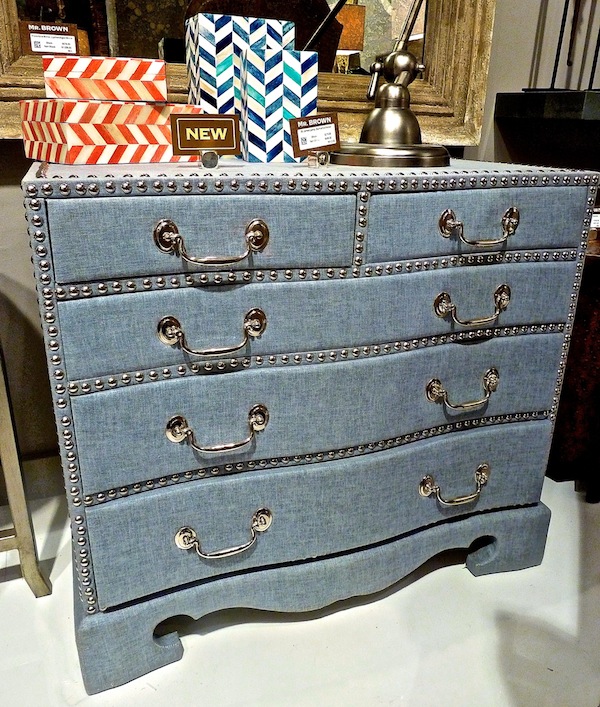 High on my list was the new Bettina linen chest. A clever combination of traditional shape with updated choice of material and hardware, this handsome piece offers stylish storage with panache. And just to make things a bit more fun, the drawers are lined with the same fun Aztec stripe as below.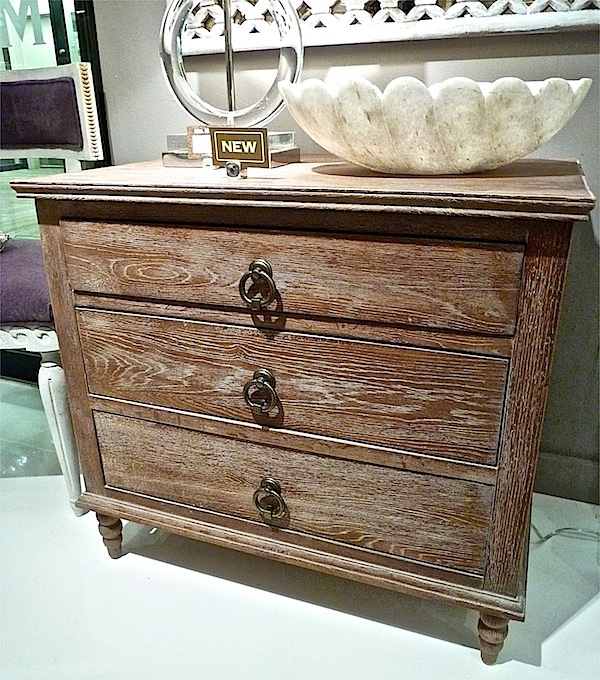 If you're looking for a chest with a bit more rustic chic appeal, the oak Darien chest is a good choice. A versatile size with neutral hardware, this would be equally comfortable in a bedroom or family room. And the aforementioned Aztec stripe in the drawers is a colorful surprise.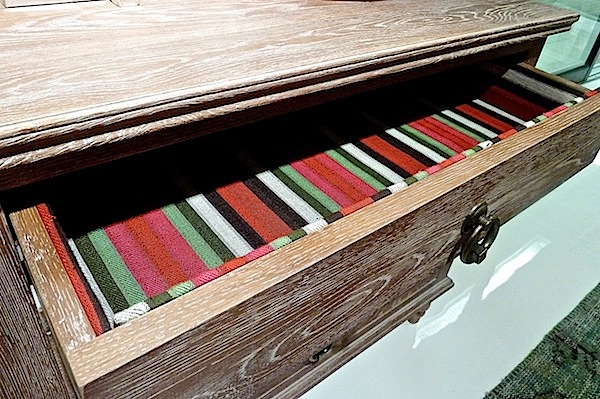 With a nod to mid century, the Wilhelm cabinet contrasts smooth white gesso with aged brass base and legs. This would be a great piece to add bold graphic pattern to an otherwise neutral room.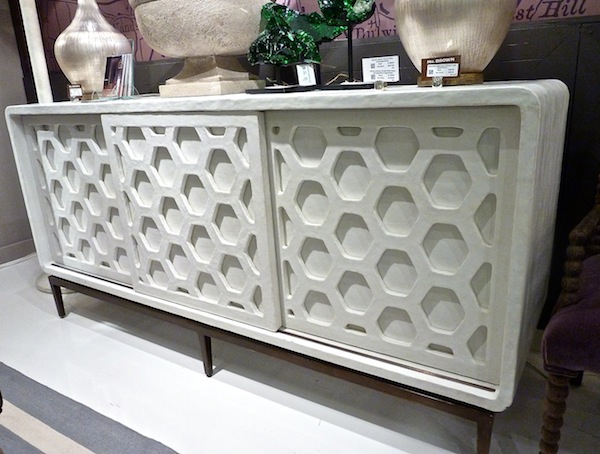 It seems Moorish influence is a strong theme this season and the Bettina coffee table echoes the namesake's dresser with linen application and patterned studding.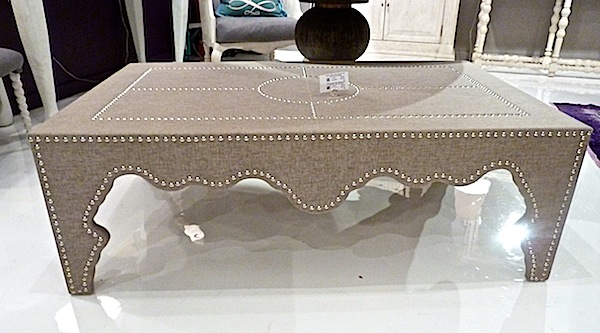 Mr. Brown is all about texture and materials this season. The chic Barrington side table is a stylish statement in faux shagreen. With classic deco lines, this is the perfect side table if you're looking for understated drama.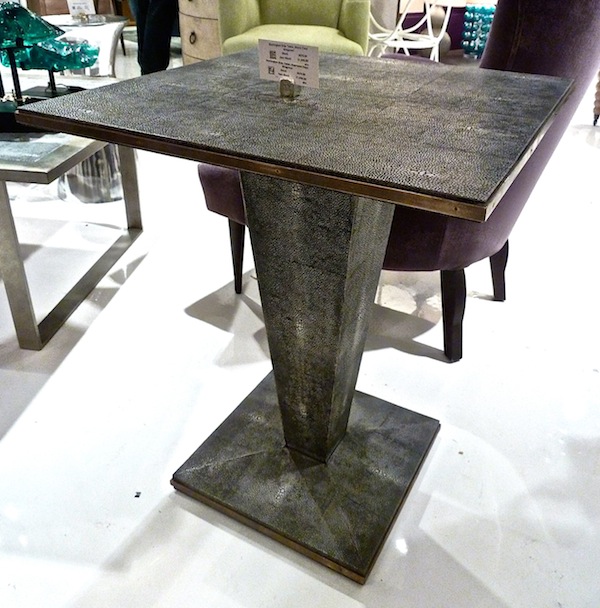 And on the other side of the spectrum is the Cardinal side table in bone. With a beautiful pale coloration and elegant lines this shapely table would add just the right dose of femininity to any room.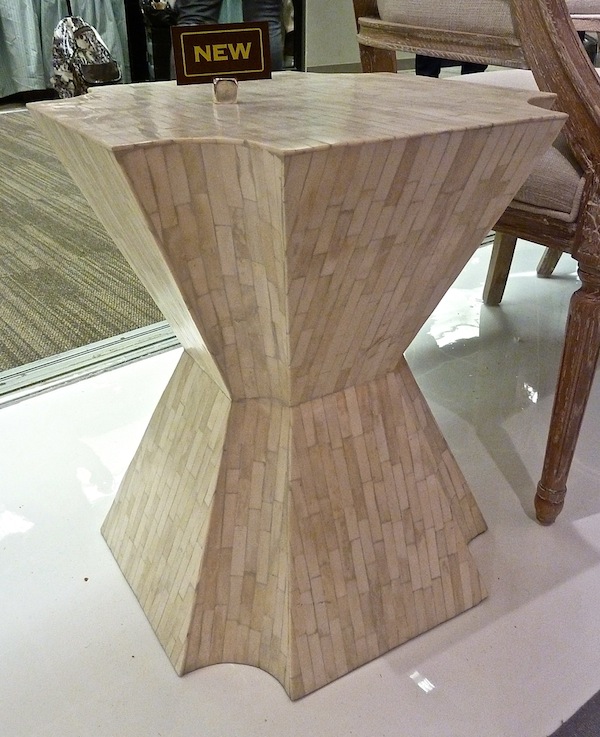 And for those who prefer more sculptural pieces, the Canard side table, shown here in Jacobean brass, is a sexy, almost figurative design.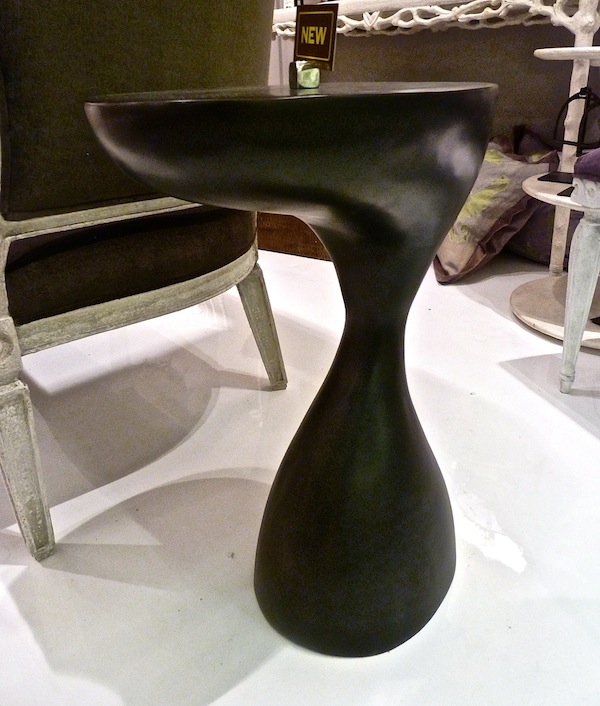 Another nod to Moorish influence is the new Brooke table lamp in what is clearly going to be a hot shade this season – lagoon. The pierced pattern is a low key nod to the north African design influence.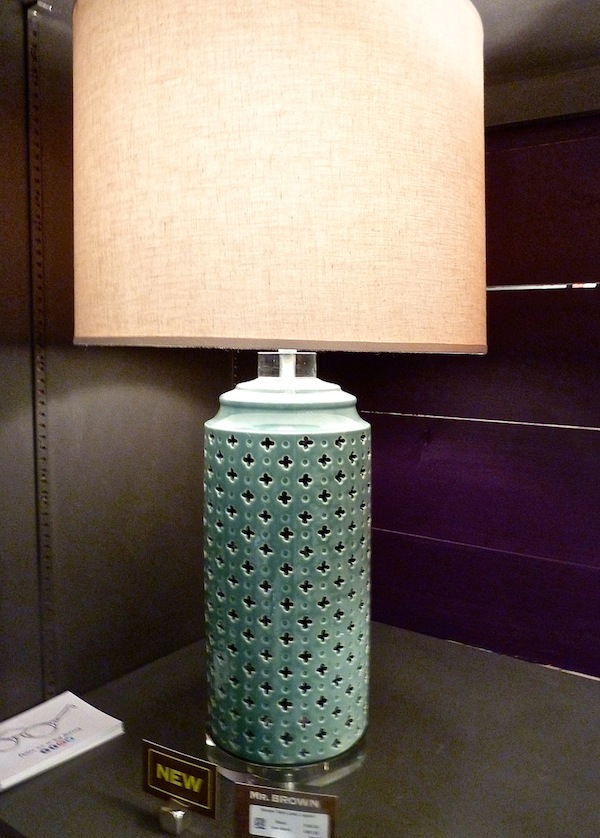 The Marcello lamp seems to have a playful Italian reference with its shapely figured frame. The tall lithe floor model would be perfect for a place that needed height but no bulk. And the appeal of gold and brass tones is continuing strong.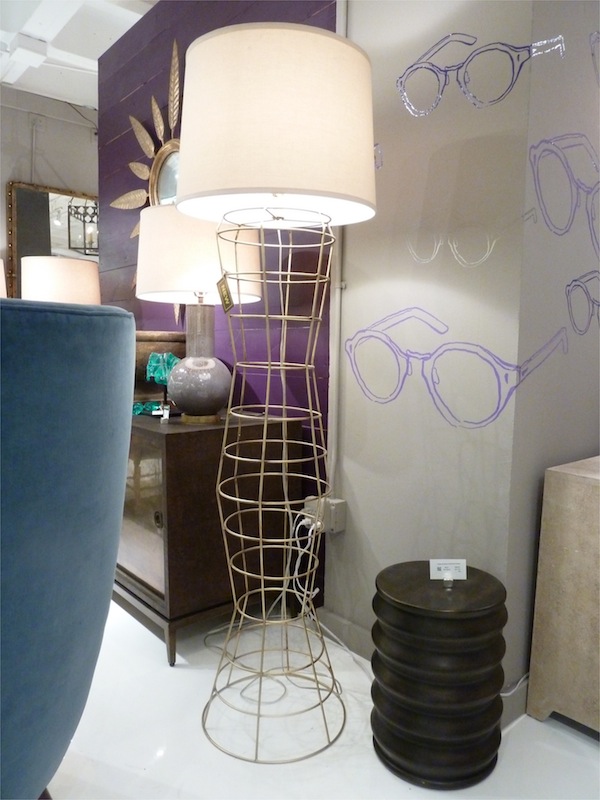 The new mirrors offer glamour with a handcrafted feel. The Lucille mirror, in Chalice gold, has fashionable frills that frame with a feminine touch.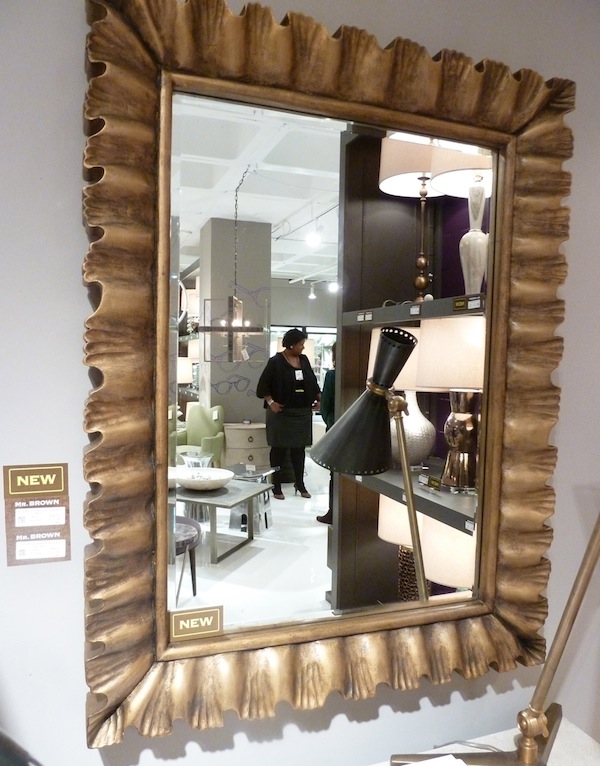 And the Mansfield mirror has a lovely luminosity with pearl silver inlay edged with aged gold. It's tailored with an artisanal flair.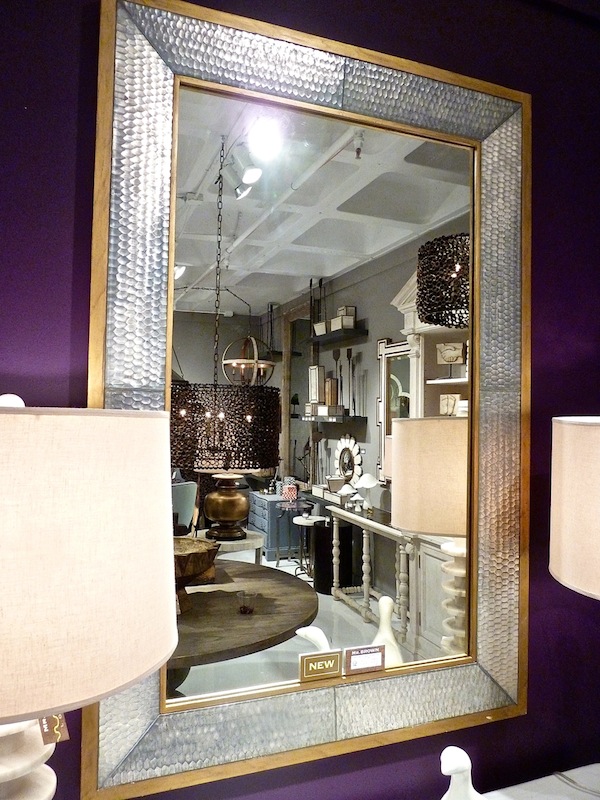 It's easy to accessorize with the color of the year at Mr. Brown. These glass objets would add a great punch of emerald to a tabletop assemblage.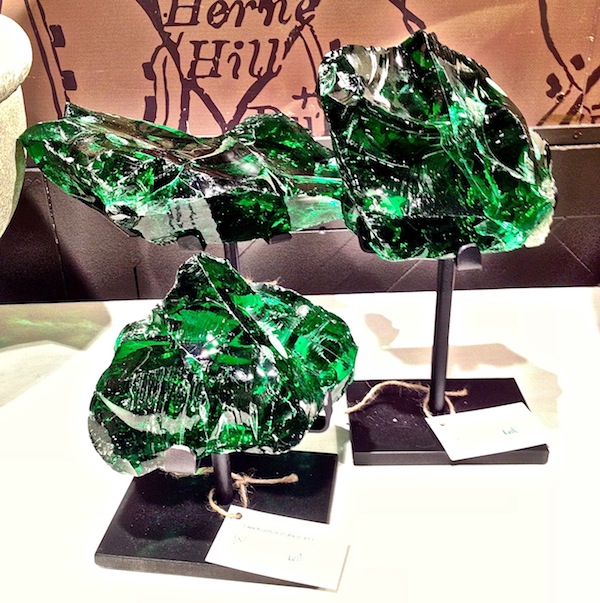 There is a wide assortment of boxes and trays – always handy for taming the accumulation of odds and ends. Everything looks better contained and these blue and coral chevron boxes would be perfect on the quintessential desk!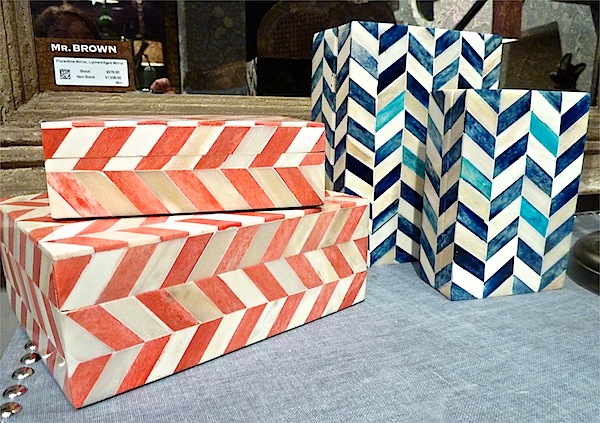 These handsome horn boxes would enhance any tabletop, bookcase or desk. The palomino coloration and pattern combinations of dots and dashes are the Morse Code of chic! I am firmly of the belief that you can never have too many trays – they are not only useful for everything from drinks to mail but add a certain élan to any tablescape.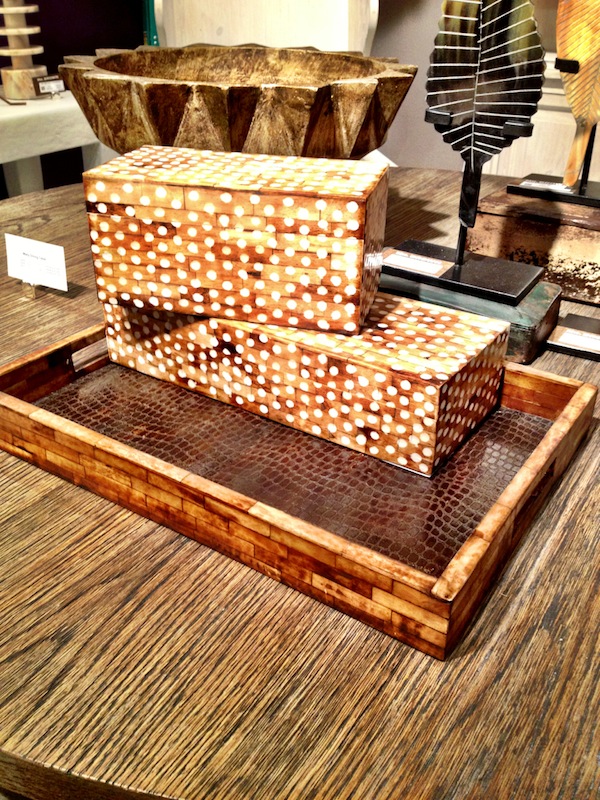 If you weren't able to make it to Atlanta – be on the lookout for the ever dapper Mr. Brown at their next stops on the tradeshow circuit – the NY Gift Show, Las Vegas Market and High Point. And for you shoppers out there, some of the dealers who carry Mr. Brown can be found here.