From the very first dress, it was clear that Naeem Khan is yet again red carpet ready. With a wide range of luxurious looks, Khan's collection was ripe with lush luxe. Khan looked to both the sinuous lines of 1920s deco and the opulence of the Byzantine empire for inspiration. Black and white is key for fall and Naeem Khan's version includes elaborate embroidery as seen in one of my favorite looks – a faille evening coat with fox fur cuff over a chantilly lace blouse and tuxedo trousers. Not just anyone could combine such elaborate patterns, weights and textures so effortlessly.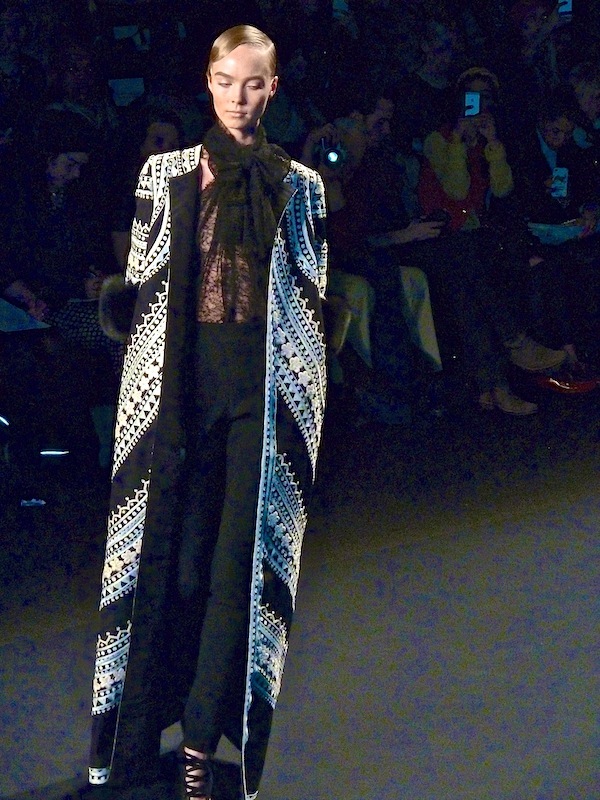 and the magnificent back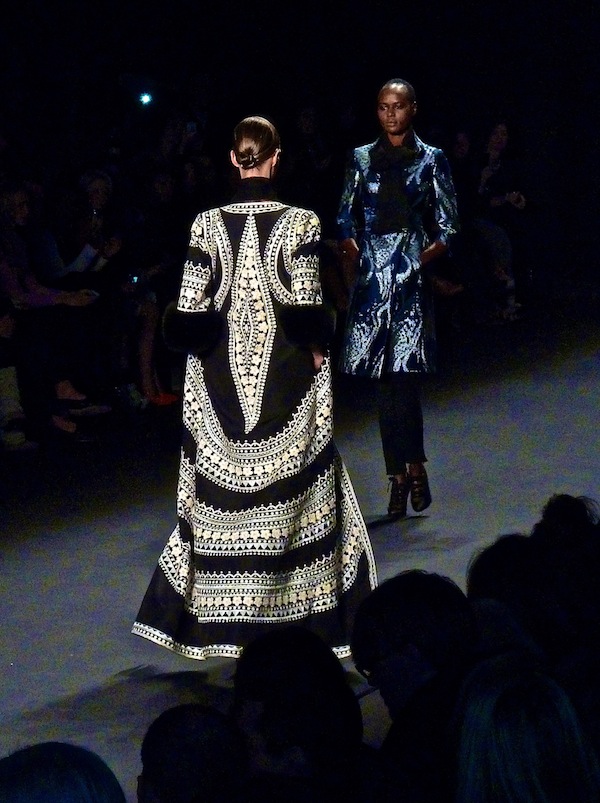 Tuxedo pants were a staple of the collection, whether paired with long coats as above, 3/4 like this navy and silver silk jacquard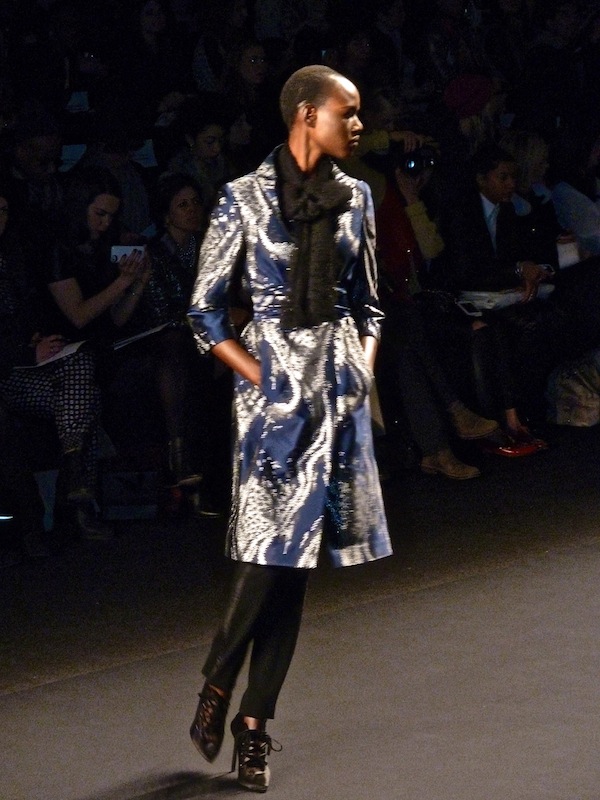 or my favorite combination, with a crystal beaded bolero under a faille overskirt, which I'm afraid is a bit difficult to discern here, but trust me, is a marvelously chic conception. It feels both modern and vintage, like something Ingrid Bergman might have worn entertaining Cary Grant in her smashing flat in Indiscreet.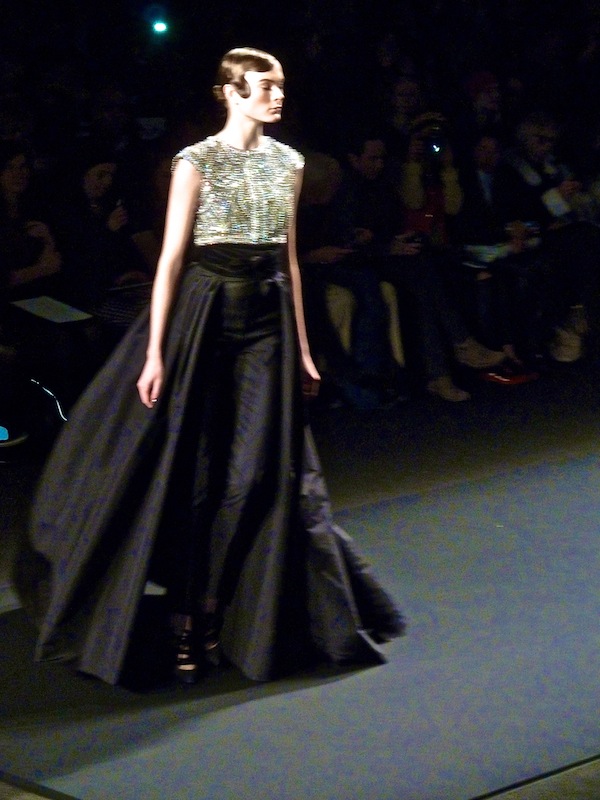 And how fabulous are they with this elaborately embroidered burgundy panné velvet cocoon coat over the same chantilly lace blouse we saw above – it may be referencing ottoman opulence but it also has a bit of a sexy matador look to it. I also love the tie Blahniks that we saw throughout the collection.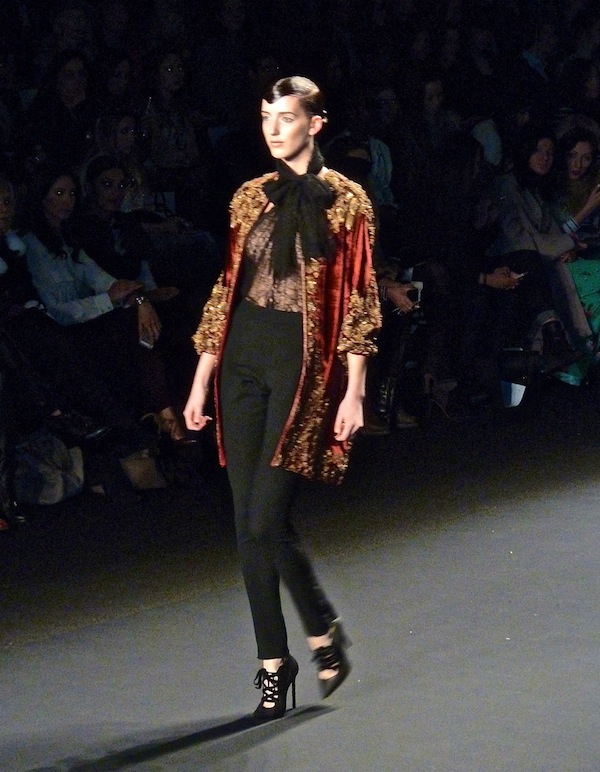 And here burgundy takes on an almost papal grandeur. The cape, chiffon with metallic lace appliqué, floats over a velvet racer cut gown.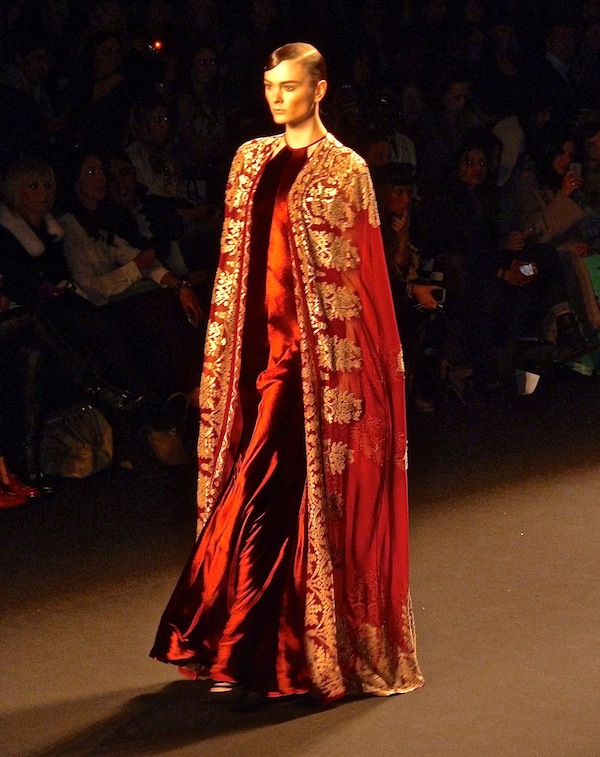 No one does embroidery like Naeem Khan. Almost all the best houses farm out their finest embroidery to India where Khan rules the roost. He proves it with this incredible peacock panné velvet evening coat with antique gold ottoman embroidery, again combined with lace, over a slim pant.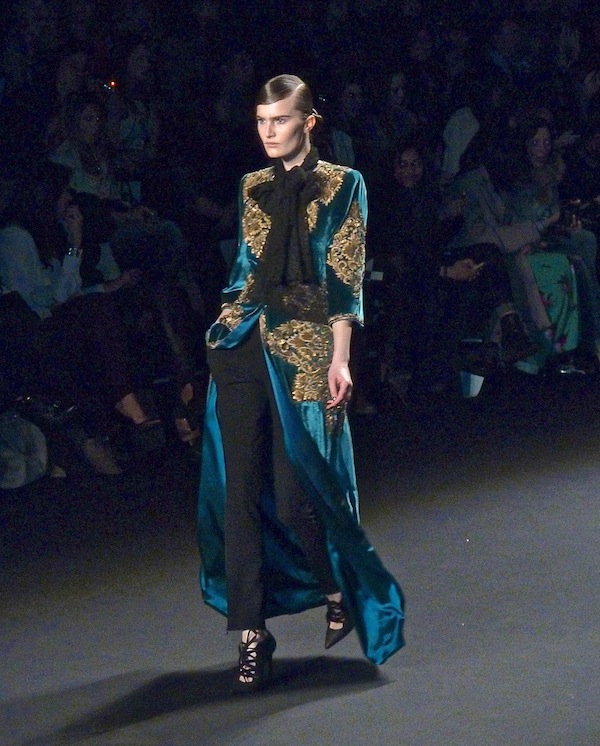 Equally exquisite from the back.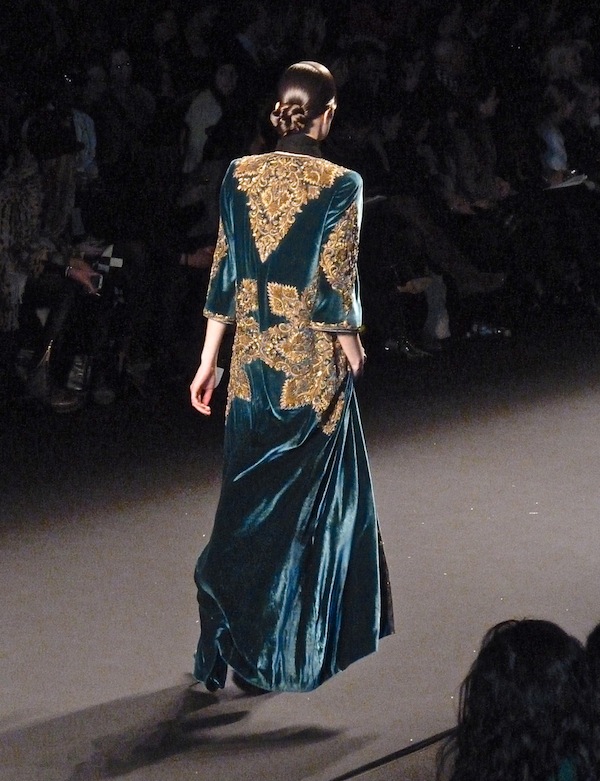 and with the same combination on this stunning strapless gown.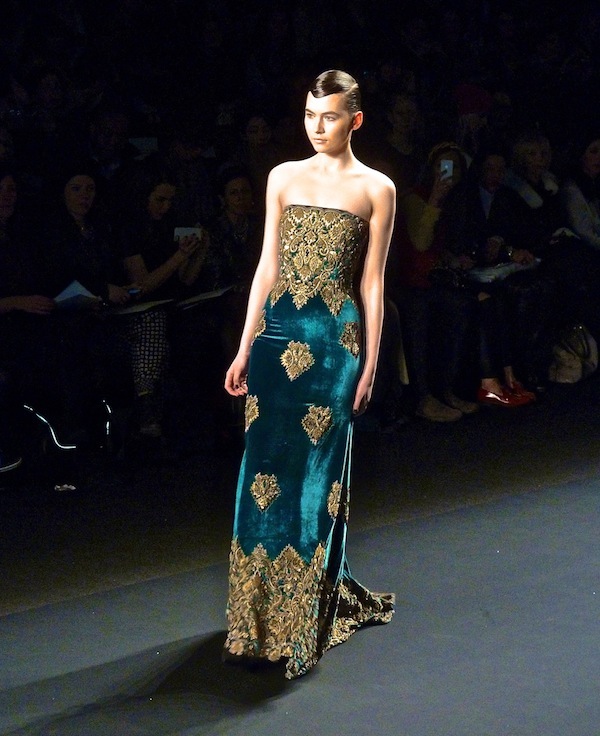 Meticulous beading adorned much of the collection. You can see the deco influence in this billowing blush sleeveless kaftan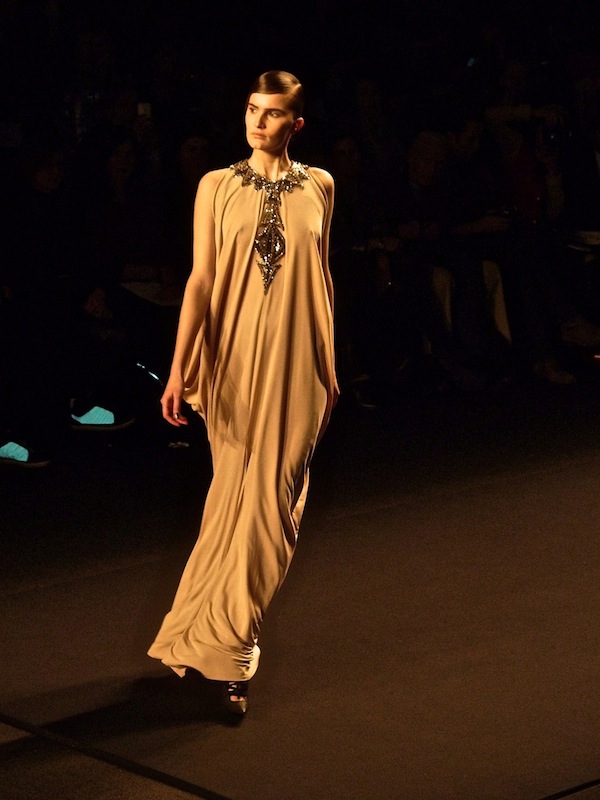 And in these halter gowns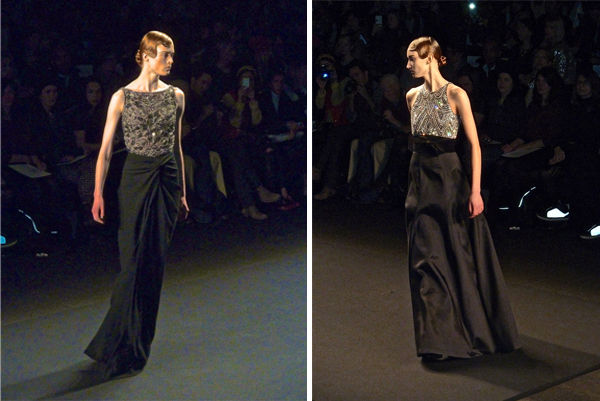 This sensational crystal beaded chiffon tulip gown and cape certainly emulates the sinuous lines of Erté, who received a nod in the credits.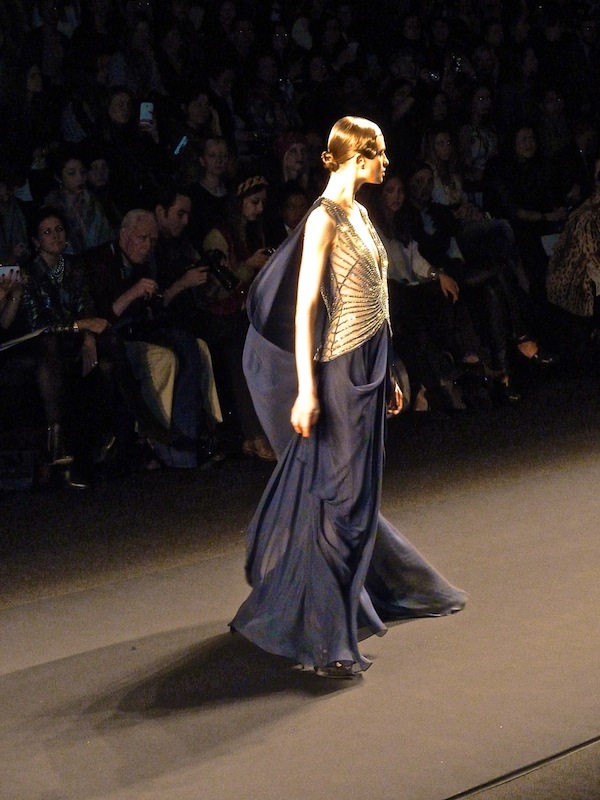 This model is obviously carefully navigating her turn as several had seemed rather wobbly in their Manolos and one had a near miss. Nevertheless, she still emanates vintage glam in this beautiful beaded chiffon slip gown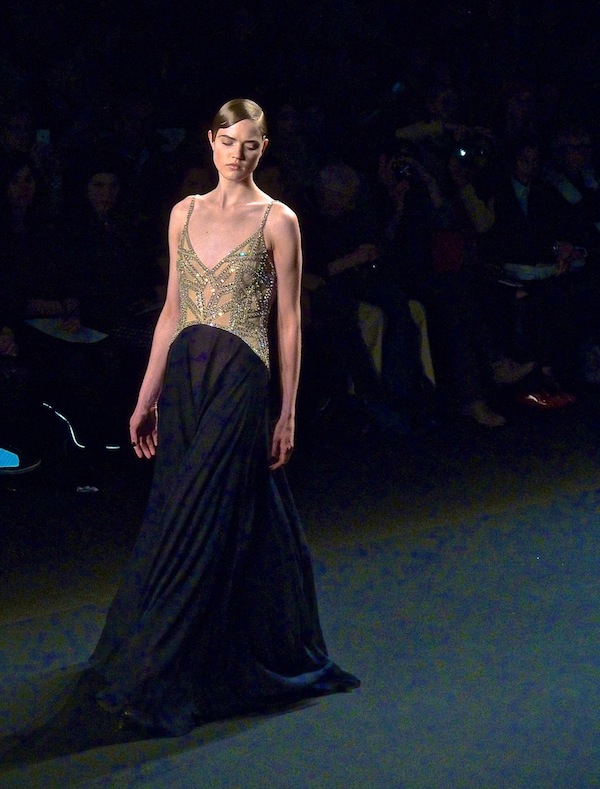 that flowed with regal elegance coming and going.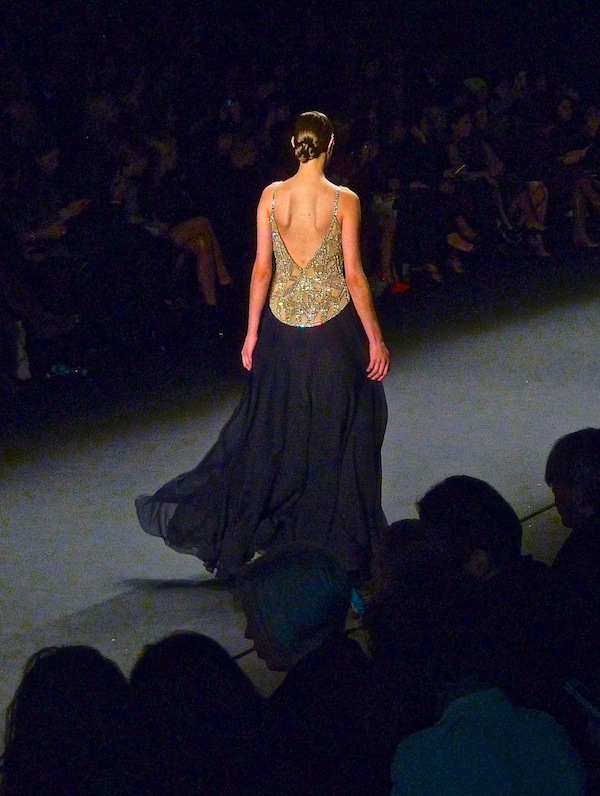 The beading's pattern may harken back to earlier eras but many of the silhouettes are decidedly modern. Take this swag beaded racer cut gown in tulle.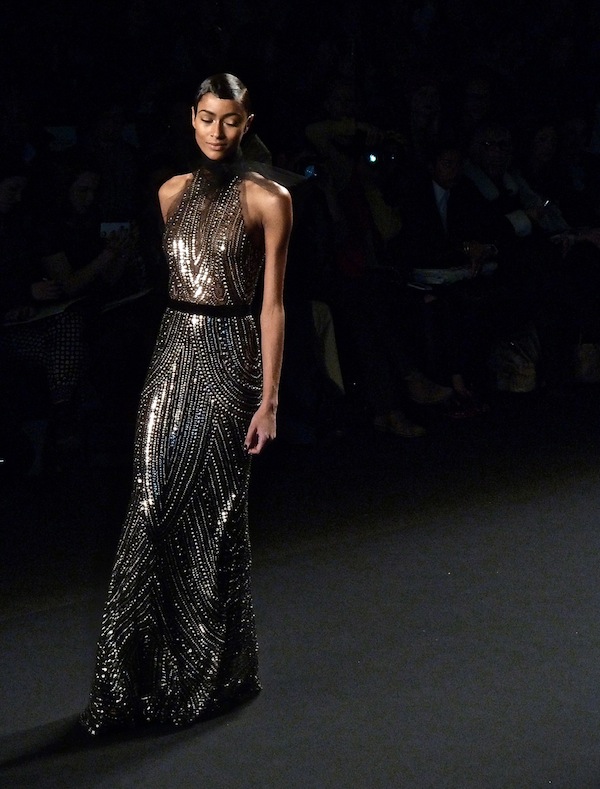 with a completely sexy rear window!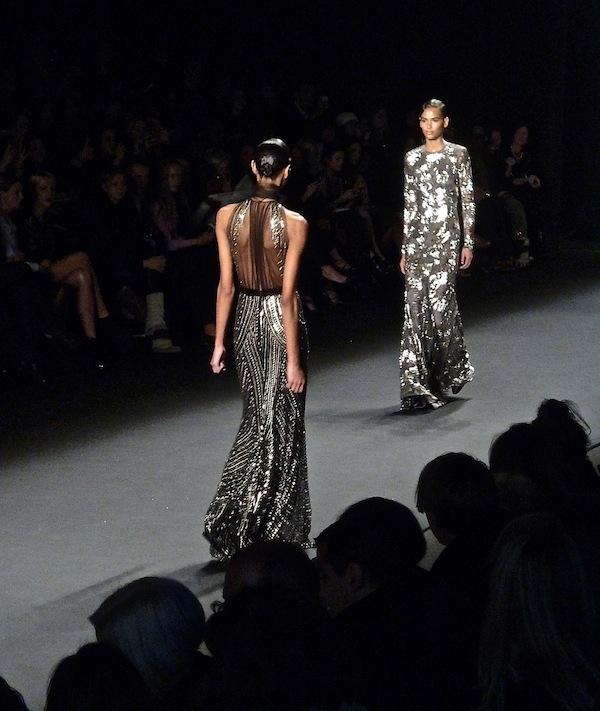 The beautiful beading is almost all you need and is elegant enhancement for simple shapes such as this slip gown,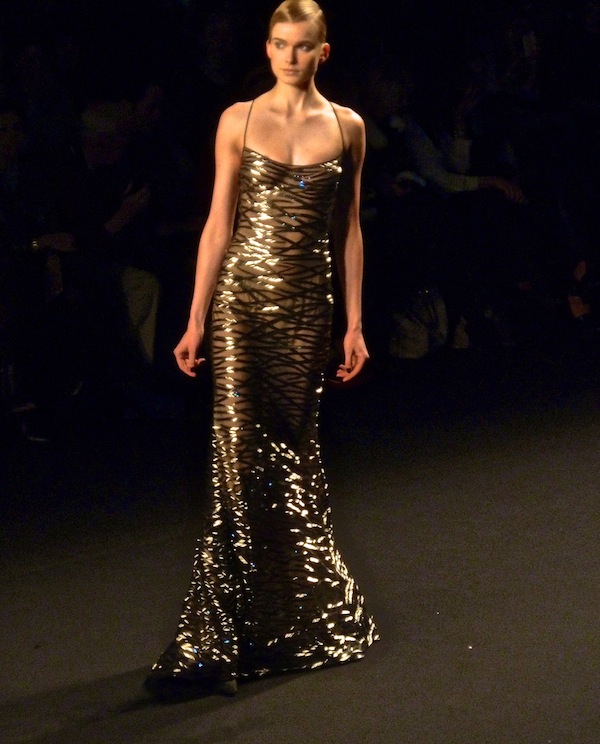 so delicate and feminine.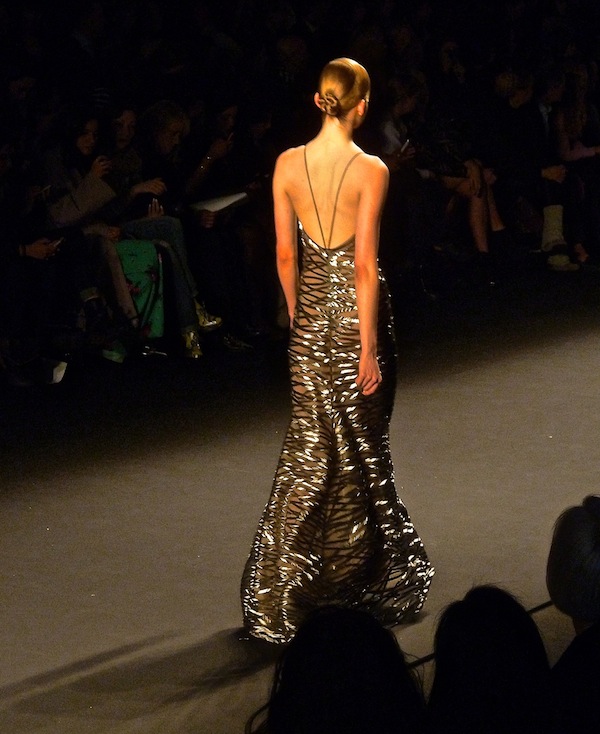 Or for tailored shapes on top and unabashedly romantic volume on the bottom as you can see with this organza petal gown.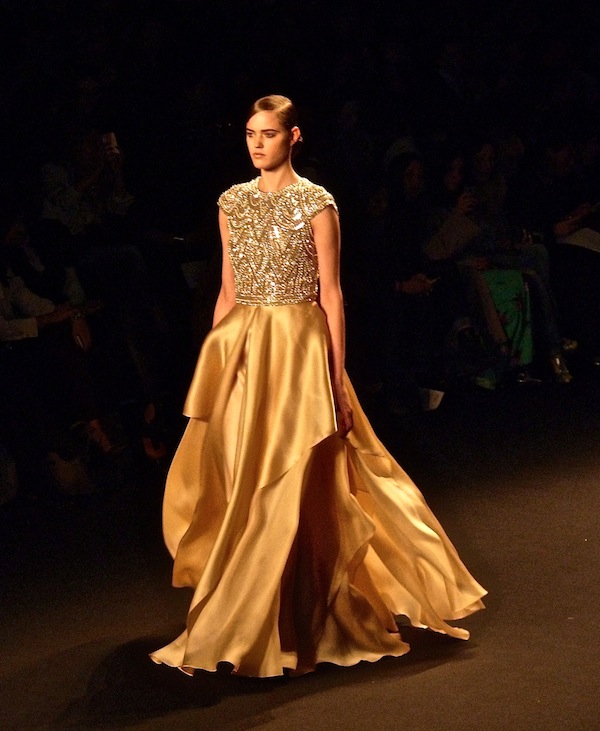 Naeem Khan is a master of his craft, using time-honored techniques of his country's sartorial traditions to create modern classics. Stay tuned for the Oscars to see which lucky actress might be donning any of these stunning styles – they're sure to add grace and elegance to the red carpet.