Today we move upstairs at the Junior League Show House in Greensboro that I visited when at High Point. It was a treat to have so many different bedrooms and baths to see in this large house. At the top of the stairs was designer Megan Winters' bold and graphic guest room for Thomas & Gray.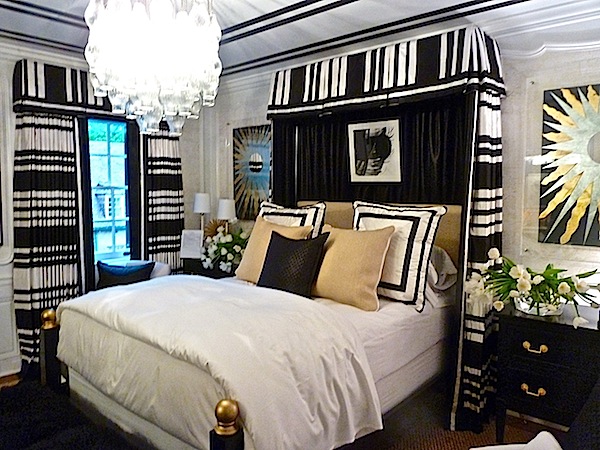 Taking its cues from the runway, the black, white and gilt scheme was used to great effect in this space. Winters updated the existing architecture of the room with a successful classic meets modern scheme.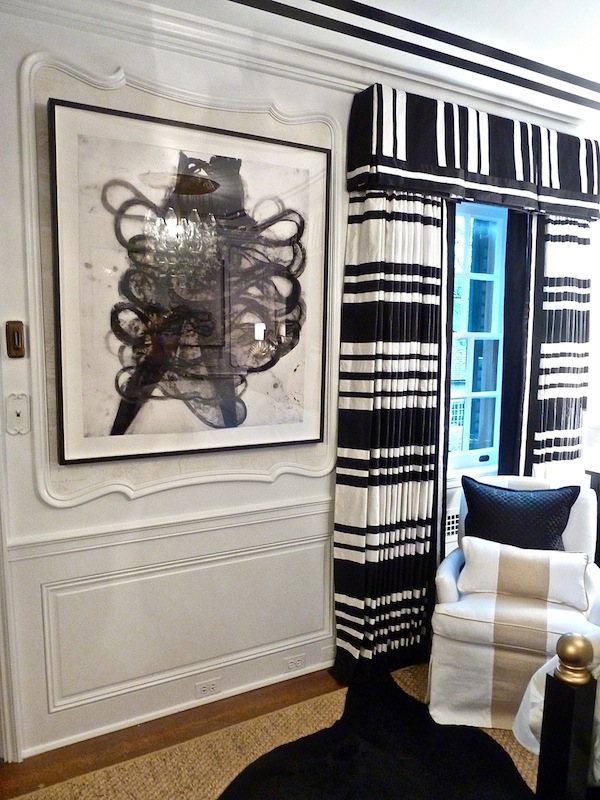 The contemporary art and lighting enhanced the color theme with elegance and energy. And I loved the simple yet dramatic ceiling treatment.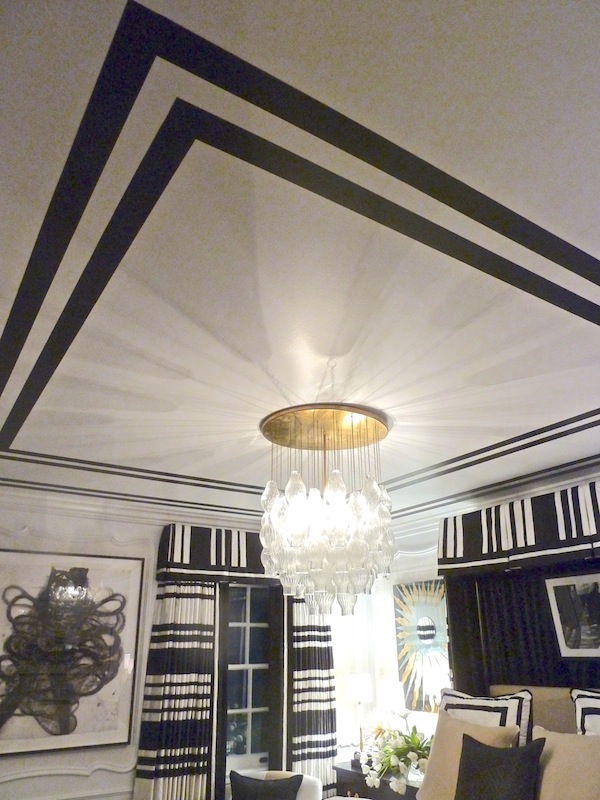 Winters' accessorizing, much from her Chicago store, was also a chic mix of timeless classics with fresh modern pieces.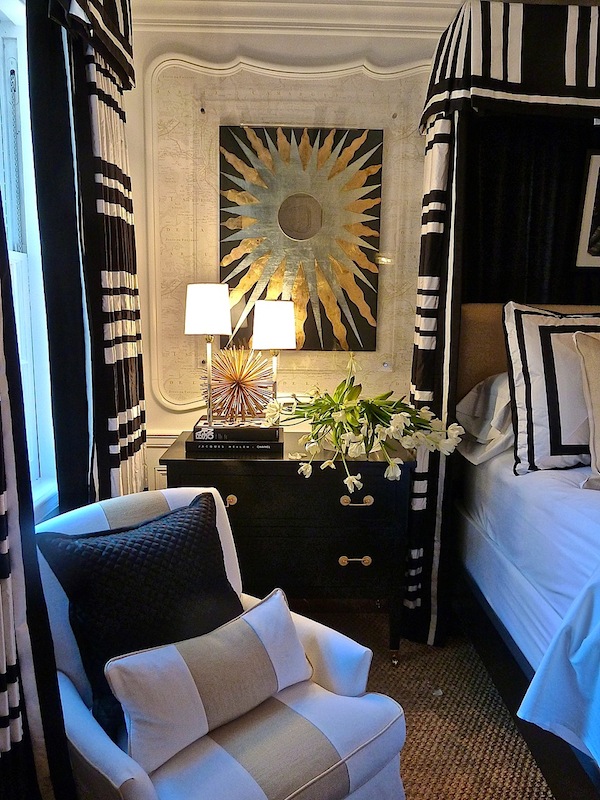 Robert Brown has been very busy! Not only did he participate in Adamsleigh but the recent Atlanta Symphony Show House and Kips Bay, which we will be sharing soon, as well. His bedroom suite featured a chic custom color, Wrought Iron, from C2 Paint, who was the exclusive supplier for this Junior League Show House. It was specifically formulated to compliment the wonderfully bold New Vase fabric and wallpaper from Clarence House that is throughout the space.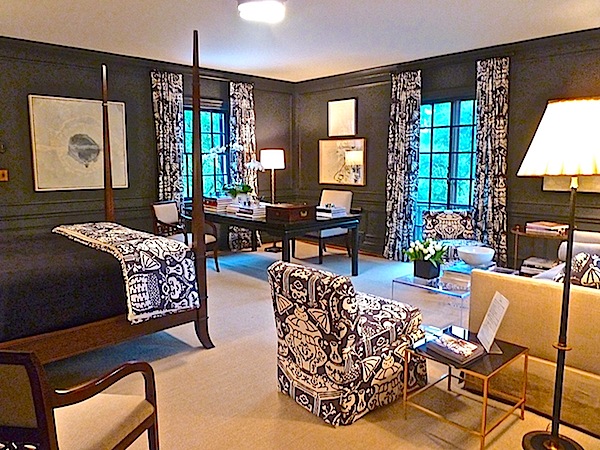 It's a definite reminder that there can be strength in uniformity, especially in such a generously sized bedroom, where you want the overall sense to be soothing and restful. While the pattern is vivid and gutsy, there is still a feeling of calm from the enveloping quality of the dark walls and consistency of a single print.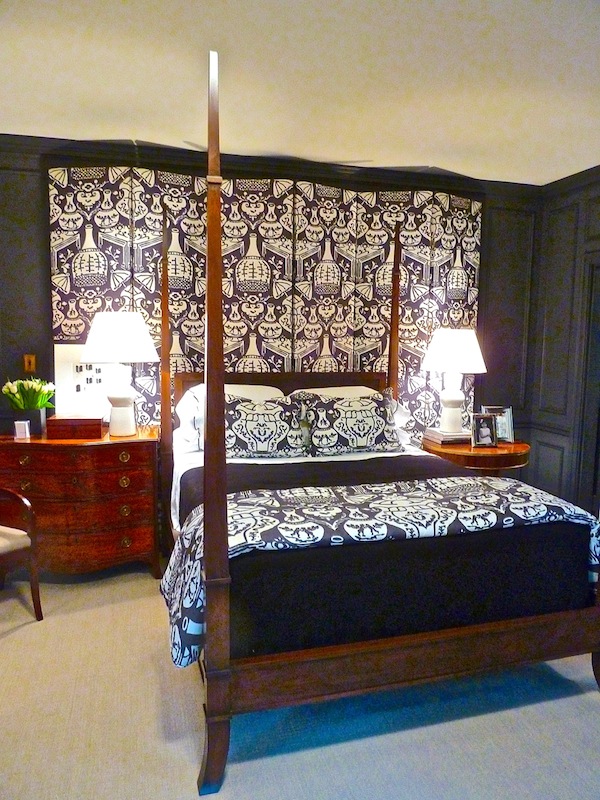 The dressing room/bath benefitted from this approach as the bold pattern camouflaged the many angles of the eaved room and gave the small room a more expansive feel.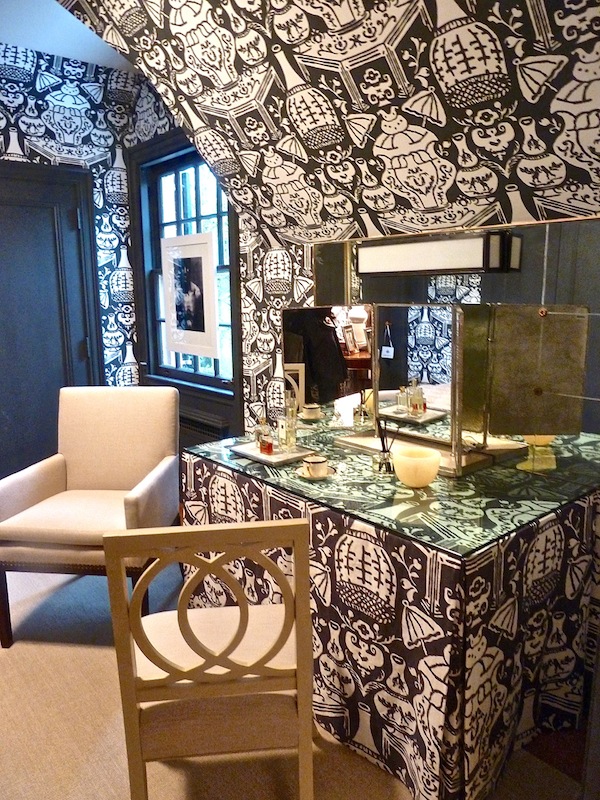 I loved the mix of masculine and feminine furniture in this space. And the gold and brass hardware and accents add a little glamour to the grays and beiges.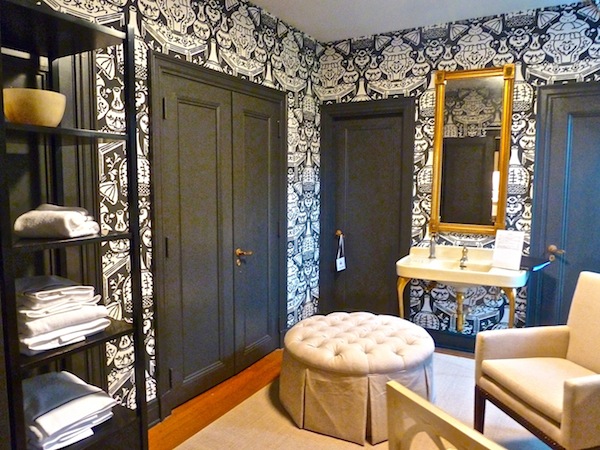 What young girl wouldn't love to live in Kara Cox's design for the daughter's bedroom? From tween to young adult, this fresh and feminine space has the kind of longevity that makes the investment worthwhile. There is a great mix of in the room of artisanal and and ready made including wonderful custom nightstands in walnut and lacquer from Sam Sprouse.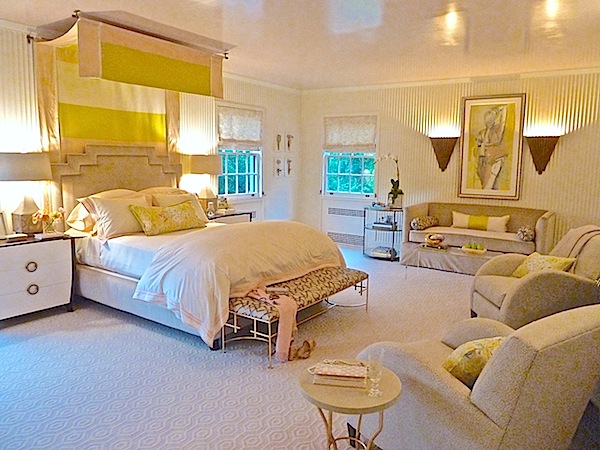 The fresh spin on pink and citrus/green, inspired by Kate Long Stevenson's artwork, is brought to life with Jim Thompson's beautiful fabrics. And Cox's clever canopy is a feminine yet sophisticated rendition on a classic.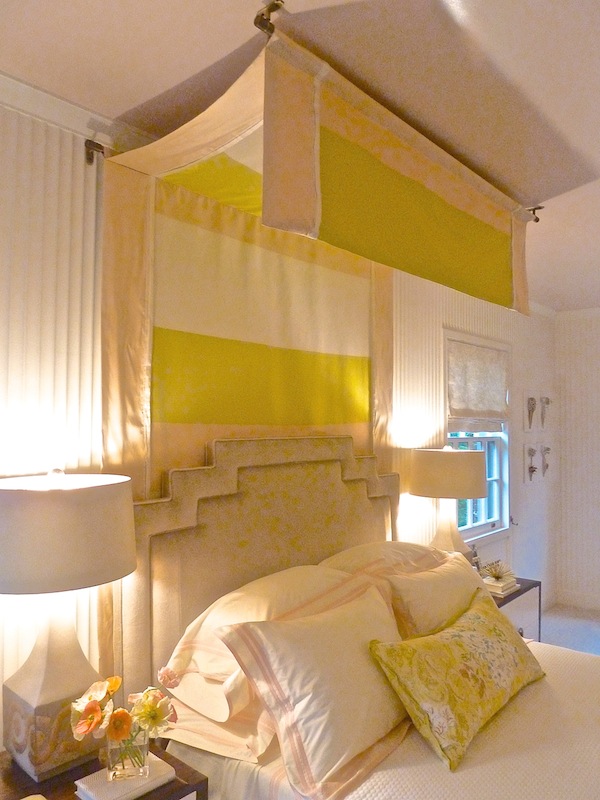 Jack Fhillips' Art Deco inspired bedroom answers the question what is black and white and red all over. With a mix of furniture from Ralph Lauren, Fhillips own pieces from his EJ Victor line, antiques and Scalamandré fabrics and wall coverings, the designer created a dramatic room full of bold contrast.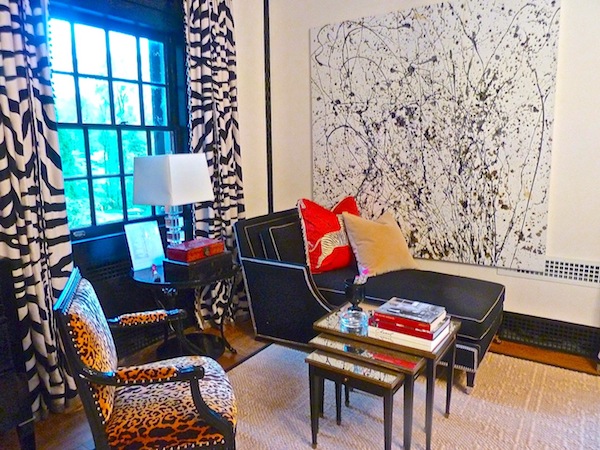 A stunning selection of large scale art including this Motherwell and Rauschenberg added an amazing presence. Elsewhere in the space, Louise Nevelson, Andy Warhol and vintage restrikes of Picasso etchings held court.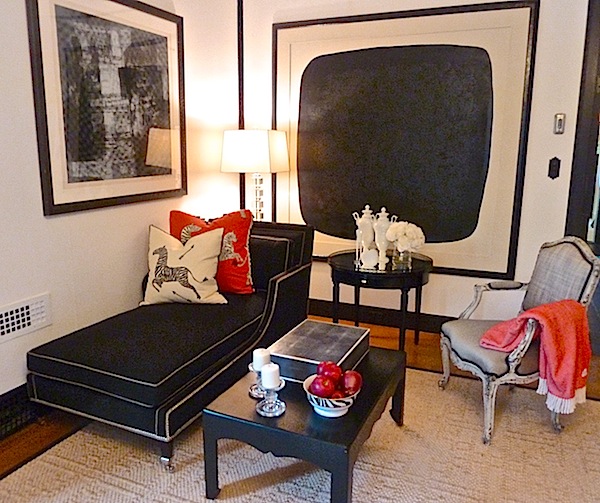 I love how Fhillips considered every detail in his vignette from the red, black and white book jackets to the zebra pencils. It's a carnival of color coordination!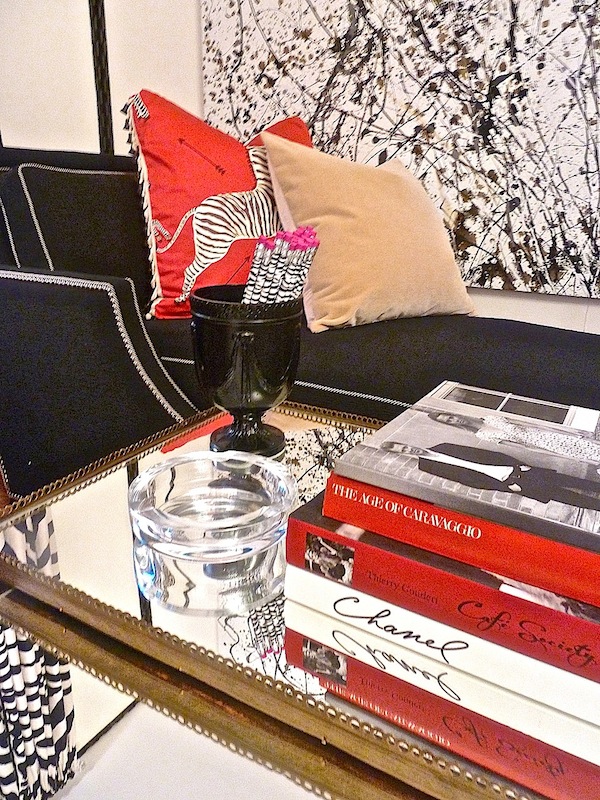 The owner's sitting room was elegantly executed by Florida designer Lisa Kahn-Allen, who I snapped, looking lovely in her space at the opening night gala.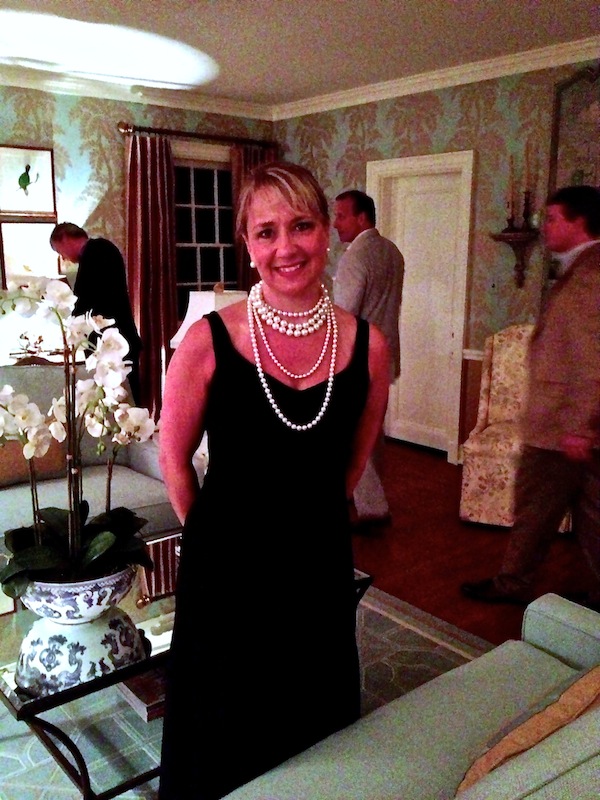 Comfortable, gracious and soothing in tones of pale aqua and sand, Lisa's room exuded an easy-going gracefulness.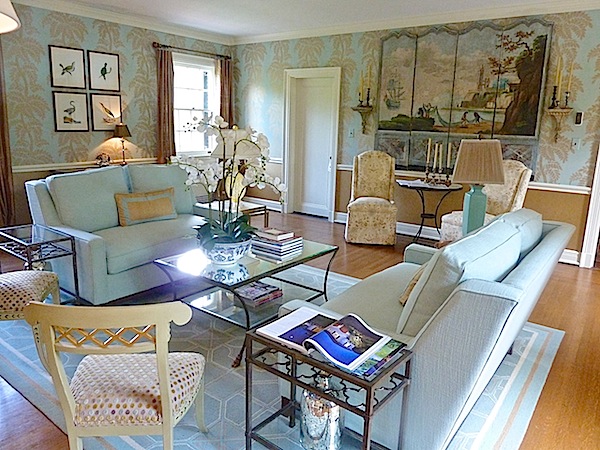 Included in the room are several of the pieces Lisa designs for Chelsea House, including these charming vintage-style bird prints, that I included in my style spotter picks for market.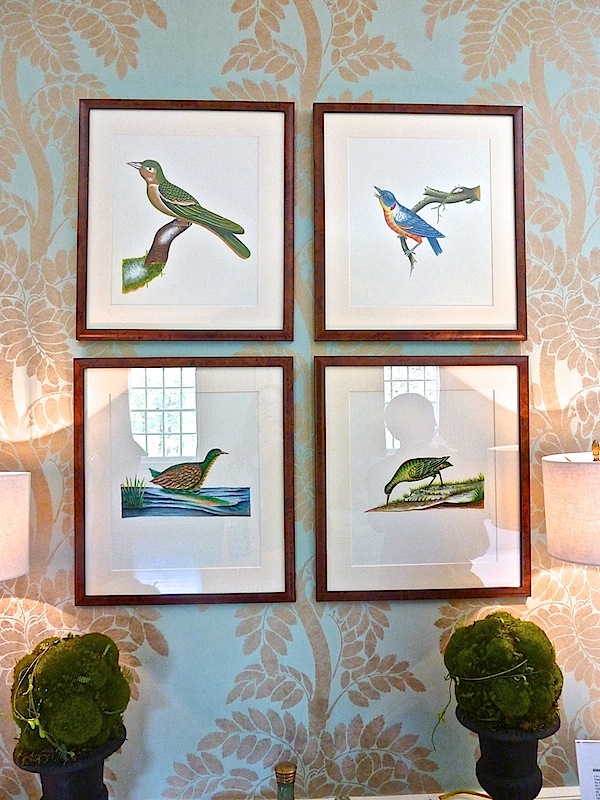 And last, but certainly not least, was the tiny but chic men's dressing room Lisa Mende and Traci Zeller collaborated on for the show house. Inspired by the original homeowner himself, Lisa and Traci created a jewel box filled with clever creative elements. Custom wallpaper based on the 1920's plans for the house added a unique authentic tone to the room.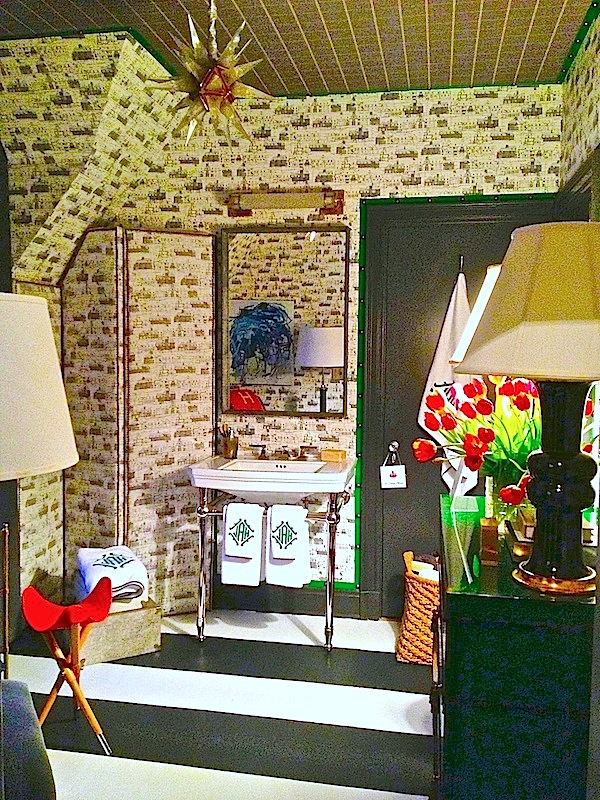 Green grosgrain trim with oversized studs added a pop of color with tailored tidiness.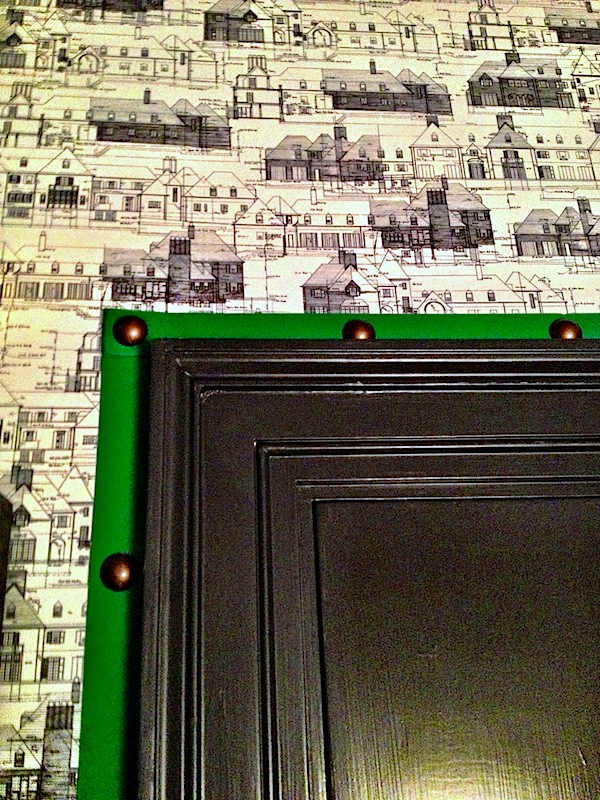 The designers didn't miss an inch for design opportunities and the ceiling featured a haberdashery appropriate gray windowpane wallpaper from Thibaut, trimmed in the studded grosgrain, and a gorgeous deco light fixture.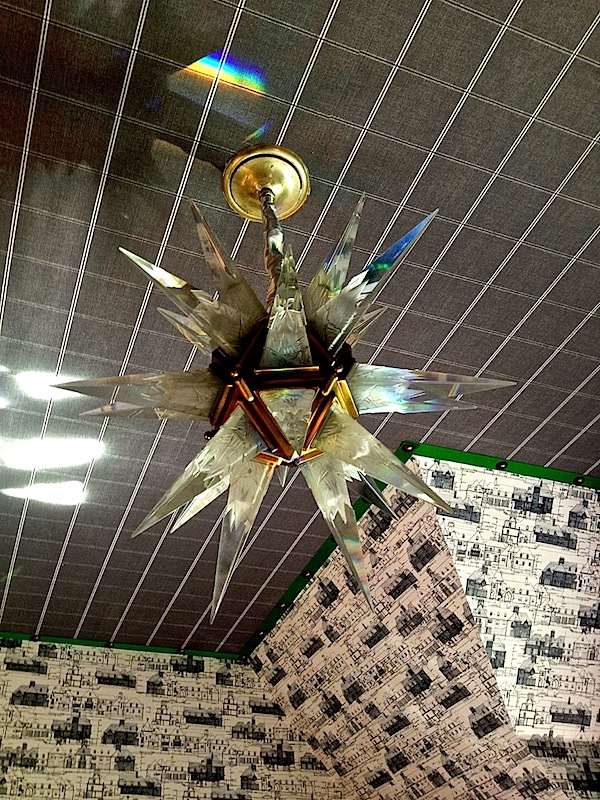 Bold black and white painted stripes anchored the floor and handsome monogrammed towels from Leontine Linens featured pops of the vibrant green.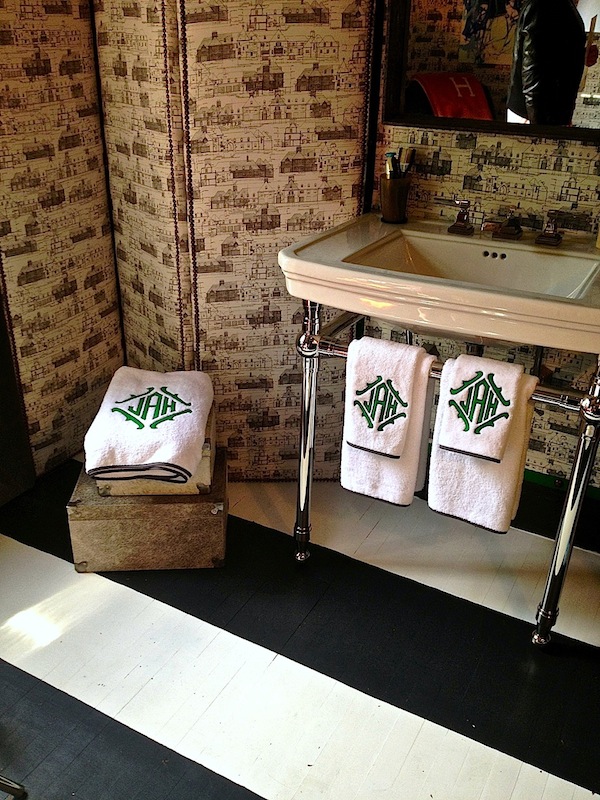 The fabulous Century malachite chest was the perfect choice to add deco flavor and more of the green accent color.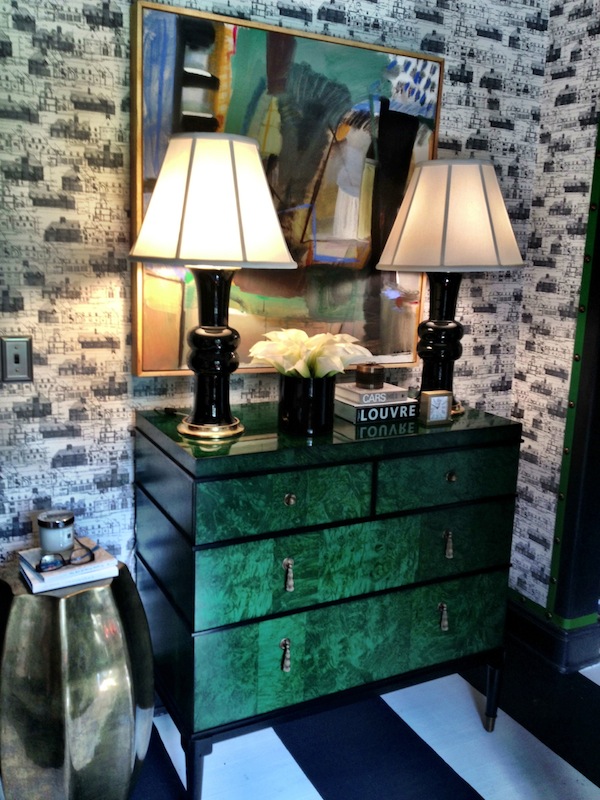 I just loved this shaving moment vignette. Timeless elegance in a men's dressing room works for me!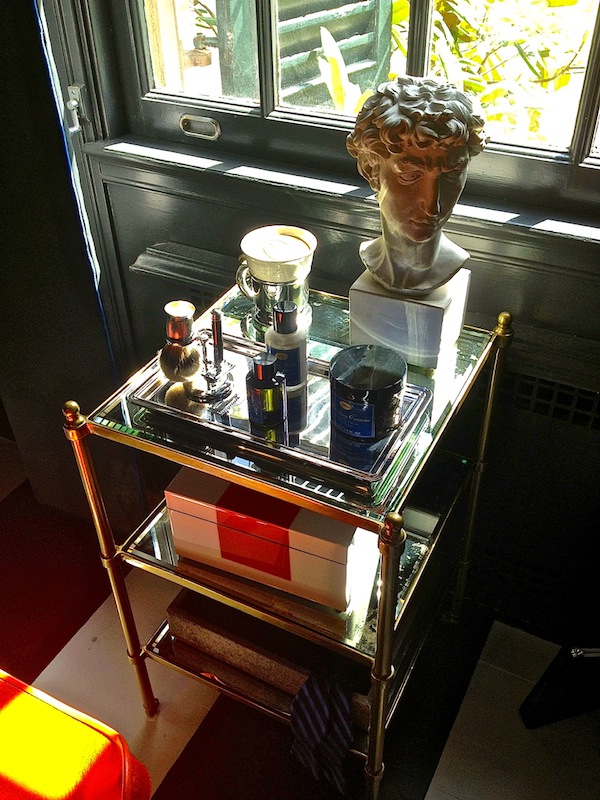 Traci and Lisa also designed the closet in the entry spaced to the room. I am dying to wallpaper our bedroom closet and I'm not even showing this to my husband who loves his side of the closet neat and tidy and might get some ideas of his own!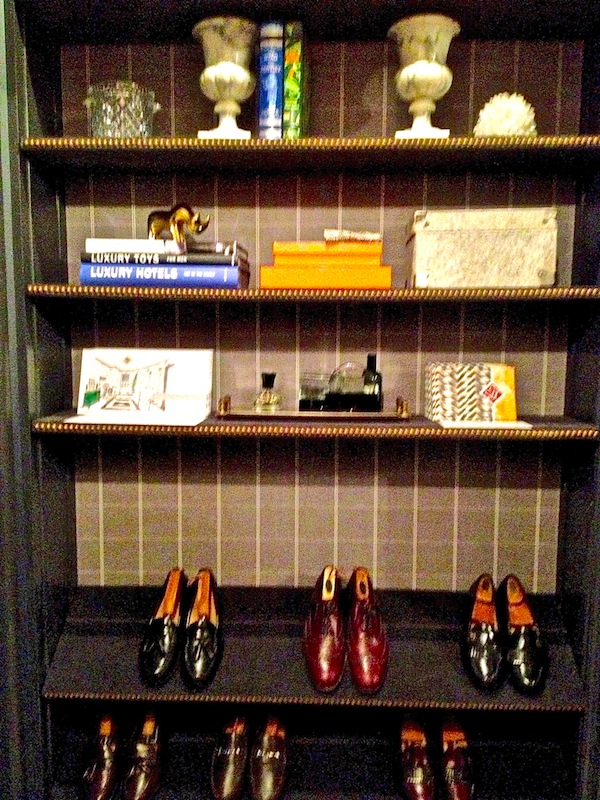 A final thank you and congratulations to all involved – there is no question that the Junior League Show House was a rousing success!