Interior design books are always high on the holiday gifting list in these parts and while we're in the home stretch, there's still time to make a visit to your local bookstore or order online. I would have liked to share each of these individually, but this fall seems to have been in fast forward mode. No introductions are needed for Jacques Garcia, the French designer who seems to do it all. From his celebrated renovations of the Hotel Costes in Paris, the NoMad in New York or La Mamounia in Marrakech, his work, whether modern or classic, is informed by his passion for the past. And it was because of his deep knowledge of and love for 18th century French art and design that he was brought in to head the renovation of the recently reopened decorative galleries at the Louvre.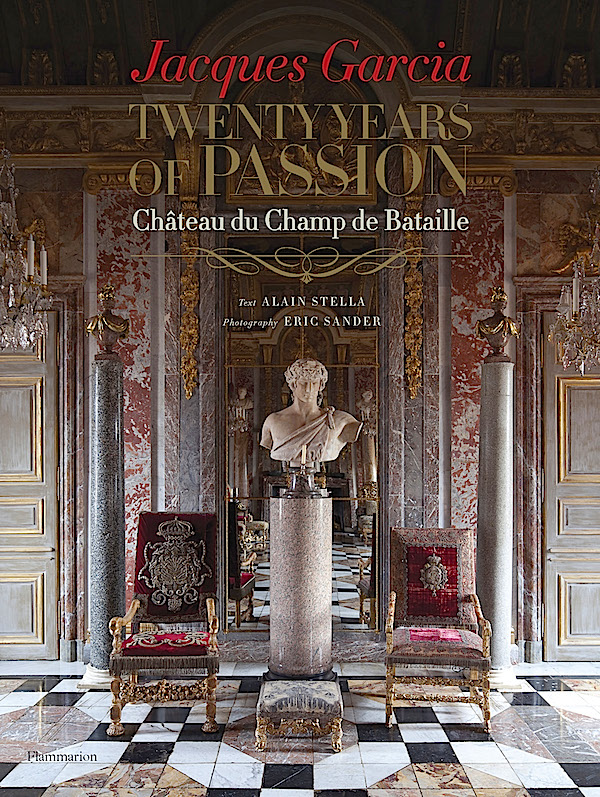 For the last twenty years, in addition to his design practice, he has worked on restoring the Château du Champ de Bataille, his magnificent 17th century estate in Normandy. You may remember my visit to the château last January. This beautifully produced, large and comprehensive volume fully illustrates every aspect of the property, from the rooms and gardens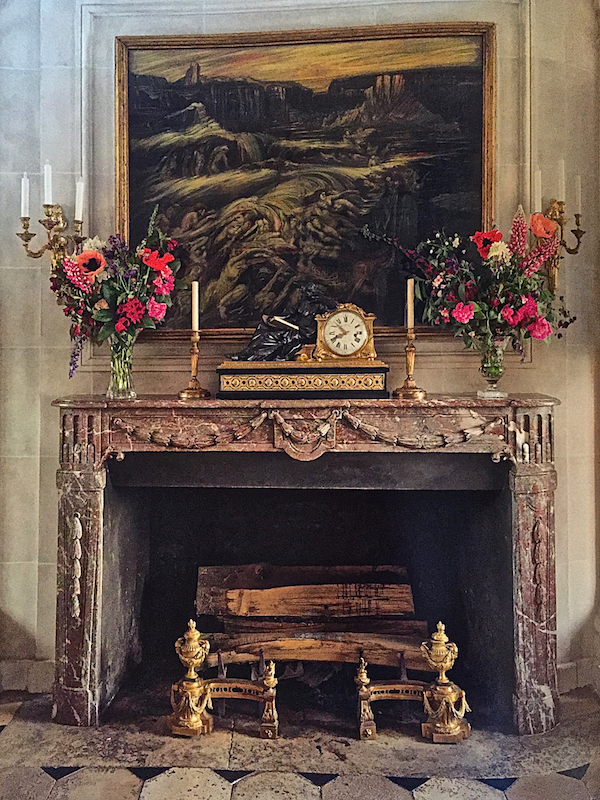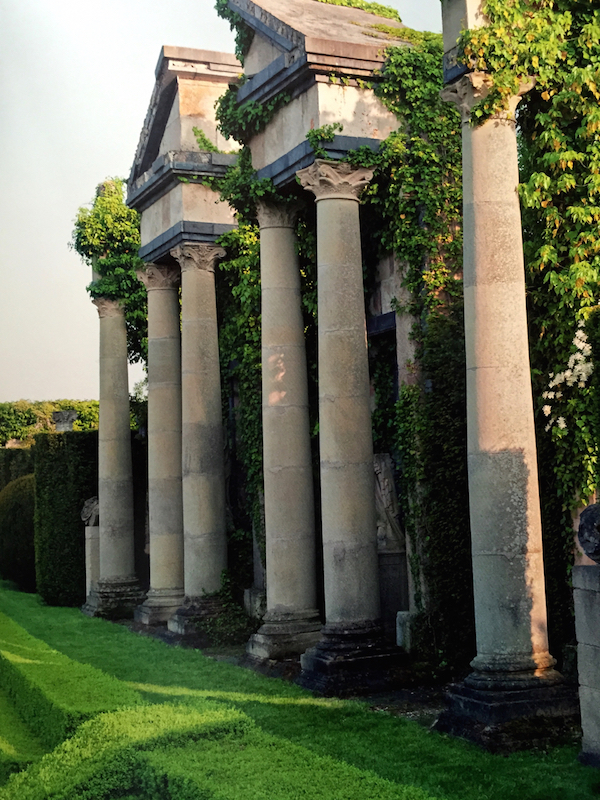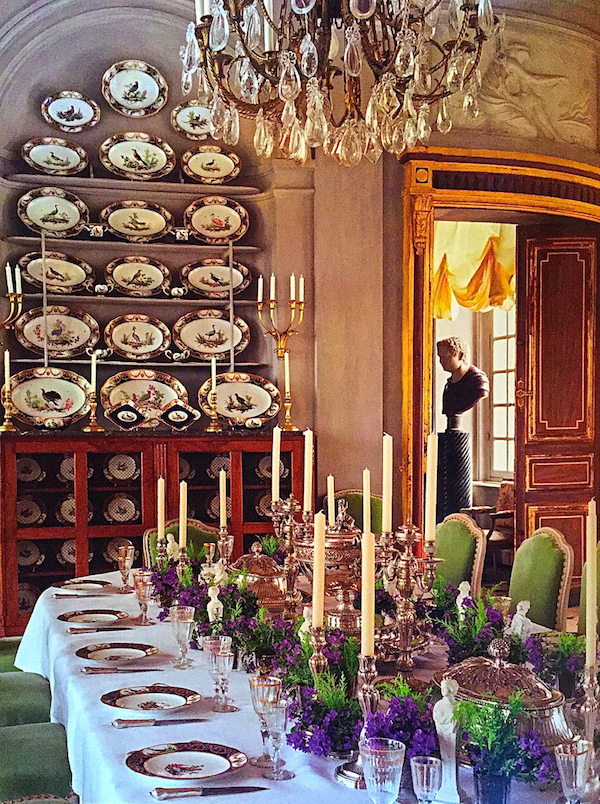 to art, water features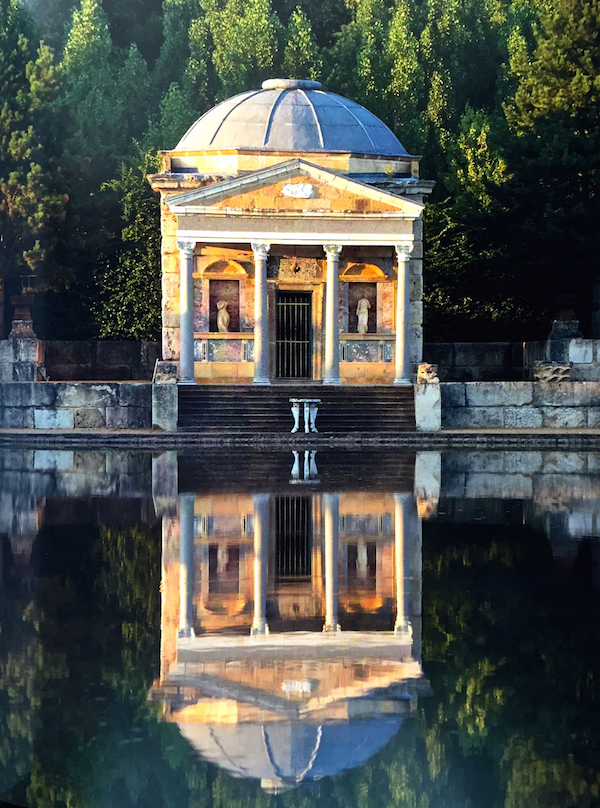 and the spectacular Pavilion of Dreams, his enchanting Indian-inspired private domain, built from authentic remains.
 photos by Eric Sander
I have been an ardent fan of Jean-Louis Deniot's elegant and sophisticated work for years, so I was thrilled that noted design author Diane Dorrans Saeks partnered with him to produce a marvelous monograph on his work this fall.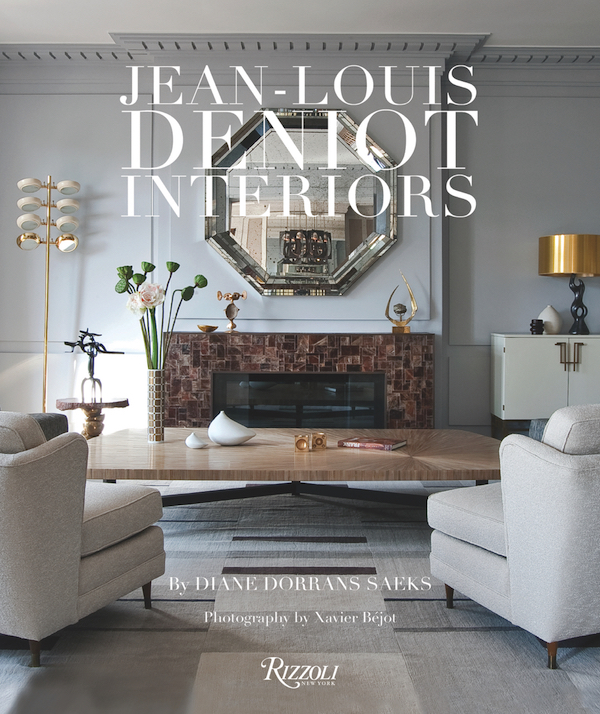 In fact three years ago when ELLE DECOR asked me to pick my favorite room for a year end round up, I selected Deniot's beautiful project below, which also appears in the book.
photo: Miguel Flores-Vianna
Deniot is unfailing in producing flawless yet fluid projects that are the result of his formal education, self-taught knowledge and meticulous approach to his work. Trained as an architect, he always begins with the bones, perfecting every aesthetic and functional aspect of the project before the decor is even considered. And when the space is finally done, it is seamless and luxurious, as if it was always meant to be. "Everything is thought out for privacy, individual desires, and pleasure. That's luxury." In this Chicago apartment, one of the few American projects in the book, the living room was created by combining three rooms and a storage closet. The new plaster ceiling was designed by Deniot to reflect the 1940's glamour of the building with French flair.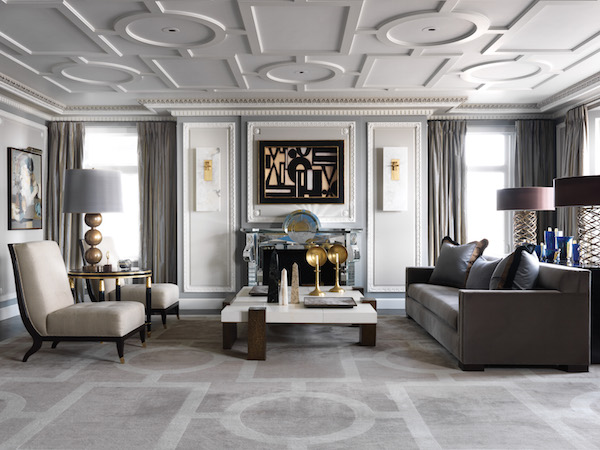 You will find yourself frequently referring back to the book as Saeks includes detailed notes on the designs, including sources, inspiration and process. We learn, for example, that in the room above, the slipper chairs are by Lucien Rollin, the coffee table and lamps behind the sofa are from Hervé Van der Straeten and the fabulous mirrored fireplace was designed by Deniot based on the work of Serge Roche.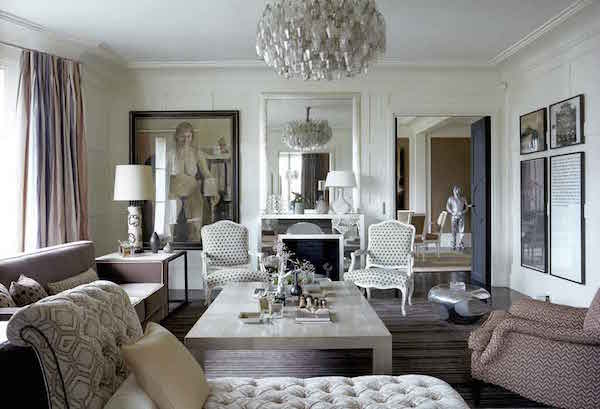 The magic of his rooms is in the balance. Their calm and timeless sophistication represents an effortless melding of old and new, of restraint and glamour, of precision and poetry. The Parisian apartment above features an eclectic yet elegant grouping of art by Sophie Calle (on right wall) and Antony Williams (nude on left), armchairs and day bed by George Smith, a stunning Venini chandelier and shagreen coffee table, fireplace and mirror designed by Deniot.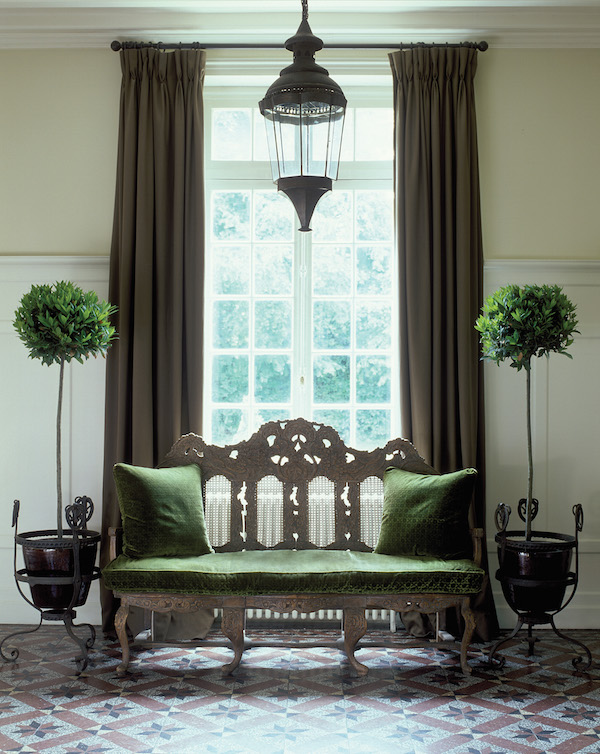 One of the sections in the book, entitled French Weekends, is an enchanting chapter that takes us to the French countryside, including Deniot's own escape, a seven bedroom Chantilly limestone house from 1820. In the entry above, with its original tiled floor, hangs a 19th century French lantern and an 18th century Portuguese settee, upholstered in embossed Lelievre velvet sits in front of Pierre Frey linen curtains.
photos by Xavier Béjol
Heading south to the Touraine, Deniot and his business partner sister share a charming 18th century house. Here, Deniot's signature mix takes on a more rustic spin, exhibiting his versatile design vocabulary. Wool plaid on the walls immediately gives the library a cozy air and Napoleon III leather armchairs sit next to a fireplace crafted from old stones found on the property during renovation. The statement-making Louis XVI period French trumeau in its original blue and white paint was given to Deniot and his sister by their grandmother. This book serves as inspiration, primer and source – a perfect addition to your design library.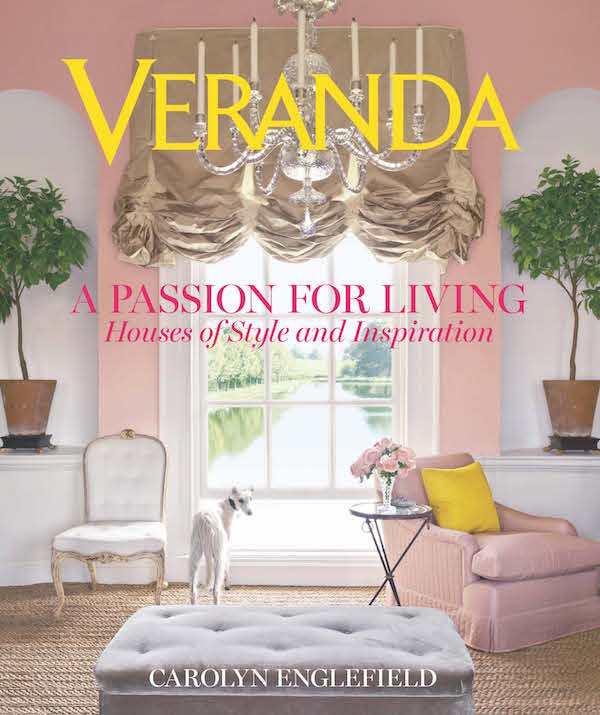 The latest volume in Veranda's series of titles is Carolyn Englefield's A Passion for Living. You will reach for this book anytime you want to feel inspired or refreshed, as if you just returned from a wonderful journey to the European countryside. Having lived in Paris for 13 years as a correspondent for American shelter magazines, Carolyn produced countless stories on exquisite homes across the continent. Now the Interiors Editor at Veranda, she assembled a stunning selection of homes from her repertoire to feature. Whether small or large, in the city or country, they are united by their "poetry of imperfection." These are homes with souls and personality, elegance and originality, whose owners have the best of taste yet understand the power of the mix.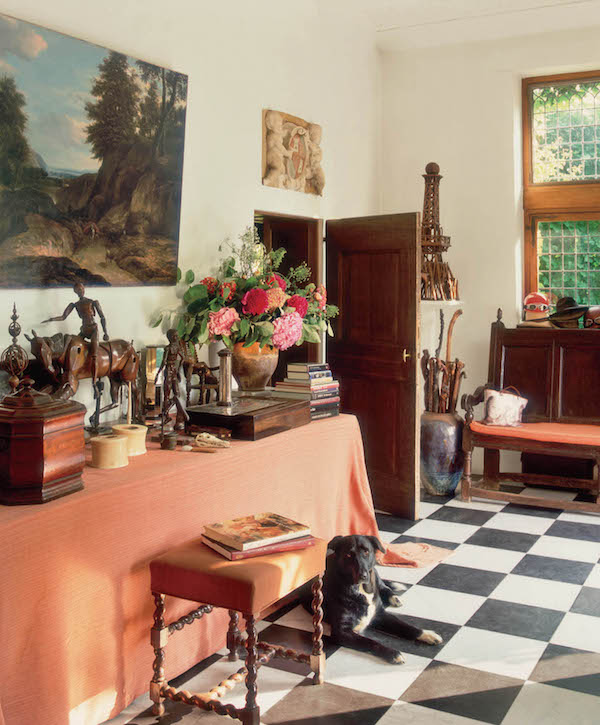 It was difficult to choose which photos to feature as, after reading, they each feel like an old friend, expressing so well the lives lived within. Above, Axel Vervoordt, designed a foyer that feels unforced and welcoming, a place not merely to walk through but stay a while and sit, look at a book, examine an objet, smell the flowers.
photo by Jacques Dirand
The bucolic front hall in Jean-Loup Daraux's home in the Camargue is stylish and yet relaxed with a strong sense of place – walking sticks, antlers and casual checks all suggest pastoral pastimes or a life well lived. Or as the owner says, "I like organized disorder, natural materials, flowers everywhere, fireplaces and beautifully laid tables that bring warmth, intimacy and emotion – a magical atmosphere of french douceur de vivre, the sweet life."
photo by Jacques Dirand
What better way to celebrate A Passion for Living than à table at designer Jacques Grange's delightful farmhouse in Provence. The traditional blue and yellow of the region is artfully translated to a simple yet sublime setting. You can practically taste the delicious tomatoes and know that this lunch crew will probably linger at the table for hours. Caroline sums it up best, "Homes with great style are not only about what you see but also about what you feel. They are captivating – places you never want to leave." And you won't want to leave either – a book to revisit whenever you feel the need to feed your eyes and your soul.