Oomph is a line that is easy to love! Tailored yet fun, simple yet stylish, the oh so versatile collection of pillows and furniture comes in an irresistible array of colorful designer fabrics and 16 high lacquer colors!! And yet there are so many more reasons why Oomph has been on my radar since they launched three years ago.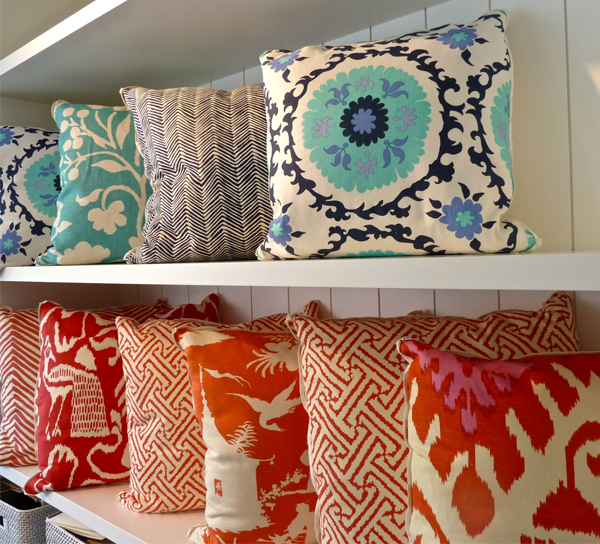 Last week, I finally hopped over to their cheery light-filled office to have a chat with the founding partners. Friends Louise Brooks, Patty Hoppel and Amy Rice raised their children together in New Canaan, CT, all the while involved in the local design scene – Patty and Amy in interior design and Louise in architecture.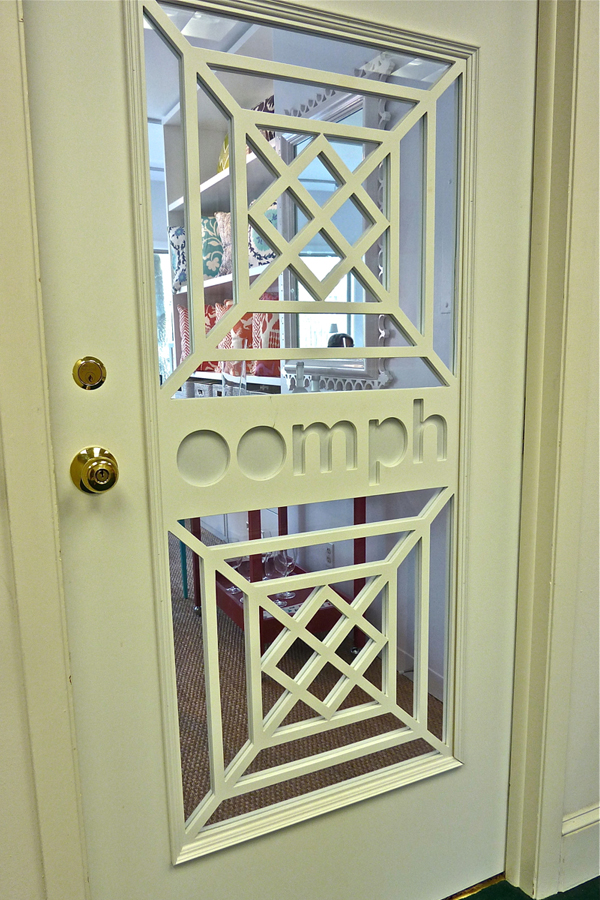 You would think as empty nesters they would be thinking about winding down. But creative energy knows no age, and one vacation, over drinks (a recurring theme) on their favorite Harbour Island beach, an idea was born – an idea for a "spirited" collection of pillows and small occasional pieces representing their distinct design sensibility.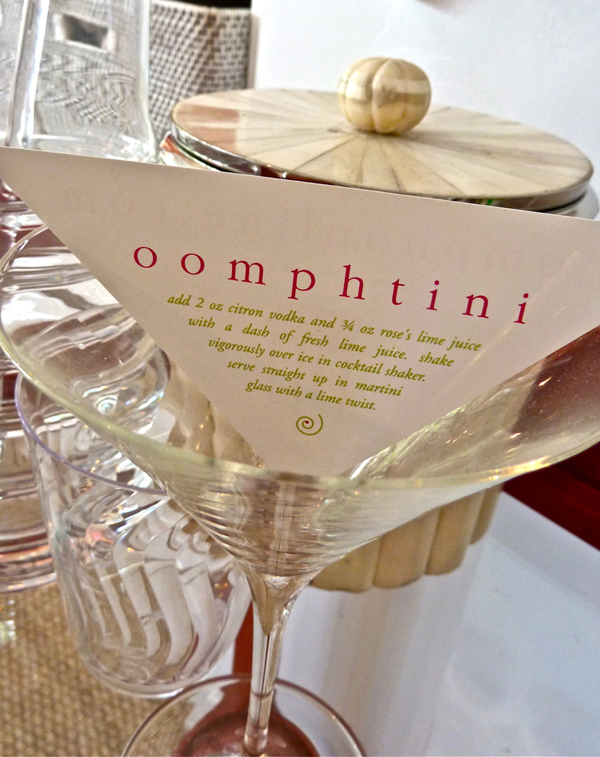 With a shared love of classics, tweaked with a clean modern twist and a "just do it" mentality, they launched their new venture with those pieces they could never seem to find for themselves, like their best selling Tini (as in martini) Table, in front below – the perfect little piece that goes anywhere!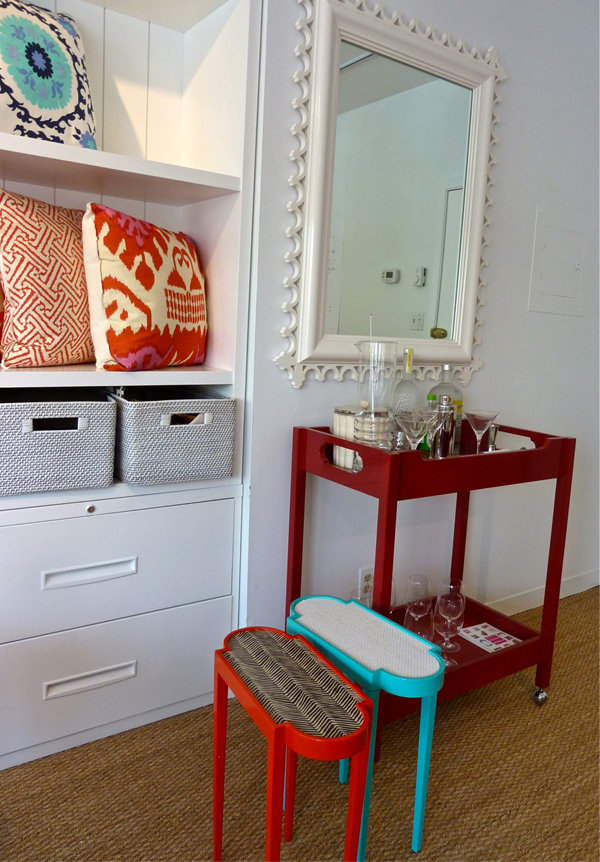 The concept was that every room can use a little oomph. With just three elements (chairs, accent tables and decorative pillows – all coordinated to work together), a space can be instantly transformed. But not with just any pieces. Oomph's offerings ooze with charm and personality, whether a simple yet distinctive side table like the popular Edgartown shown here in their driftwood finish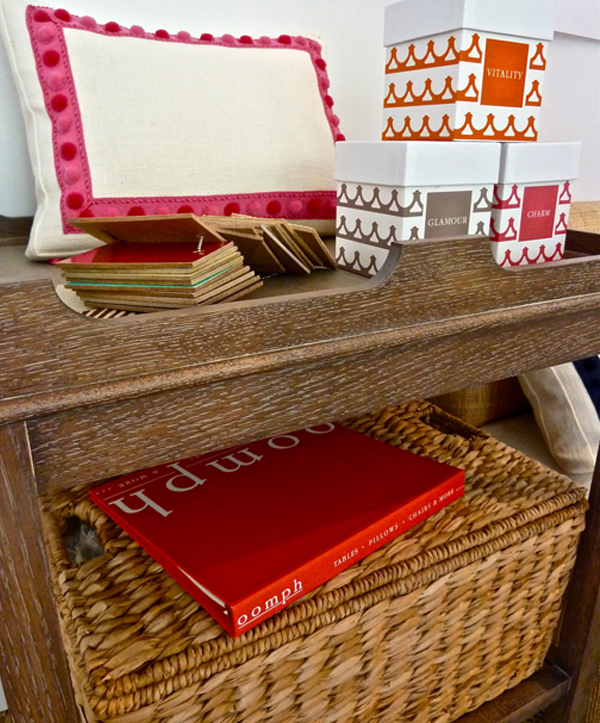 or the snappy backgammon table, color coordinated down to the dice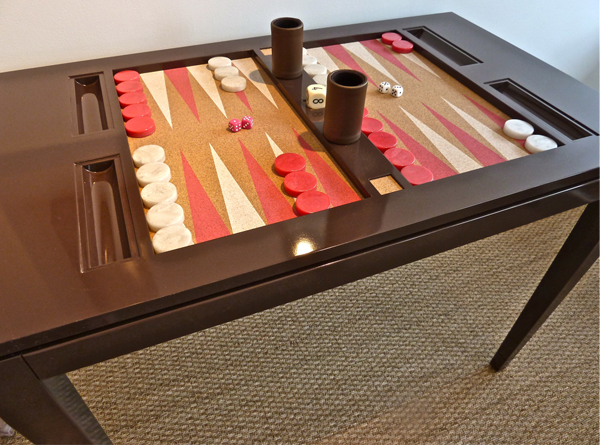 or the versatile slipper chair (clearly everyone's favorite)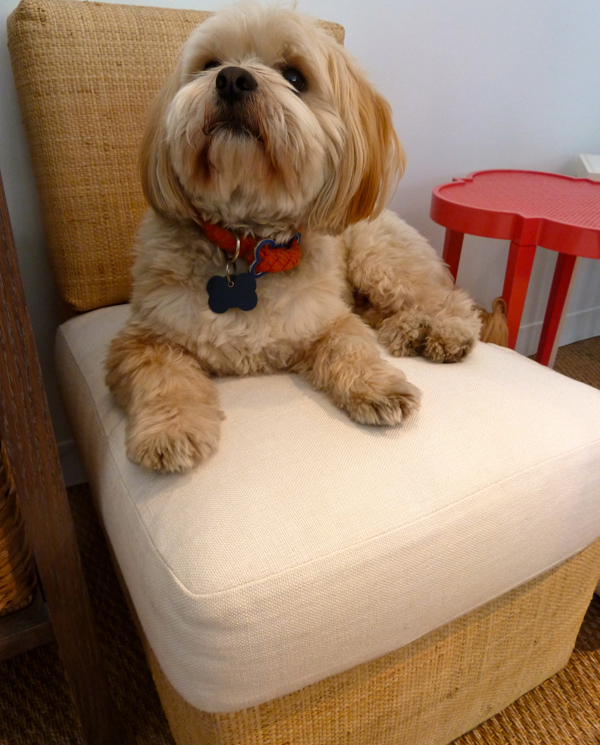 their line is not just good lucking and practical but fun, with a cheeky twist on traditional.
But the trio was also determined to produce exclusively in the U.S., locally whenever possible, with eco conscious methods. Only poplar grown in renewable forests and water based paints are used. The tables are all custom built in their Connecticut workshop, the chairs hand-made by a multi-generational family of artisans and the pillows hand-sewn locally with a fastidious attention to detail, like the new Bali 2 Fireworks below.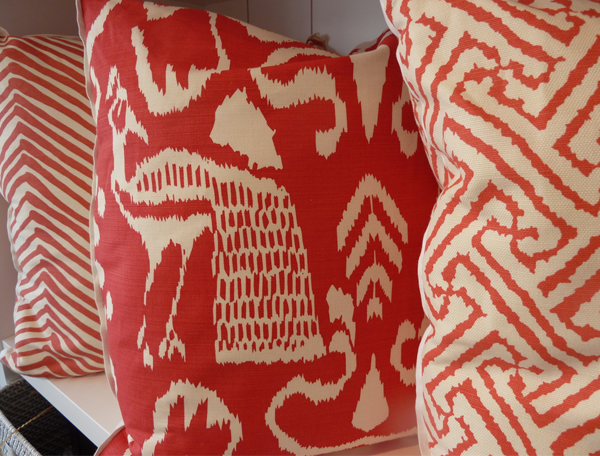 Having close relationships with their workrooms, the business is also very flexible, with the ability to offer bespoke pieces, custom made to clients' specifications. With good turn around, great customer service and a quick ship program, Oomph is a designer's dream and the group has in fact worked with practically every prestigious firm around. As they have slowly expanded into other decorative pieces, travel informs much of the line with design details from the past updated for a modern whimsical feel, as seen in this Newport mirror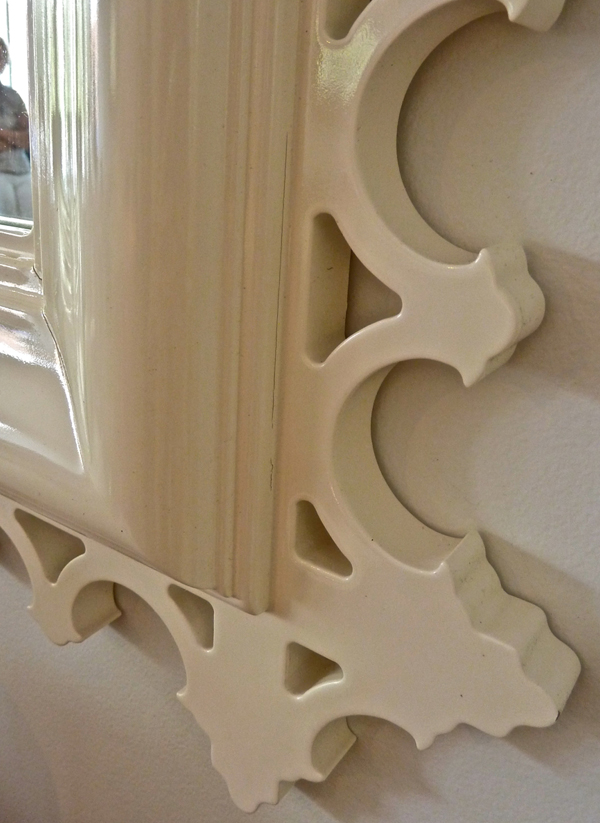 or a clear winner, the new Hobe Sound Lantern, their first foray into lighting. Available in all 16 lacquer colors, I predict we'll be seeing a lot of this stylish fixture.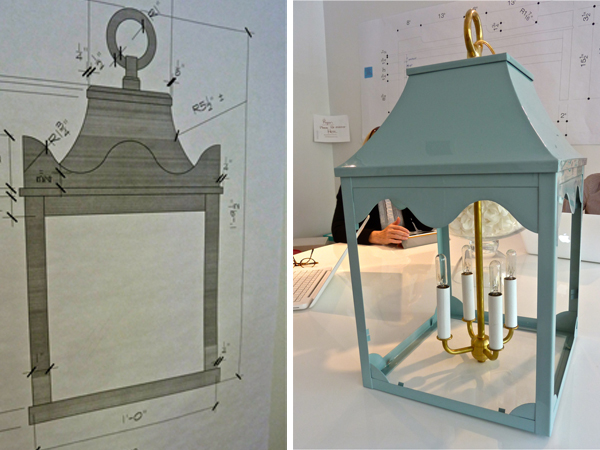 Their booth at High Point was a fabulous explosion of color with luscious lacquers all around.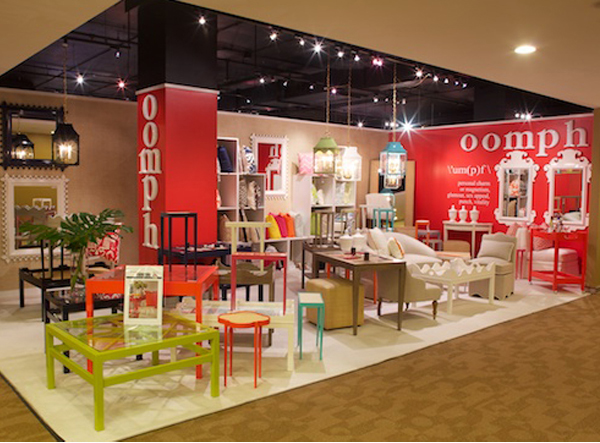 Many of their classics were looking great such as the Nantucket nesting tables with their unique and playful shape and fabulous details.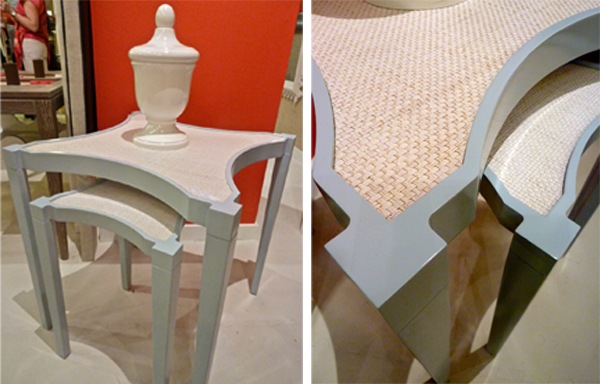 And speaking of Nantucket, one of my favorite all time pieces is the Fenwick Chart table. This one is fitted with a map of my favorite isle but can be customized to include your ideal destination as well!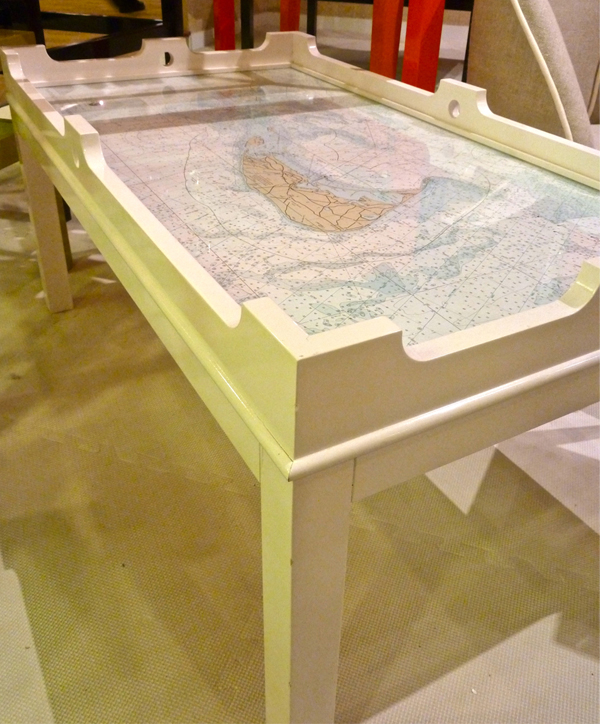 The small upholstered pieces are charming conversation starters like the Gossip chair and Tini loveseat.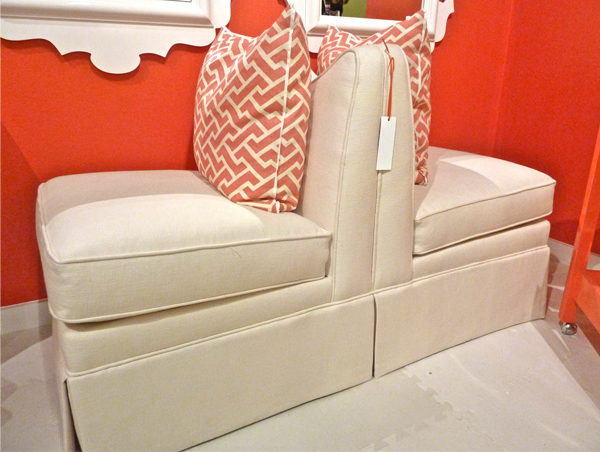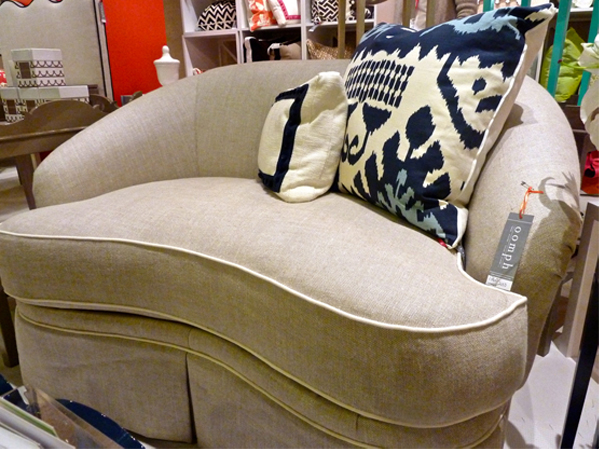 The new scalloped slipper chair has great scale and style. With great detailing, it would be at home as easily in the dressing room as by the fireplace!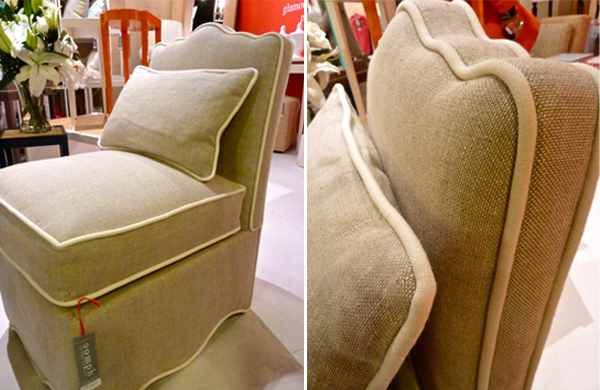 Their first headboard has classic lines that offer infinite customization possibilities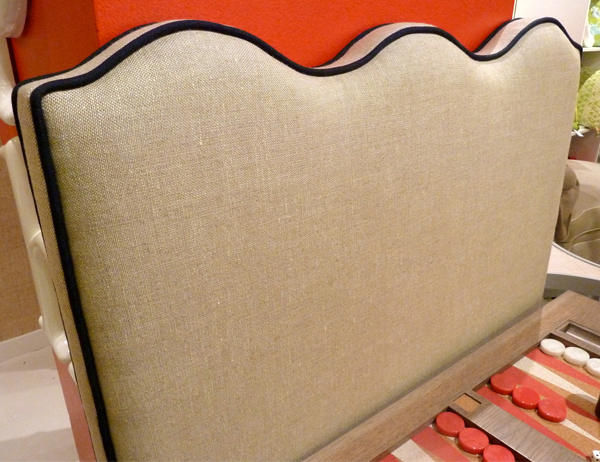 New lacquer pieces for spring include, among others, the Charleston coffee table, shown here in Club Navy with natural raffia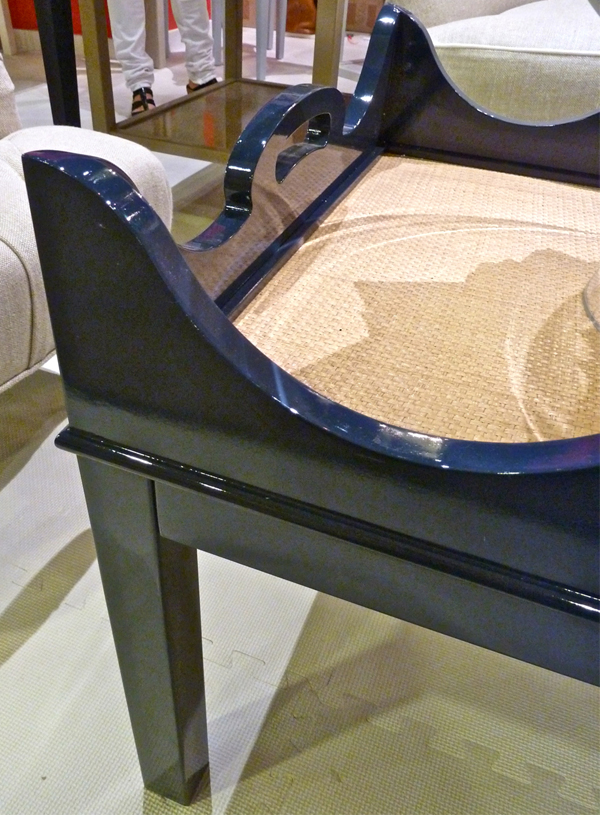 and the handsome Charleston mirror, a play on classic Chippendale style.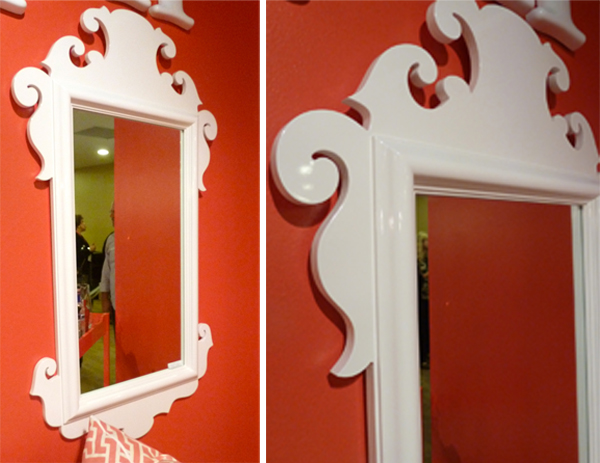 Affordable, stylish and flexible- three of the many reasons why you should be looking to add a little oomph to your spaces. And expect expanding categories from these three dynamos – they have no end of great ideas.