I'm always amazed by all the towering shoes I see at Fashion Week. Between waiting for shows and standing in line, there's a fair amount of time on your feet. So it's terrific to have a place to sit, relax, have a drink and regroup. The Mercedes Benz Star Lounge is just such a spot. This year the space was designed by Wesley Cadle, who I had the pleasure of meeting in his space.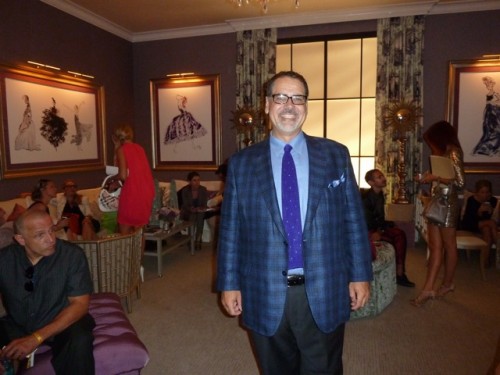 Cadle is the perfect southern gentleman and was generous enough to take a few moments to discuss his vision for the room. Like many of the spring collections' designers, he was inspired by the elegance of the past. An opulent Christian Le Croix patterned cotton chintz from the Arles Collection graced the windows. Picking up the celadon and amethyst, velvet and faille pieces added to the feminine glamour. The walls, covered in a lovely glazed linen with added crown molding made the suite feel homey and residential.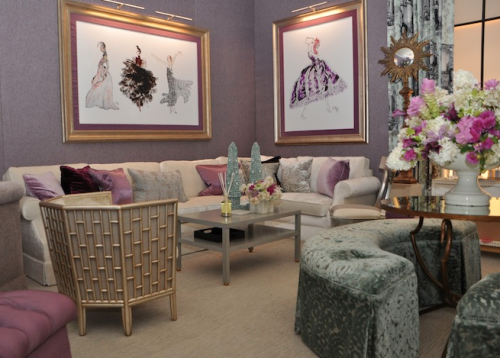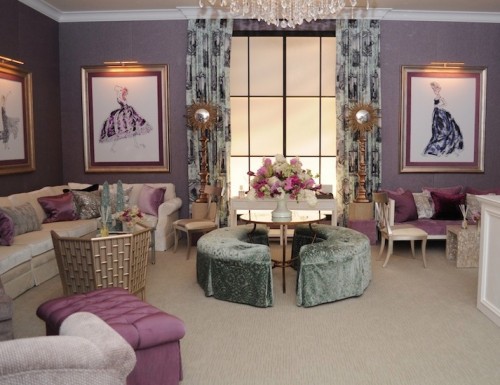 One of my favorite aspects of the space were the beautiful large fashion illustrations by Gladys Perint Palmer.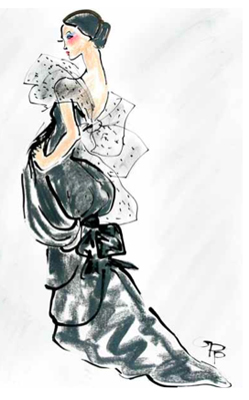 Bold and graphic yet feminine and glamorous, they really complemented and anchored the room. They were also used even larger in the IMG lounge.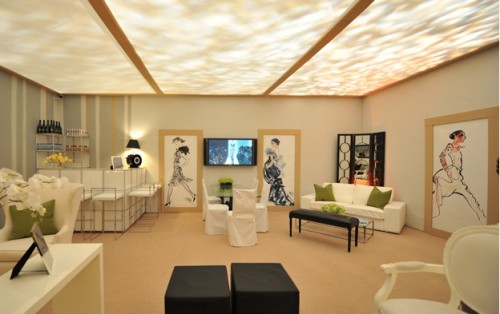 photo courtesy of Gladys Perint Palmer
Pieces were chosen from Pearson and Hickory Chair and I particularly liked a new studded bookcase/armoire from the latter that I unfortunately don't have a photo of.
Wesley has worked with Mercedes Benz on other suites at major events such as the US Open and the Masters, where every night he transformed a riverside pavilion into a different party venue – can you imagine? Every night! The first was this dramatic Batik in blue and white theme.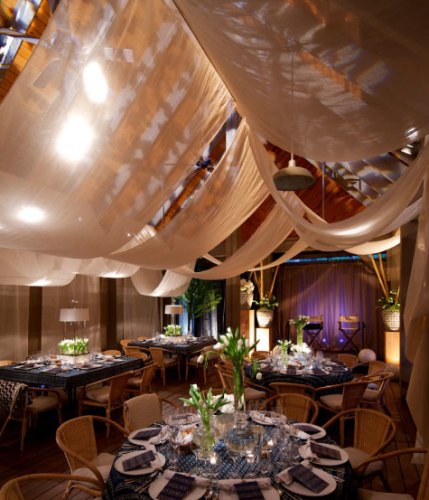 Another evening it became an ode to the hunt, replete with symbols of this southern tradition. Each of the chargers was handmade.
photography by Jensen Larsen
Wesley is clearly a very busy designer with a versatile practice yet was gracious enough to take the time to speak with me – sign of a true southern gentleman.
As I am wrapping up my coverage of fashion week, I must take a moment to thank my friend Linda Levy of Richards and her husband Peter, managing director of the fashion division of IMG, the amazing people who create this marvelous venue. It's always a thrill to be a part of Mercedes Benz Fashion Week!!