Today marks an exciting new venture for the online shopping destination Gilt Home. Debuting for the first time ever is an original collection, exclusive to the site. Designed by creative director Tom Delavan, the Gilt Home Collection introduces a capsule group of versatile, stylish, and incredibly well priced pieces that I think will appeal to a wide variety of customers. I had a chance to see the collection yesterday and chat with Tom.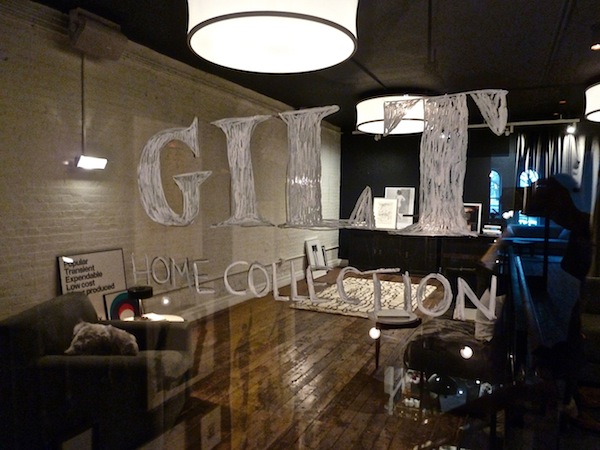 As a designer, Tom is frequently looking for one of a kind pieces, either vintage or custom-made for clients. He wanted to capture that essence for this collection – pieces of affordable but good quality that have style but not so much that it becomes too of-the-moment or limiting. Like the Luca modular chaise Tom is relaxing on below, these pieces will happily mix with other furniture, accessories and art to let the personality of the homeowner shine through.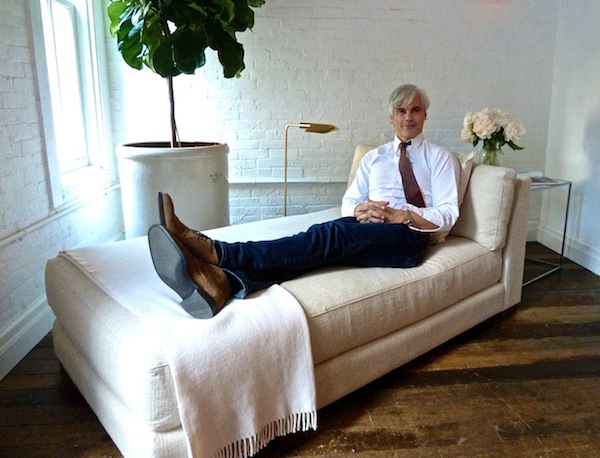 This initial offering includes two furniture collections that I am delighted to report are both made in America. The Alex Collection has a slightly vintage appeal with a Danish modern twist. Seen here are the sofa and chair, shown in a neutral lightly textured linen/cotton blend.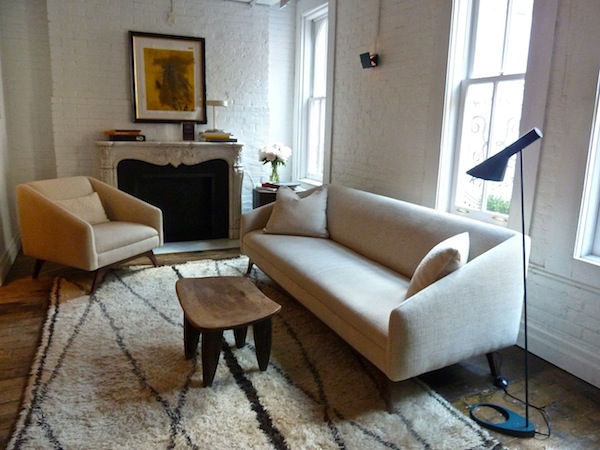 as well as the Soren chair, with a walnut frame, shown here in the other fabric choice, a graphite mohair-like cotton blend.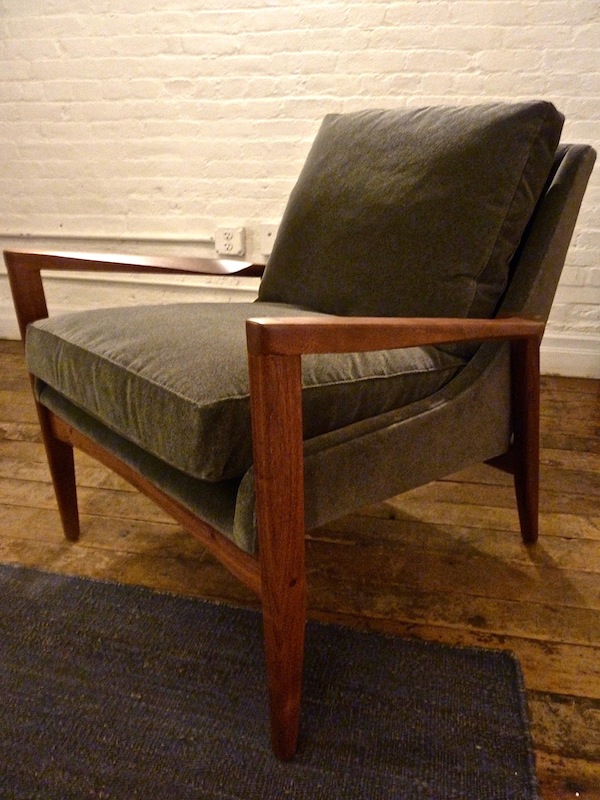 There are also two benches that didn't make it to the preview, the Alex, a long low classic shape with walnut legs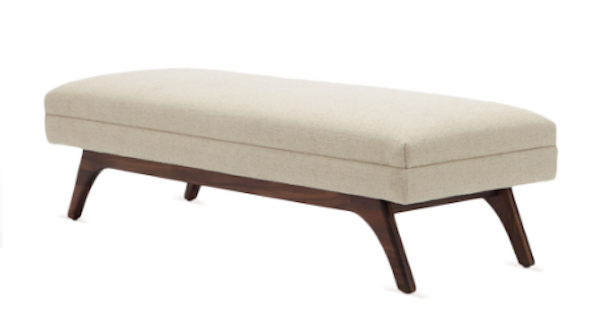 and the fully upholstered Xavier x-stool. At $295, this is a versatile piece that could provide a perch in any room.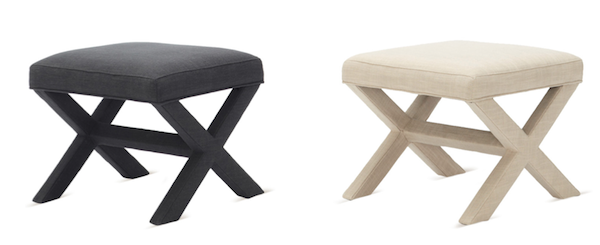 Conscious of scale, the pieces are perfectly proportioned for apartment living, offering a casually chic elegance with a small footprint yet capacious seating. Tom was adamant about the details with legs and base of American walnut, lovely seaming and a slightly more modern lower seat height.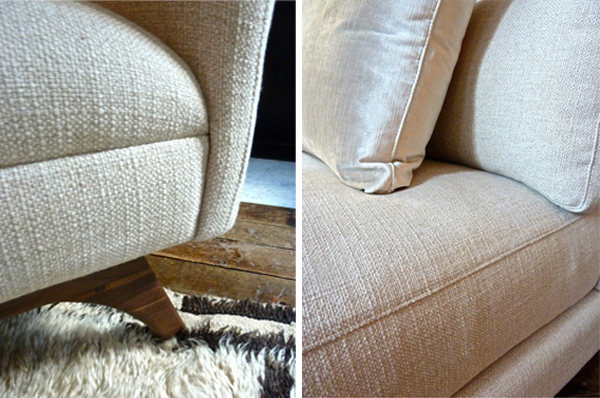 The second grouping is the Luca Modular. The incredibly versatile fully upholstered pieces can be arranged in a flexible variety of configurations thanks to the square corner piece which is left or right compatible. The chaise component could even accommodate an unexpected guest in a pinch.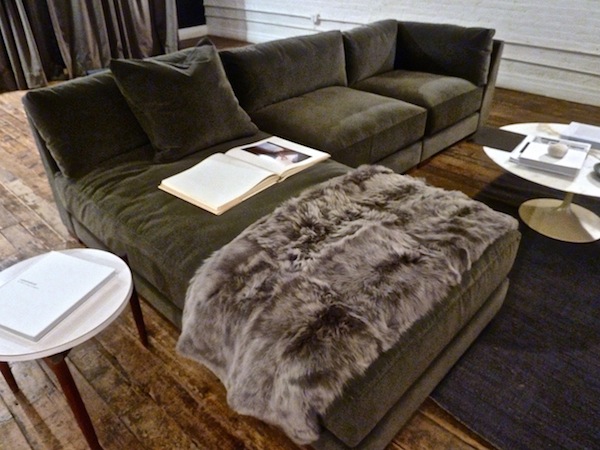 The Bruno Swivel Club might possibly be my favorite piece. The low to the ground form totally masks its handy swivel capabilities, solving a plethora of design dilemmas in family rooms, for example, where there always seems to be at least one chair unable to accommodate both fireplace and TV viewing.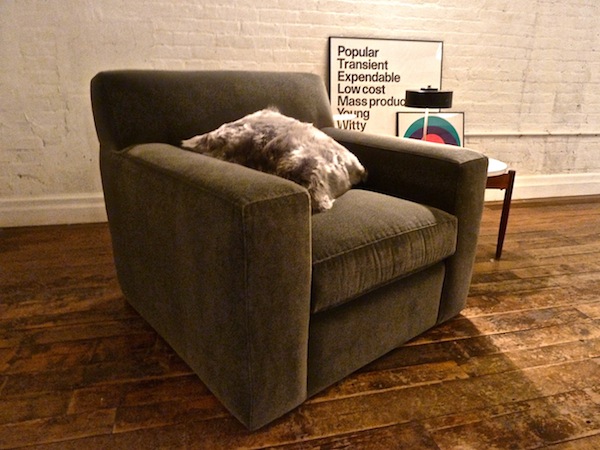 Like the more curvaceous Alex collection, the Luca Modular has very gender neutral appeal with a chameleon like charm, dependent on fabric choices. More masculine in the dark gray,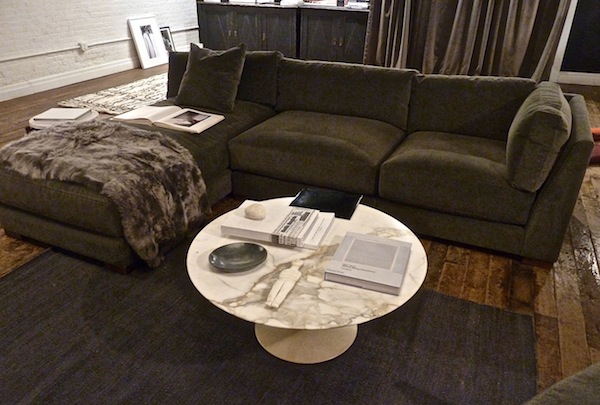 it transforms into a sexy silhouette in the lighter fabric. With the 7″ pillow depth and lower Italian-esque height, it has updated modern appeal. Or as Tom explains, "I wanted a low-profile sectional, the kind that Halston might have had. Sexy, but deep enough for a nap on a Sunday afternoon."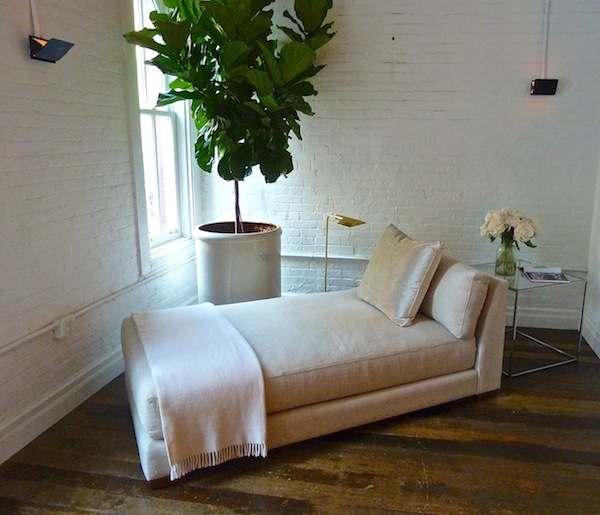 In addition to the furniture, is a well edited rug collection. Available in four sizes, each style offers a style statement from understated to bold. From the Ethan organic hemp rug, bottom left in solid melanges, to the colorful Tilda (front) and Lulu (back) wool flatweaves, there are both plain and graphic options.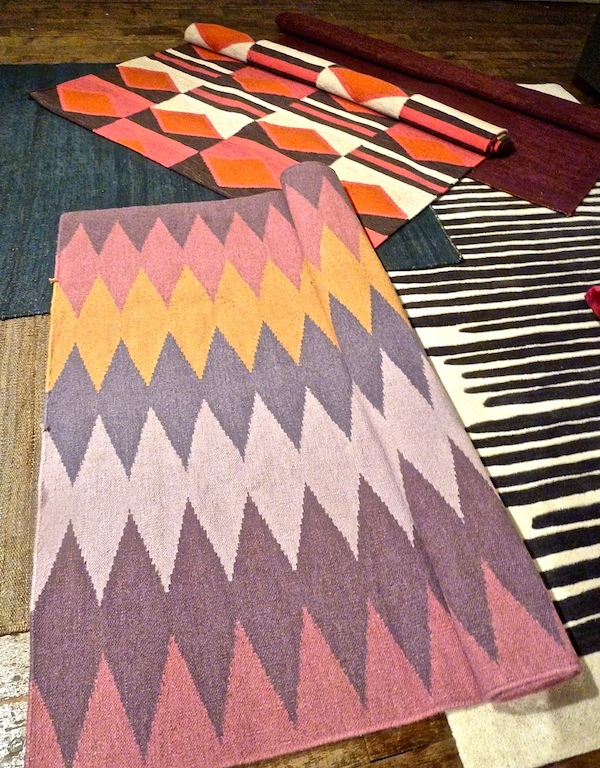 The black and white hand tufted Evans rug offers a great alternative to the (perhaps overly) ubiquitous zebra.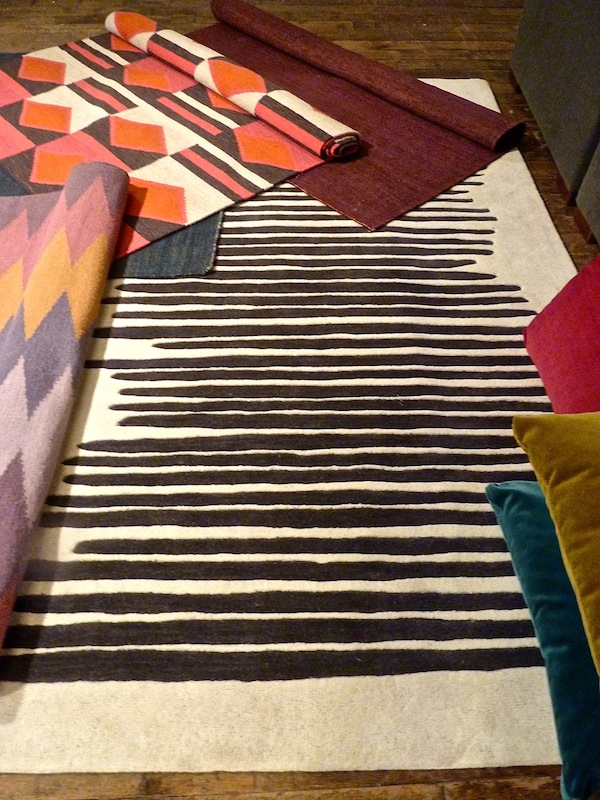 I loved the Noah hand knotted shag. Inspired by the popular Moroccan Beni Ourian rugs, Tom wanted to translate what is frequently reproduced as a geometric pattern into something a bit more irregular and abstract for a more artistic interpretation.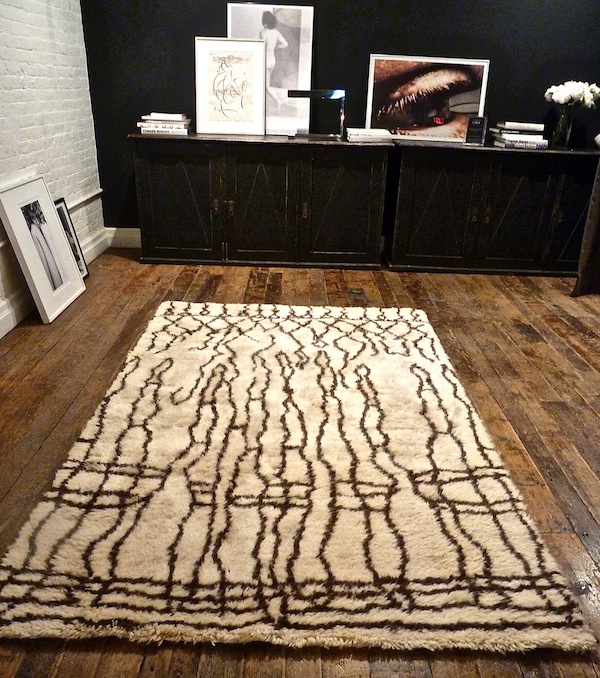 With a thick plush pile, this wool rug would add global chic to any room in the house.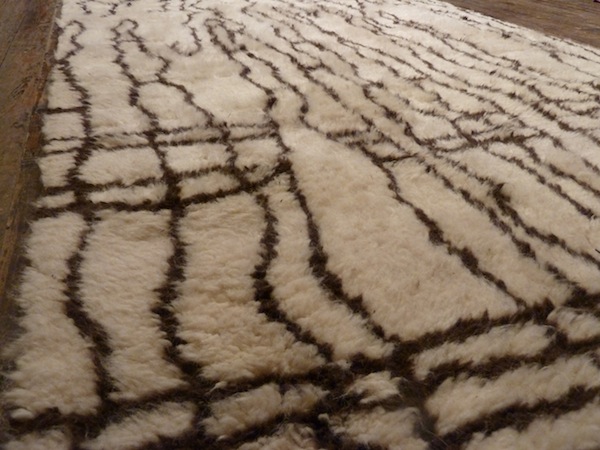 The final rug in the collection, the black and white Malone wool flat weave, wasn't yet available for viewing but, like the Noah, offers incredible sophisticated versatility.
The last selections in the collection are the pillows. Oversized and available in the ivory or gray to match the furniture or in cotton blend jewel tones or shearling, they are the perfect accessory.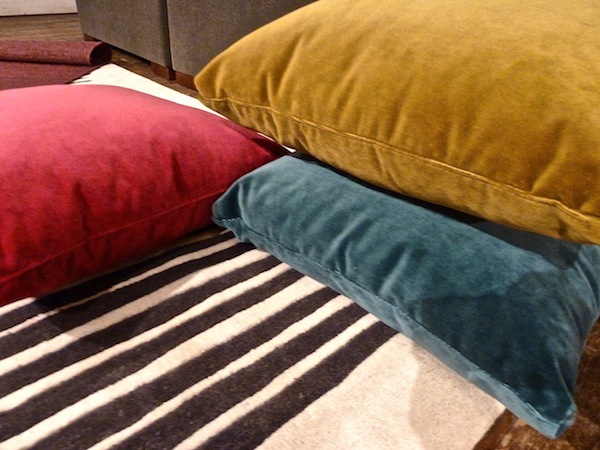 Whether you are decorating your first apartment, a second home, downsizing or just filling in a few pieces, this collection is so incredibly reasonable, you'll have funds left over for art and accessories. The entire collection is currently being featured on Gilt Home as a flash sale through November 21, after which time, prices will rise about 30%. And the icing on the cake? Gilt Home is dedicating 20 percent of the purchase price of each item through November 21 (up to a $10,000 donation) to Habitat for Humanity, to assist with its relief efforts for victims of Sandy. So not only can you furnish your home, you can help others less fortunate furnish theirs as well!