Upstairs at the Bartlett Homestead, the rooms represented a variety of talent. Mark and Susan Bijleveld of Finished in Fabric specialize in antique upholstery and reproduction, using old world techniques. Their Flower Bed Room showed a small portion of what their versatile workroom can create. From fabric wall upholstery, bedding, pillows to complete drapery and furniture upholstery, this originally Dutch company has done it all, including the upholstery and draperies for the private residence of Queen Beatrix of the Netherlands.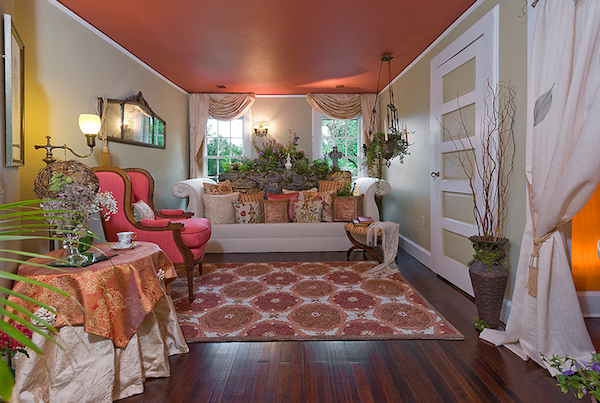 photo by David Sloane Photography
Susan described their space as an "Upholstery Workroom Gone Wild," as they did their best to display much of what they do. "While bringing the outdoors in we created a flower bed, complete with not only pillows but a faux stone wall and real flowers. Enjoy, it was fun." Finished in Fabric is open to both the trade and public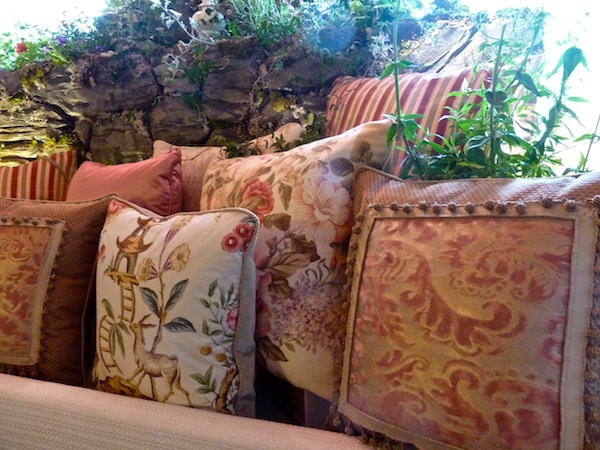 Designer Kathi Gernat's tranquil "Meditation Retreat" was a wonderful concept for such a tiny space. While a departure from her usual projects, it was a welcome solution for a peaceful private sanctuary.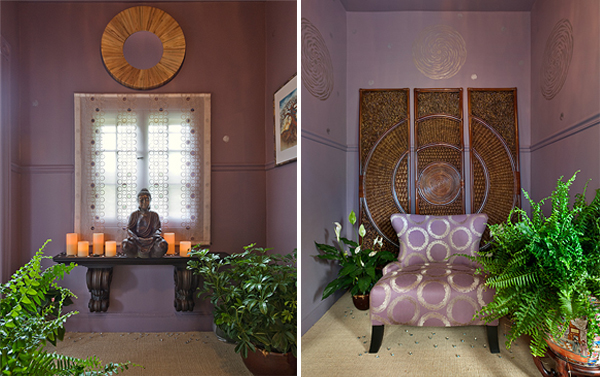 photos by David Sloane Photography
With all the interest in exoticism in decor lately, this worldly space felt very timely. The color purple is a symbol of spirituality and the circle pattern seen throughout the room represents the Mandala, the sacred circle. Gernat offered, "A Meditation Retreat is a gift you can give yourself. Taking time for self renewal is the spark of life that enriches each day." Such a lovely thought to remember if there is ever a spare nook or cranny to take over as one's own.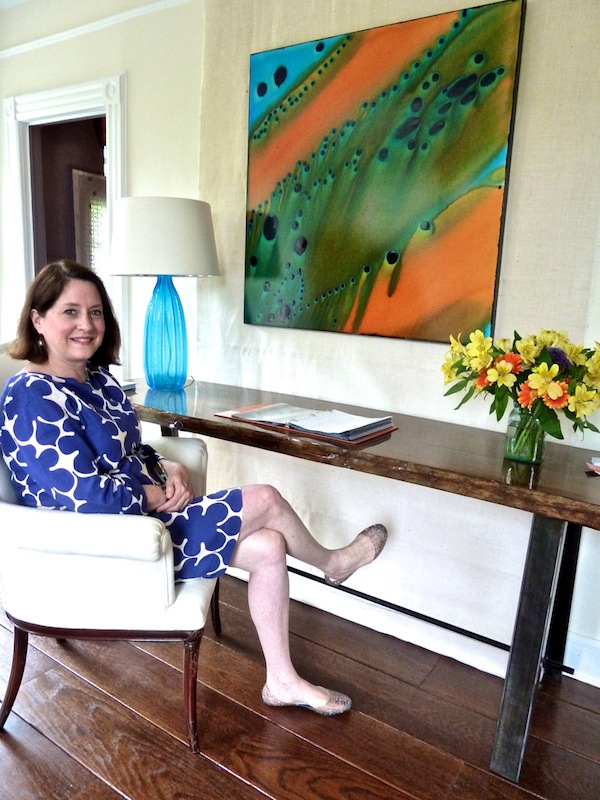 Designer Victoria Lyon's room "The Studio" was brimming with bright light and creative spirit. Seated above, she offered, "Everyone deserves an inspirational space to live, work and play in.  With the sun flooding into this room, I thought it just begged to be a place to inspire creativity: an art studio. Rich colors for my color scheme were pulled from the lush abstract Ichter painting (above, through Troy Fine Art). Its pattern reminded me of a butterfly wing, triggering thoughts of other favorite art work which included butterflies, such as the sculptural wall installations of Paul Villinski and the famous butterfly paintings of Damien Hirst. Both are alluded to in this light-filled, airy space that's just spare enough to offer plenty of room for creative thoughts to take flight."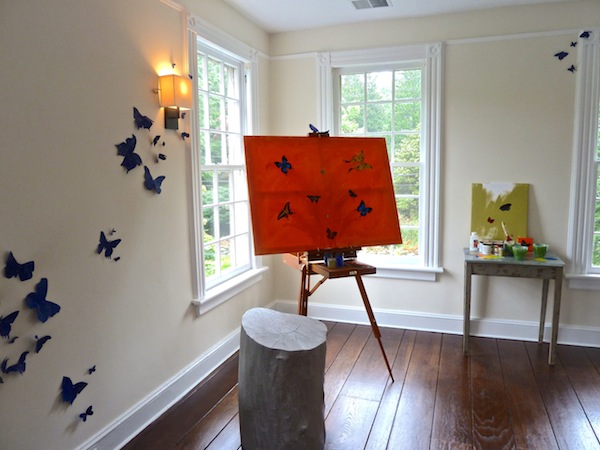 I loved how Lyon connected the dots thematically with her two paintings above and the expressive butterfly wall installation. She also brought the garden in with her silver log stool above, the custom live-edged wood table below the beautiful Ichter painting and the inventive tree branch LED light sculpture below. And of course you can imagine how much I adored the fresh blue and orange color scheme!!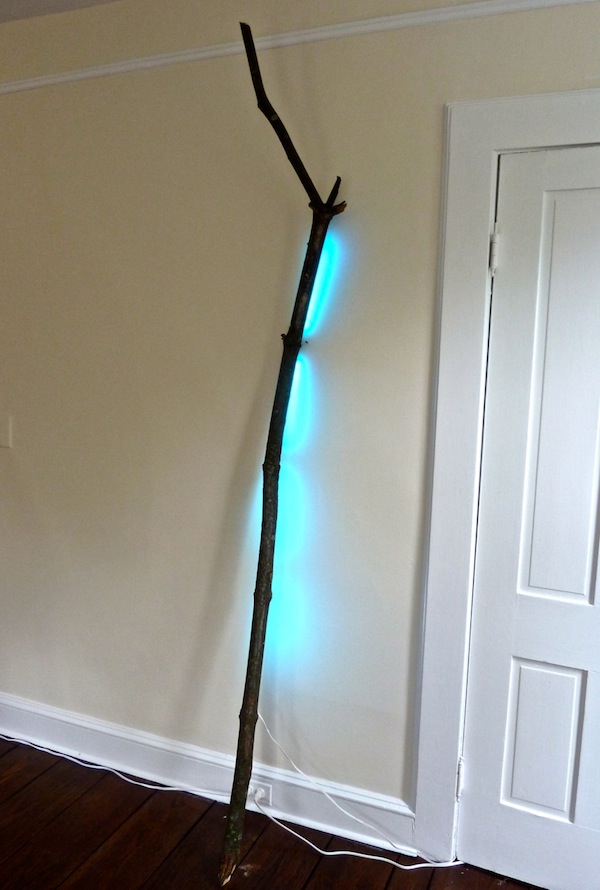 Gay Weathered, of Hand Painted Home, created a room to celebrate trees. Appropriately, this space will become the office of the Director of the Bartlett Arboretum. Against a sophisticated shade from Benjamin Moore's new Color Stories, the large paintings echo the natural landscape outside.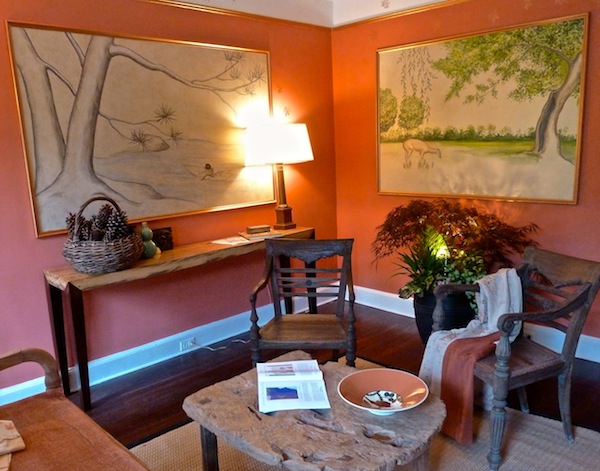 Weathered described her room, "It's all about balance. Rustic handmade antique furniture from around the globe, serene murals inspired by Japanese screens, and color with energy and warmth make this room a welcome retreat."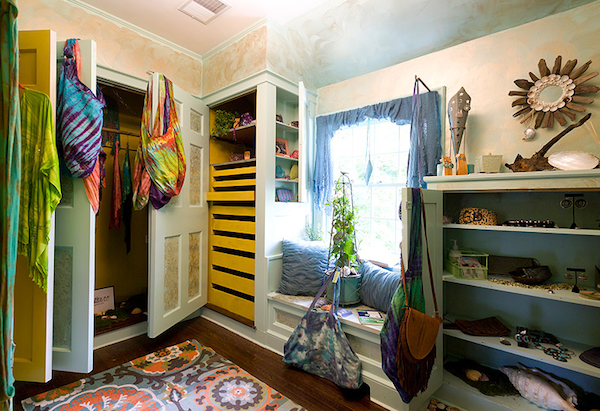 photo by David Sloane Photography
Regina and Michael Kirshbaum's stylish Agabhumi emporiums are filled with merchandise that the couple create and source on their bi-annual trips to Bali. "Inspired by the edifying design of the Bartlett landscape, we've crafted a closet filled with Agabhumi accessories designed to be worn in multiple ways. Utilitarian design is an Agabhumi hallmark.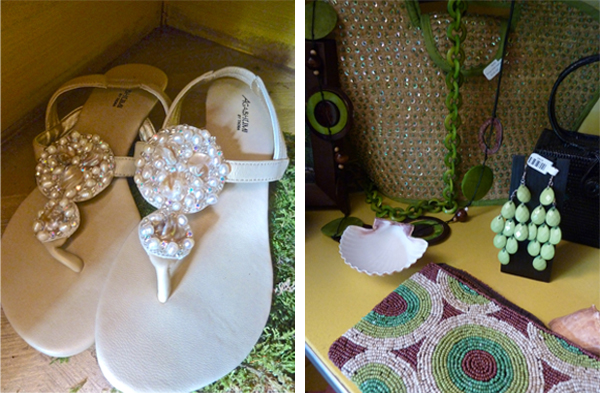 Much like the design of an edible garden or a moon garden, we design our fashions to give our customers a variety of looks at a minimal expense. We've added lavender and rosemary plants for fragrance, height, color and spice! The orchid plant invokes the lovely waterfall garden at the Ibah resort in Ubud, Bali, resplendent with orchids spilling off of the walls. The moss lining inside the closets adds whimsey and color. Overall, our goal was to delight you and surprise you at every turn, in every drawer and across each bar of clothing. Please enjoy our Bali landscape in our closet full of dream accessories."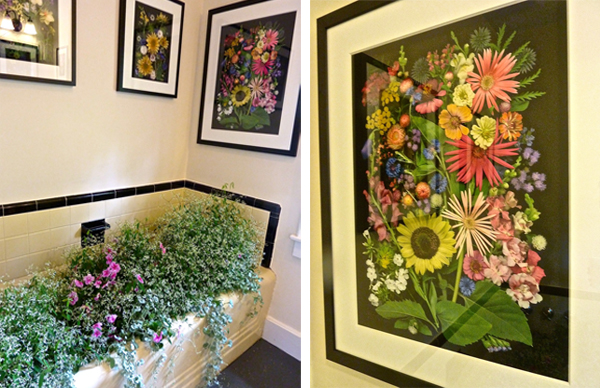 In the tiny upstairs bathroom, above a tub overflowing with seasonal plantings, hung Ellen Hoverkamp's arresting photographs. My shots do not even remotely do them justice. Using a large format, flatbed scanner as her camera, Hoverkamp creates these exquisite botanical photographs from arrangements of garden-fresh floral, foliage and vegetable samples. I encourage you to visit her website to see more of her beautiful work and Natural Companions, her collaboration with garden author Ken Druse.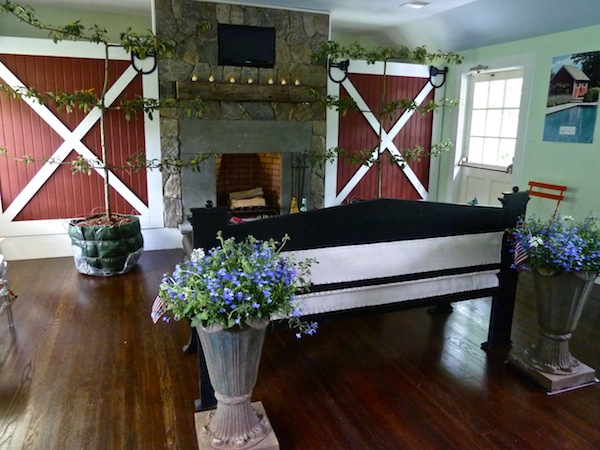 The final room at the showhouse was the arboretum's library, a space also used for functions,  lectures and classes. A collaboration between Vandamm Interiors and Hoffman Landscapes, Vandamm explains, "The theme for this show was "Bring the outdoors In" so, in working with the Hoffman Landscapes team, we created a living room, outside. The log table and rustic seating makes a wonderfully comfortable place to relax in front of a fireplace and TV, and beside the wonderful barn doors…as well as being surrounded by the garden flowers."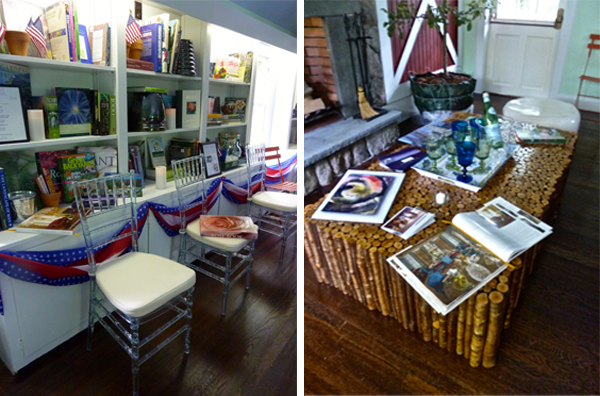 Brian Cossari, Landscape Architect at Hoffman noted, "Every landscape starts with a vision. Our room at the Bartlett will give homeowners some great ideas of ways they can enhance and use their backyards this summer." A charming rustic chic interior, the updated library featured landscaping ideas from espaliered trees to container ideas to potted beds – literally bringing the garden in.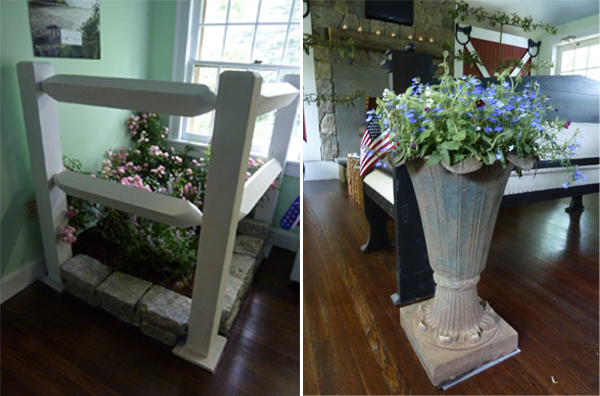 I hope you've enjoyed this week at the arboretum. A wonderful local resource, I was delighted to bring a little attention to the wonderful work they do as well as all the designers who contributed their time and talent making this show house a success. A final nod to Nordic Construction for all their wonderful renovation work and to Reclamation Lumber who generously donated the historical wood planks used to restore all the flooring.