I have known about Pennoyer – now Pennoyer Newman for years but it wasn't until the recent AD Home Show that I had the opportunity to see their beautiful planters in person and speak with partner Virginia Newman Yocum, who joined Pennoyer in 2003 to help bring the business forward adding new designs, colors and custom sizing.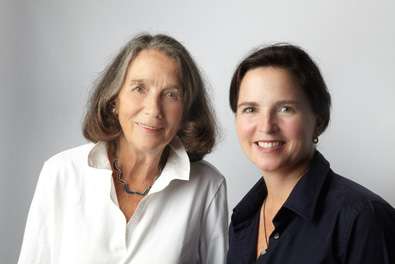 Originally founded in 1989 by Cecily Pennoyer (still an active partner and yes, aunt to talented architect Peter), the company was the first to introduce stone resin garden pots to the US. Replicas of rare and one-of-a kind originals, they are cast and replicated one at a time by hand, of stone resin, a combination of pummeled marble and rock mixed with resin. The results look identical to the lead originals and are lightweight and weather-resistant.

Their collection, including both historic and modern designs, graces prestigious parks and institutions across the country including, in NYC, Bryant Park, the rooftops of Rockefeller Center, the streets of SoHo, the Morgan Library, and The New York Botanical Garden. The use of marble and rock in their unique composition encourages the growth of moss and lichen on the containers, creating the timeless and gently aged look so many of us love for our homes and gardens.

As we are hopefully approaching warmer weather, these containers offer many stylish choices for designing our outdoor spaces. For those interested in historic interpretations, take for example the Ladew Topiary Gardens Container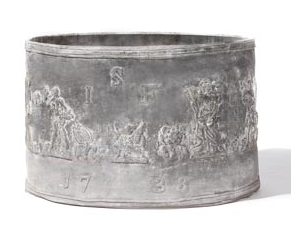 Originally purchased by Harvey Ladew for his incredible topiary gardens in Monkton Maryland, this elegant planter has been restored and recast for the enjoyment of future generations. Visit what the Garden Club of America voted the "most outstanding topiary garden in America" online and you'll see why Pennoyer Newman wanted to preserve this amazing horticultural legacy.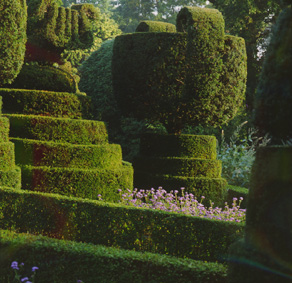 A purchase from Pennoyer Newman is indeed like buying a small piece of history. Although taking impressions of the Parthenon was banned at the end of the 19th century, the ones used for making the beautiful Parthenon Plaque Container were luckily made before then and we can now continue to enjoy this beautiful imagery. Individual plaques of this and two other scenes are also available to use as decorative accents.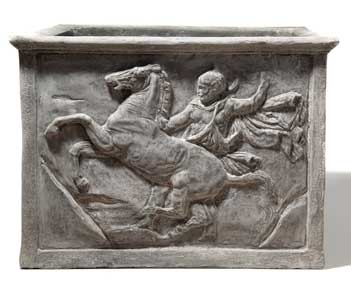 I had to include one other piece from this category because it is so distinctive. The Torch Bearer's Arm is not only handsome but also a practical piece. How fabulous would it be to have a pair or several of these on a terrace or by a pool holding lit torches for an evening soirée? Or bearing gigantic bouquets for a special celebration?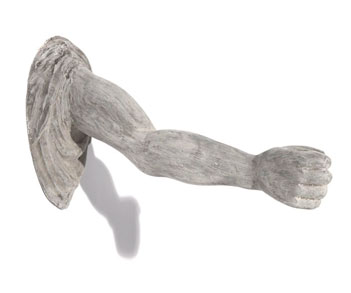 For those with more contemporary sensibilities, there are many elegant choices as well. The Modern Collection includes clean shapes that would lend an air of sophistication to many different architectural and design styles. Available in round, square and rectangular shapes, they can be customized to specific space requirements. The Modern Bowl Planter has a deep base for soil, good for plants requiring more depth.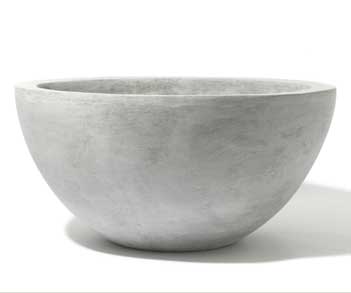 The very popular Modern Rectangular Planter can be used against a wall or as dividers to create outdoor rooms. It can be interpreted in many customized sizes for a variety of applications. I think it would be fabulous as a tall box containing boxwood or yew as a visual wall for a stone terrace.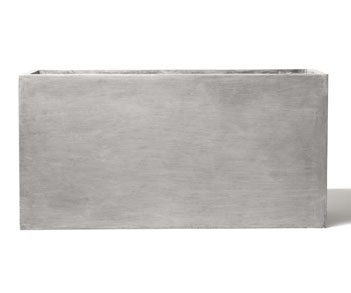 And the Modern Corner Planter is the perfect accompaniment to create a clean continuous border. I love how at their booth Pennoyer Newman used them in conjunction with the Round Cap Finials. The clean sophisticated lines gives you an idea of how all their products can mix and match to be customized for a totally unique design. Some of the planters can even be fitted with industrial wheels – your terrace design could change on a whim!!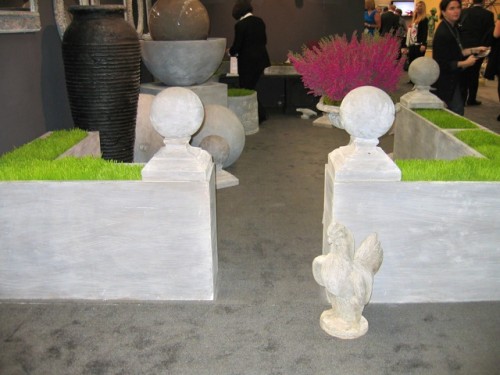 But the temptation doesn't end there. Pennoyer Newman also offers many other decorative categories.
Wall placques: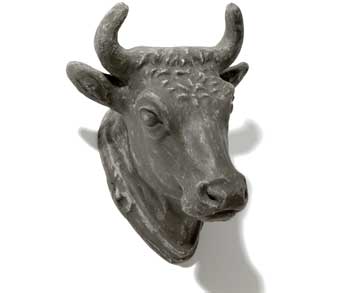 These heads are copied from wood originals found in butcher shops in Austrian ski villages. How great would this look in a mudroom for hanging hats or leashes.
Urns.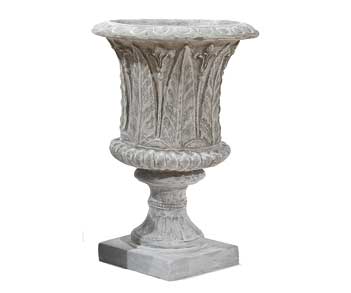 The long and lithe Fern Urn would add an air of classic sophistication to an entry, garden or formal path.
Seating and Statuary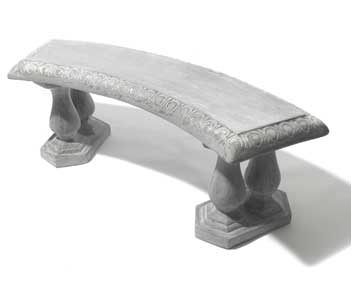 The Curved Bench was cast from the original at the Guggenheim estate in Port Washington and is also available as an S Shaped Bench for charming conversation.
Bird Baths and Fountains
I love the sculptural Shell. In the smallest size, it can become a server or ice bucket at a party and in the larger sizes, can be a planter or bird bath.
Take a look at how some clients have used the wonderful products. This SoHo terrace has incorporated a wide variety of planter shapes and designs that work together and with the modern furniture beautifully.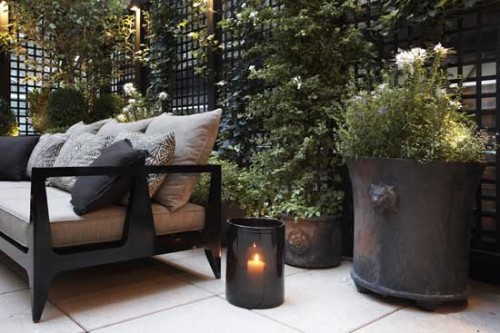 Or this terrace with the Elizabethan Planters holding fabulous topiaries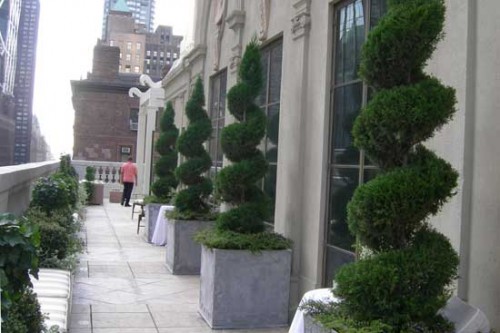 Here is an example of a custom design for a window box that sits on a hard-to-fit ledge. Angled risers help hold it in position.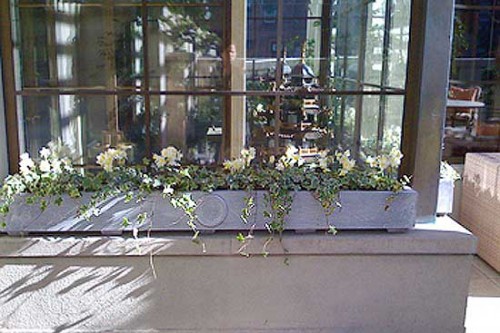 Pennoyer Newman is open to requests for custom pieces. Here is one of the their largest custom planters ever – 16′ long – being lifted onto a Tribeca roof.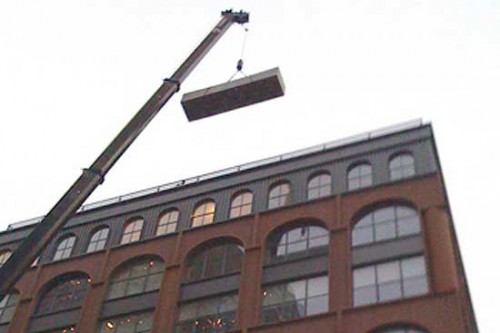 The classic Morgan Della Robbia and Morgan Lead Planters form a lovely ensemble on this East Hampton deck.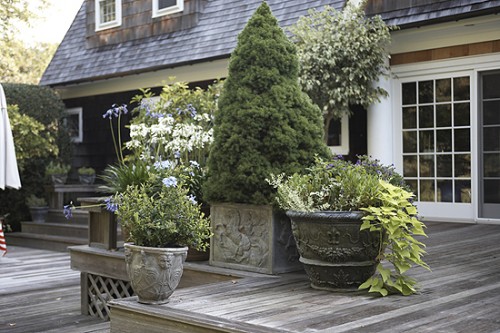 And the popular Medium Florentine Square Planter is clearly an incredibly versatile piece that would be at home anywhere.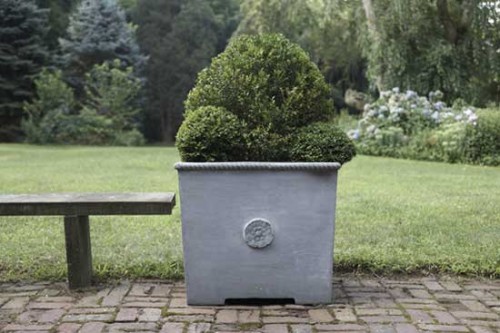 In speaking with Virgina, she emphasized that along with their legacy of exclusive historic reproductions, they are consistently updating their line with new modern pieces that can both stand alone or work in tandem with the classics. It is this melding of a historic heritage with contemporary approach and venues that makes such a collection so exciting.
Pennoyer Newman will be at several events in the spring including Trade Secrets with Bunny Williams. For a full listing, visit them here.