This month marks both my anniversary and my husband's birthday. It's hard enough coming up with creative gifts for a man year after year but when years become decades, it becomes quite the challenge. In addition to other skills, my husband is an excellent cook and enjoys good quality culinary tools.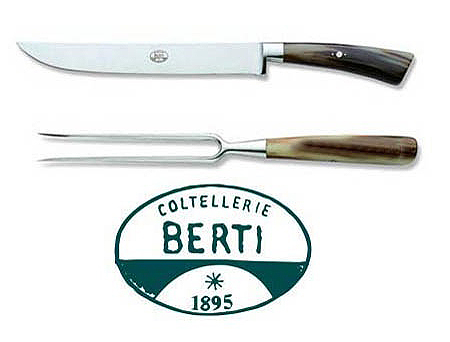 That's why I was thrilled to discover the beautiful creations of  Coltellerie Berti. Founded in 1895 by David Berti, the Italian workshop continues today under the direction of  his great grandson Andrea, in the Tuscany countryside, where the artisanal knives are handmade.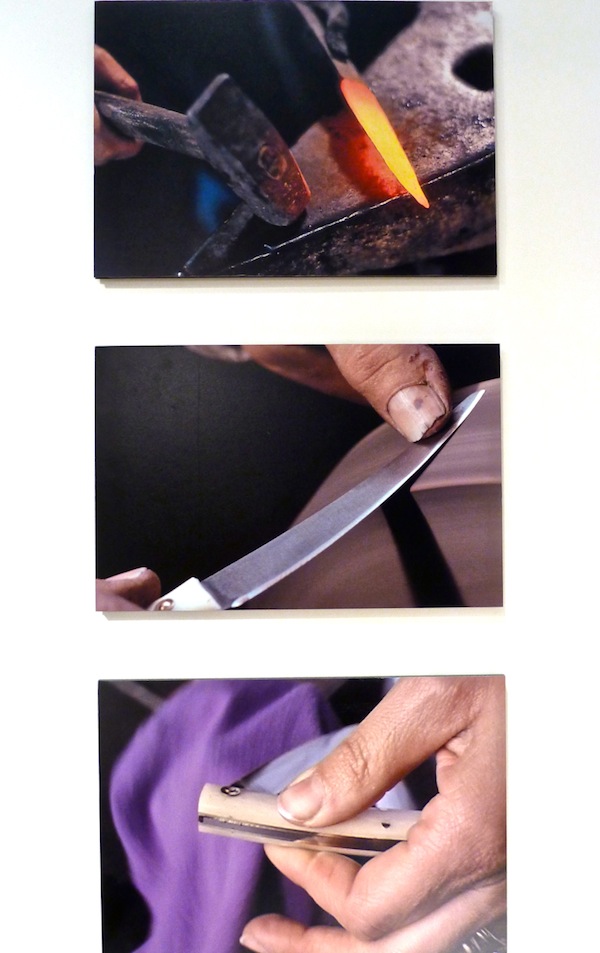 Still using the same original techniques and materials for over a hundred years, each knife is made by a single craftsman with his or her initials on the blade, for Berti's intent is "to make knives with integrity and authenticity that cannot result from industrialized production."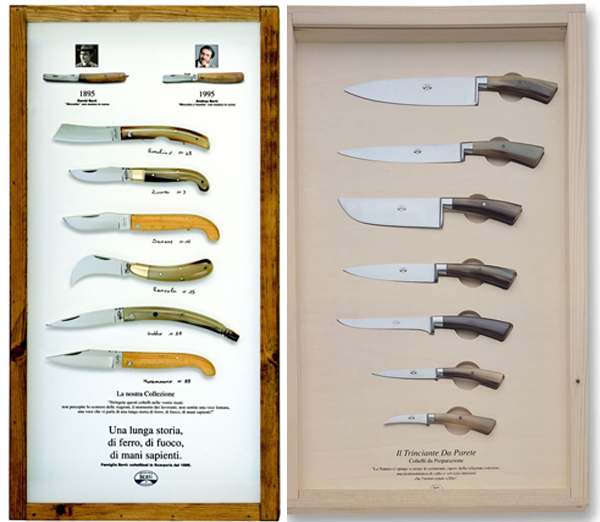 photos above via Berti
With over 600 styles, there is certainly a knife for every purpose. From pocket knives to truffle knives or cigar cutters, if it has a sharpened edge, chances are it is available. Left above, a set of Italian regional knives and on the right a "trousseau" of ox horn handled knives.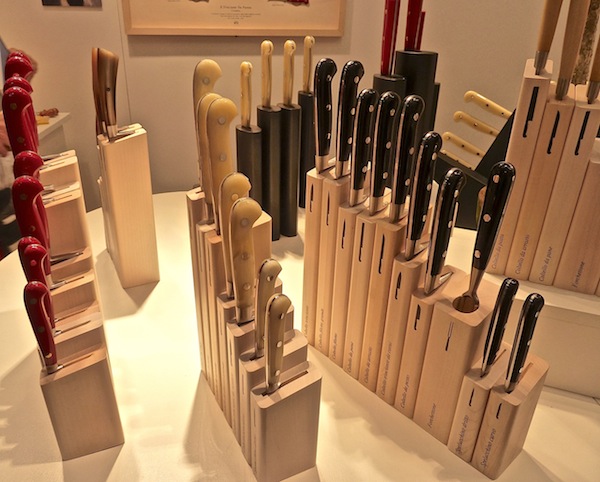 The traditional materials used are of course steel for the blade and Ox horn, Stag horn, Buffalo horn and "bosso" wood (boxwood) for the knife handles. But the strong tradition does allow for innovation such as the recent addition of lucite handles for the "Convivio Nuovo" line. While this material is still handcrafted, it allows the pieces to survive daily cycles in the dishwasher.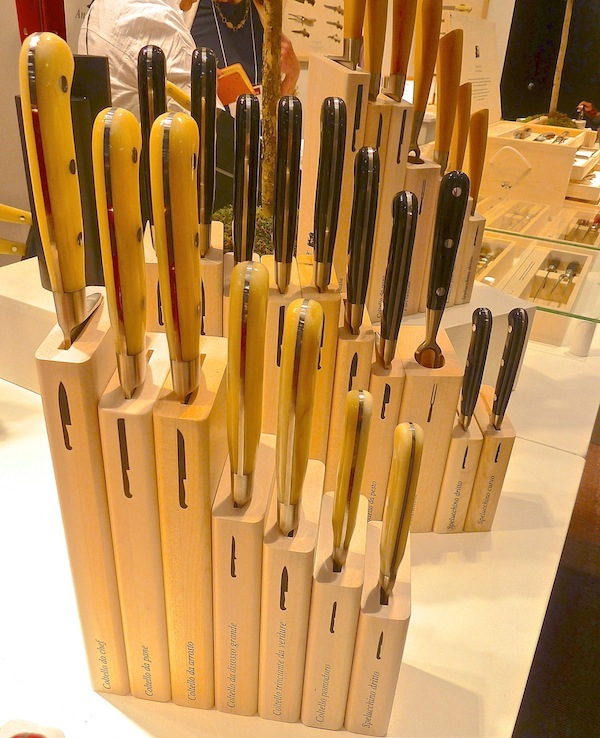 Imported in the States exclusively by Match, the Italian company of distinctive handmade pewter, Berti made their debut at the gift show in a handsome booth,  where I took these photos. Not only are the knives themselves objects of beauty but the blocks are cleverly designed with magnetic attachments to form any number of arrangements. And note how each individual block shows a silhouette and name of the knife (albeit in Italian – all the more reason to learn) – no more guessing which blade belongs to which handle.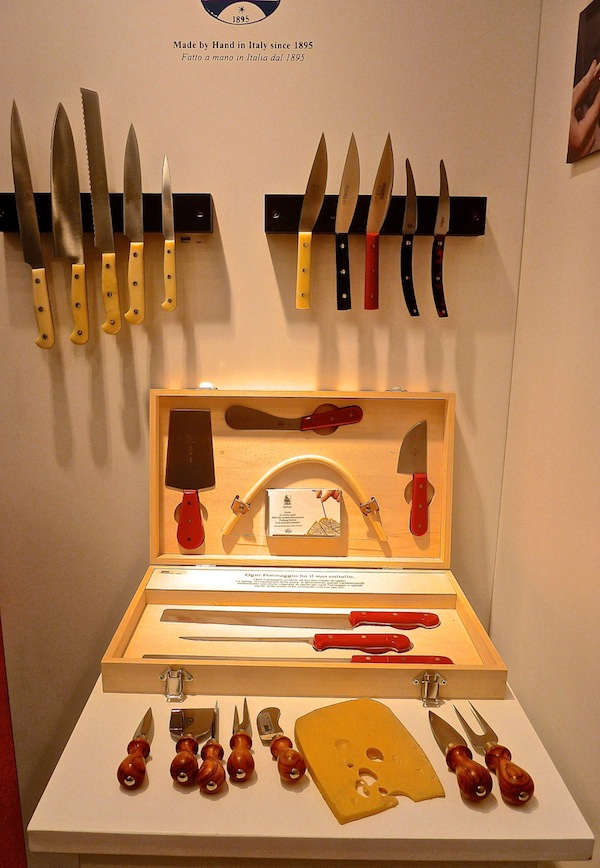 From extravagant sets, such as above for a serious cheese lover, or exquisite horn steak knives below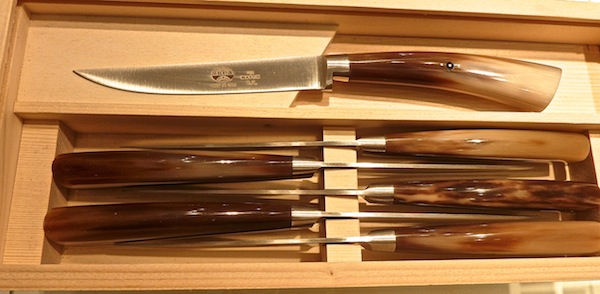 to individual pieces, every touch point is beautiful designed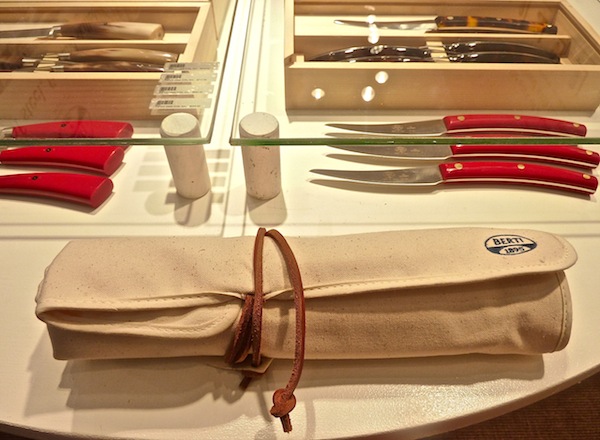 The price points are not for the faint of heart but as Berti says, "The search for low cost production etc.. is fundamentally incompatible with our respect for Tradition and as such inconceivable." I respect their love for heritage and a quality handmade product which serves as "A point of reference that helps us remember the world we come from and the values it inspired." Perhaps I can gift a couple knives and explain we are starting our own tradition.